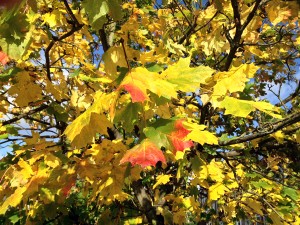 At some point during the months of Autumn,  the leaves have done their job (that of making sugars to be used in growth, the formation of new twigs and branches, forming fruits and seeds).  However, winter is not good for photosynthesis or growth; winds, low temperatures and low light intensities adversely affect a tree's ability to make sugars. Indeed, if the leaves were retained throughout the winter, they might be regarded as a liability as they would use the the tree's reserves (that were stored away in the Spring and Summer).  Plus, leaves would offer greater resistance to the wind and the tree would be more likely to suffer damage.  High winds are always more dangerous to a tree when it is in full leaf. Read more…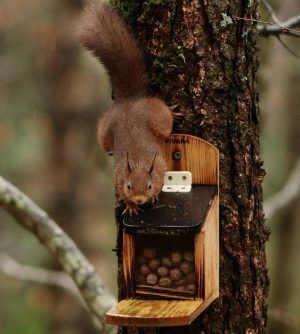 I purchased Snighow Wood, in Wasdale, with the intention of maintaining it as a wildlife habitat; specifically red squirrels. Formerly occupied by red squirrels, greys had moved in some years previously. The timing of my purchase (end of December 2015) was fortunate, as greys had been (largely) removed from the area about a year previously, by the West Lakes Squirrel Initiative. With the choice of three plots of woodland, I chose the one which I thought most suitable for the squirrels, and requiring the least amount of work. There was hazel to be coppiced, rhododendrons to be tackled and paths to be cleared or created! Read more…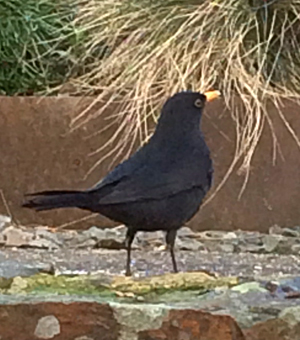 Since 1979, people have been watching the birds in their garden or local park for an hour as part of the Big Garden Birdwatch, and telling the organisers (RSPB) what they have  seen.  The Big Garden Birdwatch has been running for some 37 years and has provided a mass of data on the bird populations of the U.K.   The data gathered give an insight into how our wildlife is faring.  The RSPB's Big Garden Birdwatch takes place this weekend (28 – 30 January, 2017).  If you would like to take part, visit the RSPB's website e.g.  www.rspb.org.uk (links to a pdf file).
What is involved ? Read more…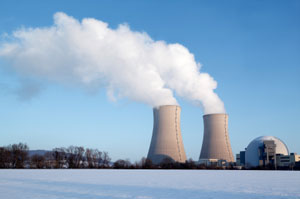 Climate change is a fact, though not one always accepted by certain politicians.   Greenhouse gas emissions have been growing since the C18th, and particularly in the period 1970 – 2004.   The warming of the world climate system is certain; air and ocean temperatures have increased.  
Though we cannot say how climate will change in any specific area with certainty, we can be sure that extreme weather events will become more common – droughts, heat waves, heavy rainfall, high winds and cyclones. Read more…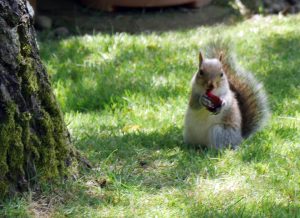 DNA profiling has many uses, notably in criminal investigations.  It often allows the identification of a victim, or can 'tie' a suspect to the scene of a crime.  However, it does have other uses.  When applied to animal populations, it can give information as to the origins of the population, the extent of inbreeding / outbreeding etc.  Recently, Dr Lisa Signorile (Imperial College, London) has applied DNA technology to the grey squirrel populations of the U.K. and Italy. Read more…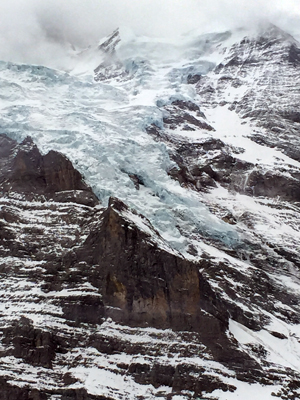 Plants have different solutions to the onset of winter and exposure to cold.  Some survive the cold as seeds – the rest of the plant dies; some over-winter as corms and bulbs.  Deciduous trees and shrubs shed their leaves and become dormant, reducing their metabolism to a minimum – just 'ticking over'.  Some trees live at the very margin of their survival.  As altitude increases or you move towards the poles so life becomes more difficult.
The tree line is the point at which trees can no longer tolerate the conditions.  Near to this point, the growth of a tree is very limited; the tree is stunted or deformed, sometimes forming a bush-like structure.   Read more…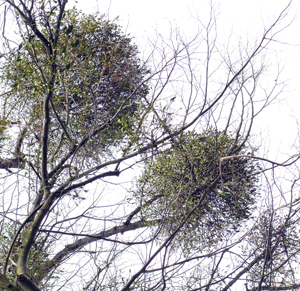 Many evergreen plants are associated with Winter, and Christmas in particular – notably various fir trees as 'Christmas Trees', holly and ivy for decorations and wreaths, and mistletoe as the decoration under which lovers might kiss.  For an interesting video on "The Botany of Christmas" visit Mark Nesbitt's lecture to the Linnean Society.
Associations with Mistletoe go way back and there are a number of customs and myths surrounding the plant.  Pliny wrote that it was collected by Druids – particularly from oak (believing that it held the soul of the host tree and it was to be cut from the trees with a golden sickle).   Mistletoe has been used in folk / herbal medicine to treat various ailments – from cancer to epilepsy but clinical trials as to its effectiveness are needed.  However, like many plants, mistletoe is actively being investigated for its phytochemicals and possible medical uses. Read more…
Subscribe to our blog email updates