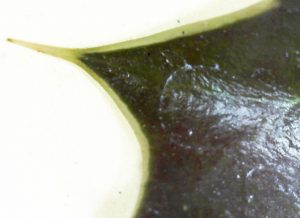 Plants need to protect themselves from the vagaries of the environment – they need to prevent or resist the entry of disease pathogens (bacteria, fungi and viruses) and also restrict the loss of water from their tissues.   The flow of water through a plant (the transpiration stream) is important in the supply of minerals to the growing regions and the 'control' of leaf temperature (as water evaporates it uses heat energy –  exerting a cooling effect).
However, uncontrolled water loss would soon result in wilting and death, so the outer layer of plants – the epidermis, has a special layer, the cuticle.  The cuticle is made from waxes, which often form complex and intricate patterns (when viewed with an electron microscope).   Read more…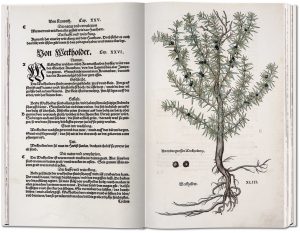 There is a long history of producing guides to help identify and explain the flora and fauna of woodlands. From the fine woodcuts in Leohart Fuch's New Herbal book of 1543 to the Woodland Trust's tree identification app. for smartphones in 2017, we have been naming and visually representing our plants and trees through the ages. Following this rich tradition Woodlands.co.uk have launched a range of educational posters designed to help primary school children recognise and understand what they can see in their woodlands. Read more…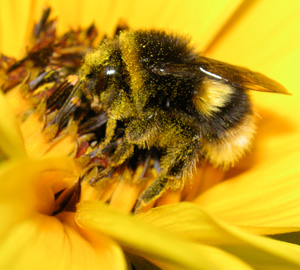 Bumblebees face a number of threats from habitat fragmentation, intensification of farming, loss of hay meadows and hedgerows, the use of insecticides and climate change.  Globally, many species of bumblebee are under threat.
Bumblebees are social insects, that is, they live in colonies.  A colony or nest is established by a queen, who lays eggs – which then give rise to several hundred 'daughter' workers.  Later in the summer, males and new queens hatch from eggs and they leave the nest and go in search of a mate.  When fertilised, these queens go on to hibernate – having fed on pollen and nectar in order to build up fat reserves for the winter months. Read more…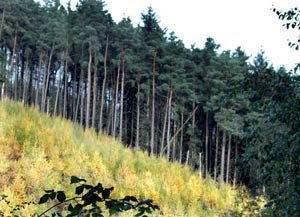 When you look at a small person (also known as a baby) you know that they will grow bigger in every dimension.  Trees don't grow like that. A tree's branch will stay at the same height however tall the tree grows: by contrast a child's arm rises to a higher level as he or she grows taller.
The reason for this is that trees only grow in areas called meristems where they form new cells. Cells are created by cell division (mitosis) within the meristems, and these cells then expand and specialise.  These growth areas are found at the tops of the trees, and the tips of branches; these are "apical meristems".  Growth also happens in the apical meristems at the ends / tips of the tree's roots. Read more…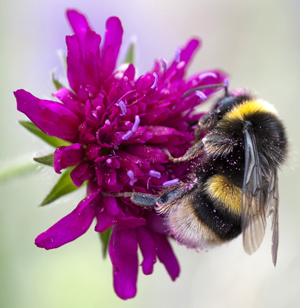 The warmth of recent days has seen bumblebee queens foraging among the Spring flowers.    They have emerged from hibernation.  They now need to feed and then find a place to create a nest.  The queen will then lay eggs, which will become 'daughter workers'.  Later in the season, males and new queens hatch – they will leave the nest / colony.  The new queens that are fertilised will hibernate after they have fed (heavily hopefully) on nectar and pollen from available flowers.
Researchers at the Centre for Ecology and Hydrology, the University of East Anglia, the Zoological Society of London and University College London, have been studying different generations Read more…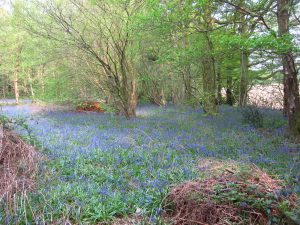 Spring brings a variety of blue flowered plants such as bluebells, hyacinths and squills in our woodlands, parks and gardens.  Bluebells are 'easily' recognisable. However, there are different types of bluebells. The bluebell that is native to the UK has the Latin or Linnaean name of Hyacinthoides non scripta.  The Spanish bluebell (H. hispanica) is also to be found, and this hybridises with the native form,  giving rise to intermediate types.
The native bluebell has deep blue and scented flowers that hang from an elegantly arching stem. It is found in abundance in many deciduous woodlands and hedgerows across the UK, though it is unusual or rarer in parts of East Anglia and Scotland.  The capacity of the Spanish Bluebell to hybridise with the native form has been seen as a threat to the native Bluebell – but now another concern has been 'identified'. Read more…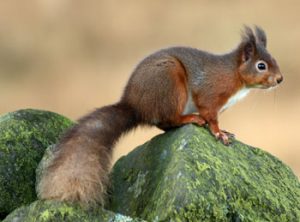 There are a number of established red squirrel populations in Scotland, and there are other suitable forested areas where they could live.  However, they are unlikely to make their way to forested areas near Kinlochewe and Plockton because they avoid crossing large areas of open ground (habitat fragmentation ?, need for wildlife corridors), and travel between trees.   Consequently, the charity "Trees for Life" has developed The Red Squirrel Reintroduction project.   Their aim is to establish ten 'new' populations in the north west Highlands – in order to increase the number and the range of the red squirrel. Read more…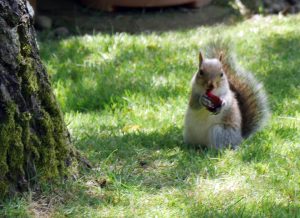 It is well known that the native populations of the red squirrel have been depleted in significant numbers over the last century  This is in part due to habitat loss, and competition with and displacement by the grey squirrel but also the insidious squirrel pox virus has been at work. Research workers at the Queen's University, Belfast have been investigating how this virus passes from animal to animal.
Though grey squirrels carry the virus, they seem to be relatively immune to its effects.  However, they pass out the virus in their urine.   The virus can persist in the environment for some time, especially if the conditions are dry and warm. Read more…
Subscribe to our blog email updates