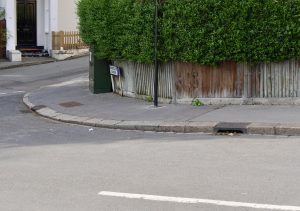 Hedges originally served the function of corralling animals; however they also offer habitats for many plant and animal species and they serve as important ecological corridors.  Now another role for hedges has been suggested – that of combating air pollution in our towns and cities.
Urban air pollution has been linked to Read more…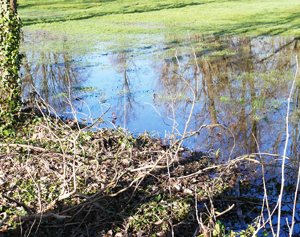 With the changing nature of our climate, so extreme events have become more frequent.  The last fifteen or so years has seen significant episodes of flooding.  Flooding used to be a relatively unusual event in the U.K.   In consequence,  efforts are now being directed at finding ways of mitigating the effects of extreme rainfall.
The risk of flooding is associated with changes in our climate (notably rainfall patterns) and the techniques of land management have changed with the mechanisation of agriculture,  the creation of simplified (larger) field systems, land drainage, increased stock densities etc.  The U.K. landscape / countryside has altered significantly over the last fifty years.   Read more…
How many trees are there in the world?  Four hundred billion was the figure often quoted; that is, until this month when a report in Nature has come up with a figure slightly in excess of three trillion.   This approximates to 420 trees for each person on the plant.
How was this figures arrived at ?  Well, the team (an impressive array of scientists from Universities and research institutions all over the world) amassed data from national forest inventories, plus peer reviewed studies where forests and woodlands had been studied in detail; this information was then used to inform what was also being seen on satellite imagery. For the purposes of the study a tree was defined as "a plant with a woody stems larger than 10 cm at breast height".  Read more…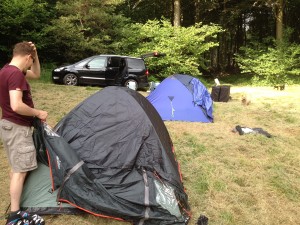 Camping in your own wood (or a friend's wood) is totally different than staying at a conventional campsite.  There is more freedom, more choice and more solitude – you can do lots of things that would not normally be allowed.  Recently, I was invited to a woodland to camp with some friends where we experienced free-range camping first-hand.
For any camping expedition, it is important to locate a camping area – we found a grassy glade surrounded by beech trees.  Next, you need to find a good spot on which to pitch your tent – ground that initially seems flat is, by the end of the first night, clearly very 'slopy'!   Read more…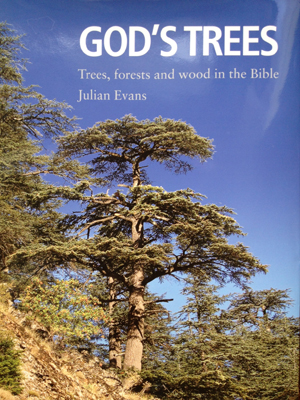 This is the ideal Christmas present for anyone who likes trees.  At only £15, 'God's Trees' is both a coffee table book and an authority on the subject of trees in the Bible.  You'll find out about the trees of all the 'Bible lands' including modern-day Israel, Syria, Egypt, Iran, and Iraq.  It's not just which trees were there but how they were used –  Cedar of Lebanon (Cedrus libani ) for beams in Solomon's temple, Acacia trees for shade in the Negev desert but most widespread were Olive trees (Olea europaea) which produced olive oil for lighting and cooking.  You can do a cover-to-cover read or just dip in for the pictures and captions enjoying the exotic photos, maps and the illustrations by Veronica Pinchen. Read more…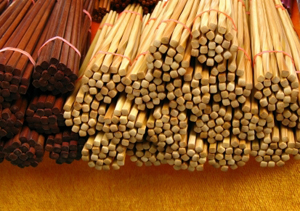 Recently a friend of mine exclaimed that China gets through 80 billion disposable chopsticks a year.  This is enough to fill Tiananmen Square three times over.  With a population of 1.4 billion, the demand for these utensils is eating away at China's forests, at a staggering rate.  China's natural forest resources are extremely limited (139th in the world); despite this, 3.8 million trees a year are being cut down – that is, about 100 acres every 24 hours.
This deforestation is having knock-on environmental effects, causing landslides, flooding and leading to climate change.  One of the contributors to forest over-exploitation is the demand for disposable chopsticks.  The situation is not looking any more promising as the uptake for Asian cuisine is becoming more common across the globe. Read more…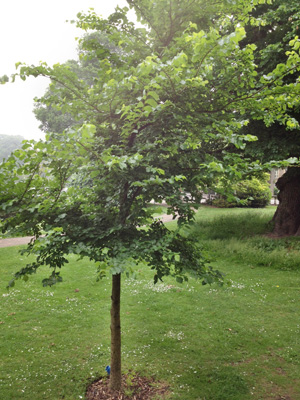 Brighton in Sussex is home to Britain's largest population of Elm trees. These 19,000 elm trees are known as The National Collection. Elm trees are increasingly rare due to the blight brought by Dutch Elm disease principally in the 1970s.  Initially this came into the UK as long ago as 1926.  Dutch Elm disease is a fungus carried by beetles and affects only elm trees. In response to this attack, an elm tree will automatically produce tyloses, an effective natural defence against the 1926 strain of Dutch Elm disease. Tyloses occur in the xylem – water conducting vessels of the plant / tree, sealing them off and restricting the movement of the pathogen.
However in the early 1970's,  a new strain of Dutch Elm disease was imported from channel ports, linked directly to the Canadian Rock Elm. This strain travels faster through the elm trees and kills them before they can produce tyloses. Since the introduction of this strain of Dutch Elm disease to Britain, the number of elm trees has gone down from about 3 million to fewer than 200,000 and many of these are very young ones which will certainly succumb to the disease. Elm trees reproduce by root stalks more often than by seed and so this transmission mechanism quickly spreads the disease between elm trees and along elm hedgerows. Read more…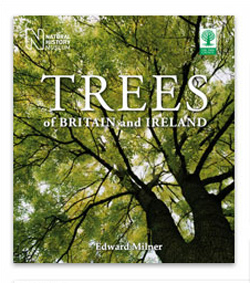 This is not a book filled with impenetrable botanical terminology and nomenclature, nor is it  a "coffee table" tome.  It is far more readable and useful than such texts.  It is written by Edward Milner, who has a strong background in ecology and natural history and consequently he addresses the biology, history,management, ecology, and uses of our native trees *. Read more…
Subscribe to our blog email updates