Several woodland owners have put solar panels in clearings or next to their woodlands and they wonder what effect these man-made structures have on nature.  There is also general discussion as to whether open field solar arrays (or solar parks) are good or bad for wildlife.  Of course, in the big scheme of things – renewable energy is certainly good for the wider environment to the extent that it reduces carbon emissions by substituting green energy for fossil-fuel-based electricity.
It now seems that many of the earlier fears about the impact of solar panels were unfounded. Read more…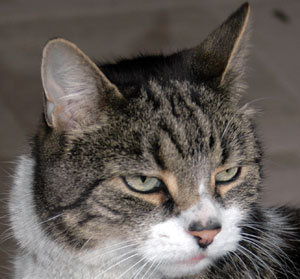 Cats have been been 'domesticated' for many thousands of years, and currently stand as the most popular pet in the world (according to Wikipedia).  It has been suggested that the Egyptians were the first to domesticate the wild cat.   Though the association with humans probably pre-dates their domestication, recent research suggests that cats were attracted to ancient farming villages – perhaps by the supply of rodents  (rats / mice).  It is possible that cats are descended from african wildcats that 'self – domesticated' somewhere in the Near East.  A kitten has been found buried alongside human remains in Cyprus; this dates from some nine and half thousand years ago.
However, more recently, the BBC's Wildlife program focused on domestic cats and wildlife.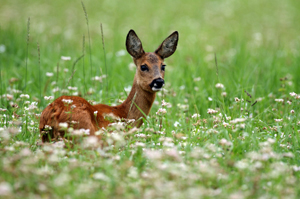 There are six species of deer to be found in the U.K. – two of which are considered native – Roe Deer and Red Deer.  The other species, Sika, Chinese Water Deer and Muntjac have been introduced in the last 150 years – and the Fallow deer is often accepted as part of our natural heritage as it was introduced back in the 11th Century.
The range of Roe Deer (Capreolus capreolus) has extended considerably in the last 40 years, as have the numbers of Roe Deer.   The natural predator of the Roe Deer is the lynx, but this does not exist in the wild in the U.K – so the population has had one control on its numbers removed.  Read more…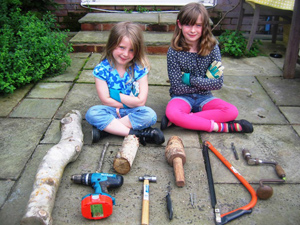 Bugs or invertebrates such as insects, arachnids, centipedes, molluscs, crustaceans and millipedes are an essential part of any ecosystem including our woodlands. In woodland they help create the leaf litter layer and dead wood which adds essential nutrients into the forest ground layer. Some insects pollinate flowers helping to create productive crops, biodiversity and picturesque woodlands. Some even provide us with honey.
The wonderful birdlife we have in this country thrives due to the large number of insects which are essential food stuff for birds, including our woodland birds such as woodpeckers, tree creepers and willow warblers. Read more…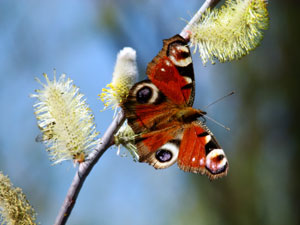 Butterfly Conservation UK and the Centre for Ecology and Hydrology have been involved in the monitoring the status of butterflies through various citizen science schemes*.   UK butterflies (and indeed, birds) are probably the best-studied wildlife groups thanks to the dedication of an enormous workforce of highly skilled and committed volunteer recorders. Butterflies and birds have been observed and recorded in detail for many, many years and these detailed records and counts yield an invaluable resource of information for the analysis of population change(s).
A recent report indicates that some 70% or more of our butterfly species are in decline and that the geographical distribution of many has contracted. Read more…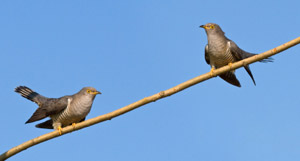 They are on the move! Who ? The Norfolk cuckoos that were fitted (last Spring) with solar powered 5G satellite tags.  Through these devices, the cuckoos were followed back to their 'winter homes' in Africa.  The tags transmit for about 10 hours at a time, then they go into 'sleep mode' whilst they are recharged by the light – ready to broadcast the position of the birds some time later ☆. Read more…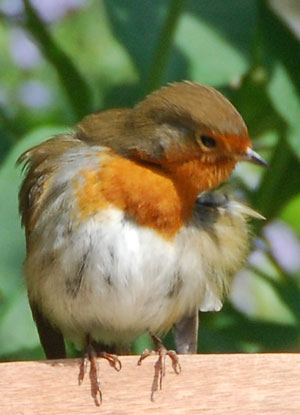 S

eason's Greetings.   
The robin, frequently pictured on Christmas cards,  is making something of a "come back".  Its numbers have increased by roughly 50%, compared to when it was first recorded back in 1970.
The RSPB has suggested that milder winters and earlier Springs have contributed to its increased numbers; and it is estimated that there are now some 5 – 6  million breeding pairs of robins in the U.K.  However, its populations can be 'knocked back' by hard winters – such as we have experienced recently.  A small bird, such as the robin, can rapidly lose much of its body mass through a short succession of cold nights and days – burning its reserves (of fat) to generate heat energy  to maintain its body temperature.  They also use up energy in the search for food, which is often in very limited supply under cold conditions. Read more…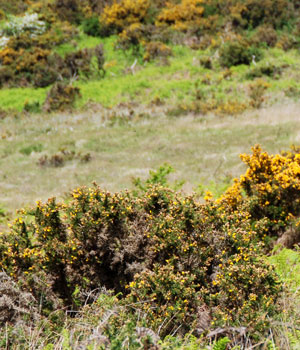 Heathland is a threatened habitat.  Over the last two hundred years, the U.K. has lost some 150,000 hectares of heathland.  There is now only  58,000 ha of heathland left in the U.K; this represents one fifth of the world's total.  Areas of heathland can be found in the High Weald of Kent (Ashdown Forest) and the Breckland of East Anglia.  Breckland is a particular type of heathland, being a dry heath.  The average annual rainfall is only 600 mm or so and  it experiences hot summers and cold winters, together with frequent frosts. Read more…
Subscribe to our blog email updates