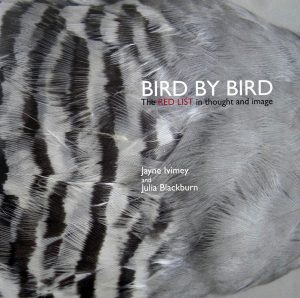 Jayne Ivimey and Julia Blackburn have put together an amazing exhibition that makes grown ups cry.  It describes the plight of wild birds in the face of human activities from oil spills and pesticides to loss of habitat from climate change.  The official RED LIST is the list of seriously endangered species and the number of birds on it has recently grown from 36 to 70, so that extinctions now seem almost inevitable for some with humans as the perpetrators.  But this is more than just a lament: it is also a celebration of what the authors call the "miracle of the gift of flight" and the magic of birdsong.   Woodland birds play an important role in the roster of the 70 birds that Jayne has recreated in clay.  Jayne Ivimey has a deep commitment to bird conservation and a few years ago, along with Julian Fitter, she did a large survey of wild birds in New Zealand travelling all round the North Island and the South Island.  It resulted in the setting up of a project to preserve the New Zealand dotterels and indirectly inspired the whole Bird by Bird project.
Jayne Ivimey has moulded 70 life-sized birds in clay, birds that are threatened by humans in one way or another, and made 'in memoriam'.  She did consider glazing the resulting models with a red glaze like some of the Chinese funerary ceramics, but she chose instead to leave them in the more raw, white biscuit state.  The clay birds are packed away in wooden crates reminiscent of the mass graves, or perhaps of industrial farming methods, and their delicate features are highly emotive.    To get a perspective on how dead birds look Jayne visited the huge Natural History Museum collection at Tring in Hertfordshire (over 250,000 birds) and the collection at the Castle Museum in Norwich.  For help with the firing and creation of the clay birds Jayne got help from her sister Joey Scholfield and from Clive Davies, an experienced potter.
She was helped too by woodland experts and owners including Mark Cocker.Julia Blackburn wrote the text of the accompanying book, describing many of the threats to British birds and draws on plenty of ancient and modern thought.  For example, a Gaelic proverb states that, "deserted indeed is that country where no voice of bird is heard."  Even Thomas Aquinas opined on birds: "where there are birds there are angels".  Gilbert White, often described as the father of ecology, wrote, "the nightjar is a wonderful and curious creature, and ... the lark ... carries the joyous sound to the sky."   So what can we do to help, Bird by Bird, to protect what is still left?
Ivimey and Blackburn's conclusion is this: "Here are the birds that are under threat; white and still and silent; beautiful in their form, in the dignity of their being... a patch of nettles can help them, an untamed corner, a mess of bushes.  Weeds.  No sprays to turn a lawn into a carpet of uniformity,  No pesticides. No herbicides.  Just the simple possibility of leaving things alone and remembering that we are one species among many...."
The book is £10 and can be bought direct from the author - email: [email protected] or from
Jarrold's of Norwich or the Holt bookshop in Norfolk
You can see the birds exhibited at:
LAND and SEA, The CUT , Halesworth Suffolk IP198BY,  June 4th-July 20th 2019.  01986 873285
or later at:
Norwich Cathedral Gallery . BIRD by BIRD, Nov 8th-26th 2019.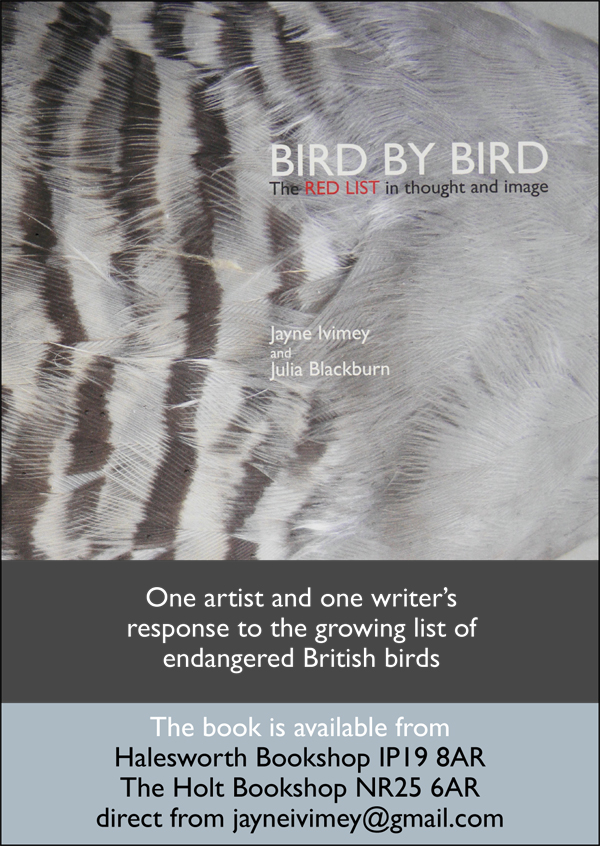 ---
---
Leave a comment