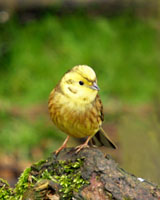 Managing your woodland to conserve its bird population and encourage species which are struggling is possible with a little planning. 
Bird Conservation and Woodland Management
Basic advice on managing woodland for bird conservation is available through the RSPB's comprehensive website.  The Bird Conservation Targeting Project is a nationwide survey of the population distribution of wild birds.  Maps are already available for England, with maps of Wales and Northern Ireland available in March 2008, and maps for Scotland to follow.  These are accompanied by information on how to manage farm and woodland to encourage particular species.  Follow the links to View targeting maps and management advice.  For example, select "Lesser Spotted Woodpecker" in the "Species" drop-down box and then you can view distribution maps and an information sheet (downloadable pdf files) with details on habitat and advice on management to encourage this particular species. 
Feeding Back Information On What's In Your Area
The RSPB also encourages you to contribute to the Project by feeding back information on what birds you have seen.  This information is crucial to target properly government grant schemes, such as the English Woodland Grant Scheme, and conservation initiatives.  The RSPB says that, "experience has shown that species recovery is enhanced when wildlife friendly management focuses on the sites where the largest and most viable populations of most vulnerable species occur" so do check the maps of your area.  30 vulnerable species are currently being targeted, including:
Firecrest

Hawfinch

Lesser redpoll

Lesser spotted woodpecker

Linnet

Long-eared owl

Nightingale

Nightjar

Pied flycatcher

Redstart

Song thrush

Spotted flycatcher

Tree pipit

Tree sparrow

Turtle dove

Willow tit


Wood warbler

Woodcock

Woodlark

Yellowhammer
Some of these species prefer a totally woodland habitat, but many like the cover of woodland edges with open land around for feeding.
Recording your sightings is easy to do online with the BTO's Birdtrack .  Once you have registered (you only need to do this once), you can go back as often as you like to record your sightings.  You can also view and manage your records.
Other useful websites and further reading:
Forestry Commission:  guide to managing deadwood, "Life in the Deadwood" ,
"What's Happening to our Woodland Birds?", a re-survey carried out in 2003-4, "The Silviculture and Management of Coppice Woodlands" by Ralph Harmer, £12, available to order from the FC at [email protected]
DEFRA for advice on grants and funding
Find your local RSPB group at http://www.rspb.org.uk/localgroups/
Leave a comment
Subscribe to our blog email updates
Managing Your Woodland for Wildlife
A new book on encouraging biodiversity in your woodland. Available free here »