Woodland Organisations
S

mall Woodland Owners' Group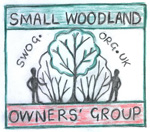 The Small Woodland Owners' Group (SWOG) is an informal on-line network throughout Britain, formed so that owners can make contact with each other and the wider woodland scene.
SWOG helps woodland owners share their knowledge and experience with each other through a monthly on-line newsletter, and an on-line forum. Members arrange meetings, usually in their own woods, sometimes with a speaker. As well as being informative, these meetings give an opportunity for owners to meet others like themselves face to face. Membership is not restricted to actual owners, and is free.
Small Woods Association

The Small Woods Association promote the responsible management of woodlands. They produce an introductory pack and have a magazine that is useful to owners. For anyone buying a woodland who is not a member, we at Woodlands.co.uk offer free membership for the first year. They also have a helpline, run courses and put on regional and national events and conferences.
Royal Forestry Society

The Royal Forestry Society is a slightly conservative but very active charity whose objective is to "promote the wise management of trees and woods". They have over 4,000 members and have been going for 125 years. As a member you will receive their Quarterly Journal of Forestry, which is definitely worth reading. The RFS also organises walks, talks, study tours and outdoor meetings mostly about woodlands.
The forestry bias is changing as the RFS recognises the increasing number of woodland owners whose objective is not primarily timber production. For anyone buying a woodland who is not a member we join you up to the RFS's free trial year.
Forestry Commission

The Forestry Commission is a large government organisation, which is split into two parts – the one dealing with their own forests and the one that advises private owners. It is the latter which can help the woodland owner with free advice, grants and useful information. The FC have recently become much more supportive of owners of smaller woodlands, and the focus has gradually changed from exclusively timber production to include a very strong commitment to encouraging biodiversity, and recreational use.
British Trust for Conservation Volunteers
The British Trust for Conservation Volunteers (BTCV) is a national voluntary organisation whose main objective is to enable volunteers to work on conservation projects. Many of our purchasers began by joining in with the local BTCV volunteers to get a feel for how to look after a woodland, and to meet like-minded people. The organisation also runs useful courses and publishes excellent handbooks.
Wildlife Trusts

Each county or group of smaller counties has its own semi-independent Wildlife Trust, part of a national network. The Wildlife Trusts are dedicated to protecting and improving the natural environment by educating the public, and by enabling volunteers to take an active part in conservation projects. Often they run local courses on specific subjects of general interest.