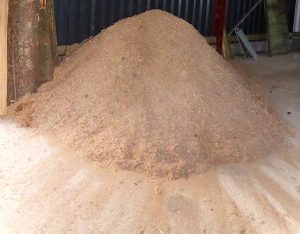 It is a truism to say that trees provide wood or timber.  Timber (or lumber in the States) is wood that has been processed into planks or beams, part of the process of wood production. Timber may be supplied either rough-sawn, or surfaced on one or more of its faces. It is available from many species, usually hardwoods; but it is also available in softwoods, such as white pine and red pine, because of their low cost. Finished timber is supplied in various standard sizes, mostly for the construction industry—primarily softwood, from coniferous species, including pine, fir and spruce, cedar, and hemlock, whereas hardwoods are for high-grade flooring and furniture. Read more…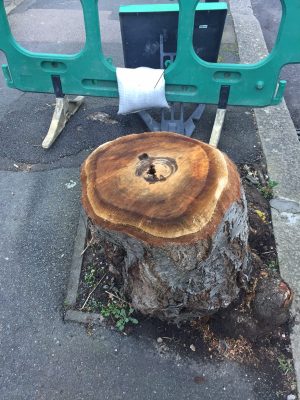 Whilst Sheffield is renowned for its woodlands near to the city centre and its 36,000 street trees, it has now become the scene of conflict over their future.  A dozen people have now been arrested and the authorities have acted in ways that seem fairly heavy-handed.  Two older ladies each about 70 years old (Jenny Hockey and Freda Brayshaw) were arrested when they protested against the tree-massacre. They weren't actually charged, but others have been.
The battle over Sheffield's trees all started when the City Council signed an agreement with Amey to manage some of their infrastructure, although the terms in the 7,000 page agreement are secret.   As it contains commercially sensitive information Sheffield Council are not revealing the full contents of the 2012 PFI deal (Private Finance Initiative) and even some of those defending it haven't read the whole document. Read more…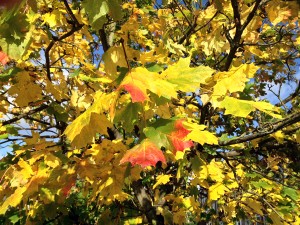 At some point during the months of Autumn,  the leaves have done their job (that of making sugars to be used in growth, the formation of new twigs and branches, forming fruits and seeds).  However, winter is not good for photosynthesis or growth; winds, low temperatures and low light intensities adversely affect a tree's ability to make sugars. Indeed, if the leaves were retained throughout the winter, they might be regarded as a liability as they would use the the tree's reserves (that were stored away in the Spring and Summer).  Plus, leaves would offer greater resistance to the wind and the tree would be more likely to suffer damage.  High winds are always more dangerous to a tree when it is in full leaf. Read more…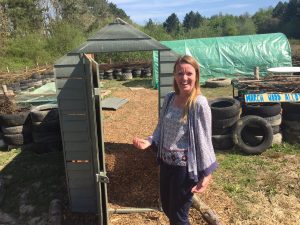 The March Wood project in Kent is using nature to help young people and families with "additional needs" and adults with mental health issues.   We run educational and therapeutic programmes and teach a range of practical skills. For example we help people to use hand tools, identify trees and plants. We also do firelighting and show how to managing risk around fires and edge-tools. we also help young people and adults deal with social and emotional issues through group discussions and one-to-one therapy sessions.
Our project has been running for almost two years and we've worked with over 100 young people and their families; young people with physical disabilities that include blindness, young people with autism and ADHD. Read more…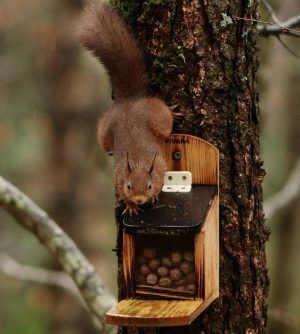 I purchased Snighow Wood, in Wasdale, with the intention of maintaining it as a wildlife habitat; specifically red squirrels. Formerly occupied by red squirrels, greys had moved in some years previously. The timing of my purchase (end of December 2015) was fortunate, as greys had been (largely) removed from the area about a year previously, by the West Lakes Squirrel Initiative. With the choice of three plots of woodland, I chose the one which I thought most suitable for the squirrels, and requiring the least amount of work. There was hazel to be coppiced, rhododendrons to be tackled and paths to be cleared or created! Read more…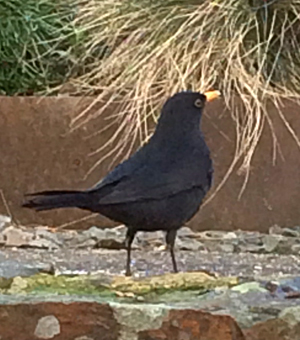 Since 1979, people have been watching the birds in their garden or local park for an hour as part of the Big Garden Birdwatch, and telling the organisers (RSPB) what they have  seen.  The Big Garden Birdwatch has been running for some 37 years and has provided a mass of data on the bird populations of the U.K.   The data gathered give an insight into how our wildlife is faring.  The RSPB's Big Garden Birdwatch takes place this weekend (28 – 30 January, 2017).  If you would like to take part, visit the RSPB's website e.g.  www.rspb.org.uk (links to a pdf file).
What is involved ? Read more…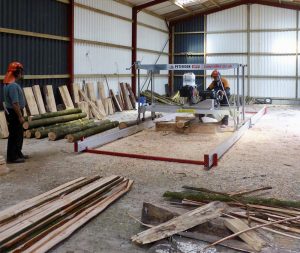 In these days when just about anything is available, delivered to your door with just a few taps on an app, I have introduced my own delivery service for some of our woodland owners – delivering to their woods rather than their homes.   The product or maybe that should be by-product, is sawdust, all neatly bagged up and deposited where it is most needed namely close by their composting loos. Not the sort of thing that is going to qualify me for a slot on Dragons Den, but satisfying in that (a) a "waste" product is put to good use and (b) the woodland owners are very appreciative.
How did it start? Read more…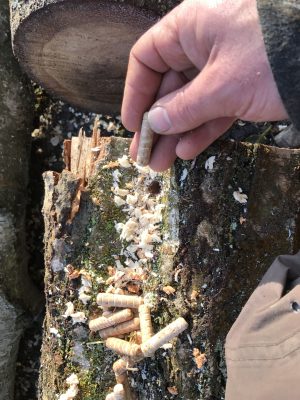 It wasn't until I started spending more time in our woodland that the thought of foraging entered my mind. Over the seasons the landscape revealed both edible delights and seasonal beauty: I hadn't realised how prized the bilberries were to the wildlife and how little chance I had to add them to my breakfast bowl or to pancakes made on an open fire.
We are lucky enough to have a semi ancient woodland but its overplanting warranted some thinning of the spindly oaks. It pained me to take down my first tree but I saw it as a symbiotic relationship where the intervention was aiding the long-term wellbeing of the woodland. Thinking about this threw up the idea of growing edible mushrooms. Read more…
Subscribe to our blog email updates