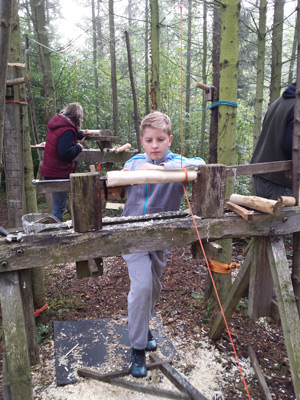 After we bought our woodland, we were given £300 by Woodlands.co.uk for a course and I chose a green woodworking course for two of us – me and my 11-year old son, Thomas. The course is designed to give beginners a taste of a variety of the skills and techniques that are used in green woodworking.  Before booking the course, I spoke to Ben at York Woodcrafts about the suitability of the course for my son; and was really pleased that Thomas could attend as he already had some tool handling skills.
During this 2-day course, our main project was each making a stool and as part of this we learnt how to select wood and understand the wood shrinkage from its green state. We split wood (Cleaving) with a Froe (a splitting chisel) and a Beetle (wooden mallet) – which really helps you understand how wood grain can be twisted, depending on where its grown. Read more…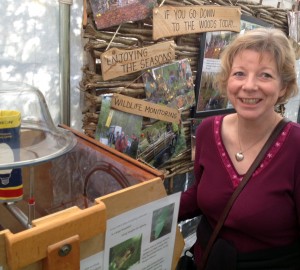 Moths are attracted to the light and are largely nocturnal.  So a woodland owner can trap and identify moths – if they have the right moth-catching equipment.  Woodland owners, Heather and Rodney have developed a brilliant home-made moth trap, which uses a mercury vapour bulb and is powered by a generator.  This has saved them the cost of buying a commercial moth trap, (at a cost of about £200); it has also given them a trap which is much more suited to their needs.
Using this device, Heather has identified over 350 different moth species over the last couple of years, such as the large grey Clifden Nonpareil (see image below).  It turns out that moths are really important in woodlands as they pollinate many plants and provide food for small mammals, spiders and bats. Read more…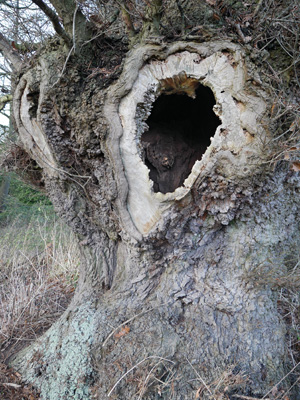 The term ancient or veteran tree is much used by foresters / arboriculturalists. A veteran or ancient tree is 'defined' by a number of features : age, size, history, and condition. A veteran tree will usually have a large trunk, often with decay holes, and bark may have been lost. There may be fungal fruiting bodies, together with lichens and mosses (epiphytes); indeed, the tree may support a rich variety of wildlife. This is particularly true of veteran or ancient oaks.
Some veteran or ancient trees have achieved this 'status' as a result of being 'managed' – that is, through coppicing or pollarding. These techniques modify the 'normal' pattern of growth.   Species like Sweet Chestnut, Hazel, Willow and even Holly were subject to such management techniques. Holly, for example, was valued as it offered shelter to animals. Woods or groves of holly trees (known as hollins) were not uncommon.  Read more…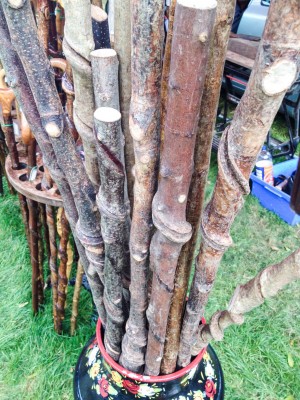 Peter Jones and his sons make walking sticks on a serious scale using sticks they come across in the woods, where they do their forestry work.  They use chestnut, silver birch, oak and hazel.  But they avoid using willow, as it goes brittle once it's aged.  Apart from finding the right stick to work on they need a steamer for bending the tops of the walking sticks and a good supply of sealant and varnish for protecting the finished sticks.
"Honeysuckle makes the best twist sticks" advises out Peter Jones, who comes across a lot of twisted stems in Kent and East Sussex.  As a result, he is able to trade these with fellow stick makers in more northern English areas – they give him carved tops for walking sticks in exchange for good twisted shanks.  But even among twisted sticks there is variety: the slower growing trees such as holly and oak twist more slowly whilst the fast-growing chestnut twists quickly.  Though he also corrected me pointing out that the maker of walking sticks should really be called a "stick dresser" Read more…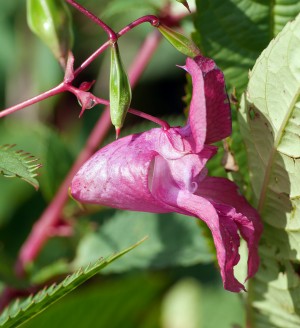 Himalayan Balsam (or Impatiens glandulifera) is a not unattractive plant; it was introduced as a garden plant to the U.K sometime in the mid-nineteenth century. It is an annual plant and probably the tallest annual in the country – growing to heights of six foot. The flowers are somewhat variable in colour from a striking pink / purple to almost white. The shape has been likened to a policeman's helmet – hence it is sometimes known by that name. It flowers from June right through to October – which is quite late in the year; i.e. still producing seeds long after most other annuals. The black seeds form in capsules – which open explosively when mature, dispersing the seeds. Read more…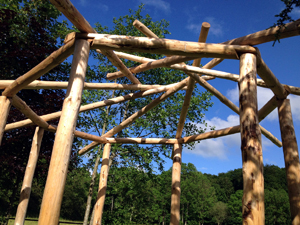 With the henge completed, the next stage of the summerhouse build was to construct the roof. The type of structure we have chosen is a 'reciprocal roof'. This is a simple and elegant roof form which is entirely self-supporting. It is also very strong, making it an ideal base for carrying a green roof since these can be quite heavy.
To form a reciprocal roof, rafters are arranged in a spiral so that each rafter rests on the previous one. The last timber fits underneath the first so that the whole structure interlocks. This leaves a circular opening at the centre, which provides an opportunity for creating a skylight. Read more…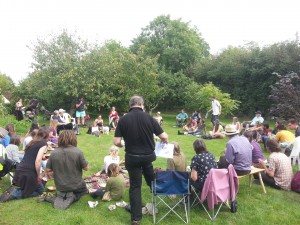 One Planet Development is a still-young planning policy that provides for granting of planning permission for low impact rural development in Wales. Its aim is to permit development on rural land where it might not otherwise fit with planning guidelines, provided a set of criteria are met about sustainability, impact, the income generated, the level of food requirements met locally, and the level of self-sufficiency of the households involved.
So far few applications have been successfully carried through to approval, (Nant-y-Cwm was the first) but there are a number in the process.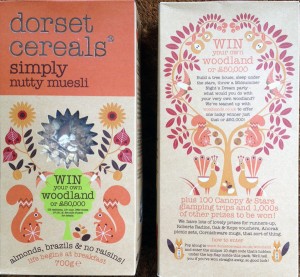 Dorset Cereals produce "Muesli, but not as you know it ….".   Using the "best possible natural ingredients", they package up their cereals in beautifully decorated cardboard boxes, and they have been a terrific success with UK consumers, pushing annual sales to over £40 million.  With cereal names like "Proper Porridge" and "Fantastically Fruity Muesli",  Dorset Cereals have encouraged us to eat more healthily at breakfast and have helped shift millions of British people away from the sugary, bland cereals of the American multinationals towards something both more local and more organic.  They describe their cereals as honest, tasty and real.
Last month Dorset Cereals launched a competition on their packets, in partnership with us at woodlands.co.uk, to win a woodland worth up to £50,000. Read more…
Subscribe to our blog email updates