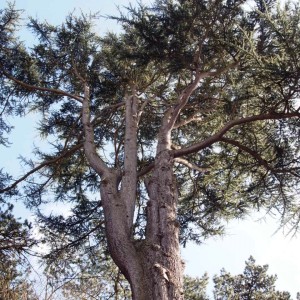 Anything can happen in the woods. There's something uniquely primal and mysterious about being surrounded by ancient trees, dense undergrowth and hidden, scurrying wildlife – a sense of freedom and disorder that we've pretty much lost in our neatly sterile towns and parks. But how often do we actually make the effort to go into the woods, to leave the order behind and lose ourselves under the beautiful, chaotic, living canopies? How many of us even know where our nearest woodland area is?
As a child growing up, the local wood was a second home, a playground and a school all in one. My friends and I would spend whole days climbing trees, jumping in the streams, building forts with fallen branches and letting our imaginations run riot. Read more…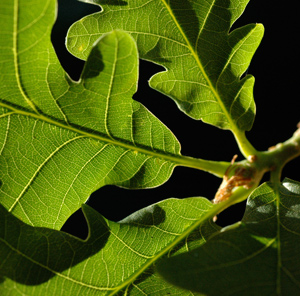 Woodlands contribute substantially to the character of the countryside, clothing the sides of valleys and hillsides, forming copses and wider swathes of wood.  The amount of woodland varies from county to county, in some areas broadleaved woodland dominates whereas others have a preponderance of coniferous plantation.  The national average for woodland cover is about 8.3%, with Surrey, Sussex and Hampshire being some of the most 'wooded' counties.  The oak is perhaps one of our largest native, broad-leaved trees.  There are two native species of oak; the sessile oak (Quercus petraea) and the pedunculate oak (Quercus robur). Oaks are (generally) long-lived trees that grow quite slowly, compared to other broadleaved species. Both the pedunculate and sessile oak (and their hybrids) can grow to be very large trees.   Old trees can have a circumference of 10+ metres. Read more…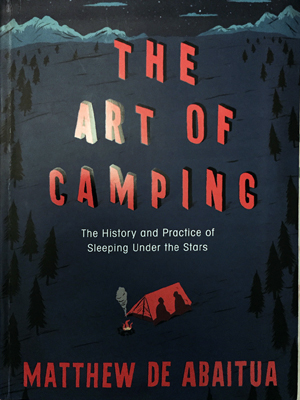 Camping is booming – one in five adults in the UK has been camping or caravanning in the last 3 years: increasingly people want to get away from their screens and get back to nature.  Pitching a tent, as De Abaitua says, is "an act of hope, that you might experience something truthful and be improved by the experience, but, most of all, hope that it will not rain."
The Art of Camping is also a history of camping which covers Britain and the USA from the 19th century onwards and introduces us to some extraordinarily adventurous campers, such as Ernest Thompson Seton who inspired a movement called the Woodcraft Way which in turn led to the mass camping movements such as the Scouts and Guides and on both sides of the Atlantic and to the educational summer camps of America.  But his pioneering work also led to radical camping groups such as the Kindred of the Kibbo Kift with whacky experiments in camping culminating in ritual ceremonies involving dressing up and the use of Egyptian hieroglyphs. Read more…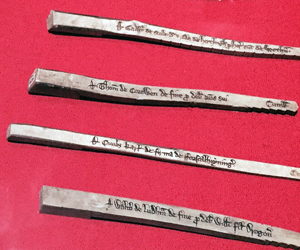 In ​the ​13th century,  ​"​forest​"​​ ​land​ included fields, heathland, villages ​as well as woodland​ – Royal Forest​​s were area​s​ where ​very ​different ​and rather Draconian ​laws applied​.  Over the previous two hundred years a "forest" had become a royal hunting ground​ for the King and, by invitation only, the aristocracy and very strong restrictions applied to this land.  ​B​y the beginning of the 13th century a third of southern England was designated as forest​ even though Royal Forests hadn't even existed before 1066: they were were set up and extended by successive​ Norman Kings.  Royal Forests were so extensive that all of Essex was included at one point.  Not only did ordinary people have fewer rights ​in forest lands ​but it was uncertain exactly what those rights were.  This left an opportunity for kings to extend the size of the forest and enlarge their powers. Read more…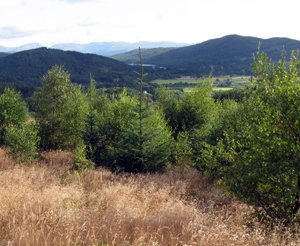 Birch is a pioneer species, that is often replaced by oak, beech or other species.   After the last Ice Age, birch moved in quickly as the glaciers receded.   Even now, after clearfell in almost any part of the country,  birch is usually the first to appear by natural regeneration (and can act as a nurse for planted oak etc.); some refer to it as the 'forester's weed'.    Birch woodland is generally "open" and the trees are often of a similar age and size. Birch regeneration is often respaced (thinned) with a clearing saw  (the resulting thinnings may be used for horse jumps – like the Grand National).
However, birch woodland has mainly persisted (in the U.K.) where conditions are harsh and limit the growth of other species. Read more…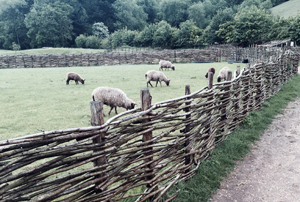 It feels as though you've been transported to an ancient bronze-age settlement, with smoke hanging over a series of primitive roundhouses, whereas actually you've probably just turned off the A3 to see if you can find a handy loo and cafe.  These buildings at Butser Ancient Farm are part of an archeological experiment to test theories about how structures and processes worked in pre-historical times.
Buster was established in the early 1970s, when a Dr Reynolds observed that archeological excavations were finding storage pits and no one could be sure whether they would have been effective for grain storage. Read more…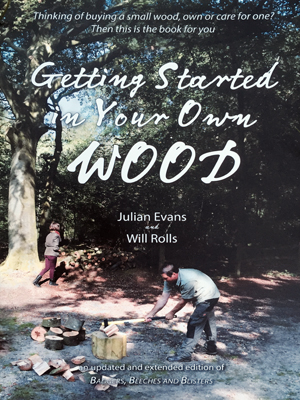 Some years ago Julian Evans, a retired professor of forestry and an owner of a small woodland, wrote a book to help new owners of woodlands.  It was called "Badgers, Beeches and Blisters" and has been extremely helpful to hundreds of owners, perhaps thousands.  This book has now been updated and re-written with new sections on emerging issues.  Some of the new material has been written by Will Rolls, author of "The Log Book" particularly chapters on woodfuel and tree diseases.  The new book is called appropriately – "Getting started in your own wood" and is just out and available online for £12.95.  It's easy to read and is a guide to looking after and caring for a small woodland.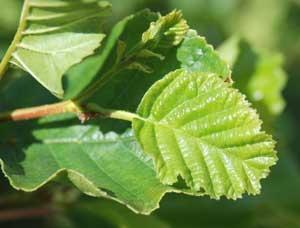 After the last ice age, the melt water from glaciers and ice sheets created areas of open and wet habitat. It was a 'fertile time' for pioneer species such as willow, birch and alder. Nowadays, wet woodland is scattered throughout the U.K. and Ireland, though western areas with greater rainfall are more likely locations.   Such woodland is associated with poorly drained or seasonally flooded areas, for example, the flood plains of rivers, or the edges of lakes, bogs and fens. Estimates of the area covered by wet woodland vary – but the Forestry Commission gives a conservative figure of 25 to 35,000 hectares. Much of it is relatively inaccessible and of little economic value. In consequence, it is often subject to drainage and/or clearance. Read more…
Subscribe to our blog email updates