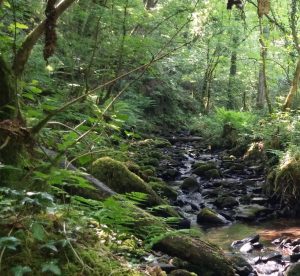 A while ago I came across an article on the Woodlands.co.uk website about buying a woodland in a SIPP and I thought it too good an opportunity to miss.
Having recently successfully completed the process I thought it might be useful to share my experience with others who may be thinking about it. It's worth knowing up front that although it is a relatively simple process, it is a bit more long-winded than purchasing with cash and there are a few more considerations to take into account. Here are the steps I went through: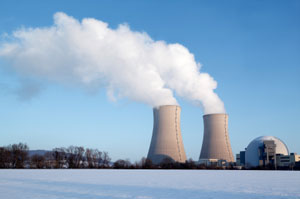 Climate change is a fact, though not one always accepted by certain politicians.   Greenhouse gas emissions have been growing since the C18th, and particularly in the period 1970 – 2004.   The warming of the world climate system is certain; air and ocean temperatures have increased.  
Though we cannot say how climate will change in any specific area with certainty, we can be sure that extreme weather events will become more common – droughts, heat waves, heavy rainfall, high winds and cyclones. Read more…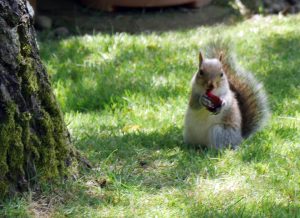 DNA profiling has many uses, notably in criminal investigations.  It often allows the identification of a victim, or can 'tie' a suspect to the scene of a crime.  However, it does have other uses.  When applied to animal populations, it can give information as to the origins of the population, the extent of inbreeding / outbreeding etc.  Recently, Dr Lisa Signorile (Imperial College, London) has applied DNA technology to the grey squirrel populations of the U.K. and Italy. Read more…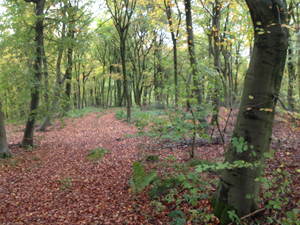 2017 could be the right year to take the plunge into woodland ownership:
1.  Money in the bank continues to yield virtually nothing, so putting some of your savings into a woodland means having an investment that you can actually enjoy;
2.  Like it or not, 2017 will be the year of Donald Trump and the uncertainty and apprehension that this brings.  In an uncertain world, having a wood of your own which you can escape to is a great reassurance;
3.  A recent survey showed that teenagers with smart phones check them on average 150 times a day: a woodland is an antidote to overdosing on screen time.  Your children or grandchildren may be suffering a "nature deficit" and being able to visit a woodland is a good way to make up this shortfall and help them grow up more healthily;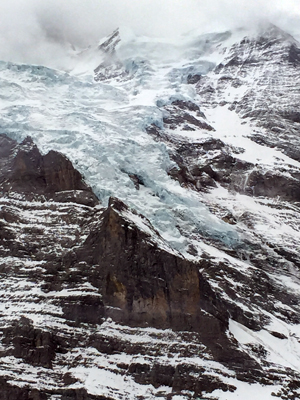 Plants have different solutions to the onset of winter and exposure to cold.  Some survive the cold as seeds – the rest of the plant dies; some over-winter as corms and bulbs.  Deciduous trees and shrubs shed their leaves and become dormant, reducing their metabolism to a minimum – just 'ticking over'.  Some trees live at the very margin of their survival.  As altitude increases or you move towards the poles so life becomes more difficult.
The tree line is the point at which trees can no longer tolerate the conditions.  Near to this point, the growth of a tree is very limited; the tree is stunted or deformed, sometimes forming a bush-like structure.   Read more…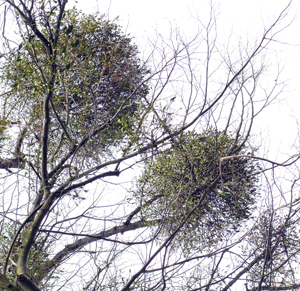 Many evergreen plants are associated with Winter, and Christmas in particular – notably various fir trees as 'Christmas Trees', holly and ivy for decorations and wreaths, and mistletoe as the decoration under which lovers might kiss.  For an interesting video on "The Botany of Christmas" visit Mark Nesbitt's lecture to the Linnean Society.
Associations with Mistletoe go way back and there are a number of customs and myths surrounding the plant.  Pliny wrote that it was collected by Druids – particularly from oak (believing that it held the soul of the host tree and it was to be cut from the trees with a golden sickle).   Mistletoe has been used in folk / herbal medicine to treat various ailments – from cancer to epilepsy but clinical trials as to its effectiveness are needed.  However, like many plants, mistletoe is actively being investigated for its phytochemicals and possible medical uses. Read more…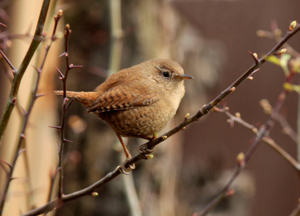 The wren is a small, brown bird; it has an almost rounded outline.   It is a somewhat 'dumpy bird', with a fine bill and relatively long legs,  and short, 'round' wings. Its tail is short and often held high – (though not in the picture here!).   Like many small birds and mammals – it suffers in very cold winters. Researchers at the University of East Anglia have found evidence that wren populations may be adapted to local climates.  Using data from the Breeding Bird Survey (run by the BTO, RSPB and JNCC), they found that wren populations were susceptible to harsh winter weather (as measured by the number of days with ground frost) BUT that northern (Scottish) populations were more resilient to harsh winters, even though these birds sometimes experienced 70% more frost days than their southern counterparts.   Information collected by bird ringers indicated that the body weight of the wrens in the warmest area (the south west) was 5% lower than those in coldest area (East Scotland). Read more…
Subscribe to our blog email updates