Climate change is now a fact of life and one aspect of this is the occurrence of more extreme weather events.  These can take the form of high winds / hurricanes, extended periods of heavy rainfall or conversely periods of drought.  Clearly extreme weather can affect all ecosystems; woodlands and forests are no exceptions.   Consequently in recent years, a number of organisations have been looking at different tree species in order to understand more about drought resistance (or the ability to withstand prolonged flooding – when the roots are deprived of oxygen).
INRA (French National Institute for Agricultural Research) has been looking at a small tree of the cypress Family (Cupressaceae) – Callitris tuberculata.   This grows as a small evergreen tree or shrub in Western Australia.  It can survive extreme drought and has been described as "the most drought resistant tree in the world". Read more…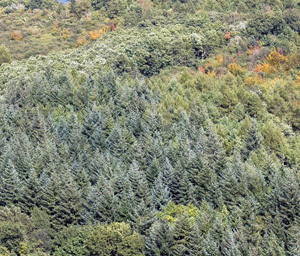 Mature woodlands and forests populated with deciduous trees remove significant quantities of carbon dioxide (a greenhouse gas) from the atmosphere, locking it up in complex organic carbon compounds – such as starch, cellulose and lignin.  Such compounds add to the biomass of the trees.  However, come the Autumn deciduous trees shed their leaves, and in Autumn and Winter winds break off branches and twigs.  These dead leaves and twigs etc contribute to the 'litter' on the woodland floor and the humus in the soil.   This material represents a vast source of 'locked up carbon'. Read more…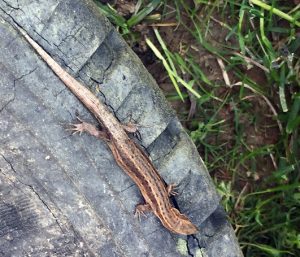 Visiting a woodland recently I noticed the messiness of some piles of old tyres and how they didn't seem to fit in well with an ethos of conservation.  The manager explained that the tyres are used by small mammals such as mice and voles and they are full of interesting wildlife.  Challenged to find a lizard on a sunny day, I picked through the tyres and found several, one of which was obliging enough to be photographed.  Tyres represent a habitat for small mammals and reptiles that gives protection from the weather but also from predators.  Also water gathers in the bottom of some of them and the puddles are useful for these animals. Read more…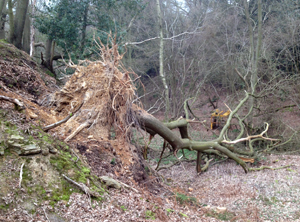 In 1987, the U.K. was battered by a storm – said to have been the worst that this country has experienced in three hundred years.  Hurricane force winds raged across southern England and the Midlands before the storm finally exited via the Wash.  It is often referred to as "The Great Storm"
Millions of trees were uprooted, woodlands flattened, parks and gardens destroyed, the National Grid damaged, cars hit by falling branches and people died.  Places like Wakehurst Place, the Sussex outpost of the Royal Botanic Gardens (Kew) lost some 60% of their tree collection as a result of this storm.  Kew Gardens itself lost many trees.  Many were uprooted and died. Read more…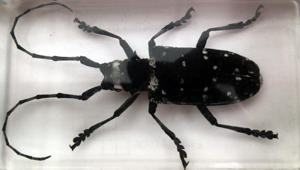 News of biological threats to our trees has not been so evident recently, in the face of imminent consideration of our place in Europe, and the very real terrorist threats. The range of pests and diseases that are making their way to our shores is ever growing, however. Whether that is due to climate change, globalisation of markets and importation of trees grown in other countries, or other factors is open to some debate, but probably all have an impact.
In some areas, it is no longer feasible to effectively fight the spread of certain diseases. In some parts of Wales, for example, Phytophthora ramorum infection of larch is now so widespread that Natural Resources Wales (which includes what was Forestry Commission Wales) are no longer issuing instructions (Statutory Plant Health Notices) to fell infected larch trees. Only to restrict movement of any trees that are felled, if infection is detected. Read more…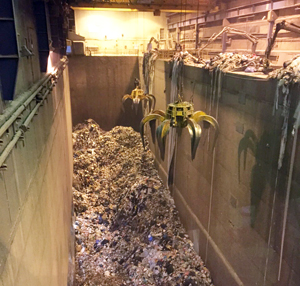 As a species, we humans have only been present on the Earth for a 'blink of the eye' in geological terms.   The Earth is approximately some 4.6 billion years old. Geologists have divided up these years into a number of geological periods or epochs – from the Pre-cambrian (from the formation of the earth until about 540 million years ago) to the most recent – the Holocene, which started at the end of the last Ice Age – about 12,000 years ago.
Modern Humans emerged out of Africa probably some 200,000 years ago, and since that time they have increased massively in number.   At the end of the C18th , there were probably about one billion people; now there are over seven billion.
We have changed the Earth in many ways.   Read more…
The steel works of Port Talbot may have been taking the headines recently with the threat to employment and the prosperity of the local community, but other parts of Wales are facing their own challenges. The Heart of Wales (Calon Cymru) railway line runs through beautiful landscape, starting from Swansea and Llanelli, skirting the Brecon Beacons, and passing through Llandeilo, Llandovery, Builth Wells and Knighton, en route to Craven Arms in Shropshire. A great place to live, but with an uncertain future. Along with other rural areas in Wales the region has suffered from many years of depopulation and social and economic deprivation; all features of a challenging topography, poor transport links and remoteness from major centres of population. Read more…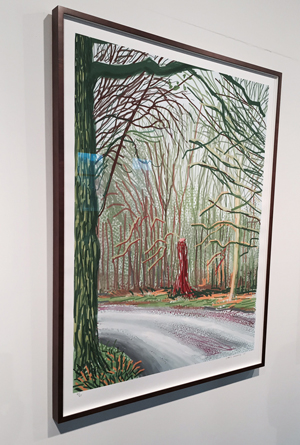 Artists seem to have a profound effect on the public perception of woodlands.  When we think of British woodlands many people will think of paintings by John Constable or Joshua Reynolds.  But our view of woodlands is changing as new images are produced, whether in advertising or by contemporary artists.   A couple of years ago David Hockney experimented with a new technique, producing a series of pictures of woodlands in the Yorkshire Wolds using an iPad which were notable in several ways – they used vivid colour and bold, stylised lines to give one perspective on Yorkshire woodlands, but they were also taken from a particular perspective.  Hockney personally feels the cold and he isn't very agile now as he gets towards 80 (born 1937) so he did this series of paintings from his car and many of them feature the road itself and the verge.  Hockney was consciously or otherwise showing trees as they are seen by the majority of the British public in a car-dominated society. Read more…
Subscribe to our blog email updates