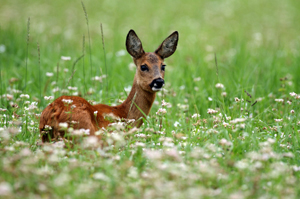 Woodlands throughout the U.K. currently support very large populations of various species of deer.  The indigenous deer species are Roe Deer and Red Deer.   Fallow Deer were introduced by the Normans but in the late C19th / early C20th Chinese water deer, Reeves Muntjac and sika deer arrived.  The three most widespread and abundant deer species now are Roe deer, Fallow deer and Reeves' muntjac.
The total deer population is currently at a very high level  Read more…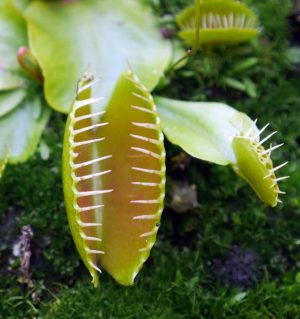 The Venus flytrap (Dionaea muscipula ) is a carnivorous plant found in  the wetlands of North and South Carolina in the United States.  The Venus flytrap is also popular as a cultivated plant and an 'object of interest' and can be found in many a garden centre.
In the wild, the fly trap is found in areas with nutrient-deficient soils (often low in nitrate and phosphate).  The plant makes up for the 'edaphic* limitations' by trapping and digesting insects (and spiders) in their specialised leaf traps. By doing so, they are able to extract nutrients such as phosphorus and nitrogen which are in limited supply in the soil – from the bodies of their prey.   The 'Dionaea diet' is, in fact, 33% ants, 30% spiders (which are arachnids – not insects), 10% beetles and 10% grasshoppers – only a small percentage are actually flying insects. Read more…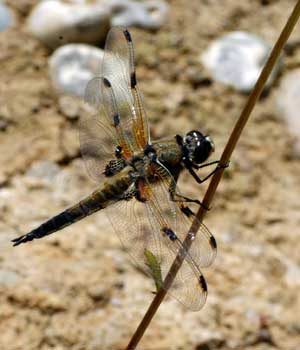 Many parts of the UK have recently experienced the driest October to March period for a long time.  This was followed by two relatively dry Spring months – April & May.  The Met Office Map of the UK found here – shows the rainfall pattern across the country as a percentage of the average rainfall for a 30 years period.
This has not only affected gardeners and farmers but river systems across the United Kingdom.  This is bad news as many rivers have already had too much water taken from them (abstracted) – for farming & industry.  The problem of over-extraction of river water is not helped by the fact that one fifth of all piped water is lost through leaks.  Thames water was recently fined millions for failing to reach its leak reduction targets. Read more…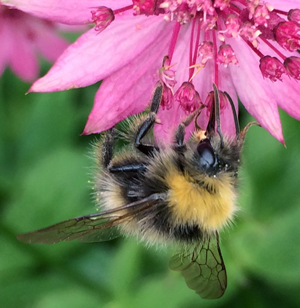 Recent research work at the University of Exeter (by Dr A Higginson) has suggested yet another reason for the decline in some bird and bumblebee populations – namely the loss of suitable nesting sites.  Clearly birds build nests but bumblebees establish colonies or nests too.
Bumblebee nest sites vary from species to species. The more common species prefer dry, dark cavities / holes but nests can turn up in a surprising variety of places.; for example – in abandoned rodent holes, or under sheds, or in compost heaps.  Some nest above ground making nests in long, thick grass, while others make nests in trees, bird boxes, and even lofts   Bumblebee nests vary considerably in size depending on the time of year and the species; a well-established nest can contain up to 400 bees. Read more…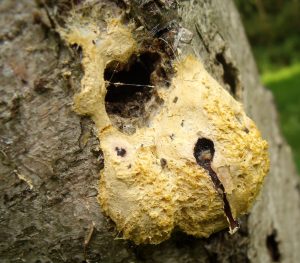 You may not be aware of it, but you are never far from a slime mould in the woods. You've probably seen one and dismissed it as some sort of noxious fungus. It is a common error, stemming from the misidentification by early naturalists that resulted in the misleading reference to mould within the name. Not plant, animal, nor fungi, these completely harmless life-forms actually belong to the single-celled group of organisms known as protists.
Although more commonly seen in Summer than Autumn, slime moulds can be spotted where you'd expect to find fungi; on leaf litter, fallen logs or dead vegetation – at least in the latter stages of their four-phase life cycle. Read more…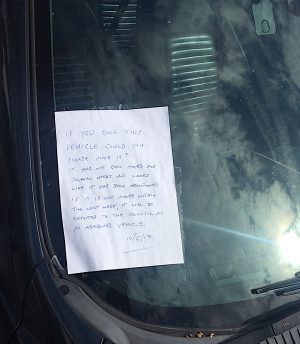 Woodland owners can be enraged by finding a note on their windscreen.  Most people have got used to texts and emails and even speaking directly, but the note on the windscreen is an art form of its own and one that presumably goes back well over 100 years – perhaps even back to the Egyptians of you include the note left on a chariot seat.    These notes can be very helpful ("I've left that fiver I owed you under the front wheel") or distinctly rude ("don't park in front of the gates – next time I'll let your tyres down"). In most cases this is one-way communication,  so the car owner has the frustration of not being able to answer back and often you don't even know who has left the note.  Surely this anonymity encourages people to be much ruder than they would be face-to-face, a bit like the phenomenon of the abusive posters on online message boards. Read more…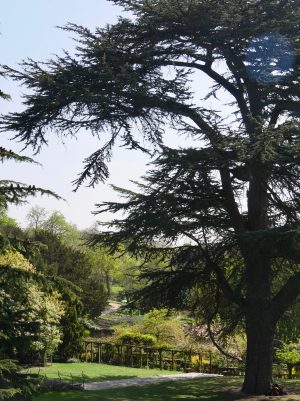 The Cedar of Lebanon (Cedrus libani) is widely planted as an ornamental tree in parks and the gardens of stately homes.  However, it is native to the mountains of the Eastern Mediterranean.  These trees were used by the Phoenicians in the building of their ships, used in the construction of Solomon's Temple in Jerusalem and the tree's resin was used by the Egyptians in the process of mummification.  Cedar wood is valued for its durability, grain, colour and fragrance; it is also a source of cedria (cedar resin) and cedrum (cedar essential oil). Read more…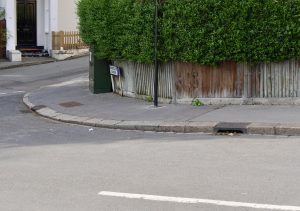 Hedges originally served the function of corralling animals; however they also offer habitats for many plant and animal species and they serve as important ecological corridors.  Now another role for hedges has been suggested – that of combating air pollution in our towns and cities.
Urban air pollution has been linked to Read more…
Subscribe to our blog email updates