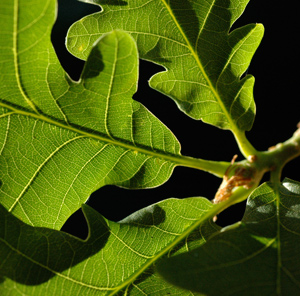 In early October,  BBC4 screened a 90-minute documentary capturing every aspect of life in an ancient English oak over an entire year  "Oak Tree: Nature's Greatest Survivor" focuses on a single tree in Wytham Woods, just outside Oxford, a site acquired by Oxford University in 1942 for woodland research.   The film, presented by zoologist, entomologist and broadcaster George McGavin, opens with an high-tech assessment of the tree's condition. By firing laser pulses, forestry scientists create a 3-D virtual image of the oak so they can track its size and shape over the 12 months.
At the outset, in late August, it's 19 metres tall and 30 metres wide and carries an estimated 700,000 leaves. Read more…
It is not unusual for owners to allow others to use their woodlands; community groups, scouts, guides, local schools and so on all benefit from spending time in woodlands up and down the country.   Less common is for a charity to use a woodland for pre-deployment training. Jon Mackeen, vice-chairman of DART international UK, a charity based near to the woodland in question, takes up the story:
"DART International is a registered UK charity that provides teams of experienced volunteer arborists (tree surgeons) to support worldwide disaster relief operations by removing obstructive trees and enabling other aid and rescue services to operate safely and effectively Read more…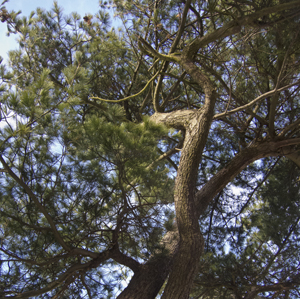 Our trees, woodlands and forests are facing a variety of challenges to their well being, ranging from the changing (and rather variable) nature of our climate (extreme events), habitat fragmentation, the introduction of non-native species (sycamore, turkey oak) and 'new' pathogens and pests (some airborne, some travelling on imported plants).  Fortunately, there are also a number of people and organisations who are working on ways to address these challenges.
At the Centre for Ecology and Hydrology, Dr Stephen Cavers, is the leader of the PROTREE project .  Using the Scots Pine as a "representative" of our native tree species, it will look at the following threats / pathogens :- Read more…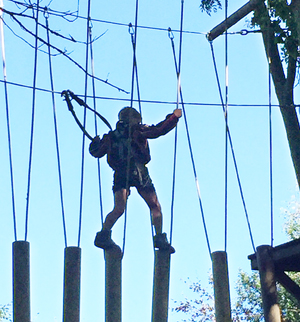 "Setting up our own business has been one steep learning curve after another," says Mark Oakden, whose background is in construction and surveying.  "When we opened to the public in May this year, we expected to be immediately overwhelmed by customers but it's taken some time to build up.  Now, 4 months on, it's going really well and we sometimes have 60 people in the wood climbing at the same time.  The most satisfying for me is working with kids who have disabilities or troubled backgrounds.  To be able to do something like this gives them huge self-confidence as well as a thrill."
Mark and his business partner Dave lease two acres of oak woodland at Bentley in East Sussex (near Lewes) and have invested over £300,000 to set up their high walkways, giant swing, climbing wall and zip wire.  Read more…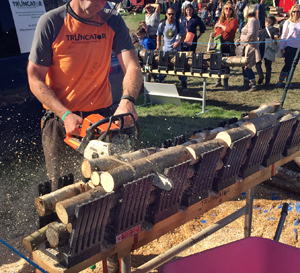 The worst thing about cutting logs with a chainsaw is all the bending down and picking up, stacking and generally time spent not actually cutting. Richard Bowness and Steve Tonkin have solved the problem – they make a sawhorse with a set of ingenious "cups" that space out branches for cutting and holding the cut logs. There is a hinge so that the cut logs can then be tipped into a wheelbarrow.
"Actually," explains Steve, "the name 'truncator' was suggested by our patent agent but it describes well what this device does – helps to cut up trunks and also truncates the task. We make the cups out of recycled plastic from old car batteries: this sort of plastic is particularly strong and doesn't splinter if it gets caught by a chainsaw." Read more…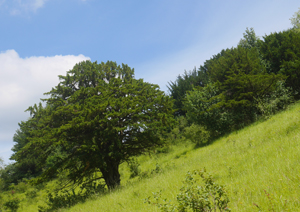 Yew woodland (in Southern England) tends to develop on the thin soils that form over chalk, often on the sides of dry valleys . They can be found along the North Downs, and in West Sussex on parts of the South Downs. Yew woodlands can also be found in the Cotswolds and in the Wye Valley (on limestone). In Ireland, there is a significant Yew wood near Killarney, again growing on top of limestone.
Yew woodland may develop from chalk grassland, when grazing by sheep or rabbits is removed. With no grazing, Juniper and / or Hawthorn start to grow.  Then, between these, shade-tolerant Yew seedlings begin to grow.   Eventually, the Yew will overtake the Juniper / Hawthorn, and shade them out. The dead remains of juniper and hawthorn sometimes may be seen on the floor of a Yew woodland. Read more…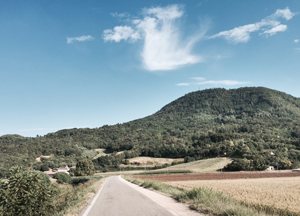 Italy has a long tradition of forestry management going back before Roman times, and ancient traditions very much influence Italy's woodlands today.  For example, 40% of Italian wood production is chestnut or beech which, along with oak, would have been dominant species for the Romans.  There are also lots of non-timber forest products that are important to Italians such as mushrooms, wild boar and firewood.  Indeed compared to the UK, Italy gets a large proportion of its energy from woodfuel with almost 60% of cut wood being used for domestic heating. Read more…
It a previous post about climatic debt, it was reported that some butterfly species (e.g. the peacock)  might be able to 'offset' some of the effects of climate change – by "moving north' i.e. changing their geographical distribution.  Now workers at the Centre for Ecology and Hydrology (Wallingford), Natural England and Butterfly Conservation have looked at the effects of extreme weather, specifically drought, on butterfly populations.  Butterflies are valuable indicators of change in natural populations, and there is a 'bank' of long term data on butterflies. Read more…
Subscribe to our blog email updates