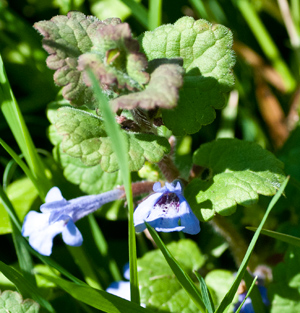 At this time of year, when walking through the bluebells and emergent bracken there is often a small labiate hiding in the herb layer – Ground Ivy.   Like other labiates (that is, members of the Lamiaceae), it has square stems and flowers formed from petals that have fused together forming two lipped, 'open mouthed', or funnel shaped flowers.  These flowers vary somewhat in colour from blue and violet, through to lavender.
The leaves are a dark green colour (with paler undersides) and are slightly downy; sometimes described as kidney shaped with regular but blunt teeth on the margins of the leaf.  The young / immature leaves may have a purple or deep red colour on their edges. The leaves are stalked (have petioles) and arranged opposite to one another.  The hairs on the leaves and stems can be seen in the jpg below. When crushed, the leaves emit a pungent smell. Read more…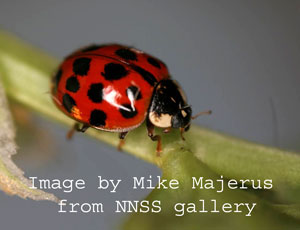 The asian or harlequin ladybird was used in commercial glasshouses / greenhouses to control aphids (greenfly / blackfly) – a single harlequin ladybird can eat up to 200 aphids a day.  Unfortunately, some of the harlequin ladybirds escaped and their offspring have spread across Europe – endangering native species.
Recent research has shown that this invasive species has an impressive immune system – the body fluids of this animal contain a strong antibiotic compound (HARMONINE) and also small proteins (peptides) that have anti-microbial properties. Read more…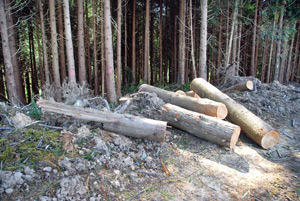 Anyone who has visited one of our woodlands for sale in Devon or Cornwall will most likely have noticed, maybe even sat upon, one of the benches which are a particular feature in the woodlands that my colleague – Stuart Brooking and I,  prepare for sale. Until now, we have bought in the timber for making the benches, from local sawmills – who use only locally sourced materials.
Recently though – through unfortunate circumstances in a way – we found ourselves with a ready supply of timber within our own woods, so we decided to go for a wholly DIY solution for our next batch of benches. Read more…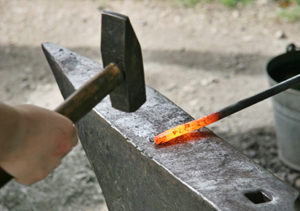 Tom is 21 years of age and a skilled craftsman – a blacksmith. He has recently become a woodland owner (via woodlands.co.uk) by purchasing Raleigh Wood.  Raleigh Wood is situated on a sunny hillside with far reaching views of the valleys towards Dartmoor. His partner, Cara, is also a blacksmith and will be managing the woodland with Tom.   I asked him when they started the journey to their chosen career and how they ended up owning a woodland at such a young age.
"Being younger is no barrier as you have more time, Read more…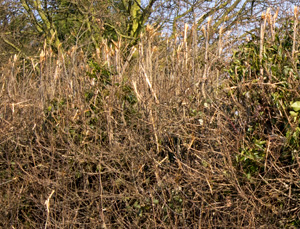 The work of Max Hooper established that not all hedges are 'equal' – they vary considerably in terms of their age and composition.  Many thought of hedges as products of the Enclosure Acts of the C18th and C19th, that is, they were added to the landscape in these times – but many hedges / hedgerows (representing various boundaries) date back many centuries.  There are significant differences between truly 'ancient' hedges and those established in more recent times.
Ancient hedges are generally species rich – in terms of the species in the herb, shrub and tree layers, and consequently rich in associated birds and insects.  Ancient hedges are often associated with natural features or boundaries Read more…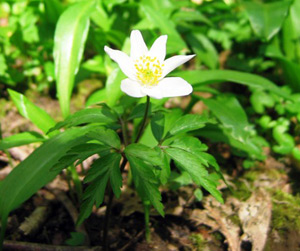 The official Latin name of the wood anemone is Anemone nemorosa but it is also known under many different and much more romantic sounding names – windflower, thimbleweed, wind crowfoot, smell fox or the helmet flower. These common names convey the affection in which this little woodland flower is thought of. This little perennial is referenced in many myths and legends including the anenome flower springing up where Aphrodite's tears fell as she wept over the death of her lover, Adonis.
The flowers are predominantly white but the petals can be tinged with pink or purple tones with a red stem. A similar plant is the buttercup anemone which has yellow colouring. The underground creeping habit ensures colonisation of the woodland floor forming large clumps in shaded and damp areas. Read more…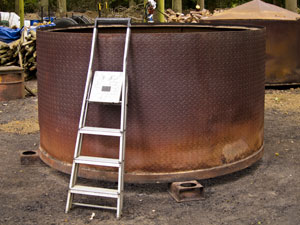 Broadly speaking, Biochar is charcoal that is not used for heating, barbecues or blacksmithing.  It is charcoal that is (often) used for soil improvement and carbon sequestration.
Charcoal is created by pyrolysis – that is, the incomplete burning of wood or biomass when oxygen /air is restricted. Typically, full-time charcoal producers have a large, steel kiln* about three metres in diameter and over a metre in height.  This is loaded up with wood, mostly hardwoods such as oak, which have a very slow burn. The kiln is then sealed with a large lid.  To make charcoal, the burn must be slow and incomplete so that the wood dries out and its structure and capacity for burning remains.  This process – converting wood to charcoal – takes some 14-16 hours and produces ready-to-use lumps of charcoal.  To watch the process of charcoal making, visit woodlands TV. Read more…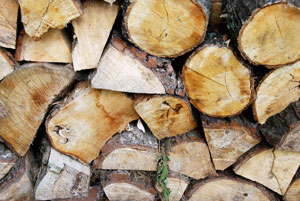 People say that the problem with the world's food supply is not about having enough to go round but about having it where it's needed.  The same applies to woodfuel and energy in general.  Like many people ,I have recently installed a wood-burning stove and the challenge is to find easy ways of getting the firewood to the stove.  Of course, there is the cutting and splitting and seasoning the wood as well.   But , the other issue is getting it from woodland to home , in a way that is inexpensive and does not waste fossil fuels. Read more…
Subscribe to our blog email updates