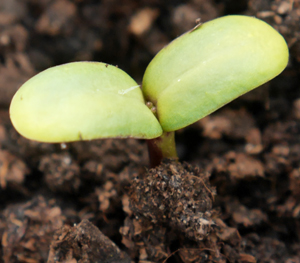 Plants are vital to all food chains, to our existence.  They provide foods (rice, wheat, peas, beans), building materials (timber), fibres for clothing (cotton), medicines (aspirin, quinine etc) and fuel (oils, biomass). However, habitats are being rapidly destroyed by activities such as agriculture, deforestation, road building and urban developments.  This habitat loss is happening rapidly and conserving plants within threatened habitats is not always possible.
Collecting seeds and preserving them ex situ (away from their natural habitat) offers a cost effective way to save seeds and keep them for posterity. Later, and if, required they can be germinated (hopefully) and reintroduced to the wild,  or used in scientific research.  The Millennium Seed Bank (MSB) – which is based at Wakehurst Place in Sussex, Read more…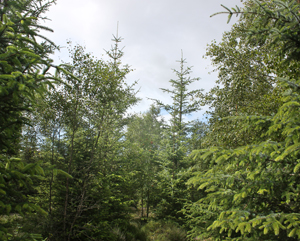 Since 1960 commercial trees in the UK have become about 25% more productive.  This has been achieved through selective breeding, mostly of Sitka Spruce and Scots pine where plants have been chosen for their rapid growth.  It has also led to better quality timber which produces more sawlogs.  Unfortunately according to the Forestry Commission's Steve Lee, no similar effort has been made with broadleaved trees so they have suffered a relative disadvantage compared to the progress with conifers.  He says, "We dropped tree selection for broadleaved trees in the 1960s because it was thought to be not worthwhile."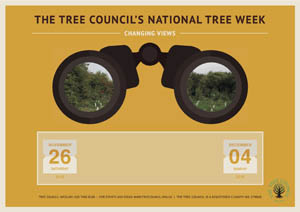 National Tree Week is approaching;  it is organised by The Tree Council.  This year, it runs from the 26th November to the 4th December.  This year's poster for the week is the headline image (opposite) *. The main aim of the week is to encourage the planting of trees.  Tree planting is important as many of our trees are now under threat, for example, bleeding canker and the leaf miner moth can attack Horse Chestnut, whilst the Ash is succumbing to Ash Dieback (Chalara). Read more…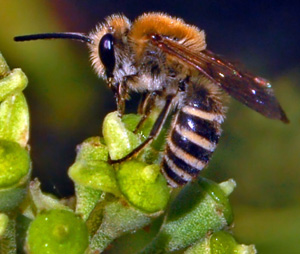 At this time of year, it is unusual to see bees flying around, but one that you might see is the ivy bee; the ivy bee is a 'new bee'.  It was first described as a distinct species in 1993.  It was present in the Channel Isles,  back in the 1970's (where it is abundant) but was not recognised as a separate species.  In the U.K., it was first reported from Dorset (at Worth Matravers) in 2001. 
It has since been found in a number of places along the South Coast – from Kent to Cornwall, and in Wiltshire, Somerset, Surrey and Essex.  It is spreading northwards, and reached the north Norfolk coast (in 2014) and Shropshire;  it has been suggested that the presence of the ivy bee here is another aspect of  climate change.    A map of the areas where this bee is likely to be seen can be found here. Read more…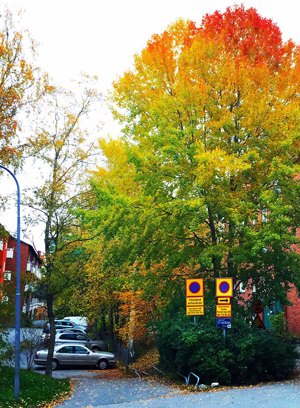 Each day, our cities are exposed to pollution from cars, power stations, industry etc.  All of these release particulate matter (aka particulates) and various gases – such as carbon dioxide, carbon monoxide, sulphur dioxide, and nitrogen oxides.   The pollutants in many of our city streets frequently exceed the World Health Organisation (WHO) guidelines.
Particulate matter is the sum of all solid and liquid particles suspended in air – it may include dust, pollen, soot, smoke and various liquid droplets.  These particulates are often divided into
PM10 particles – that have a diameter of 10 micrometers or less, are inhalable and may pass into the lungs and then the bloodstream. And,
PM2.5 particles have a diameter of less than 2.5 micrometers – these are very fine and often contribute to the haze in the air.
Many particles form as a result of complex reactions between sulphur dioxide and nitrogen oxides.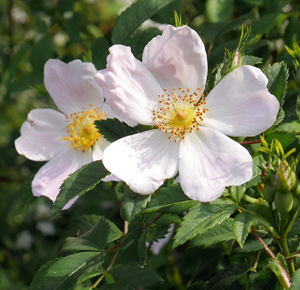 Many hedgerow plants come to our attention as they clamber over the other shrubs and plants.   Some like honeysuckle and old man's beard (Clematis) create an attractive display, whilst others like the bramble are less attractive – though the individual flowers are a delight (as is the fruit).
The dog rose (Rosa canina) is found in many hedgerows, and like the field rose (R. arvensis) it is a common plant.   Roses are often host to various species of fungi – especially the Rusts.   Bright orange / yellow patches may form on the undersides of their leaves and / or stems; these are the massed spores of the rust fungus as it begins another stage in its complex life cycle.   Read more…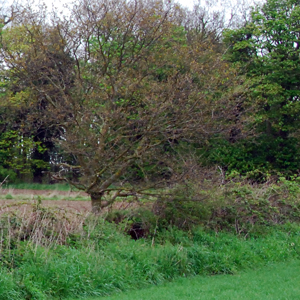 Much has been written about the loss of hedges / hedgerows over the last fifty to seventy years; one important work was   "Hedges' (1974) in the New Naturalist Series by Pollard, Hooper and Moore.  They suggested that hedgerows were lost perhaps at a rate of some 3,000 miles per year in the immediate post-war period (1946 – 63).   In the 1950's, the Forestry Commission suggested that there was one million kilometres of hedgerow (in the U.K).   In 2007, The Countryside Commission Survey estimated that there was some 477,00 kilometres of hedgerow –  suggesting that there had been a halving of hedgerows in the countryside.  Read more…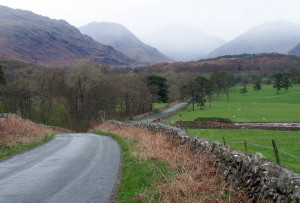 One day, back in May 2014, I had come over from Eskdale, to Wasdale, to photograph Wastwater and the surrounding fells. Only two months previously, I had seen Wastwater for the first time, having been part of a failed expedition to find it, some 38 years previously (don't ask!)   Returning along the road, up the valley, I saw a 'woodland for sale' sign. "A nice location", I thought, as I walked past. I had no serious thoughts until an internet search, in October 2015, took me to the Woodlands.co.uk website.
Subscribe to our blog email updates