Many of us who are regular visitors to the National Arboretum at Westonbirt in Gloucestershire are familiar with some of their most popular events such as 'Treefest' over the August Bank Holiday weekend and the spectacular autumn displays of colour in the acer groves.   This year though – acting on the recommendation of one of the catering concession holders at Treefest – my family and I decided to make a visit to Westonbirt's festive special: An Enchanted Christmas.   Read more…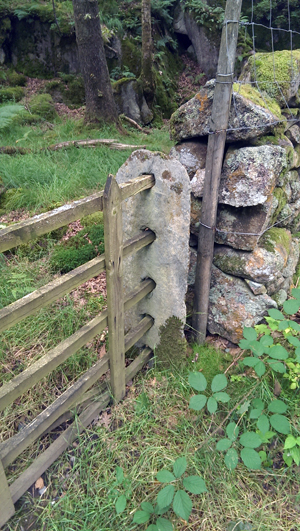 Gateposts usually last a remarkably long time – partly because strong posts are installed securely as tensioning points for fences but also because these posts need to be strong enough to support heavy gates. We have written about renovating stone gateposts before and how to get fittings attached to stone  , but there are lots of different ways of doing gateposts which demonstrate the inventiveness of farmers and estate workers. Traditionally materials used would have been whatever was available, strong and affordable, so in the days of cheap labour stone was often the obvious choice. In order to be effective a stone gatepost would have to be sunk deep into the ground and ways of attaching fences and gates were necessary.
The picture here shows a relatively rare arrangement where the gatepost has holes drilled out to take the horizontal rails of the gate – these are sometimes called "heave gates" for obvious reasons. This arrangement totally avoids the need for hinges but only works where there are deep enough horizontal holes so that the gate can be moved enough to one side to release the rails from the stone gatepost at the other side. Read more…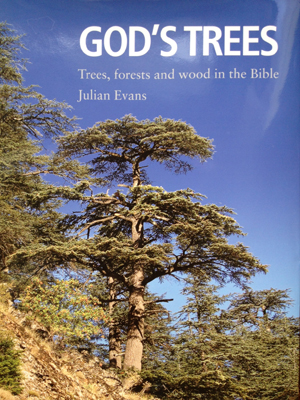 This is the ideal Christmas present for anyone who likes trees.  At only £15, 'God's Trees' is both a coffee table book and an authority on the subject of trees in the Bible.  You'll find out about the trees of all the 'Bible lands' including modern-day Israel, Syria, Egypt, Iran, and Iraq.  It's not just which trees were there but how they were used –  Cedar of Lebanon (Cedrus libani ) for beams in Solomon's temple, Acacia trees for shade in the Negev desert but most widespread were Olive trees (Olea europaea) which produced olive oil for lighting and cooking.  You can do a cover-to-cover read or just dip in for the pictures and captions enjoying the exotic photos, maps and the illustrations by Veronica Pinchen. Read more…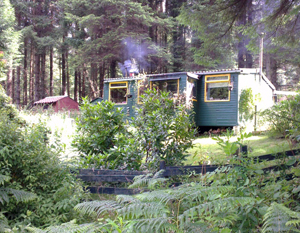 In England and Wales people are concerned about what sort of shed you are allowed to put up in a woodland and indeed there is much planning history on the subject, but in Scotland similar questions are described as "hutting" issues.  Woodland owners need somewhere to store their tools and to shelter when it rains wherever they are. But in Scotland,  there is a distinctive history of hutting – during the interwar years (1919 to 1938),  Glaswegians wanted to spend time outside Glasgow at the weekends and for short holidays, so they arranged to build a series of huts at Carbeth and elsewhere. Read more…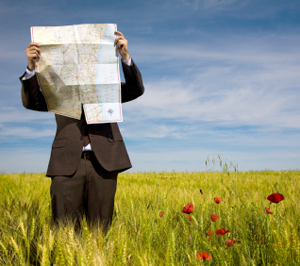 Nowadays it seems we have all the map resources we could dream of at our fingertips; public libraries that stock maps back to the 16th Century, apps on our phones that tell us how to get somewhere or how long it will take us and SATNAV's that will read us directions as we drive. The availability of maps no longer seems to be an issue. These digital resources are updated constantly; drivers will keep others informed by sending in details of traffic congestion in different areas which are then passed on by a SATNAV to those headed in a similar direction. Not only are maps available, but they are consistently up to date. It seems the days of pulling over to struggle with an A-Z to find an alternate route are firmly over.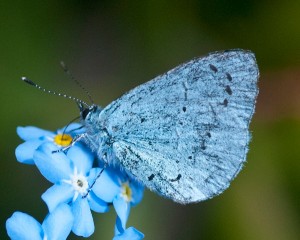 This summer (2013) a record-breaking 46,000 people took part in the Big Butterfly Count – organized by Butterfly Conservation.  More than 830,000 butterflies and day-flying moths were recorded across the U.K.

   The  previous wet and miserable summer (of 2012) has gone down as the worst year on record for butterflies; it followed a series of 'indifferent' summers weather-wise that had compounded the long-term decline of various butterflies.
The warm and often sunny conditions this summer saw a "butterfly boom", with large numbers recorded in the the  gardens, parks, playgrounds and countryside of the U.K.

  Generally speaking, observers counted almost twice as many  butterflies as compared to 2012. Read more…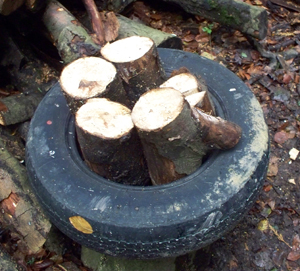 Albert Einstein said, "people love chopping wood: in this activity one immediately sees results". The problem with splitting wood is to get a pile of logs split speedily and with minimum effort and risk. Using an axe usually means the split pieces fly everywhere and it also leaves you spending most of your time lining up logs to split. This is inefficient and you spend a lot of your time bending down to pick up work you've done or to prepare work to do.
Sean Collins has demonstrated shown a better way. First he puts an old tyre on a chopping block. Read more…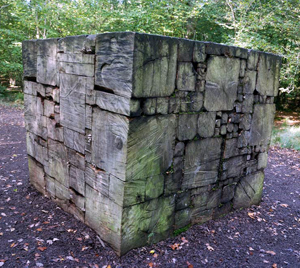 A recent visit to the Forest of Dean Sculpture Trail turned out to be not one, but three truly memorable experiences.   Firstly, the 7km walk through the forest in all its early autumn colours, with spectacular, huge beeches and ancient yews was worth the admission in itself. In fact, entry is free but there is a pay & display car park and a map/guide for the trail is £1.50 – but well worth the money.
The walking is easy along broad, well-maintained tracks with only the occasional slope to negotiate; although it is also possible, indeed necessary to wander off the tracks to try and discover some of the uncharted sculptures which have been deliberately left off the guide in order to encourage exploration. Read more…
Subscribe to our blog email updates