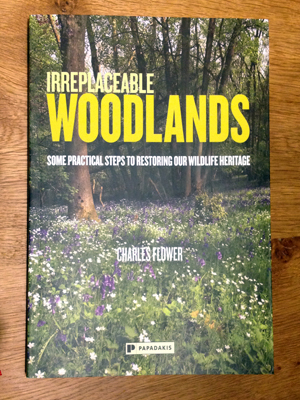 Charles Flower inherited a 25 acre Berkshire woodland a generation ago and had a vision for its restoration.  He points out that, "small amounts of management, particularly in rides and glades where most flowers and insects occur, can yield enormous benefits."  What shines through Charles' book is that he learnt almost everything about woodland management on the job as so many buyers of small woodlands do and this approach did the wood no harm at all.  Indeed, as he says, "it is only when you have the privilege of really getting to know one of these ancient woodlands that you become aware of their importance …. these woodlands are literally irreplaceable."
This new book is as much a viewing as a read – Mike Bailey and Steve Williams have illustrated the book copiously with pictures depicting how a well-managed woodland can look and also showing management operations in progress.  But the story is an odd one – Steve and Mike were helping Charles Flowers with his earlier book ("Where have all the Flowers gone") when they found out that he owned a woodland and they started photographing his wood just for fun.  Read more…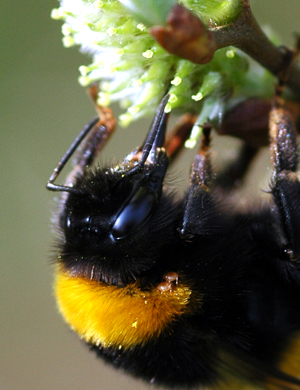 You may well have heard that bees are in trouble. Domestic honeybee hives seem to die more often than they used to, and some of our wild bees have disappeared altogether; for example, three of the UK's twenty seven bumblebee species have gone extinct. The big, long-term driver of declines has been farming intensification; where once we had plentiful hay-meadows and chalk downland, rich with flowers, we now have flower-free monocultures of wheat or silage grass.
Pesticide use is also contributing to the problem, particularly new generations of systemic, persistent insecticides called neonicotinoids that get into nectar and pollen of both flowering crops and wildflowers. Read more…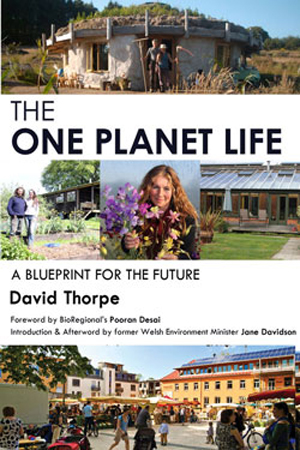 This week's other "must-read" book is "The One Planet Life : a blueprint for Low Impact Development " by David Thorpe, which explains the idea of One Planet living, and the One Planet Development planning policy in Wales. David Thorpe is a writer and consultant on sustainability issues. He is a Special Consultant on Sustainable Cities Collective, the primary website for urban leaders globally; a founder and core group member of the One Planet Council; and the author of several books on sustainability, including: Energy Management in Buildings, Energy Management in Industry, Solar Technology and Sustainable Home Refurbishment, all in The Earthscan Expert Guide series. Prior to this he was the News Editor and Opinion Writer of the UK's Energy and Environmental Management magazine for 13 years. Before that he was director of publications at the Centre for Alternative Technology. Read more…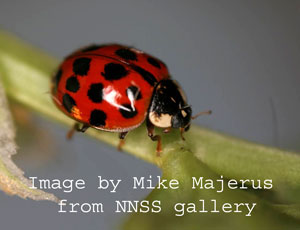 The quagga mussel was discovered in a river near London recently and many are concerned about the havoc that it might wreak not only on native freshwater species, but also the damage that it can cause by blocking pipes, fouling lock gates and boat hulls. A number of species from the Caspian and Black Seas have made their way across Europe and are now poised to invade the U.K.   The woodland blog has previously reported on the threat to native ladybird species due to the 'invasion' of the UK by the harlequin ladybird.
Now Dr Bethan Purse, an ecological modeller at the Centre for Ecology and Hydrology and Dr Helen Roy, have investigated the spread and distribution of the harlequin ladybird in different U.K. habitats.   Dr. Purse was able to make use of the data collected in the UK ladybird survey. Read more…
When I last saw Oliver Rackham I was infected by his curiosity.  Someone suggested, as we walked though a woodland, that one spot might have been historically used for making charcoal so Dr Rackham dived into the undergrowth armed only with a set of keys and dug into the soil and he soon emerged triumphant with some old charred remains, proving definitively that this location had in fact been used for charcoal making.  This sort of curiosity and dogged ferreting for facts runs through his new book on the ash tree.  He considers what threats the ash tree faces, but he also uses the book as a platform for a wider diagnosis of the state of British woodlands.   Read more…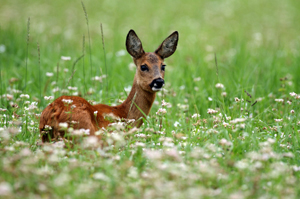 The UK's rapidly growing deer population is causing problems for the managers of woodlands of all sizes. The Deer Stalking Certificate Level 1 is a four-day course about how a deer population can be managed.  Teaching ranges from lectures on deer biology and diseases to rifle safety and marksmanship.
The course I went on at Alice Holt Forest, in Hampshire, was run by Steve Wooley, a veteran stalker who has worked as a gamekeeper on a Scottish estate for 25 years – looking after a 'patch' of Forestry Commission land – being 10,000 acres of land.
All four days were fast-paced, so it was essential to have previously studied the manual which was sent out before the course started. However, it isn't all theory: one day Steve turned up with a deer he'd shot that morning and "gralloched" it in front of us to show us how to check for signs of disease.  Read more…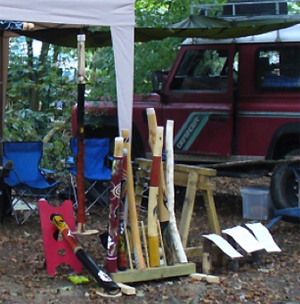 After my Blog for Woodlands.co.uk on didgeridoo making, I was formally invited to demonstrate at Elvaston Wood Fayre in Derbyshire. A fantastic opportunity for me to meet new people, take on new ideas, and to show people how Didgeridoos can be made. As well as this there was an opportunity for my company to sell some of our handcrafted products.
The Elvaston fayre was now in its fourth year and seemed to celebrate great success. A wonderfully organised collection of skills and rural crafts which gathered together a lovely group of friendly craftspeople. Although we didn't get time to see all of the stands, from what we saw there was a diverse array of skills being demonstrated from chair making and a wheelwright, to chainsaw carving and wood turning. There was even a secluded corner of the woods where the children were listening to stories from the Green Man. Read more…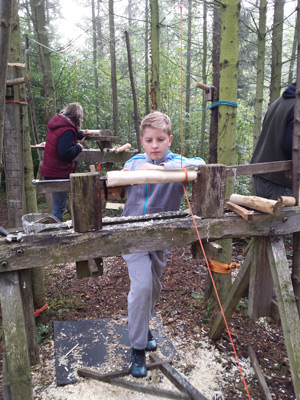 After we bought our woodland, we were given £300 by Woodlands.co.uk for a course and I chose a green woodworking course for two of us – me and my 11-year old son, Thomas. The course is designed to give beginners a taste of a variety of the skills and techniques that are used in green woodworking.  Before booking the course, I spoke to Ben at York Woodcrafts about the suitability of the course for my son; and was really pleased that Thomas could attend as he already had some tool handling skills.
During this 2-day course, our main project was each making a stool and as part of this we learnt how to select wood and understand the wood shrinkage from its green state. We split wood (Cleaving) with a Froe (a splitting chisel) and a Beetle (wooden mallet) – which really helps you understand how wood grain can be twisted, depending on where its grown. Read more…
Subscribe to our blog email updates