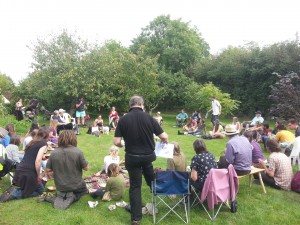 One Planet Development is a still-young planning policy that provides for granting of planning permission for low impact rural development in Wales. Its aim is to permit development on rural land where it might not otherwise fit with planning guidelines, provided a set of criteria are met about sustainability, impact, the income generated, the level of food requirements met locally, and the level of self-sufficiency of the households involved.
So far few applications have been successfully carried through to approval, (Nant-y-Cwm was the first) but there are a number in the process.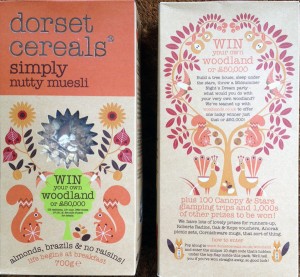 Dorset Cereals produce "Muesli, but not as you know it ….".   Using the "best possible natural ingredients", they package up their cereals in beautifully decorated cardboard boxes, and they have been a terrific success with UK consumers, pushing annual sales to over £40 million.  With cereal names like "Proper Porridge" and "Fantastically Fruity Muesli",  Dorset Cereals have encouraged us to eat more healthily at breakfast and have helped shift millions of British people away from the sugary, bland cereals of the American multinationals towards something both more local and more organic.  They describe their cereals as honest, tasty and real.
Last month Dorset Cereals launched a competition on their packets, in partnership with us at woodlands.co.uk, to win a woodland worth up to £50,000. Read more…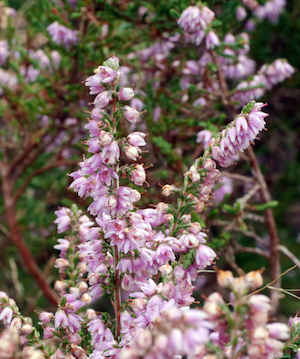 Heather (Calluna vulgaris) is one of the dominant plant species of heath and moor – particularly in upland areas.   In such areas, land managers may burn back areas of heather (in a selective fashion) to create better feeding for sheep or grouse.  Left to grow, heather can form a 'blanket' that makes for poor grazing in a nutritional sense (more woody material – lignin, that is essentially indigestible) and can give rise to intense fires in dry, hot summers. The selective burning / rotational burning  of heather moors has been questioned in recent times as the underlying peat, and also water quality, may degrade.
Present burning practices are estimated to release energy – some 821 PJ/yr *.  However, if the U.K.'s heather was to be harvested as a biofuel or bioenergy crop**  then it could yield as much energy as 1.7 million tonnes of coal per year.   Read more…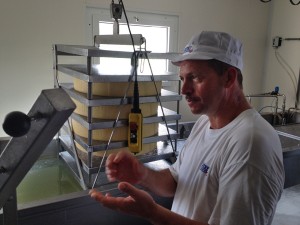 Visiting a Swiss cheese-making enterprise in the canton of Fribourg near to Gruyere made me think about the ways that the art of making cheese is a bit like aspects of forestry and managing woodland.  Alexandre Guez-Volery has been making cheese for 24 years and takes great pride in the quality of what he produces.   Read more…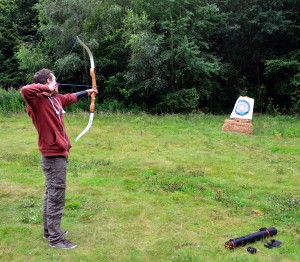 "Forest School" is a programme that developed in Sweden in the 1950's.   It concentrates on delivering education in an outdoor environment. A study carried out concluded that children who experienced learning in an outdoor setting were more balanced, more socially developed, had deeper concentration levels and better coordination.
Today, outdoor learning has shown to increase attainment and attendance levels in students. It is also shown to increase self esteem, confidence and communication skills. Read more…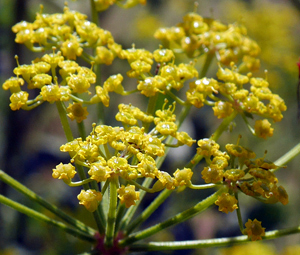 Wild parsnip is the progenitor of the cultivated parsnip; it is a plant of rough, dry grassland and 'waste' ground by roads and railways (favouring chalky / limestone areas); it can occur in public parks. The root is edible but the shoots and leaves should be handled with caution as their sap contains photo-sensitive chemicals (FURANOCOUMARINS) such as Xanthotoxin. These chemicals help protect the plant from its enemy the parsnip webworm. However, these chemicals can cause a skin reaction – phytophotodermatitis (more likely on bright, sunny days). This reaction is not dissimilar to a chemical burn – reddening, blisters and burning – visit the poisongarden website to see images showing the reaction to the sap; affected areas may remain visible for some time. Read more…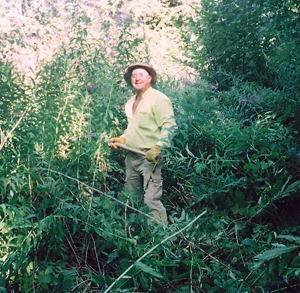 When we bought our woodland in mid Wales 15 years ago it was in a very neglected state . The wood was a mix of western red cedar, hemlock, ash and oak. The previous owner removed all the valuable oak but left all the tops on the ground so it was really an overgrown jungle.
What we did to improve our woodland
The first thing we did was to clear site of all the oak tops and timber off the ground, which wasn't easy as there was bramble growth covering everything. Read more…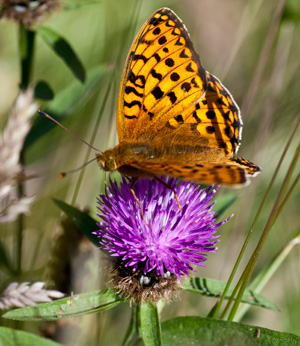 Should you wish to create a wild flower area on your land (be it a field, a woodland or a part of your garden), much will depend on the soil and present condition of the land. If it is rich / fertile grassland, then it may be quite difficult for wild flowers to establish themselves – due to the competition from grass and other vigorous species.
One approach is to remove patches of grass, and then either plant pot-grown wild flowers, or sow lots of wild flower seeds on these bare patches. It is a good idea to use locally grown plants or locally collected seeds. Information can be found at the excellent Flora locale website on the local provenance of plants and seeds. Flora locale also has a very useful on-line library, with many downloadable pdf files. Read more…
Subscribe to our blog email updates