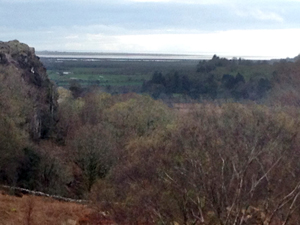 There are some rare but beautiful woodlands around the coast of Britain nick-named the "temperate rainforest".  Yesterday, I visited one of these woodlands in North Wales and was mesmerised by it – ancient oaks and birch which had little timber value but immense ecological value – trees covered in different mosses, a carpet of soft and varied bilberries and ferns.  The wood had a damp and humid feel that encouraged liverworts, lichen and fungus and there was no obvious trace of human intervention – it felt just right for dinosaurs!  Apparently these woods have evolved as a result of the Gulf Stream that keeps the area warm but also wet: this creates woodlands quite unlike any others in Britain. Read more…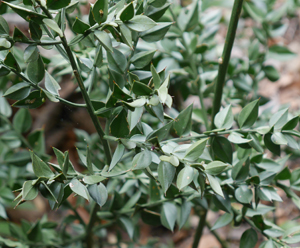 Butcher's Broom is a shrubby, evergreen plant, which may be found in woodlands but also on waste ground, particularly in the South of the U.K.   It is tolerant of deep shade, and can also survive in coastal areas (where salt spray is a problem to many plants).  It is sometimes known as Knee Holly, due to its prickly, evergreen leaves Read more…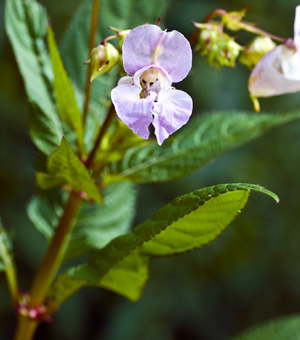 Much has been written  recent in recent years about the 'dangers' posed to our native flora & ecosystems by 'alien' invasive species.  Introduced species such Himalayan Balsam (Impatiens glandulifera), Giant Hogweed (Heracleum mantegazzianum), and Rhododendron (Rhododendron ponticum) have been cited as 'drivers' of ecosystem change – alongside habitat loss, pollution and over-exploitation.
However, voices have been raised to express concern over certain native species that can grow rapidly producing large amount of biomass (or indeed necromass – think bracken dying down in late autumn) and how they may be impacting on our flora, particularly plants of the woodland herb or field layer.  Read more…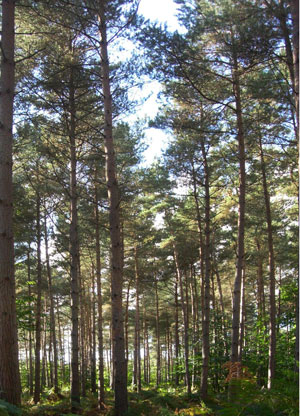 Boreal forest is found in Canada, Sweden, Finland, Norway and Russia.   Essentially, it is coniferous forest with tree species such as pines, spruces, larches and aspens.  In the U. K., this unique ecosystem is represented by the Caledonian Forest (a remnant of the vast sylvan wilderness that once existed here).  One of the larger tracts of this native pine forest is the  Black Wood of Rannoch.
One feature of the boreal forest or taiga is that it has areas of even-aged stands of trees.  This uniformity arises through cycles of natural disturbance – from forest fires to outbreaks of insect pests such as pine beetle or spruce budworm, which periodically kill off large sections of forest – but these areas, in turn, regenerate. Read more…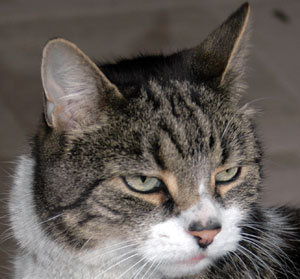 Cats have been been 'domesticated' for many thousands of years, and currently stand as the most popular pet in the world (according to Wikipedia).  It has been suggested that the Egyptians were the first to domesticate the wild cat.   Though the association with humans probably pre-dates their domestication, recent research suggests that cats were attracted to ancient farming villages – perhaps by the supply of rodents  (rats / mice).  It is possible that cats are descended from african wildcats that 'self – domesticated' somewhere in the Near East.  A kitten has been found buried alongside human remains in Cyprus; this dates from some nine and half thousand years ago.
However, more recently, the BBC's Wildlife program focused on domestic cats and wildlife.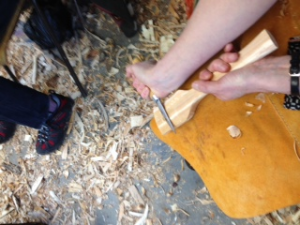 There is something wonderful about creating an object that is functional, and it is particularly wonderful to create one that serves a function as fundamental as eating.  To be able to do that using just the strength and skill of your hands is very precious. For a number of years, I had dabbled in whittling and spoon carving, and could already hack out a reasonably spoon-shaped object but,  becoming increasingly frustrated by my inability to make more progress, I needed further guidance.  It was time to choose a course.
If you own a wood, or have access to woodland materials, it is important to do justice to those materials however you choose to use them, so I wanted to learn from a master craftsman. A search of the internet revealed that Barnaby Carder was delivering courses within easy travelling distance.  Read more…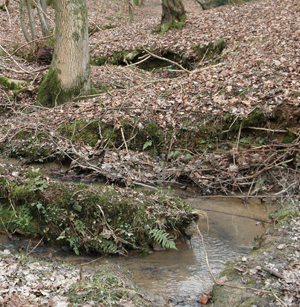 Nitrogen is an important plant nutrient.  Generally, it is taken up in the form of nitrate (NO3) and it is used in the formation of amino acids, proteins and the constituents of the genetic material (DNA).  Some plants fix atmospheric nitrogen through the use of symbiotic bacteria in root nodules. However, modern / intensive farming involves the addition of nitrogen compounds in the form of manure, sewage sludge and chemical fertilisers.
Couple this with the aerial deposition of nitrogen compounds, estimated at 400,000 tonnes / yr from car exhausts etc. (in the form of ammonia, nitrogen oxides) to give the total burden of nitrogen pollution. Pollution from such widespread sources is referred to as diffuse contamination. Read more…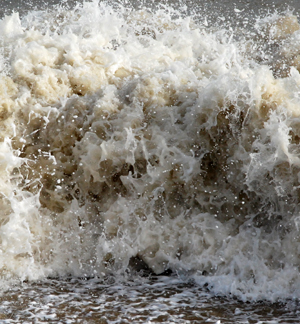 In 2010, the blog reported on the exceptional winter weather.  Back then, we had just 'emerged' from one of the coldest winters on record. Currently, we are experiencing one of the wettest winters ever.
In December, the East Coast faced storms and a tidal surge (affecting communities from Scotland down to Essex), and then Christmas Eve saw high winds and the cancellation of flights from Gatwick.   January brought some 175 mm of rain in the South East.  The closest comparable January was that of 1948.  A summary of the winter so far can be found at the Met Office web site – here Read more…
Subscribe to our blog email updates