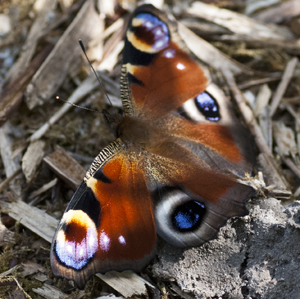 The butterfly conservation people are again appealing for help in the Big Butterfly Count.  This year, it runs from today,  Saturday 19 July up until  Sunday 10 August.  Taking part is simple, records are welcome from anywhere. Recordings from parks, school grounds and gardens, to fields, woodlands and forests are valuable – they all help to build a picture of butterfly (and moth) populations.  So select a sunny spot and then record which of the 21 common species (that they are monitoring) that you see.
If you have a smart phone, there is an app available from the app store or google play. Read more…
I have always been interested in history since a young age and over the years this interest has developed, until one day about 3 years ago, I got the urge to buy a metal detector. Since then, I have been exploring the fields of Wiltshire and Somerset. The reason that I enjoy it so much is that it is a great way to unwind and get some exercise; though the main reason for me is that whatever I dig, someone was stood right where I am now possibly thousands of years ago and I try and imagine what it would have looked like around me back then. Read more…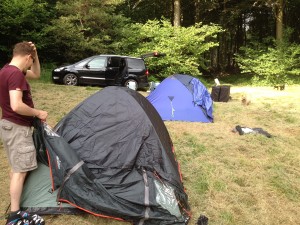 Camping in your own wood (or a friend's wood) is totally different than staying at a conventional campsite.  There is more freedom, more choice and more solitude – you can do lots of things that would not normally be allowed.  Recently, I was invited to a woodland to camp with some friends where we experienced free-range camping first-hand.
For any camping expedition, it is important to locate a camping area – we found a grassy glade surrounded by beech trees.  Next, you need to find a good spot on which to pitch your tent – ground that initially seems flat is, by the end of the first night, clearly very 'slopy'!   Read more…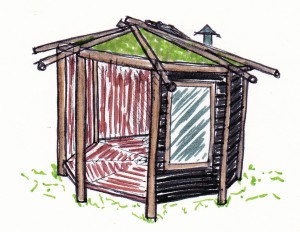 This summer, my family and I are building a wooden summerhouse from scratch in our garden. I have designed the building myself and it will be an octagonal structure with a 'green' roof, external deck and space for seating and a small woodburner inside.
The process began last winter, when we salvaged the timber required for the structure from the many windblown trees resulting from the winter storms. We did this a few months in advance of actually starting construction to give the wood a chance to season a little Read more…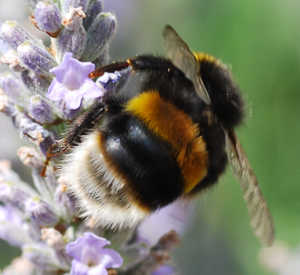 Following on from last week's post, the woodlands blog has often reported on the problems facing honey bees and bumblebees – from the vagaries of climate to the effects of insecticides, such as neonicotinoids.  Whilst it is easy to identify a honey bee and spot a bumblebee, it is somewhat more difficult to say what type of bumblebee might be foraging in your garden or woodland.
There is a lot of information about bumblebees at the bumblebee conservation trust website.  A particularly useful link is "Top tips for bee ID"; tail colour is an important or helpful feature.  Read more…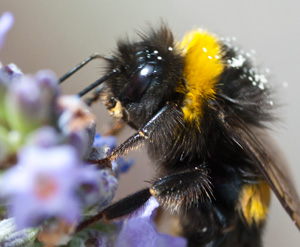 Nectar is a sugar-rich liquid produced by special glands on a plant.  These glands are usually associated with the flowers – but not always.  Floral nectaries are usually found at the base of the petals so that a visiting insect picks up or deposits pollen whilst collecting the nectar; thus, 'helping' the plant to reproduce / set seed.   Common pollinators are bees, bumblebees, wasps, moths, butterflies and hummingbirds;  less common pollinators are flies, ants, possums and bats. Read more…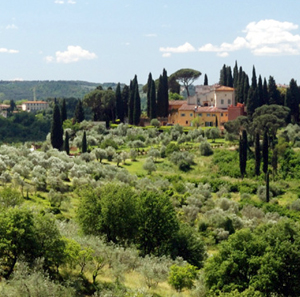 Think of Tuscany and the kinds of images likely to come to mind are of red tiled roofs, medieval hill-top villages, olive groves and vineyards.  But how about trees; hectare after hectare of young trees of every size, shape and variety?   This is exactly what you will find around the town of Pistoia, which is located approximately half-way along the hour and a half train ride from Florence to the walled city of Lucca.
The geographical position of Pistoia is particularly suitable for the quick growth of trees: the Apennine Mountains protect it from cold winds from the north and at the same time provide a source of abundant water. Pistoia is situated in a floodplain whose soil is unique: clay and loose at the same time, perfect for vigorous root growth. Read more…
Several woodland owners have put solar panels in clearings or next to their woodlands and they wonder what effect these man-made structures have on nature.  There is also general discussion as to whether open field solar arrays (or solar parks) are good or bad for wildlife.  Of course, in the big scheme of things – renewable energy is certainly good for the wider environment to the extent that it reduces carbon emissions by substituting green energy for fossil-fuel-based electricity.
It now seems that many of the earlier fears about the impact of solar panels were unfounded. Read more…
Subscribe to our blog email updates