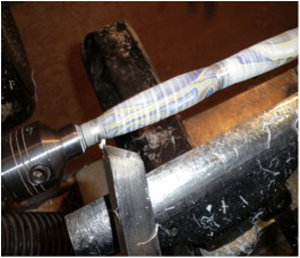 One of my passions is wood turning, from bowls and pots to spindles and tool handles but just lately it has become pen making, with a few specialist tools and lots of off cuts of wood within minutes you can create a wonderful item that will give much enjoyment.    So here I will share a little how to and hope that it helps others to find the joy I get from making these,
First we start with the style of pen , there are many on the market from slim line to euro, some are fat some are thin and they all start out life as a kit which usually consists of brass tubes, a tip, a ring and an end, from there the next thing is to decide on wood or acrylic or wood, although I have made both i prefer wood its far more tactile and brings a personal touch to the pen. Read more…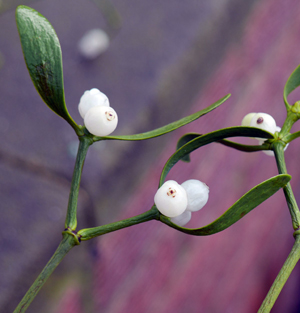 Three evergreen plants come to mind at this time of year – Holly, Ivy and Mistletoe.   Holly and Ivy are 'immortalised' in "The Holly and the Ivy" , a traditional  Christmas carol. Both holly and ivy have been part of church decoration  since the fifteenth and sixteenth centuries (as recorded in churchwardens' accounts).   Mistletoe, (also known as "the golden bough" or Viscum album), is well known for its connection to Christmas, in particular for the custom of "kissing underneath the mistletoe".   Mistletoe associations go way back and there are many customs and myths surrounding the plant. For example, Druids greatly revered it, believing that it held the soul of the host tree. It would be cut from sacred oak trees with a golden sickle.   It was used in folk / herbal medicine to treat a variety of ailments.  Now, like many plants, mistletoe is being investigated for its phytochemicals and possible medical uses. Read more…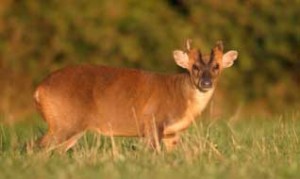 Deer stalking in your woodland can ensure a healthy herd is maintained locally, provide you with a supply of venison, and help to alleviate the problems of overpopulation of deer.  Too many deer can lead to damage to trees, woodland flora, wildlife habitats, and poor health for the deer themselves if their numbers are greater than the habitat can support.  With rapidly rising deer populations across the UK, having some sort of deer management plan is useful for woodlands of all sizes.  Owners of smaller woodlands will often club together to develop a plan often organised by a deer stalker – these arrangements have good side effects in that neighbouring owners meet up and advance their common interests. Read more…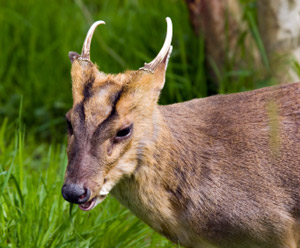 Today there are more deer in the UK than at any time since the last Ice Age.  They no longer have any natural predators in woodlands or fields. Total deer numbers are conservatively estimated at about 1.5 million and the rapidly expanding deer population threatens woodland biodiversity.  Over-grazing and browsing, particularly in ancient woodland, continues to have two very unfortunate consequences for conservation.  First, it can lead to a decline and loss in plant species in a given area, which often includes oxlip and bluebells.  Deer frequently damage saplings and cause other damage by stripping bark with their antlers. Read more…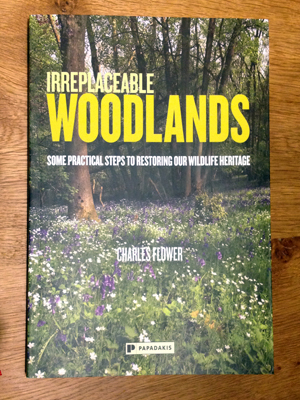 Charles Flower inherited a 25 acre Berkshire woodland a generation ago and had a vision for its restoration.  He points out that, "small amounts of management, particularly in rides and glades where most flowers and insects occur, can yield enormous benefits."  What shines through Charles' book is that he learnt almost everything about woodland management on the job as so many buyers of small woodlands do and this approach did the wood no harm at all.  Indeed, as he says, "it is only when you have the privilege of really getting to know one of these ancient woodlands that you become aware of their importance …. these woodlands are literally irreplaceable."
This new book is as much a viewing as a read – Mike Bailey and Steve Williams have illustrated the book copiously with pictures depicting how a well-managed woodland can look and also showing management operations in progress.  But the story is an odd one – Steve and Mike were helping Charles Flowers with his earlier book ("Where have all the Flowers gone") when they found out that he owned a woodland and they started photographing his wood just for fun.  Read more…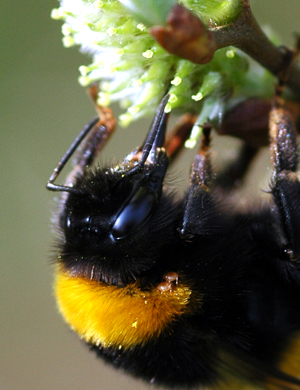 You may well have heard that bees are in trouble. Domestic honeybee hives seem to die more often than they used to, and some of our wild bees have disappeared altogether; for example, three of the UK's twenty seven bumblebee species have gone extinct. The big, long-term driver of declines has been farming intensification; where once we had plentiful hay-meadows and chalk downland, rich with flowers, we now have flower-free monocultures of wheat or silage grass.
Pesticide use is also contributing to the problem, particularly new generations of systemic, persistent insecticides called neonicotinoids that get into nectar and pollen of both flowering crops and wildflowers. Read more…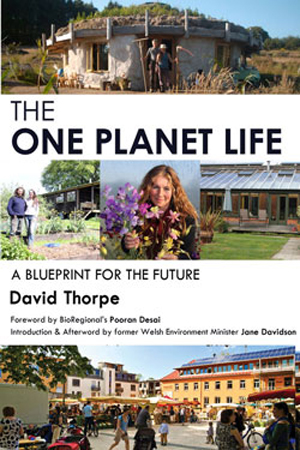 This week's other "must-read" book is "The One Planet Life : a blueprint for Low Impact Development " by David Thorpe, which explains the idea of One Planet living, and the One Planet Development planning policy in Wales. David Thorpe is a writer and consultant on sustainability issues. He is a Special Consultant on Sustainable Cities Collective, the primary website for urban leaders globally; a founder and core group member of the One Planet Council; and the author of several books on sustainability, including: Energy Management in Buildings, Energy Management in Industry, Solar Technology and Sustainable Home Refurbishment, all in The Earthscan Expert Guide series. Prior to this he was the News Editor and Opinion Writer of the UK's Energy and Environmental Management magazine for 13 years. Before that he was director of publications at the Centre for Alternative Technology. Read more…
Subscribe to our blog email updates