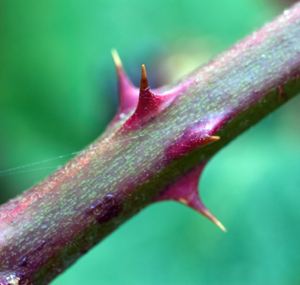 A number of our native plants contains toxic chemicals.  One reason that plants produce such substances is that they help protect against herbivory, i.e. being eaten by various grazing animals (these may vary from sheep, cows, horses to a variety of phytophagous (plant eating) insects).  Some white clovers (Trifolium repens), for example, contain a chemical that releases cyanide when the leaves are crushed or eaten  (under the influence of an enzyme, linamarase) – this affords some protection against being eaten by slugs and snails.   Read more…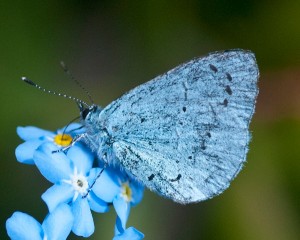 The big butterfly count is up and running for this year.  It was launched in 2010 and has become one of the world's biggest survey of butterflies.
It is a nationwide survey and is aimed at assessing the 'health" of our environment, and that of butterfly populations.  Butterflies and moths are good indicators of biodiversity, and reflect changes in various environmental parameters.
In 2014, over 44,000 people took part; they counted some 560,000 individual butterflies and day-flying moths across the UK (view the 2014 results). Read more…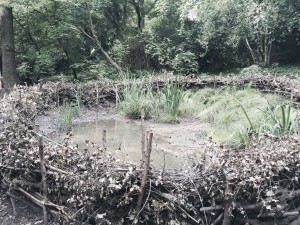 Dead hedges are piles of branches and twigs arranged to form a barrier which are increasingly used as a way to dispose of the material that arises from thinning or clearing operations in woodlands. Tree surgeons call this waste material of saplings and side branches "arisings" whereas foresters tend to call it "lop and top". Using surplus branches in this way is good for wildlife – especially for small mammals and birds – because it gives them somewhere to shelter that is protected from predators and from the wind and rain. It's also good for insects: dead hedges in effect create a linear eco-pile. Recently we at woodlands.co.uk have been using dead hedging as a way of guiding the public to stay on public footpaths and to discourage people from walking across sensitive areas of a woodland. In many situations the dead hedge needs to have gaps left in it for deer paths and for managers and owners to get around the woodland. Read more…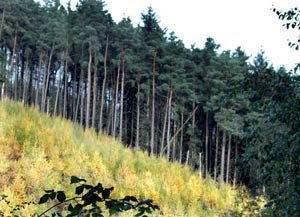 Coniferous plantations are found throughout the U.K.   There are some 300,000+ hectares in England, 900,000+ hectares in Scotland, and circa 106,000 hectares in Wales.   Large scale conifer planting 'took off' soon after the First World War.   At about this time, the woodland cover had fallen to 5% (in Britain) so the Forestry Commission was established. This had the aim of ensuring that there would be a strategic reserve of timber.
Vast areas of 'low grade' land were pressed into service.   Areas around Thetford and Kielder were used, as were some sandy coastal sites (e.g. Holkham in Norfolk) and many large tracts in Scotland (including the use of some natural peatlands). Read more…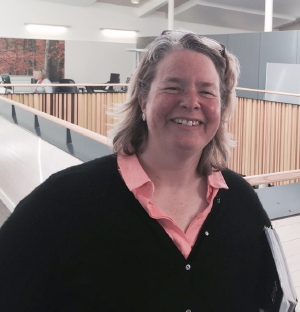 Visiting the Woodland Trust headquarters in Grantham, Lincolnshire, immediately gets you thinking of trees – it is surrounded by young silver birch trees and the walls are clad in wooden panels and even the reception desk is a sawlog that has been cut into planks for seasoning   The footprint of the building at Kempton Way is C-shaped, said to be in the shape of an unfurling fern enclosing a sheltered woodland garden.  Inside, about a hundred people, predominantly young, sit in open plan offices in front of their screens, avidly organising and tapping out the Woodland Trust message mostly fundraising or campaigning – the other staff are out in the field managing their estate of over 1000 woods or working with landowners.
We met the chief executive, Beccy Speight, who has been at the helm for a year and is clearly immensely capable and knows woodlands inside-out – her previous job was managing a chunk of the National Trust Read more…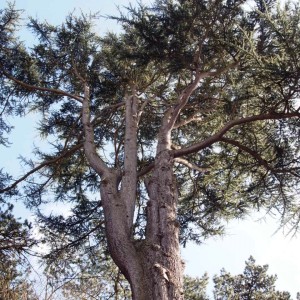 Anything can happen in the woods. There's something uniquely primal and mysterious about being surrounded by ancient trees, dense undergrowth and hidden, scurrying wildlife – a sense of freedom and disorder that we've pretty much lost in our neatly sterile towns and parks. But how often do we actually make the effort to go into the woods, to leave the order behind and lose ourselves under the beautiful, chaotic, living canopies? How many of us even know where our nearest woodland area is?
As a child growing up, the local wood was a second home, a playground and a school all in one. My friends and I would spend whole days climbing trees, jumping in the streams, building forts with fallen branches and letting our imaginations run riot. Read more…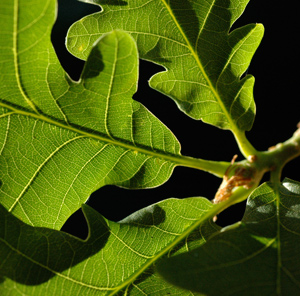 Woodlands contribute substantially to the character of the countryside, clothing the sides of valleys and hillsides, forming copses and wider swathes of wood.  The amount of woodland varies from county to county, in some areas broadleaved woodland dominates whereas others have a preponderance of coniferous plantation.  The national average for woodland cover is about 8.3%, with Surrey, Sussex and Hampshire being some of the most 'wooded' counties.  The oak is perhaps one of our largest native, broad-leaved trees.  There are two native species of oak; the sessile oak (Quercus petraea) and the pedunculate oak (Quercus robur). Oaks are (generally) long-lived trees that grow quite slowly, compared to other broadleaved species. Both the pedunculate and sessile oak (and their hybrids) can grow to be very large trees.   Old trees can have a circumference of 10+ metres. Read more…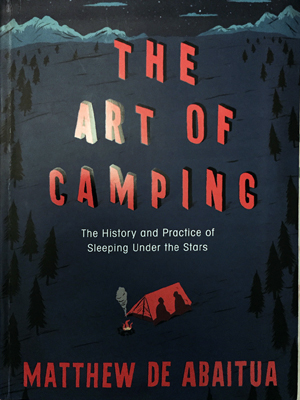 Camping is booming – one in five adults in the UK has been camping or caravanning in the last 3 years: increasingly people want to get away from their screens and get back to nature.  Pitching a tent, as De Abaitua says, is "an act of hope, that you might experience something truthful and be improved by the experience, but, most of all, hope that it will not rain."
The Art of Camping is also a history of camping which covers Britain and the USA from the 19th century onwards and introduces us to some extraordinarily adventurous campers, such as Ernest Thompson Seton who inspired a movement called the Woodcraft Way which in turn led to the mass camping movements such as the Scouts and Guides and on both sides of the Atlantic and to the educational summer camps of America.  But his pioneering work also led to radical camping groups such as the Kindred of the Kibbo Kift with whacky experiments in camping culminating in ritual ceremonies involving dressing up and the use of Egyptian hieroglyphs. Read more…
Subscribe to our blog email updates