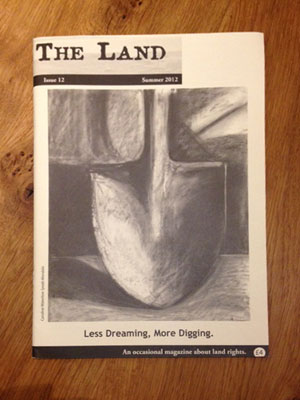 British politicians almost never discuss issues around land use and land ownership.  "The Land" is a magazine which breaks that taboo and is dedicated to land issues and to getting people more involved in active management of the countryside/land.  Based in Bridport in Dorset, the magazine is a low cost, high quality publication that comes out a couple of times a year.  I always look forward to getting my copy and think it's an absolute bargain at £5 per copy including postage – for 72 pages of thought-provoking pieces.  If you want to economise, though, you can read the material at: www.thelandmagazine.org.uk
The Land Magazine has discussions on big issues of land ownership, access and land use, but it is also full of practical articles such as Cathy Ashley's article on the practicalities of buying land and "why solicitors might be useful after all".  On the more political side there are articles supporting small scale and organic agriculture – one of them envisages a world where labelling is reversed – the "chemical-mongers" would have to alert food buyers to their activities with the default assumption that unlabelled packets mean that food is organic. Read more…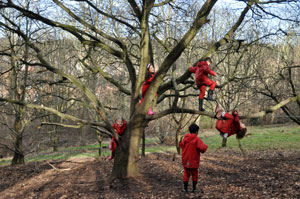 You may have seen them. Groups of children togged up in waterproofs and wellington boots heading off somewhere exciting, or returning; covered in mud and smiles, clutching a favourite stick. These are children who have been to a Forest School.
Despite the increasing concern that the younger generation is becoming more disconnected from nature and talk of nature deficit disorder 1 children and young people across the UK do have opportunities to spend time in natural environments. One of the ways in which this happens is at a Forest School. Read more…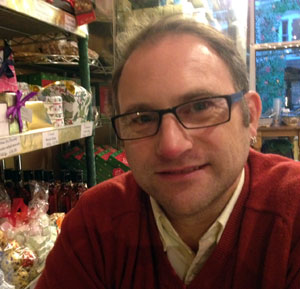 It's not often you meet a person who has set up an organisation just to make sure land is used more constructively.  Mark Walton, of sharedassets.org.uk, is such a person and today he told me about how he plans to change the way land is used.  He's been able to set up this new social enterprise because he has a Clore Social Fellowship, which funds and supports aspiring leaders in the social sector.  These fellowships last one year full time or two years half time, and Mark has used the freedom this gives to investigate how public, private and charitable landowners can be helped to use their land more productively.  He also has support from the Tudor Trust. Read more…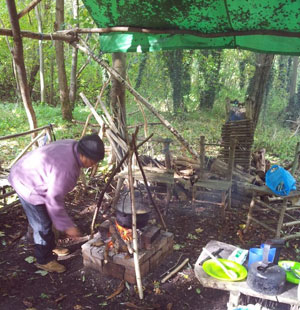 December 2012 will see the final visit to Glede Wood by the Small Woods Association's (SWA) social forestry project 'Branch Out'.  Participants of 'Branch Out' have been successfully visiting Glede Wood since June 2011 but our association with woodlands.co.uk's Glede Wood has been ongoing for 6 years.  Small Woods was first offered use of the wood to help train NEETs, youths "not in education, employment or training", helping them to learn new skills, to work as a team and to then progress to further training or employment.
Our 'Branch Out' project has been funded by the Lankelly Chase Foundation and is a partnership project between the South Staffordshire and Shropshire Healthcare NHS Foundation Trust, Mental Health Unit and the Small Woods Association.  'Branch Out' aims to reduce social isolation and improve the health and wellbeing of adults from black and minority ethnic groups (BME) living across Telford and Shropshire. Read more…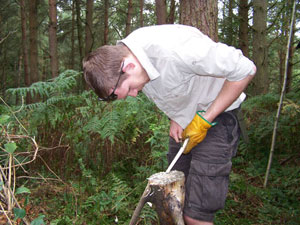 The other day I had a bit of an unusual email request:  "Could I run a spoon carving workshop for a stag party with nine blokes as part of pre-nuptial celebrations?"  I was straight on the phone to woodlands.co.uk HQ, who readily agreed to the use of a woodland, Hellbeck Wood, for the event.  Friends, Mark and Ben,  were quickly roped in to be assistants and to create their own spoon as part of the bargain. Prayers were offered to the rain god for a fine day, but all bets were hedged and a couple of tarps were erected beneath the trees.
The prompt arrival of the stag party group brought another surprise – a woman in their midst!  She was to be an honorary man for the weekend, I was informed.   A short walk led through the wood, to our prepared camp with a small fire and a brew on the go Read more…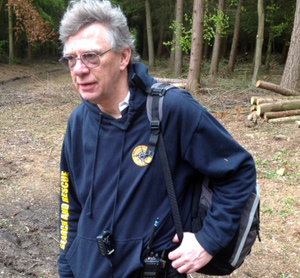 David is a volunteer dedicated to saving lives.  For nine years now he and his dog have been working with Hampshire Search and Rescue who deal with about 60 call-outs each year.  This can be for children who've got lost or run away or for dementia sufferers who've forgotten where they live and are wandering around commons or woodlands. Recently his team spent three days looking for an Alzheimer's sufferer and eventually found her 50 miles from her home, alive and quite well.
"The key objective," explains David, "is to find the missing person as quickly and efficiently as possible. When we are testing people who've been trained we expect a lot of them – they have to find three bodies in 50 acres within half an hour. Actually 7 % of missing people are found within 30 metres of a track or road." Read more…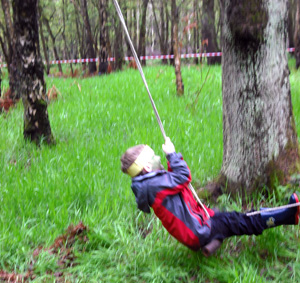 Soft play, football or bouncy castles are the usual birthday party options but not for Mrs Hawkins and her five year old son.  They recently attended a Robin Hood birthday party at Beeley Wood in Oughtibridge organised by Growing Wild. During their two hour adventure, the children enjoyed hunting for treasure, making bows and arrows and cooking sausages on an open fire. Read more…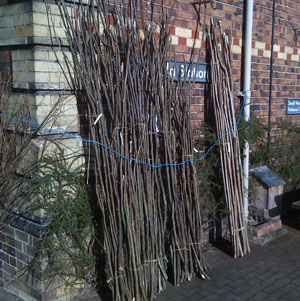 The Small Woods Association is a remarkable organisation with three unusual women at the core of it – Jude Walker, its CEO, Angle Pollard who runs their social forestry programme and Diane Wood – the SWA treasurer. For those who notice these things, it's interesting that that their surnames are all related to woodlands and what they do – encouraging walking and pollarding in woods – an illustration of aptronyms perhaps (names which are very apt for the job they do). These women, along with Phil Tidey and their team at the Greenwood Centre, have built up the Small Woods Association into a very effective charity which has turnover of almost 3/4 million pounds and a clear objective of promoting sustainable conservation of small woodlands, but in recent years it has developed a particular emphasis on social forestry, meaning woodland projects with health and social objectives. Read more…
Subscribe to our blog email updates