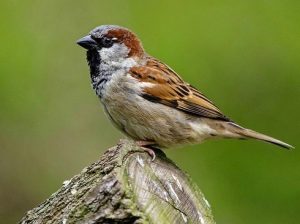 The RSPB has organised the Big Garden Birdwatch for some forty one years.  This year's event took place back in January (25-27th) and some eight million birds were recorded.
The most counted garden visitor this winter was the house sparrow with nearly 1.3 million sightings over the weekend.  This was good news as the sparrow has been in decline for much of the time since the inception of the BGB.  After the sparrow count, starlings were the second most frequently sighted and then the blue tit.
The sightings of long tailed tits, coal tits and wrens were also up, compared to last year.  This year' winter months have been somewhat 'kinder' in terms of temperature.  Small birds tend to be more vulnerable during long, cold winters (food availability and heat loss are problems).
Thus, the top ten birds this year were as follows :
Species

Average number

/ garden

% gardens

recorded in

1

House Sparrow

4.7

64

2

Starling

3.0

38

3

Blue Tit

2.9

80

4

Wood Pigeon

2.3

76

5

Blackbird

2.1

85

6

Goldfinch

1.7

32

7

Great Tit

1.5

58

8

Robin

1.4

83

9

Long tailed tit

1.3

30

10

Magpie

1.2

55
For further details and see to how things have changed over the years - visit the BTO pages here
---
---
Leave a comment