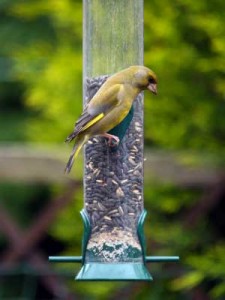 Next weekend  (26-27 January 2013), sees the the RSPB's Big Garden Birdwatch.  If you would like to take part, go to www.rspb.org.uk
What is involved ?
an hour of your time
a pen or pencil
some paper or a print-out of the RSPB's bird ID sheet
a place to observe (your garden / local park)
During the course of the hour, you are asked to record the highest number of each bird species in your garden / park.  The birds to look for are :
blackbird, blue tit, carrion crow, chaffinch, coal tit, collared dove, dunnock, feral pigeon, gold finch, great tit, green finch, house sparrow, jackdaw, long tailed tit, magpie, robin, song thrush, starling, wood pigeon and wren.
Each of these birds is described in detail (with photos) on the RSPB website : eg.woodpigeon
The Big Garden Bird Watch has been running for many years; it has helped build a picture of how various bird populations have changed over the years.  Given that we and wildlife have just experienced one of the wettest years on record, it will be interesting to see if or how the collated results of this year's survey compare with those of previous years.
On Twitter - see  #BirdWatch
Comments are closed for this post.
Leave a comment
Subscribe to our blog email updates
Managing Your Woodland for Wildlife
A new book on encouraging biodiversity in your woodland. Available free here »