Woodlands Awards 2019: Winners
This is the third year of the Woodlands Awards, and there are 48 winners, listed below. Big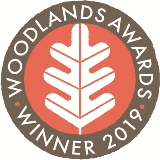 congratulations to them all! 
Note that there were a number of winners in all the categories. They are listed here mainly in alphabetical order, or in no particular order: they are all equal winners!
For quick access to the winners of any of the Awards, click on the Award category in the list below:
BEST WOODLAND BLOGS
Mike and Tracy Pepler write about their wood, Chestnut Coppice, in Rye, East Sussex, with informative and evocative descriptions, photos and videos of wildlife and projects. "Fantastically interesting and regularly updated" noted one of the recommendations received.
"A blog about a man's dream to own a small woodland." In submitting his entry, David wrote: "The blog has documented my visits, activities and progress since I purchased it five years ago…Some of the activities covered tree felling and management, camping, cooking, blacksmithing, woodworking, wildlife spotting, shelter building plus lots more." It's a lovely account, accompanied by excellent nature photography.
"This blog is a diary of my journey from London based care worker to fully fledged woman of the woods." A fascinating, hands-on account of that journey, infused with a (self-confessed) outsider's enthusiasm and wonderment, with some excellent, illustrative and to-the-point photography.
SMALL WOODLAND WEBSITES
Although it calls itself a blog, it is more of a reference website – and an admirably comprehensive one at that. "This site [says the home page] is about wild flowers you can find in woodlands. The photographs of the flowers were all taken by me and a lot of them were taken in the Wye valley area in Gloucestershire and Monmouthshire." Alan adds in an email: "I think it is of interest to all people who own or ever visit woodlands. I am now in the process of trying to get it published as a book."
Led by the Wild is an outdoor learning and community activity hub based at Whites Wood Farm near Ashford, Kent. The website is beautifully designed, a model of its kind – all the more admirable when Jo Flaifil, who submitted the entry, tells us: "We are a small Community Interest Company and I have designed the website (my first ever attempt!) All the photographs, blogs and copy have been written or taken by myself or one of the other Directors so it is true reflection of our woodland."
WOODLAND PHOTOGRAPHY
Martin Garwood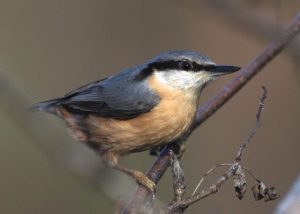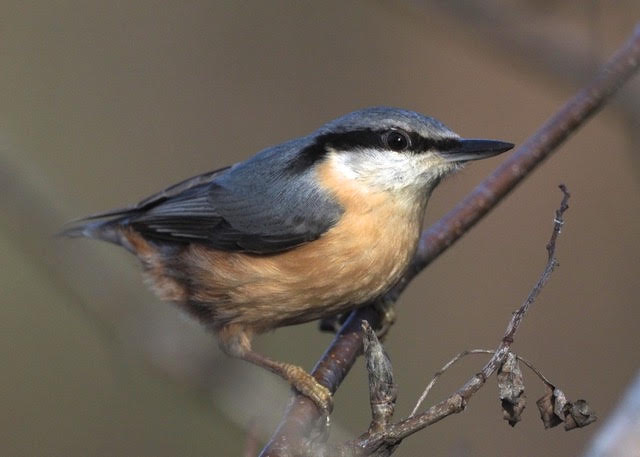 Photographs of birds of astonishing clarity and quality, taken this year in Crow Wood. (Crow Wood won one of the "Best Woodland Blogs" awards in 2018.)
•
•
•
•
•
Jenni Bromage
Jenni entitled her collection "A Bug's Eye View of Forest School". She is Forest School Leader at Red Bus Nursery and Pre-School, Downend, Bristol. (Red Bus Forest School won an award in the Best Forest Schools category in 2018.)
•
•
•
•
David East
"Here are a few of my best photos of my wood (and a couple taken nearby) taken over the last year or so," wrote David. It is a beautiful collection of evocative woodland landscapes – shapes, light, foliage.
•
•
•
•
•
•
•
•
Cathy Ryan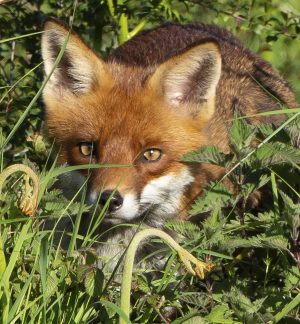 Nature photography of astonishing clarity, and unique moments – such as an alerted fox, and boxing hares.
•
•
•
•
•
•
•
•
•
Justin James
Beautifully composed photos of wildlife and some close detail of plants – capturing the wonder of the natural world. The photos were all taken in Justin's Devon woodlands, bought two years ago.
•
•
•
•
•
David and Sarah Alty
Trees pierced by sunlight, fungi, a hedgehog, a red squirrel… beautifully shot, but preserving a sense of the spontaneity of nature.
•
•
•
•
•
•
Sue Price
A collection of remarkable photos taken at Coed Craig Ruperra, including a sleeping baby dormouse. (Coed Craig Ruperra was a winner in the Best Community Woods category in 2018.)
•
•
•
•
•
Jasper Sharp
Eye-opening details of fungi – Jasper's speciality – labelled as Coral slime mould (Ceratiomyxa fruticulosa), Glistening Ink Cap mushroom (Coprinellus micaceus) and Physarum slime mould (shown here).
•
•
•
•
SCULPTURE
Rob Elliott
For "Fairy Houses at Yew Tree Wood, Near Ruthin".
•
•
•
•
•
•
•
•
•
•
•
•
•
Graeme McIntosh
"Graeme Mcintosh and all the family" is the citation on the Award certificate. The sculpture was submitted with the caption "We had our own Beltain celebration."
•
•
•
•
•
•
•
•
•
•
WOODLAND HAIR (AND/OR BEARD)
Matt Marples
Sole winner this year. Matt was delighted to hear that he was "ahead by a whisker".
•
•
•
•
•
•
•
•
WHOLE WOOD OWNERS' COORDINATORS
The Award description explains the purpose of this Award as follows:"Individuals who work to promote and protect the combined interests of the multiple owners of whole woods deserve recognition for their hard work, commitment and diplomacy. This award is designed to celebrate good practice, and to shine a light on examples that others might follow." We won't cite individual recommendations, as it might reveal the identity of the authors and to spare the blushes of the winners, but here are the kind of comments that showed why they deserved their Awards and recognition:
has worked with dedication and consistency over the last five years on behalf of our woodland owners' community;
notification of damage such as fallen trees and vandalism; repairs to access gates;
someone who just gets on with stuff that benefits all of us;
has a calming influence when we have problems with vandalism and theft;
admirable diplomacy and restraint.
And the winners are:
Bernie Burnett
John Nickson 
•
WOODLAND DOGS
Moo-Moo, presented by Jonny Thompson
"This is Moo-Moo. She's small but feisty. A proper little Woodland Warrior."
•
•
•
•
•
•
Dorothy, presented by Rob Finley
Dorothy, pictured with Rob, who is Managing Director of The Ultimate Activity Company, and also runs The River Wye Activity Centre. An active life for man and dog!
•
•
•
•
•
•
•
Elsie, presented by Dan Milnes
Elsie is a Malinois. Dan wrote, on hearing of the Award: "Thanks for choosing Elsie. She has been my best friend and companion for many years."
•
•
•
•
•
Pip, presented by Liz Watson
Pip is a lurcher. Liz wrote, on receiving news of the Award: "I know Pip will be overwhelmed to hear of her success! She really is the best woodland dog, ever. We shall celebrate with a gravy-flavoured biscuit."
•
•
•
•
•
Herbie, presented by Sue Davis and Sarah Axon
"Herbie the Cockapoo is used to the urban life but is a very enthusiastic woodland volunteer. Likes: sticks, digging, exploring, paddling, tracking deer, keeping guard. Dislikes: machinery, having to go home."
•
•
•
•
•
•
•
•
•
Alfie, presented by Kerry Evans
"This is Alfie my two year old golden retriever. He loves mooching around in the woodlands [Sirhowy Valley Woodlands, Tredegar] and we try to take him everyday. He loves the woodlands so much that he just gets carried away and forgets we are there with him sometimes."
•
•
•
Cassie, presented by Daniel Sharp
"Cassie… has been of invaluable assistance strimming the rides over the past few weeks and remains positive despite being recently attacked in the woods by a pack of trespassing dogs..."
•
•
•
•
•
Jimmy and Jenny, presented by Steve Davey
"Jimmy and Jenny, our two Bichons, enjoying a sit-down on a log within our woods. Jenny likes to chase everything that moves in the undergrowth, whilst Jimmy lies down and watches on!"
•
•
•
•
•
•
•
•
•
•
WOODLAND CONTRACTORS
Liam Lambert
Liam Lambert Construction Ltd, of Besthorpe, Norfolk. Recommendation: "Liam Lambert – fantastic, always gets the job done and goes the extra mile. Tracks and large engineering jobs in woods."
Bob Wilson
Bob Wilson of Hartwell, Northants, www.bobtreesurgeon.co.uk
Recommendation: "Bob Wilson, who doubles up as a tree surgeon and chainsaw carver. He's very knowledgeable, always gives great advice and will turn your stumps into something amazing if you ask nicely!"
Richard Evans
Richard Evans, of Bro Cader Haulage and Plant Hire Ltd, Machynlleth, Powys.
Recommendation: "He has worked with us for over 20 years… does tracks for the Forestry Commission, dug lakes. Reliable, knows what we want… will take on any task asked of him." 
FOREST SCHOOLS
Nant y Glyn Forest School
Colwyn Bay, North Wales: www.colwynbayforestschool.co.uk
Nant y Glyn Forest School is owned and run by husband-and-wife team Greg Woolley and Delyth Harries, and takes place in a small hillside woodland just outside Colwyn Bay. It offers forest school for families, schools and colleges and community groups – and birthday parties. The recommendations speak of consistent and rewarding experiences for participants at all levels, in line with their "Why we do it" statement: "We believe that everyone should have a safe space to learn, play and have fun outdoors, and these opportunities increase self-esteem and enhance personal, social and emotional development. Our values include working within a rights based approach, and promoting equality and inclusion. We offer a fun and accessible approach to our work, whilst understanding that there can be a broad range of personal, social and political barriers to people taking part."
Be Free Forest School
North London: http://befreeforestschool.co.uk
From the recommendations: "Jude Vinton [Forest School Leader] has fantastic flare and command when engaging the children. Her leadership skills encourage the children to thrive and learn freely all the while nurturing their curiosity and focusing their minds on the topic of the day."
"It was fantastic to see in both classes the team work between the children increasing, the smiles on their faces from the pure pleasure of playing and exploring the great outdoors. All the children wanting to get stuck in and not afraid of charcoal or mud on their faces. Their confidence was boosted as they were holding mini beasts, inventing games to play and explaining what they enjoyed most each lesson. Not only that, they were not afraid to be outside when the temperature dropped or there was a little rain."
Four Seasons Forest School
North London
Lucy Turner (Forest School Leader) writes: "At Four Seasons Forest School, we are proud to offer our children a broad and balanced experience outside. We strongly believe in the ethos and principles of Forest School and therefore promote a play-based and child-centred approach. Our children are empowered to lead their own learning. We have seen such amazing changes in some of our children, including many children with SEN. We currently support two North London schools, in the Borough of Enfield.
From a parent: "I personally observed how much it has boosted the pupils' confidence, creativity and love for nature and generated more curiosity and willingness to learn about the world they live in. Sessions incorporated activities, starting with an introduction to forest school; learning about boundaries, reading stories and participating in games and creative arts and crafts around stories read, e.g. building houses for the three little pigs using real materials such as straw, sticks and bricks; playing tug of war, collecting natural materials such as sticks and wood then turning them into bows, arrows and spears, building dens, producing clean water out of pond water through filtering, learning how to make a fire, setting hammocks, preparation of snacks, cooking, making drinks, initiating informative talks, question and answer sessions, e.g. environmental concerns, recycling, world's endangered animals, what we can do to help the environment and diminish our plastic consumption, collecting rubbish from the school's ground and in Oakwood Park splitting into groups and talking about the ways of contributing to waste reduction and taking care of the environment... The list can go on and on. We have had great fun in every single session."
Green Earth Learning
Chelmsford, Essex: www.greenearthlearning.co.uk
Green Earth Learning, a Forest School held at Hylands Park in Chelmsford, led by Justine Page.
From a parent: "There is a fabulous 'mud kitchen' with utensils, pots and pans to make culinary mud dishes; or dig for worms; or simply squelch and make a happy mess in the mud (my son's favourite!). There is also a mud painting area where the children can use their imagination, using normal brushes or making their own from leaves and twigs! For quiet time, there is a tarpaulin den where the children can look at books - my son loves the animal books, pressing the buttons to see if he can hear the animals in the forest. A real favourite is the wonderful bug hotel with magnifying glasses, boxes and information sheets/books to go bug hunting!
"There are hammocks where the children can lie, looking up to the canopy of trees above them, and a fallen tree for the children to climb on.
"We finish the sessions round the campfire. Justine allows a few children to safely assist her to build the fire and then the children toast their own marshmallows. It's a wonderful way to end each session!
"As a parent, seeing my child enjoy, thrive and learn in a natural setting has been amazing. He has loved the experiences that Justine has prepared so much; it has been wonderful to share with him.
"Justine helps children to build confidence, independence and develop themselves within a natural environment."
WOODLAND COURSES
Explore the Great Outdoors
www.explorethegreatoutdoors.co.uk
Pete and Jacqui Codd run courses on bushcraft and woodland crafts in Wiltshire – courses such as spoon-carving, rake-, charcoal-, hurdle-, shrink pot-, basket-making, and more.
From a recommendation: "My wife and I are small woodlands owners and have attended a number of courses over the past two years in and around the Wiltshire area...You know when you find two people that truly enjoy helping others with a deep-seated passion and have years of outdoors experience to share, that's how we would describe Pete and Jacqui… It wasn't until my wife booked us both on a Charcoal-Making Course with Pete and Jacqui that we really started to gain an appreciation for how things can be done skilfully and safely in our new woodland environment… You realise straight away that when you attend one of their courses, safety is a number one priority, followed by making you all feel at ease and the stage is then set for a fantastic day of pleasant learning. They hold a wealth of experience which they have gained from places around the world; from the jungles of Malaysia to the Outback of Australia, to name just a couple."
Phil Dunford Chainsaw Training
Phil Dunford provides expert and much-respected training for professional, domestic and occasional chainsaw users. Many small woodland owners have benefitted, and much appreciate his skills in imparting his great knowledge and experience, and testify to what the website tells us: "Phil instructs on all courses, offering high quality chainsaw training, with courses tailored to fit individual needs. We are a small business and pride ourselves in offering a personal and friendly service… Courses are designed for the complete novice or for people who have had previous experience of using chainsaws."
COMMUNITY WOODS
Heartwood Community Woodfuel Group
Founded in the 1980s, the National Forest is regenerating 200 square miles of industrial land in Leicestershire, Staffordshire and Derbyshire, with the planting of 8.7 million trees. And now some of those woodlands need thinning out. Step up the Heartwood Community Woodfuel Group, a team of more than 50 volunteers who since 2014 have provided woodland management in return for firewood – and the pleasures of working in the great outdoors. They also run training days in chainsaw use, coppicing, all-terrain vehicle operation, and so on. New members are actively encouraged to join, whatever their previous experience, and are give full induction training.
Vert Woods
From their website: "Vert Woods Community Woodland is 171 acres of mixed woodland, near Lewes in East Sussex. Since Autumn 2015, the woods have been managed on behalf of the community.
"After the planting of many softwood trees as a crop after WWII, our detailed plan and assessment is pointing the woods in new directions. That will require the removal over time of much of the softwood 'crop' and replacement with more native hardwoods. We also want to make it easier for people of all ages to visit and experience the benefits of the woods to ensure a stronger connection with nature. Our aim is to create a social enterprise and working woodland that benefits both the local community and the local ecology."
"A very well organised and active group", says one recommendation.
WOODFAIR TRADE STANDS
1948 Original Equipment
Attractively presented in a large yurt is an impressive array of quality camping and backpacking equipment, weather-ready clothes, plus a range of bushcraft and woodland aids, and all sorts of select and interesting products such as Hultafors axes, Morakniv knives, Kupilka biomaterial cups and spoons, and Frost River waxed canvas backpacks (guaranteed "for as long as you own them").
•
Backwoods Survival School
https://backwoodsurvival.co.uk
Backwoods Survival School run courses in Scotland, which the stand is designed to promote. What draws the eye is the range of beautiful hand-made products made of natural materials, from spoons, twine and baskets, spears and harpoons, to fishtraps and coracles.
•
•
•
•
Sean Hellman
Sean is a mastercraftsman of green woodwork, using skills that he demonstrates in his stand in sessions throughout the day. Around him are his products for sale – a delightful, characterful array of spoons, chopping boards, bowls, shrink pots, coffee scoops, ingenious wooden foodbag clips, woodcarving tools, plus ornaments, including his feather-delicate "fan-bird" pendants.
•
•
WOODLAND BOOKS OF THE YEAR
'Cherry' Ingram
by Naoko Abe (Chatto & Windus)
This book is not so much about woodland as about a deep passion for trees – a passion that consumed the wealthy press heir Collingwood Ingram (1880–1981) to earn the nickname "Cherry". Falling under the spell of the historic Japanese reverence of cherry blossom, he collected as many cherry species as he could, through his travels and his contacts, and grew them at his home in Benenden, Kent. But this is a story also of Japan's tortured 20th-century history in which cherry blossom was aligned to Japanese expansionist nationalism, which favoured one particular species, pink somei-yoshino, above all others. After the Second World War, "Cherry" Ingram was able to return the favour by supplying rare varieties to help re-diversify Japanese stock. It's a profound tale, brilliantly researched and told, with a fascinating insider's view of the Japanese perspective.
•
•
The Little Book of Trees
by Caz Buckingham and Andrea Pinnington (Fine Feather Press)
This well-illustrated, nicely produced book serves as an excellent spotter's guide, accessible to children aged 10+, but also useful for adults. It is simple and short, but well-informed, covering the basic information about 40 common European trees – including park and orchard (i.e. non-woodland) trees, such as London plane and black mulberry – with boxes containing interesting snippets of side-information. There are notes on pests and blight, plus a bud gallery and leaf gallery to compare the different shapes. The authors (who are also the publishers, and took most of the photographs) have Gabriel Hemery (of the Silva Foundation) as their consultant, giving the book an extra dose of authority. An admirable little book, especially for the price (£7.99). 
•
•
•
The Magic and Mystery of Trees
by Jen Green (illustrated by Claire McElfatrick) (Dorling Kindersley and the RHS) 
"Trees are the tallest living things in the world but they are born from tiny seeds." It is this sense of wonderment that brings this lavish book alive. Specifically designed as a children's book (ages 6–12, or thereabouts), it takes a broad, global look at the world of trees, both as a subject and geographically. Mixing photography with beautiful and copious illustration by Claire McElfatrick, it is informative and comprehensive, with a clever, interesting text packed with facts that make you think. For all woodland-loving adults, it should also make you think – about birthday and Christmas presents!
•
•
Forest Craft
by Richard Irvine (GMC Publications)
GMC Publications (the Guild of Mastercraftsmen) have got into the groove of producing exceptional large-format books designed for young woodland enthusiasts and forest school participants. Last year their Forest School Adventure: Outdoor Skills and Play for Children by Naomi Walmsley & Dan Westall won this Woodlands Award. This year, in the same format, Forest Craft is a winner, in more senses than one. Illustrated with admirably clear artwork and photographs, it takes readers, safely, through basic techniques (sawing, drilling, carving, knife-sharpening) and all kinds of imaginative projects. Learn how to make wood beads for jewellery, whistles and kazoos, rhythm-sticks, toys, ornaments and tools (such as feather sticks, for lighting a fire), and much more. The foreword is by Lily Horseman of the Forest School Association.
The Glorious Life of the Oak
by John Lewis-Stempel (Doubleday)
John Lewis-Stempel has established himself as one the country's leading nature writers, with his deft combination of a bright and engaging style, thorough research and an infectious passion for his subject. Last year his The Wood was an outstanding winner of this Award. This year's winner, The Glorious Life of the Oak, is a shorter book (88pp), with a much narrower focus, but it works very well on a different plane: as a miscellany to dip into, a handsomely presented gift-book, attractively illustrated with black-and-white engravings. With its mix of history and natural history, poems, stories and myths, it covers all aspects of the oak, great and lesser-known, including its crucial role in architecture and shipbuilding, its medicinal uses, druid lore, oak proverbs, famous oaks, oak-leaf wine and acorn coffee, and so on. You will end up sharing John Lewis-Stempel's sense of admiration and wonderment. An oak is a living world of its own: "In botanical jargon it is also a 'keystone plant', supporting more species than any other tree." And it can live for 900 years or more.
•
Wilding
by Isabella Tree (Picador)
This book may be a slightly surprising winner of a Woodland Books of the Year Award because it is really not about woodland at all. It is about the (controversial) rewilding of the 3,500-acre Knepp estate in West Sussex, ancestral property of Isabella Tree's husband Charlie Burrell. In brief, they became exasperated trying to wrench EU-subsidised agricultural productivity out of the Wealden clay soil, and so in 2000 they threw in the towel, to hand the property back to nature. It quickly reverted to scrub, grazed by cattle and deer – and has seen an astonishing renaissance of wildlife and biodiversity. At the centre of the story is the debate about what happens if land is left to go wild: what is the "climax vegetation"? "Closed-canopy forest came to be seen as the natural state of the European landscape," but Knepp's experience makes a clear case instead for woodland pasture. Beyond that, it is a fascinating story, beautifully told, impressively researched, by an experienced writer who really knows how to communicate. A triumph on all counts, and one that will fascinate woodland enthusiasts for its broader messages.
REGIONAL AND NATIONAL WOODLAND ORGANISATIONS
The Forest of Marston Vale
In the early 1990s, an area of 61 square miles between Bedford and Milton Keynes was designated as a community forest – despite having only 3% tree cover. The Forest of Marston Vale is the consequence of this regeneration project, and it now has now 15% tree cover – "transforming the landscape and making it a thriving place to live, work and play". Funds now come primarily from donations from the public and profits from the Forest Centre & Millennium Country Park. In the pipeline: a further five million trees to plant!
Llais y Goedwig
"The voice of community woodlands in Wales", Llais y Goedwig ("Voice of the Woodlands") works to represent and support community groups and practitioners across Wales. Founded in 2008 with funding from the community woodland programme Cydcoed, Llais y Goedwig received further assistance from Forestry Commission Wales and now brings together 90 community woodland groups. It is involved in forestry policy in Wales and carries out research into various aspects of forestry, such as woodfuel supply, and produces it own publications, as well as organising national networking events.