Woodlands Awards 2017: Winners
Here is a list of all the winners, in their various categories. Many congratulations to all!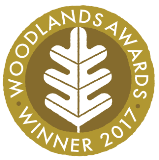 Note that there were a number of winners in many of the categories. They are listed here in mainly alphabetical order, or in no particular order: they are all equal winners!
For quick access to the winners of any of the Awards, click on the Award category in the list below:
WOODLAND BLOGS
Blog subtitle: "Managing a small wood in Sussex; restoring ancient woodland and promoting diversity."
A blog maintained since the first entry ("New 0wners" ) on 10 September 2009: "We are determined to manage our wood for conservation and diversity – learning a lot and at the same time having a lot of fun." The entries (mainly short, sometimes more of a photoblog) contain a good mix of well-researched information and history and practical experience (e.g. about rhododendrons), plus wildlife observations, supported by copious photographs, many of them excellent. Example: "Purple emperor behaviour: thugs of the butterfly world, they will attack and see off creatures much larger than themselves, including birds and dragonflies. Lurking in the top of an oak waiting for something to invade their territory they will shoot out and scare them away. Often drunk on fermented oak sap, they also like to fight among themselves and will swoop and wheel in a distinctive movement, swooping and swerving at an astonishing speed..." The blog records the year of woodland management (planting, clearing, projects) and sets out a Management Plan (30 December 2017) for the coming year – with useful comments on the value of such plans. It also contains the story of their cabin, which won an Award for the best Woodland Buildings/Shelters (see below). All in all, an impressive blog for its clarity of information and purpose, excellent to read and browse through, and inspirational.
Blog subtitle: "Five and a half acres of slippery mud banks, rampant Rhodos and uncombed bracken – but it's a heaven-sent ticket to happiness in the heart of the Sussex AONB weald."
The blog is on first page of an attractive website, with regular entries (short, bite-sized, 400 or 500 words, often less) since 2014 beginning with "First full day in the wood". The writing has a lovely, approachable style: warm, witty, enthusiastic – although not shy of telling us about the trials and tribulations (being awoken early every day by an insistent woodpecker), aches and pains and sheer hard work of managing a small wood. Ambitious projects include building the camp, hides, a pond, nesting boxes and – most impressive of all – a clay pizza oven. The blogs are illustrated with excellent nature photography, including wildflowers and animals caught on camera traps. Ultimately this blog celebrates the profound rewards (for all the family) of woodland, if you are prepared to put the work in – a brilliant introduction for anyone contemplating taking on a small wood.
Ninewells Wood/Catbrook Wood (near Trellech, Monmouthshire). Subtitle "Work in Progress".
A blog since June 2013, starting with "first visits to Catbrook wood", purchased the following month: "about 6 acres of Welsh woodland mostly made up of Corsican Pine but almost certainly on the site of ancient woodland which is what I intend to gradually return it to." It has an educational bent, with well-informed text and excellent photos, e.g. "Rhagium, a longhorn beetle" (24 November 2013), even "Wild animal Poo… an aid to identification" (14 July 2017). The blog posts come in varying length (some quite short, and mainly pictures, some quite long), written in a friendly and personal style, with humour. Sometimes they are also overtly instructive, e.g. "Here I would like to impart two pieces of advice to anyone thinking of buying a patch of woodland…" (31 January 2014). The blog over time has built into an impressive compendium of woodland management, nature notes and – especially – of "Woodland wildflowers of the Wye Valley".
SMALL WOODLAND WEBSITES
Sallerton Wood is 10 acres of mixed deciduous woodland in West Devon. This outstanding woodland website is a model of its kind: attractive, informative and inspirational, with excellent, captioned photography and good navigation. Dr Alan Morton writes: "I design, construct and maintain the Sallerton Wood website on behalf of my son and daughter-in-law, Andy and Jane Morton, who own the woodland and manage it and work there." Alan Morton is an adviser in woodland ecology, conservation and management, a retired Lecturer in Ecology at Imperial College, London; Andy Morton is an "experienced woodworking craftsman" who makes shelters, furniture etc advertised on the website, and is also a course tutor. The website shows what can be done in a small woodland, with enthusiasm and professionalism. "The overall aim of management at Sallerton Wood is to utilize the woodland for traditional woodland crafts in a sustainable way and in a way that enhances the woodland habitats and wildlife of the woodland. Many of the cherished features of our native broadleaved woodlands have been derived by past traditional management practices such as coppicing, pollarding, selective thinning, and the maintenance of woodland rides… An additional aim is to involve and educate the local community in sustainable woodland management and woodland crafts." It also introduces the reader to Andy, Jane and Alan Morton – so there's a personal, hands-on touch. An excellent photographic Diary of activities (latest entry August 2017) does not burden the reader with words: the pictures tell the story.
This is a very different kind of woodland-owner's website: an artist's showcase – commended because it achieves what it sets out to do stylishly and elegantly, and demonstrates that there are many ways in which a passion for woodland and nature can be transmitted through websites. As Jo Kjaer puts it: "In the fourth year of owning a wood, in my seventh decade… Wyman Wood is a small woodland plot of 2½ acres in Norfolk: A little world going on by itself regardless of us. As if we brought with us the trees we knew as children. Belonging there gives me inspiration." Surprisingly, she is a latecomer to art: "I learnt to paint aged 69." The website is a personal and attractive account of "How a creative pensioner spends her retirement."
WOODLAND PHOTOGRAPHY
Karen Elliott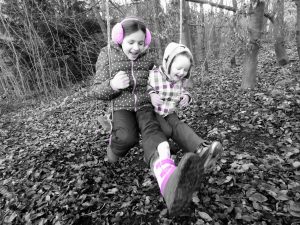 This submission of 6 images covered a broad range of subject matter and included three particularly arresting images, notable in particular for their colour: woodland pierced by rays of light; a detail of a dripping log after rain; and children on a woodland swing.
Frances Lee
Three images show a distinctive eye for detail and texture – a foamy understorey of cow parsley, a view of sunlit pines framed by a break in the canopy, and a pinpoint-clear chiffchaff resting on a stalk. Frances runs a photography, art and design business called Rarehare Designs, with a website where the full range of her work can be seen.
Greteli Morton
A collection of 36 woodland photographs, stunning for their detail, clarity and use of contrast and light. Foliage, tree canopies, water, blossom, lichens, moss, the sculptural shapes of trunks,  dappled light on the understorey – all inspire a sense of wonderment at a woodland world that we might otherwise take for granted.
Graham Strong
"Our Year-round Woodland Stream": 12 images shot throughout the year. Graham Strong writes: "Our Carmarthenshire stream runs throughout the year over a bedrock of slate along the whole 175 yard western boundary of our wood. It races, meanders, cascades, plunges, carves out canyons and encircles islands. It is a source of wonder for both adults and children!" His photos are a finely achieved and evocative record of this.
WOODLAND BUILDINGS/SHELTERS
Susan Davis and Sarah Axon at Old Copse, Sussex
This is a traditional round wood log cabin, created by Susan Davis and Sarah Axon, winners also of one of the Best Woodlands Blogs Awards. The story of the construction is told in that blog, starting 21 February 2014, continuing through the spring of that year. "Last year we obtained 'permitted development' approval to build a small woodland structure that would give us somewhere to shelter in bad weather while carrying out forestry work, and also provide a social focus and a place to enjoy the wood in considerably more comfort than squatting on a wet log under a flapping tarpaulin." The sequence includes an excellent photographic (and video) record of construction, and shows how the cabin blends in with the woods. Because it proved difficult to locate builders with experience in log cabins, they found "a small group of Polish craftsmen from southern Poland who had the skills needed to build us a log cabin in our wood using our timber." Hence they have ended up with a traditional Polish log cabin: "Ours is the first ever in England."
Anna Grugeon and Pete Grugeon for the Off-Grid Cabin at Bulworthy Project
This "off-grid cabin in the woods" is attached to the Bulworthy Project (Hensons Wood near Rackenford in Devon), where Anna and Pete Grugeon run woodland courses (charcoal-making, bow-making, spoon-carving) and events. As recounted on their website, they have "full planning permission… to build a cabin in the woods as tourist accommodation". "We built this timber framed cabin to create a space for people who come to courses and events in our woods to stay in overnight... We built it ourselves with some help from friends, only calling in the professionals where legally necessary such as the electricity and gas connections. Wherever possible we have used wood that we have harvested ourselves or wood that is sourced locally… Our aim has been to combine the rustic look of raw timber and waney edged cladding with the luxury of high class accommodation and to allow the opportunity for people to stay in the woods without compromising on their creature comforts.  By powering the cabin with renewable energy and using locally sourced and reclaimed materials wherever possible, we have tried to achieve this in the most sustainable way possible."
John and Leigh Price for moduLog
The father-and-son team of John and Leigh Price, from Builth Welles in Wales, have developed the moduLog as an ingenious and sympathetic form of modular log cabin that allows customers to adapt the basic plan to any purpose, from simple woodland shelter to garden office or sophisticated glamping pod. The company is very proud of its green approach, using home-grown timber and locally sourced materials in the construction of the basic units. They are also keen to make clients fully aware of planning regulations: advice is given on the moduLog website (under FAQs).
WOODLAND TOOL RECOMMENDATIONS
The Silky F180 Folding Saw
Silky Saws have a world-wide reputation for being among the best pruning saws you can buy. They have been made in Japan by U.M. Kogyo Inc since 1919. Silky Fox UK, based in Mansel Lacy, Herefordshire, is a family-run business established in 1995 to import and distribute Silky Saws in the UK. The Silky F180 Folding Saw is lightweight folding pocket saw. As the manufacturers put it: "It is an ideal cost-effective all-round folding saw that is always useful for all garden pruning tasks and outdoor projects." It is much valued for woodland work because of its portability: the folding facility renders its incredibly sharp 180mm blade ("with a large tooth configuration of 7.5 teeth per 30mm") safe to carry around. One user-recommendation says: "They are so sharp and lightweight, anyone can use them. Great for removing side branches."
Stallion Pole Saws by CEuk
CEuk (Cutting Edge UK), of Wymondham, Norfolk, sells three telescopic pole saws under the Stallion brand, with a maximum reach of 3.1, 4.6 and mighty 6.3 metres – perfect for high-reach tree pruning. All are fitted with 400mm blades. The sharp, high carbon steel teeth of the sickle blade, coupled with the lightweight aluminium pole, permit users a controlled cut and smooth finish. "The blades are strong and sharp – and not as inclined to snap as other brands," says one recommendation. "I've been using mine for three years, and haven't had to reach for the spare blade yet. I'm impressed!"
The Stihl Cordless Electric Chainsaw MSA160
Even if not well suited to heavyweight forestry work, a cordless electric chainsaw has its place, and the MSA160 – by the esteemed, family-owned German manufacturer Andreas Stihl AG – is a top-of-the-range product in this line. As Stihl's own publicity puts it, "This 36 V chainsaw fulfils even the highest demands for performance and working comfort and is the perfect assistant for property maintenance, horticulture, cutting firewood and sawing work in enclosed areas," and our reviewers would agree. "Handy and convenient… much quieter… doesn't give off fumes… Woodcarvers use them, which says something about their adaptability and delicate touch." Stihl also do a 120, 140 and 200 (14-inch blade), but the MSA160 (12-inch blade) is the model that attracted our recommendations.
WHOLE WOOD OWNERS' COORDINATORS
The Award description explains the purpose of this Award as follows: "Individuals who work to promote and protect the combined interests of the multiple owners of whole woods deserve recognition for their hard work, commitment and diplomacy. This award is designed to celebrate good practice, and to shine a light on examples that others might follow." We won't cite individual recommendations, as it might reveal the identity of the authors and to spare the blushes of the winners, but here are the kind of comments that showed why they deserved their Awards and recognition:
loves woodland… meets new owners, fixes gates, organises events.
has had the energy and drive to get the owners together.
has done a lot this year to liaise between owners and the Woodland Trust for a PAWS [Plantations on Ancient Woodland Sites] grant.
He is the co-ordinator for [xx wood] and works really hard there.
a very "good egg" and very community-minded.
long-serving… consistency!
And the winners are…
Alexander Bienfait
Richard Cooper
Mark Herbert
John Jackson
John Richards
WOODLAND CONTRACTORS
Dartmoor Horse Loggers
South Devon. www.dartmoorhorseloggers.co.uk
"Two brothers [Will and Alex Hampton] and their horses William and Beano. Confident, skilful, experienced, hard-working. They are top-quality professional contractors and very easy to work with. Absolutely zero damage. Taking care to extract sensitively on woodland rides. Using their horses where appropriate, and building up the business to include tractor and forwarder as well."
Meirion Davies, Agricultural Contactor and Plant Hire
Llwynbedw, Ceredigion
"Knows his stuff – we know he'll do a good job." "Good at woodland tracks… He has a 'nose' for finding stone on site, if there is any to be found, and he can be relied upon to do a good, clean and tidy piece of work."
Chris Hill Tree Services
Haverfordwest, Dyfed. www.chrishilltrees.co.uk
"Just as the website says 'A family business based in Pembrokeshire, and we cover all of the West Wales area. We have fully qualified and experienced staff, who use a range of equipment to carry out tree works safely and efficiently, no matter how big or small the job.' Especially recommended for road frontage work and other dangerous tree work. Did a huge tree over an A road – great job!"
Nina Williams at English Woodlands Forestry
and
Andy Wright at English Woodlands Forestry
Cocking, West Sussex. www.englishwoodlandsforestry.co.uk
Nina Williams Andy Wright are both experienced Forest Managers, working for English Woodlands Forestry, the forestry business side of English Woodlands Timber. Our nominator says, "Nina and Andy organise heavy contracting works for woodland owners. Their core skills are getting permissions to make tracks, specifying how to build them and executing on time and on budget. In addition they create woodland plans which fulfil owners' objectives and satisfy the authorities."
FOREST SCHOOLS
Lea Primary Forest School
Holloway, Matlock, Derbyshire. www.lea-pri.derbyshire.sch.uk/forest-schools.html
Selected quotations from the nominations:
"I am a parent of two children attending Lea Primary. They run forest school each Friday in a wood adjacent to the school. What's special about it is how much freedom the children get to play in a safe environment where they feel like they're unsupervised. This is something that recent generations have lost, that ability to just go off and play away from their homes. Though the children receive a thorough safety briefing before each session they are able to learn to make their own risk assessments during their free time where they are allowed to go off and maintain their very own dens in the woods or build new ones. The children learn how to work as a team, though they feel like they're just playing.
"The second thing I find impressive is how Lea Primary has managed to integrate environmental learning about nature into the Forest School framework… the staff have the knowledge and provide microscopes and identification guides to help the children learn about what's around them in the fields and woods.
"Though this is great, hearing all this from a parent, the proof about how much impact this forest school is having is the way the children talk about it.  Whenever asked what's great about their school it's always top of the list. Children base art on it and write poetry about it. It's really becoming part of a way of life for them and is a huge part of why they love school and when they love school they work hard and do well."
"I am a parent of a child in Year 3 and have assisted along with many adults and parents at the Forest Schools. It is led by experienced and highly qualified teachers who deliver the key aims of the school to Learn, Enjoy and Achieve (LEA). The session involves practical woodland experiences including building and making seasonal bush craft such as Christmas wreaths, bird nest boxes to protect the local environment, furniture and wooden animals. They use hand tools under supervision whilst learning the art of tree planting and general woodland management and the recycling process.
"I witnessed the teaching of survival, bush crafts, risk assessment skills and cooking with an open fire under strict safety protocols. They collect wood for fuel and build bonfires. Children learn about discipline such as single file, quietness and team ethics. It enhances confidence and self-esteem, building that 'have a go' attitude. During each session there is free play and children choose to relax or have recreational play in the self constructed dens. This allows personal ownership of the wood within the schools grounds and supports the longer term sustainability and protection of the wood for future children to enjoy. Dead wood piles are identified as habitats for insects and hence bird food. They love the outdoors and the natural environment and I witnessed the physical and emotional relationship developing with the woods and the children.
"The level of satisfaction and enjoyment expressed by all the children has also been shared with children from Derby, an inner City school who are invited to join the rural Lea Primary as part of the cultural awareness programme. The outcomes are incredible with the identification of wildlife and bird recognition, projects around trees, foliage, wild flowers and insects. There are planned workshops with core activities for all abilities and inabilities. The local Playgroup children use the woods for Forest Schools as part of the transition plan to Lea Primary.
"This is an all year round activity; weather does not cause barriers to the experience as children learn about the seasonal differences. It is a new and alternative learning environment."
WOODLAND COURSES
Go Wild Forest School Training
Go Wild Education, Brockweir, Gwent. www.gowildeducation.co.uk/training
Background (from the website): "Go Wild, a social enterprise founded in 2010, works with children, adults and young people in Bristol, the Wye Valley and the Forest of Dean. All our educational and learning events, programmes and courses take place in woodlands and use different learning styles to engage and inspire, while gently guiding you on your adventure in the great outdoors… We've teamed up with the Forest of Avon Trust to offer Ascentis accredited Level 3 Forest School training."
Go Wild has also contributed this background note: "Go Wild was founded by Jackie Roby in 2010, a qualified teacher and Forest School leader, who wanted to use her passion for learning in the outdoors to engage and inspire both children and adults. The Go Wild team run Wild Campouts, Accredited Forest School Training and Wild Women, a project designed to build confidence, self-esteem and wellbeing for women in recovery from drug and alcohol misuse."
Nomination: "I would like to nominate Jackie Roby and her Go Wild team for an award in the Best Woodland Courses category. I undertook Forest School training (Level 3) with Jackie Roby and cannot recommend the experience highly enough. Attending the Go Wild course filled me with inspiration from the very beginning and continues to do so now, two years after first starting out on the journey. The course was incredibly informative and taught me so much, not only about the natural world and woodland skills but also about child development, early education and ways of learning, without ever seeming onerous. The practical sessions weren't just a learning experience, my time in the woods with Jackie and her team created some wonderful memories which I will always cherish. The training I received has set me on an exciting new path in life and I know that the Go Wild team are still there to support, encourage and educate me as I develop my skills and my new business."
Greenwood Days
Ferrers Centre for Arts & Crafts, Staunton Harold, Leicestershire. www.greenwooddays.co.uk
Background (from the website): "Greenwood Days have been running woodland craft courses since 1998. The course centre is set in a beautiful 90 acre wood in the National Forest on the Leicestershire/Derbyshire border. We offer day, weekend, midweek and week long courses ranging from traditional Windsor chairmaking to contemporary willow sculpture, longbow making to spoon carving."
The courses, run by Peter Wood, received 21 glowing recommendations. Here is a selection of excerpts from them:
"I spent 7 days in the forest with Peter and six other course members in the middle of June learning and building from scratch a Windsor backed armchair. Unlike most of the others, I was a complete beginner, but Peter was able to run things such that each of us felt both supported and stretched by the experience. The course takes place in a beautiful setting in the woods under canvas, with endless cups of tea and delicious home made soup and bread for lunch each day. And at the end of it I had the satisfaction of bringing home a beautiful hand made chair which has pride of place in our home in London (woodland crafts coming to the city !) I wholeheartedly recommend Peter and his courses and am very pleased to vote for him."
"The location is stunning - silver birch forest with shelters to keep us and our work dry (or out of the sun). The ambience was also wonderful - an open fire for hot drinks and steam bending, homemade soup and bread for lunch, other courses going on so we got to chat with other makers and see other things being made… We highly recommend the course not only because it is fun, but it's also worthwhile both in the finished product and the skills learnt."
"Now this is what I call chair making. In this Leicestershire woodland 'camp', amongst a carpet of Bluebells, its rustic tools evoked the old ways of working wood. It brought to life the woodland craftsmen of the past providing an understanding of how close they were, both physically and, dare I say spiritually, to their work and materials… A stimulating and inspirational full week course which I can unreservedly recommend. I'll certainly be back making chairs next year."
"I would like to nominate Greenwood Days for 'Best Woodland Courses' award. It would be much deserved.  I have attended courses with Peter on three occasions over the years and each time I've thoroughly enjoyed my time there.  I run my own craft business and teach glass making courses so I can appreciate the quality of what is delivered at Greenwood Days."
"Peter is very skilful. He has the patience of a saint. Nothing is too much trouble. Goes out of his way to help you."
"I have been on two chair-making courses run by Peter Wood at Greenwood Days. I have thoroughly enjoyed both courses, the first of 5 days and the second of 7 days. I came away from both courses with a sense of achievement and wellbeing. I am aware that Peter and his colleagues run a range of woodworking and related courses - not just chairmaking… I think that Greenwood Days thoroughly deserves to win the Best Woodland Courses award."
"Every aspect of the course at Greenwood Days was engaging, informative and inclusive.  From the moment I drove down the bumpy track into the forest, not quite knowing what I was getting myself into; first meeting Peter and the rest of the team over coffee and cake (this would become a daily social cake break); the support and guidance given alongside every step of the chair making process; and finally up to the point when I left the forest on day seven with a Windsor Chair in the boot of the car and a head full of ideas and inspiration… I personally cannot comment highly enough of Peter; as a true professional within his field of work; as an inspirational tutor and course leader; and as someone who is always happy to lend a supportive hand/ear to those 'greenwood' ventures I find myself planning."
"I went on a seven-day green wood Windsor chair making course with Peter last year. I have been involved in pole lathe/green woodwork for nearly 20 years and in all that time Peter's course stands out as the best I have ever been on."
Malvern Coppicing
Malvern, Worcestershire. www.malverncoppicing.co.uk
Background: The courses are run by Phil Hopkinson and take place at Ravenshill Woodland Reserve, Alfrick, Worcestershire, a 50 acre privately owned nature reserve, which Phil has been coppicing since 1999.
"A review. Just wanted to post a short review about the weekend we spent with Phil Hopkinson and the team at Malvern Coppicing. This course is a must for all those starting out in their woods and those that want to learn how to look after their woods, to manage and maintain it, skilfully, while ensuring the wildlife in your woodland is cared for too… We started with a walk around some of the 50 Acres of Woodland at Ravenshill Woodland Reserve, identifying trees, with a few good tips on identifying trees in Winter! And to the business of coppicing – we learnt how to choose a site to coppice, we learnt about compartments and coupes and coppice rotation and how to arrange stacks of produce such as pea sticks / bean poles / stakes/ hedge posts, the list is endless – we built the stacks which then gave us ample opportunity to learn the species and stack them into piles of hazel / ash / oak or whatever. Phil supplied all the tools and I had great fun with the Froe splitting posts. We coppiced complete stools and created windrows for insects and birds… We had a great time and have come away from the course with a rekindled enthusiasm to get coppicing on our own woodland. I have come away looking at coppiced wood in a totally new light, I understand why you coppice, the gains financially (if that's what your interested in) and certainly for me the gains to your woodland and the habitat therein."
Sustainable Woodland Management at the Centre for Alternative Technology
Machynlleth, Powys. https://courses.cat.org.uk/woodland-and-crafts/sustainable-woodland-management-detail
Background (from the website): "Learn how to make the most of our natural resources on this fascinating course where you'll get a comprehensive overview on how to manage woodland sustainably by looking at biodiversity conservation and woodland management skills."
Recommendations: "Excellent all round. Tutor: Rob Goodsell – very good, laid back approach… Covered almost every aspect of owning and managing a wood. Very enlightening as to the importance of paying attention to the micro-organisms in the woodland, aiming to improve or maintain soil structure/presence of fungi etc. Great importance of managing light in the woodland. Huge amount of hands-on practical experience offered on the course – very beneficial for taking the knowledge away!"
"Would I recommend this course to others? Definitely."
"The course was excellent, comprehensive and inspiring. Very good. Learnt a lot about the woodland 'industry' and practical approach to managing woodland. Very comprehensive, from learning how to compartmentalise woodland in order to survey, and futureplan woodland to wood turning."
COMMUNITY WOODS
We quote the nominations if full here, as they are all models of their kind.
Kilfinan Community Forest
Tighnabruaich, Argyll. www.kilfinancommunityforest.co.uk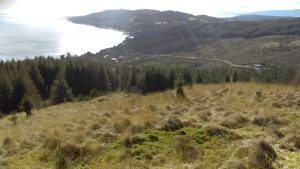 "The Kilfinan Women Woodworkers recently celebrated the completion of their first project – a state-of-the-art cabinet maker's workbench – with a bottle (or two or three) of bubbly shared with friends and family in our new community woodworking workshop. The weekly woodwork classes for women are just one of the opportunities available to local people in the Kilfinan Community Forest: 585 hectares of mixed forest on the Cowal Peninsula in the west of Scotland, overlooking the Kyles of Bute. The forest, originally a commercial conifer plantation purchased from the Forestry Commission Scotland in 2010 and 2015, is gradually being replanted with native broadleaf species (oak, rowan, alder, hazel and birch) and has become the focus for a constantly widening range of activities and initiatives. It aims to provide local employment, to sustainably manage the forest resource, to develop skills, and to contribute to community cohesion, health and wellbeing.
"All ages are catered for. The under-5 'Baby Bears' and their parents meet for weekly fun and games, while the kids in the local Tighnabruaich Primary School enjoy Forest School once a week during term and a range of forest-based activities in the holidays. Teenagers and young adults can participate in Youth Skills Development work experience programmes, and older adults can calm their minds with a mindfulness meditation, or join a weekly walk with the Kilfinan Wayfarers Walking Group. The whole family can grow their veggies in the Kyles Allotment Group's polytunnels and raised beds, and volunteer to help with projects such as path construction and maintenance, or tackling that well-known west-of-Scotland scourge: Rhododendron ponticum. We share our forest resource with a diverse range of native animals and birds including red squirrels, pine martens, frogs, newts, red-throated divers, goshawks, woodpeckers, and rather too many deer and midges. In the spring, drifts of bluebells carpet the forest floor.
"Funding to maintain and develop the Forest comes partly from grants and loans, and partly from sale of our own seasoned firewood, milled timber, and other forest products such as timber-framed raised beds and planters. Our community 75 kW micro-hydroelectric scheme (we're never short of water in Scotland!) also provides income through sale of power to the national grid.
"We believe that sustainable living in a woodland setting should be accessible to all, and have earmarked space within the Forest for a small housing development that will be affordable – and remain affordable – for local people. As well as making plots available for crofts and self-builders, we have planning permission for ready-built homes that are designed to be environmentally sustainable and visually sympathetic with the forest landscape.
"Kilfinan Community Forest welcomes opportunities to share ideas with other community woodlands across the UK."
Skelton Woods Environment Group (SWEG)
Whinmoor, Leeds, West Yorkshire. https://en-gb.facebook.com/swegvols
"SWEG's Community Woodland covers 10.31 acres and contains a mix of mainly broad-leafed trees, some Scots Pine and recently planted Yew trees. Planted in 1850 as a commercial copse of Turkey Oak, by the 1970s surrounding farmland was gradually replaced by a large housing estate.
"SWEG was founded in 1995 when residents living close to the woodland noticed Council workers felling 100 year old trees. The initial belief was that the woodland was going be replaced with more housing. Thankfully Leeds City Council were only thinning out many dead and dying trees, a problem caused by lack of drainage, an ironic consequence of the surrounding housing. In essence the woodland was drowning and urgent action was required to rescue the trees.
"So began a distinguished partnership between SWEG and the local Parks and Countryside department. Over the years volunteers aged 10 to 80 enthusiastically planted 2,000 water-loving trees – Hazel, Alder, Willow and Birch. Work then progressed over three years building a path through the woodland with over 20 drainage boardwalks. On the periphery of the woodland the arduous effort of creating a 75-metre stretch of Hawthorn hedged bank and ditch was begun, more recently upgraded by traditional hedge laying. On the perimeter a Community Orchard has been planted with 12 mixed apple and pear trees which now after four years bear fruit complementing the 135 species of flora also recently surveyed within the wood.
"With monthly practical conservation workdays SWEG continues to embrace the local community via Schools, University, College and Girl Guides, with Treasure hunts, bat walks, bird and wild flower identification days. Members attend events such as the local village Gala, 'The Great Yorkshire Show' and 'Primary Schools Countryside Days' both in Harrogate, demonstrating woodland conservation, management and working 'hands on' with children and young people making bird feeders. Local National Companies offer regular support and our latest Easter Egg Treasure Hunt through the woods had 70 families enjoying the adventure of searching for clues. SWEG members are also an integral part of the very active local MP's Community Forum.
"In the past vandalism and drug-taking left their marks on the woodland but now residents daily enjoy unfettered wheelchair access, dog walking, cycling and simply rambling through as a family. Some play a key role in daily litter picking and it is hoped a future planned small pond will not only generate more public interest but add to the wildlife diversity within the woods.
"For 23 years SWEG has developed the woodland into a beautiful arboreal connection within the community, an asset literally breathing life into the surrounding housing estate and is a showcase for just how a few industrious people can engender huge pride within a community and make a difference. The Woodland is a living example of how inextricably linked we are as communities to nature and is a unique heritage that continues to thrive for future generations to enjoy."
Warren Woods
Denbigh. http://woodlandskillscentre.uk
"The 50 acre Warren Woods in north-east Wales are managed by the Woodland Skills Centre, a community-owned Social Enterprise company. The woodland is in the heart of the Clwydian Range and Dee Valley AONB and adjoins the Offa's Dyke long-distance footpath.
The woodland is managed for wildlife, people and economic benefit.
Wildlife
The hope is that the woods will have all the species of flora and fauna you would expect to find in a woodland like this. There are regular monitoring programmes to establish what is missing and to create suitable habitats. This includes having created three ponds, coppice woodland, heath areas, standing and fallen deadwood, nest boxes, dormouse and bat boxes. When new planting takes place it is done to diversify the species range and age structure. All of the work is carried out by volunteers, people on courses and a local company who are based next to the woodland and carry out management work in exchange for sustainably harvested timber.
People
The woodland is open every day with permissive access and is used by people to walk, exercise dogs and ride horses.
The Woodland Skills Centre uses the woodlands for Holiday Club, birthday parties, bushcraft and woodland management courses and family days, weekends and weeks. The woods are also used regularly by Scouts, Guides, Cubs, Brownies, Rainbows and Beavers for evening and all day visits and overnight camps.
The Centre also uses the woods for team building events and for visits by adults with a range of health problems.
Economic benefit
The woodland produces about 30 tonnes of saw-wood and firewood a year which pays for most of the management. The Woodland Skills Centre gets most of the wood it uses for courses in traditional crafts from the woodland. Coppice hazel is also sold for hurdles, bean poles, pea sticks etc.
Other projects
Within the woodland area there are :
Wildflower meadow
Arboretum
Heritage orchard
Three Forest School sites with permanent shelters
Allotments
Tree nursery
Vineyard
The Woodland Skills Centre is within the woodland and has a range of environmentally-friendly buildings – timber frame, timber clad, sheepswool insulation, lime plaster, wood-burner stoves, photo-voltaic roof, Energy Performance Band A. The Centre uses the woodland for its courses in traditional crafts and also a wide-ranging Social Forestry programme with adults and children with learning difficulties, physical disabilities and mental and physical health problems.
Thirty years ago the woodland was neglected, overstocked, sycamore dominated, species poor and closed to the public. Now it is a wonderful woodland full of interest, home to a remarkable range of wildlife and enjoyed by so many people."
WOODFAIR TRADE STANDS
Matt Belfrage
Templecombe, Somerset. www.mattbelfrage.co.uk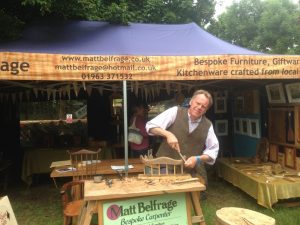 Matt Belfrage makes beautifully crafted furniture – chairs, tables, cupboards, beds, as well as "bespoke kitchens, bedrooms, studies and libraries". His stand presents a range of his more portable products, including chopping boards, trugs, bookmarks and keyrings, which show the beauty and variety of woods that he selects to use, while Matt himself stands out front demonstrating his woodworking skills and patiently answering visitors' questions.
Christchurch Society of Woodturners
Christchurch, Dorset. www.christchurchwoodturners.org.uk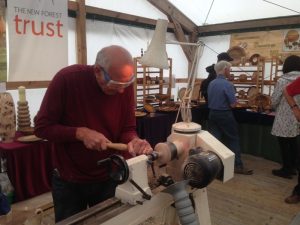 Christchurch Society of Woodturners has about 80 members, mainly enthusiasts (as opposed to professionals) – although it would be hard to guess that from the exceptional quality of the many and varied items on view on their stand. They meet on a monthly basis to exchange ideas and share knowledge about wood and techniques, and always encourage new members. Their stand is staffed by members who gladly talk to the public about their skills and products, while a demonstrator works at a (electrically-powered) machine showing how the effects are achieved.
The Creative Chestnut Company
Yarley, Somerset. www.TheCreativeChestnutCompany.co.uk
Tim Roskell makes "bepoke designs in chestnut for garden and home": beautiful greenwood fencing, hurdles, trellis, obelisks, pergolas, benches, shelters. At his stand he demonstrates how these are made by splitting and dressing coppiced wood, surrounded by his products – "durable, beautiful, sustainable", as he puts it. It provides an excellent insight into practical greenwood craft and products, and shows how customers can bring woodland craft  into their gardens – in style!
Woodland Skills Centre
Bodfari, Denbigh. http://woodlandskillscentre.uk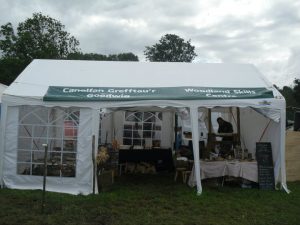 From the nomination, verified by our assessors: "Woodland Skills Centre attends a wide range of shows and festivals. Our main aim is to educate and entertain rather than trade. We usually take our 4m x 6m marquee and use a third of the space as a workshop and the rest for display. We take examples of most of the things people can make on our courses – chairs, stools, hurdles, coppice hazel products, besoms, articles turned on a pole-lathe, spatulas, tent pegs, willow sculptures, oak swills, willow baskets, hazel baskets, gypsy flowers, nest boxes, bird feeders, spoons, bowls, shave-horse, pole-lathe, corn dollies and rush baskets.
"In the work area we demonstrate some crafts – usually draw-knife work on the shave-horse, spoon carving, gypsy flowers, stool making and also run short workshops for adults and children: mini willow baskets, spatulas, tent pegs, mini besoms, bird feeders, rustic stools.
"We do sell some of the things which we make at the show but the aim is to persuade people not to buy from us but to go on a course with us or someone else and make their own. Not only will they value what they have made and have an understanding of what goes into making it, but we hope that some of them will go on to improve their skills and help to keep the crafts alive."
WOODLAND BOOKS OF THE YEAR
For the Woodlands Awards 2017, the Woodland Books of the Year covered books published in the year to 31 July 2017, plus early 2016.
Strange Labyrinth: Outlaws, poets, mystics, murderers and a coward in London's great forest
by Will Ashon. Published by Granta (April 2017).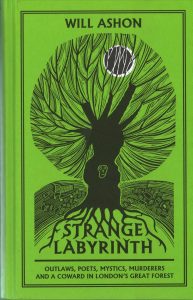 The subtitle is a fair summary of this fascinating book, which traces the stories of a host of weird and wonderful characters who have been drawn to Epping Forest over time. In 13 elegantly written chapters, taking a meandering path between these characters and their associated locations, the author builds a riveting personalised, self-deprecating and deeply researched portrait of this extraordinary chunk of urban woodland on his doorstep – how it came to be, and what it is today – and how forests in general are welded into our cultural mindset.
Spōn: A guide to spoon carving and the new wood culture
by Barn the Spoon. Published by Virgin Books (May 2017).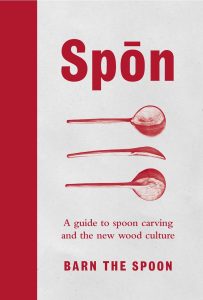 Spoon carving may not seem an obvious subject for a whole book, but Spōn brings it off triumphantly. This is in part because of physical quality of the book itself: hats off to the designers for the tactile heavy-board cover, and general look and feel of the book, and also to Debi Treloar for her wonderful photography in consistently rich, autumnal colours. Barn the Spoon himself writes clearly and sympathetically, with a palpable passion for his life-changing art. The book is as useful as you can get for a subject so essentially hands-on and practical. Spōn, by the way, is the Anglo-Saxon word, paying tribute to the long ancestry of the craft.
Down to the River and Up to the Trees: Discover the nature on your doorstep
by Sue Belfrage. Published by Thorsons (June 2017).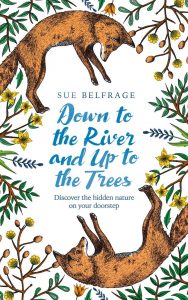 This is a heartening book about how to reconnect with nature for one's own well-being, from a publisher famous for its self-help books for "mind, body and spirit". Written with a warm, light touch, and decorated with attractive illustrations by the author, it is full of simple but engaging ideas and projects, each over just one or two pages: flower-pressing, making a quill pen or charcoal to draw with, ways to encourage perception of e.g. colour, recipes for foraged food, how to locate the North Star, the Japanese tradition of shinrin-yoku ("forest bathing"), and much more. This is knowledge gently delivered, with both style and content accessible and approachable enough to appeal to adults and children alike.
Arboreal: A collection of new woodland writing
edited by Adrian Cooper. Published by Little Toller Books (October 2016).
Arboreal is a rich and wide-ranging anthology of over 40 essays, recollections and stories, as well as poetry and photography, that has been assembled around the Common Ground project. A large number of high-profile writers have contributed, including William Boyd, Simon Armitage, Adam Thorpe, Jackie Kay, Helen Dunmore, Ali Smith, Germaine Greer, Alan Garner and Richard Mabey – to extract just a few. And the quality of writing matches expectations, covering woodland history, practices and practicalities, science and natural history, poetic appreciation, educational and therapeutic value, and personal experiences. Thought-provoking, rewarding, inspirational – there is something here for all readers with an interest in woodland.
The West Yorkshire Woods: Part 1: The Calder Valley: A hand-drawn guide to walking and exploring the woodlands in the borough of Calderdale
by Christopher Goddard. Published by the author (May 2016).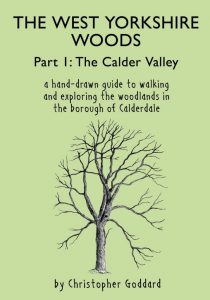 The jurors agreed fully with the review by Dr David Shepherd, which appeared in Living Woods magazine, Spring 2017 (page 36). This is a remarkable book, packed with knowledge – the work of a dedicated enthusiast of woodland, filled with maps and illustrations and nuggets of information, presenting 21 walking routes. It includes sections on "How trees work", woodland folklore, coppicing, charcoal burning and traditional woodland crafts, and woodland history. David Shepherd writes: "This volume is clear evidence of a labour of love in progress and I can't fault it. The author's careful attention to detail really does work out on the ground… Get this book and put your boots on, you'll be a better person for it. Highly recommended."
The Wood for the Trees: The long view of nature from a small wood
by Richard Fortey. Published by William Collins (May 2016).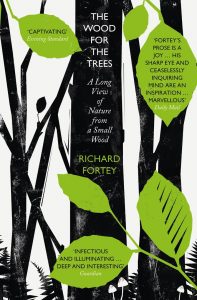 This is an outstanding book about woodland. Every woodland owner – indeed, anyone interested in nature – should have a copy. (For this reason, this was the book chosen as part of the prize for various categories of the Woodlands Awards 2017.) A retired senior palaeontologist at the Natural History Museum, Professor Richard Fortey has form as a prize-winning author – a science writer with a gift for communication as seen in books such as The Earth: An Intimate History. Here he brings his scientific curiosity and rigour to his own small piece of woodland in southern Oxfordshire, observed over a full year. This is mixed with a deep and interlinked knowledge of local history and the woodland economy around Henley-on-Thames, all kept fresh by a lightness of touch and wit, and a powerfully evocative sense of poetry and wonderment.
The Green Wood Companion
by Barry Mays. Published by eco-logic books (February 2016).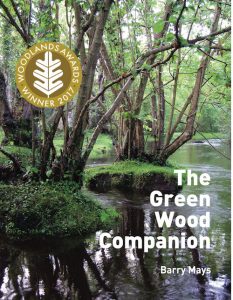 When Barry Mays left his London job in 1998 to move to Cornwall to become a green woodworker, he could have done with a book like this – an excellent, comprehensive introduction to the subject, beautifully illustrated with photographs and drawings. He says so himself: "If only this publication had been available then!" The purpose of this book is to fill this gap and it covers all aspects of the craft, from woodlands, coppicing and the various tree species and their uses, to green woodworking tools and their suppliers and maintenance. It also includes chapters on a range of subjects such as bodgers, charcoal burning, hedgerows, plus a 36-page "Compendium of terms for tools, woodlands and crafts", from Absolute humidity to Zales (wattle hurdle uprights, since you ask!) The author's passion for his work shines through; as he puts it: "Let's not forget that whilst being a craftsperson is not a way of making a good living – it is a good way of living."
A Tale of Trees: The battle to save Britain's ancient woodland
by Derek Niemann. Published by Short Books (October 2016).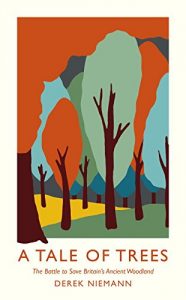 A very big issue in the history of woodland in Britain is what happened after the Second World War. Essentially, for about 40 years between 1945 and 1985 government and then European economic policy promoted the destruction of a large percentage of Britain's ancient forest, and covered large swathes of the landscape with conifer monocultures. Derek Niemann traces this story, carefully defining the term ancient woodland and its import before exposing many of the most egregious aspects of the policy (the dismissal of ancient woodland as "derelict", for instance), and explains the reversal of policy and the recovery orchestrated by academic and expert champions and then public demand. This well-researched and very readable account carries the reader along, and with its heroes and villains and shock revelations it's a surprise page-turner.
REGIONAL & NATIONAL WOODLAND ORGANISATIONS
The Award description reads as follows:
"Many of the UK's Regional and National Woodland Organisations do a wonderful job promoting and supporting the woodlands sector in various ways, be it supporting the interests of woodland owners, promoting awareness of woodlands, actively campaigning for the protection and preservation of woodland, and so on. Which of them has made a particular mark – deserving the title Regional and National Woodland Organisation of the Year?"
Our panel of woodland professionals and experts selected the following four organisations from a shortlist of nominees:
The Conservation Volunteers
In their own words (from the website): "Every day TCV works across the UK to create healthier and happier communities for everyone – communities where our activities have a lasting impact on people's health, prospects and outdoor places. Whether by conserving a well-loved outdoor space or bringing people together to promote social cohesion, our varied activities aim to improve wellbeing, combat loneliness or enhance employment prospects."
The National Coppice Federation
In their own words (from the website):
"Aims
promote coppicing as a form of woodland management that provides economic, ecological and culturally significant benefits.
bring together coppice groups and provided a unified voice for the industry
to encourage and promote the highest standard of practice, and the quality of products within the coppice industry"
The Royal Forestry Society
In their own words (from the website): "The RFS is an educational charity, with a mission to inspire passion and excellence in woodland management. Our work encourages understanding and enjoyment of the trees and woods that are such an important part of all our lives."
Sylva Foundation
In their own words (from the website): "Sylva is an environmental charity working across Britain to help forests thrive – for people and for nature. We organise our activities under four programmes: science, education, forestry and wood."