Woodlands Awards 2018: Winners
Here is a list of all the winners, in their various categories. Many congratulations to all!
Note that there were a number of winners in all the categories. They are listed here mainly in alphabetical order, or in no particular order: they are all equal winners!
For quick access to the winners of any of the Awards, click on the Award category in the list below:
WOODLAND BLOGS
Sumptuously illustrated, elegantly designed and regularly updated, this blog is full of fascinating insights (mainly about nature) from Melick Wood in Warleigh Woods in the Avon Valley. "The idea is to share the things we find interesting about our wood, including its history, its inhabitants and our life there. But we're also conscious that it's a record and information for future owners and a resource for the other owners in the wider Warleigh wood."
Updated weekly, child-oriented and with lots of photos, this charming blog charts the activities of the Forest School of Red Bus Nursery in Bristol, where Judi Simpson works as  Forest School Leader.
As Martin Garwood himself puts it: "Crow Wood and beyond: a blog about one man's obsession with birds, butterflies, reptiles and six and a half acres of woodland near Goudhurst in Kent." Gorgeously illustrated, and with a lively text, regularly updated; also about his birding trips.
Jasper Sharp for The Monthly Mushroom on woodlands.co.uk
A fascinating series, copiously illustrated and packed with in-depth information that is carefully made accessible for the non-expert reader. This is building into quite a library. Jasper Sharp is an author, filmmaker and film expert, creator (with Tim Grabham) of the book (and accompanying documentary film) The Creeping Garden: Irrational Encounters with Plasmodial Slime Moulds.
SMALL WOODLAND WEBSITES
Loads of information (and some instructive video film) about how to make charcoal using a steel ring kiln. As its creators put it: "We set up this website in 2012 to promote locally produced charcoal. At that time we had been producing charcoal for 3 years and had ourselves been surprised by the environmental and ethical differences between locally produced and imported charcoal. As we have enough customers for our charcoal, it seemed sensible to promote other local producers especially as we were getting inquiries from all over the country. Clearly it is better that these people buy charcoal from a producer based close to them."
This is a good example of what a small woodland website can do to give the public an idea of the nature, activities and pleasures of a woodland. The website includes a Management Plan, plus pages on biodiversity and coppicing. Noor Wood covers 1.8 hectares (4.5 acres) and is situated in the parish of Tortington, in the largest block of Ancient Semi Natural Woodland, south of The Downs in Sussex within the South Downs National Park. "When we acquired the wood in 2012 it was overgrown and the interior was dark and very gloomy. The previously coppiced hazel had been neglected over the years and the woodland floor was starved of light by a thick canopy above that restricted the growth of bluebells and other wildflowers from growing beneath. One of our first priorities was to allow more light to flood in and bring life back into the wood. We thus renamed the wood 'Noor' (nur) which means 'light' ( in Arabic )."
WOODLAND PHOTOGRAPHY
Joanne Hedger
Joanne submitted a series of nature photos taken at Rais Wood in West Sussex (near Handcross). Her blog, http://raiswood.blogspot.co.uk, won a Best Woodland Blogs award in 2017.
.
.
.
Hazel King
This was a just a single-image entry, but its inventiveness and sense of mystery was enough to persuade our judges. Hazel King writes, "I took this during a forest school session at Kingswode Hoe School in Colchester. I took it using an iPhone 7."
.
.
.
.
Kerry Evans
The quality of Kerry Evans's series of nature shots –  taken in the Sirhowy Hill Valley (community) Woodlands – is clearly the reward for perseverance. "I finally managed to capture a photograph of this beautiful golden ringed dragonfly (Cordulegaster boltonii) at on the 23rd of June 2018: I followed him for at least half an hour!" The collection also includes the common blue butterfly (Polyommatus Icarus), and a variety of other creatures captured with equal clarity.
Julie Moreland
Julie Moreland is a woodland owner, who writes: "I'm at my happiest when I'm wandering around with my camera. My husband is at his happiest 'just being in our wood'." The quality of her submission of 26 photos from the wood is clear evidence of her claim.
.
.
.
WOODLAND SCULPTURE
Graham Strong
Our Woodland Sculpture Award specifically permits ephemeral works. Graham Strong writes: "Each year when visits by our grandchildren are planned to our wood in Carmarthenshire, I gather together a selection of found materials and set about transforming moss covered remains of tree stumps into fantastical woodland creatures for their amusement (and our own!). Vivid scarlet Elf cup fungus, which appear in spring rather than autumn make wonderful adornments, hazel shells hollowed out by mice, eye sockets, whilst sitka cones are gathered for noses and ears. I tell them if they approach on tip toe they might just get to see the Green Man, or an anteater, squirrel and beaver sitting down together to tell tales of derring-do. Within a week or so they fall apart, but hopefully live on in their imaginations."
.
.
Dan Watson
The Woodland Trust wanted a theatrical storyteller's chair, of oversized proportions, for use in their flagship woodland at Skipton Castle. Dan Watson won the commission, and this was his response, made from timber sourced from Skipton Castle Wood itself.
.
.
.
Robin Wood of Wildchild Designs
Robin Wood trained in Countryside Conservation and Recreation. As his website says: "From nature reserves he graduated onto forestry, woodland management then tree surgery. Discovering he could use a chainsaw to carve wood, he has since not looked back." He now specialises in woodland sculpture trails, which he has done for Woodland Trust, including Glingbobs and Tootflits at Pressmennan Wood in East Lothian. "It made Daily Telegraph top ten British walks for families!" He adds: "Present projects are for Sherwood Forest, Moat Brae (birthplace of Peter Pan) and a fab new playground... with some big wooden marble runs."
.
.
.
WOODLAND TOOL RECOMMENDATIONS
The Samurai c330 saw
High-quality pruning saw, made by the Japanese company Kanzawa. Samurai Saws UK (www.samuraisaws.co.uk) are based in Lancaster.
The Morakniv knife range
Barn the Spoon, the spoon-carving maestro, uses the Morakniv Eldris and 510; others prefer the 120. We liked the sky blue and orange 511 (carbon steel) and 546 (stainless steel) – especially the price! UK agents Springfields (in Burton, Staffordshire) claim to be "possibly the largest stockist of Mora knives in the UK" (www.springfields.co.uk).
Gränsfors Bruk large carving axe
"Gränsfors Bruk are the Rolls-Royce of the axe world", wrote Maurice Pyle in his review of axes in Living Woods (Summer 2018). "A good general-purpose hatchet should be suitable both for splitting and more precise work blanking out timber. Weight is important: 900 g–1 kg is perfect for a multi-purpose axe. The Gränsfors Bruk Large Carving Axe, for example, is really versatile. At 900 g it is a great weight for most people who want one axe to do many things. Due to its curious sloping backwards and upwards cutting edge, it's an axe that will slice wood with very little effort. The double-sided version with equal bevels is the one to go for in the first instance, as it will be a more useful all-round tool."
Classic Hand Tools
Based in Witnesham, just to the north of Ipswich, Suffolk, Classic Hand Tools is an extraordinary resource. As the website says, it offers a "selection of woodworking (and stonecarving) hand tools, books, DVDs, cabinetware and sharpening accessories. We have been selling these fine tools to cabinet makers, woodcarvers, woodturners, green woodworkers, musical instrument makers and more since 2004." That is a modest claim: their list is an extraordinary catalogue not just of high quality tools, but bits and bobs such as hinges, latches, glues, wooden automata kits – and surely some things you've never heard of.
The Husqvarna Lifting Tong
"Brilliant piece of lifting equipment for logs and poles."
From the Husqvarna website: "New, sharper, and improved hook that has grinded edges gives a powerful grip when lifting logs. Special hardened steel with a surface treatment makes the product robust and less sensitive for rust. The handle has a design with a good grip making it more ergonomic. Made in Sweden."
WOODLAND HAIR AND/OR BEARD
The Award description explains the purpose of this Award as follows: "Woodland Hair" is the name given by hair stylists to way of dressing hair with dainty crowns of wild flowers, and maybe leaves and berries – particularly favoured for weddings. We would be happy to see submissions along those lines, but we would also encourage any wilder approach that expresses the elemental nature of woodlands – and woodland enthusiasts. "Through-the-hedge-backwards" hair, extravagant hair-dos decorated with twigs and fir cones, lumberjack beards (or fake lumberjack beards for all the family), even just the natural, windswept look that follows a day of brashing – what we are looking for is a photo that says: "This really is Woodland Hair!"
Isabel and Bethany Whitehead (photos by Karen Elliott)
Lovely pictures, very much in the spirit of the competition, taken by their grandmother.
.
.
.
.
.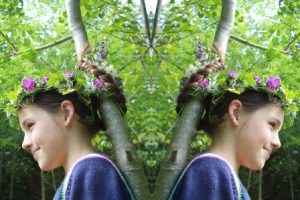 .
.
Barn the Spoon
A champion beard! An admirably natural, woody look from the great spoon-carver himself.
.
.
.
.
.
.
.
.
WHOLE WOOD OWNERS' COORDINATORS
The Award description explains the purpose of this Award as follows: "Individuals who work to promote and protect the combined interests of the multiple owners of whole woods deserve recognition for their hard work, commitment and diplomacy. This award is designed to celebrate good practice, and to shine a light on examples that others might follow." We won't cite individual recommendations, as it might reveal the identity of the authors and to spare the blushes of the winners, but here are the kind of comments that showed why they deserved their Awards and recognition:
a unassuming central organiser for the woodland owners
welcomes in new owners and ensures that news is shared amongst the owners where and when appropriate
always ready with a cup of tea and some homemade cake to promote good neighbourliness, conversation and co-ordination
an informative social organiser
created a WhatsApp group
And the winners are:
Steve Sangster
Sean Kenyon
WOODLAND CONTRACTORS
The Award description explains the purpose of this Award as follows: This is an opportunity for woodland owners to give recognition to the good work of their favourite professional woodland contractors: individuals or businesses contracted to perform specialist woodland tasks such as tree planting, harvesting and extraction, creating tracks, building shelters or any aspect of woodland maintenance and management.
Clive Voaden
Okehampton, Devon
Commendation "Over many years Clive has proven himself to be an absolute star. With a background in farming, forestry and construction, there aren't many things that he cannot turn his hand to and he is often able to suggest alternative (and usually better) solutions to the task in hand than those that I have thought of. He will always try to fit his work schedule around our requirements and will work very long hours to get the job done – particularly when we have a 'weather window'. Whilst tracks, ditches and culverts are his speciality, he is equally competent at fencing, gates, bridges, woodland structures just about anything in fact. Being a countryman himself, he works with the (wood)land, not against it and is very respectful of the environment in which he is working… He is also a great source of local knowledge concerning suppliers of plant, materials etc."
Mike Sherring of Cricket Landscaping
Corsham, Wiltshire
Range of specialisms include: conservation work, dry stone walling, fencing, river and stream work, pond construction, hedge planting and maintenance. Highly qualified use of: earthmoving equipment, small and large chainsaws, chippers and pruning equipment. Commendation: "Cricket Landscaping have been an excellent track building contractor in Central England for many years. This has in particular been highlighted when using alternative contractors who are far less reliable and accommodating."
Ken Earle Forestry
Henley on Thames, Oxfordshire
Commendation: "With decades of experience and a no-nonsense approach, Ken is a joy to work with. He is able to do everything from large scale felling to the construction of roads and all is done with a smile and a sensible price and timeframe. His tools and vehicles are like him: past the shiny stage and show years of experience. Used by everyone from large estates to small woodland owners, he always delivers."
Matthew Pepper & Keith Seymour
Crowborough, East Sussex
Commendation: "They are forestry contractors with many years' experience. They have expertise in woodland management and woodland access improvement/management, e.g. installing hard-wearing tracks suitable for forestry machinery."
You can see them in action in the Woodlands.co.uk film "Making a Woodland Track".
Ewan Mitchell
Carnock, Dunfermline, Fife
Commendation: "Ewan has been an exemplary contractor at a number of woodland sites, where he has exercised great professional skill in repairing, improving and constructiing woodland tracks and general access. His attention to detail, ability to accurately interpret instructions and high-quality of finished work – often during periods of unseasonably wet weather – is superb."
FOREST SCHOOLS
Ace Forest School
Warrington/St Helens, Merseyside. www.aceforestschool.co.uk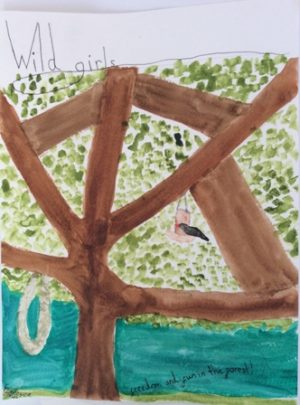 Selected quotations from the nominations:
"My two-year old daughter and I, along with our friends, have been attending Ace Forest School in Warrington for over a year. The monthly sessions are an amazing way to get outdoors in any weather and experience nature. The activities are always well set up with lots to do; from a mud kitchen, pulleys, hammocks and bug watching, to stories, mud slides and toasted marshmallows! My daughter absolutely loves Ace Forest School and her confidence has grown month by month.
"Jane's manner and approach to teaching in the Forest is calm yet encouraging and always happy."
"My two children have been going to the Ace Forest Wild Child/Wild Girls school holiday club with Jane [Downing] for several years now, and of all the very many different holiday activities they have attending, this is their favourite by far. They absolutely love the freedom and space that Jane gives them to play and create their own games, and of course to get as muddy and messy as they like! The woodland crafts and activities they've participated in have also helped them gain in confidence and independence, and foster a love of nature and the outdoors. Most of all, they come back home from a day of forest school so happy, relaxed and contented, I know it's doing them good!
"My 11 year old has written her own review:
'I've been going to Ace Forest School holiday club with Jane for 3 years now, and I've really enjoyed it. We aren't forced to do anything, but, if we're looking for something to do, Jane is more than willing to help. Looking after the wildlife area is always fun, but my personal favourite is (as many other children who have been there agree), roasting marshmallows and popping popcorn on the fire, which we learn how to light.
'Another collective favourite is den building, because of the useful material that is already provided. Recently, me, my sister and two younger girls worked together to build a den with three "bedrooms"(various perches with roofs or pulley systems to lift snacks) in the tree and one on a sheltered area on the ground, as well as a main platform… Forest school is my favourite holiday club up to now, and I hope I can keep going in the future.' "
Squirrels Forest School
Beaconsfield, Buckinghamshire. www.squirrelsnurserybeaconsfield.co.uk/farm-and-forest-school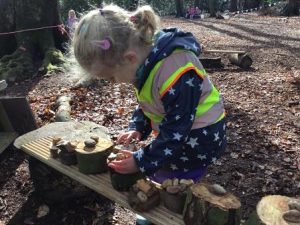 Selected quotations from the nominations:
"I'd like to recommend Squirrels Forest School for a Woodlands Award. Both our children have attended, and we are very sad that our last term there has just drawn to a close… When people now ask me what has been the best thing about moving to Beaconsfield, without missing a beat I say Squirrels. The girls have thrived there. They go off to school with an innate, natural love of learning. Not of numbers and letters (that will come next) but of nature and the world around them. They naturally ask questions all the time. The nursery and its forest school have fostered in them an unsuspicious curiosity, a desire to explore and find out more. What an incredible foundation not only for their education but for life.
"Every morning the first thing my youngest asks me is 'is it a Squirrels Day?' I have honestly cherished every drop-off and pick-up and we feel blessed to have been part of it. I love the stories they've brought home – the sheep shearing, egg collecting, the woodland art, den building, marshmallow roasting, the donkeys and sheep, the woodland animals, the bug hotels…  It has been an inspirational experience for the whole family."
Richard Bonington Forest School
Arnold, Nottingham. www.richardboningtonprimaryschool.co.uk/forest-school-gallery
Selected quotations from the nominations:
"A wildflower meadow, bee hive, outdoor classroom and woodland are all features of the large Forest School at Richard Bonington. I have two children at the school and one of its greatest assets is definitely the outdoor space which forms the Forest School. We're lucky enough to walk through it every day on our way in to school. Living in an urban area, on the edge of a large city, it is a joy to have such an accessible outdoor space. A footpath enables families to walk through it on a daily basis; it is not hidden away – it proudly takes centre stage. It is used daily, in every weather (rain and snow) and they have a dedicated Forest School teacher. It is not unusual to see four or five classes out learning at the same time, all occupying different parts of the outdoor area.
"There's a Gruffalo trail, at least three log circle areas, along with the outdoor classroom where pupils learn the joy of a fire pit and mud kitchen. At the end of term each class gets a fire pit session where they toast marshmallows, fruit, crumpets, and learn about fire safety in a fun way. Parents are invited along to help support the Forest School sessions. We have enjoyed bug hunts, hide and seek in the wooded area, helped the children identify types of trees and helped seed a wildflower meadow. I feel like I have learnt as much as the children. There is always a new project to excite the children. Next year the wildflower meadow will be extended and the pond cleared and replanted so it can used for pond dipping.
"The school has ensured it remains a natural environment. All equipment, seating, and outdoor classroom accessories are made from recycled wood and crates. There are tyre swings, ropes and log stepping stones. Old tin kitchen equipment and wheel barrows help the children get to know mud and soil. This enables them to get creative and a little bit dirty, which inspires their learning and is great for their immune systems!
"The children also get the chance to take part in practical activities to help grow the space – this includes planting trees and bee-friendly plants. They have photos taken with the trees they have planted and come Year 6, they will  get to see who has grown the tallest – them or the trees."
Sticks and Stones
Edzell, Angus. https://en-gb.facebook.com/ForestSchoolScotland
On its website, the Scottish Parliament recorded (on 21 May 2018) that of it "recognises the work of the proprietor, Dr Emma Miller, who, along with her staff, offers home education sessions, off-site support for young wheelchair users and three therapeutic group sessions per week during term time, two of which are aimed at children with adverse childhood experiences and one for children with autism, and wishes Sticks and Stones every success for the future and, in particular, with the launch of a new monthly group for families with a child who is adopted or in long-term foster care, which has psychotherapist support for the adults."
Dr Emma Miller herself wrote on 9 August 2018: "Sticks and Stones will be one year old tomorrow and it has been an amazing adventure so far. A year ago, it was just me running a few individual sessions. Fast forward 12 months and we are now a quickly growing, and rather wonderful, team headed up by me, Emma Miller, Clinical Psychologist, and Pip Nash, Early Year Practitioner and Forest Leader Trainee. We run up to eight group sessions a week and we work with children who have had adverse childhood experiences as well as those with mental health and neurodevelopmental disorders. We also work with local home educating families and families who have adopted a child.
"We have encountered wonderful people who have put their faith in us right from the start and we have also been extremely fortunate to receive funding from the North East Outdoor Woodland Learning Group, Action Earth, Tesco Bags of Help and Lottery Awards for all. Our woodland site has been an amazing home for our adventures and has grown, shaped by the children who use it. The opportunity for children to leave their mark means that, although they may move on, they have contributed to something that will carry on and be there for many more children to enjoy. We have now been able to observe the woodland through a full year and see the changing landscape and wildlife and it always has something new to show or to teach us."
WOODLAND COURSES
Sallerton Wood
Near Launceston, Devon. www.sallertonwood.org.uk/courses.htm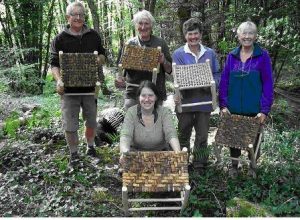 Selected quotations from the nominations:
"Sallerton Wood is the perfect location for woodland courses, a place to immerse yourself in a tranquil space deep in the Tamar Valley countryside on the Devon/Cornwall border. I'm a returner, a veteran of a number of visits and courses. The atmosphere draws me back. I first visited the woodland when the Sallerton team were working with members of the local community to build this excellent course venue. It was clear that there was an appetite for creating beautiful things out of wood in the woods and it was great to see the support everyone was given to bring the vision to fruition under the expert supervision of Andy Morton.
"My first course was the three-day stool making workshop. The satisfaction of transforming green ash logs and branches into a thing of beauty that was functional too was a joy. The Sallerton Wood venue is ideal. You can explore the woodland and get a sense and understanding of the whole process that culminates in the finished product. Andy and the Sallerton Wood team have been gradually restoring the coppice cycle since acquiring the woodland and replanting to create a sustainable source of material. The materials used on the course all grow within the woodland and is harvested and 'transformed' on site.
"The wood is a haven of peace and quiet and a haven for wildlife too. It's a place to absorb knowledge, absorb skills and absorb being in the woodland. The process of making is absorbing as well and it's good to get to grips with the range of hand-tools and witness the transformation of the raw green timber into the components of the stool. Andy Morton's patient and knowledgeable instruction guides the process. It's often a steep learning curve but you never feel under pressure, it's a totally organic process. There is plenty of time to chat with the group and teamwork is encouraged. Time flies by and everyone is delighted with their stools.
"The field kitchen is the hub in the woodland, a place to take a break with convivial bring and share lunches. A conversational piece in its own right, the field kitchen was built in situ, largely from materials sourced on-site. It completely reflects Andy and the team's talent and passion for what they have created at Sallerton.
"A few months later, I returned for the 'post-graduate' six-day chair making course which builds on the skills learned on the first course and, for me, a rekindled passion for working with wood and working in the heart of the woods without the distraction of power tools. The relaxed pace is ideal for building confidence in green woodworking techniques and the group help each other through the process under Andy's tuition and guidance. Everyone has the opportunity to express their own personality creating a truly unique piece of furniture.
"I would thoroughly recommend the courses and the Sallerton Wood venue to anyone wanting to reconnect with the woodland environment and create something beautiful."
"In May this year I and two friends attended the six-day chairmaking course at Sallerton Wood. Arriving early on the first day I took the opportunity to walk round the woods and was struck by the tranquillity of the place. Nestled into a Devon hillside, Sallerton is a beautiful, managed, broad leaf woodland, even an idyllic stream bubbles through. Although there are other properties nearby, they cannot be seen, giving a rare sense of seclusion. Unlike some courses viewed, the wood is a major part of the experience. The workshop is based in the woods (not in a shed nearby) and you sit there on your shave horse surrounded by the growing, raw materials you are working with.
"In addition to the workshop area, there's a timber framed kitchen area with wood fired ovens, huge wooden table and running water from the spring. This sits next to the stream and camping area reached over a timber bridge. A short walk away is the compost loo where you can sit and look out at the tree canopies. Camping is encouraged and highly recommended if you want to immerse yourself in the whole experience. Many an hour was spent after a hard day on the shave horse, cooking in the wood oven and allowing a beer or three to ease the ache in the shoulders
"Andy is an exceptionally talented woodsman. His enthusiasm for the wood and the natural environment is only seconded by his teaching skills and patience. Hovering in the background making cups of tea and superb homemade pizza, he keeps a watchful eye over his pupils, ready to jump in with constructive advice. He stopped me a few times just before I made a couple of howling mistakes. Whilst we all had reasonable woodworking experience, working with raw green wood was new to us all; under Andy's hands on tuition I am sure that even the most inexperienced beginner will come away astounded that they can make such beautiful things from a log.
"Whilst I took a big box of my own woodworking tools the only thing that saw the light of day was a pencil. Everything needed was provided and was of top quality.
"And finally, after 6 days I have a beautiful chair made from ash and chestnut logs. It takes pride of place at our table; my wife now wants five more to complete the set. For those who enjoy wood work and the natural environment I could not recommend Sallerton Wood highly enough!"
Stool making course with Andy Morton, Sallerton Wood: "Andy and Jane Morton have only owned the woodland for a few short years, but the wonderful facilities they have created in this time, which are completely in keeping with the beautiful woodland setting in which they reside, make the site welcoming and surprisingly civilised, even for those unused to the outdoors/woodland way of life. Their beautiful timber-framed kitchen shelter, built with trees from the wood itself, has plenty of space, rocket stoves and a home-made pizza oven, ensuring course participants are well looked after. I see from their website that they have recently added a shower/wash room. Camping in such a beautiful, wild spot was a wonderful experience…
"Andy provided clear demonstrations throughout the course and is a calm and patient tutor. He was able to answer the many questions we had and was always ready to share his expert knowledge and lifelong-love of not only green woodwork, but also the woodlands and outdoor life…
"I would heartily recommend visiting Sallerton Wood to attend a course with Andy. He and Jane are warm, welcoming and knowledgeable. Sallerton Wood is a place of calm inspiration and reflection, and I left feeling thoroughly proud of my achievements and with my batteries well and truly recharged! There is something incredibly rewarding about leaving with a bespoke, handmade piece of furniture that I shall treasure for years."
"The courses at Sallerton Wood are a rare find indeed, a true celebration of woodland initiative, the experience being simply magical. It is hard to convey in words alone just how immersive and indeed addictive are the times spent there. Andy, supported by his incredibly knowledgeable wife Jane, have a truly disarming way of allowing participants to escape the pressures of the modern world examine and experience a way of life which they have gone to great lengths to preserve, nurture and share with others.
"The courses offered are very well thought out with true depth to the hands on learning. Courses range from one to eight days enabling even the most timid time-pressed would-be green woodworker or the most experienced expert to gain relevant and usable knowledge in a fun and relaxed way. Participants are welcomed on arrival in the ample parking area and led along well maintained paths, identifying native species along the way, into the magical setting of an ancient, ecologically managed mixed broad leaved wood with complete with babbling stream and a spring from which water is drawn. Timber has been felled and converted both by chainsaw and pit saw, graded and stacked so that the entire ecosystem from coppice to mature hardwoods are carefully and thoughtfully managed with sustainability to the fore. Everything has been thought out with best practice in mind, from the composting "loo with a view" to utilising the timber from site to be genuinely environmentally sustainable…
"Andy's expertise has enabled him to achieve optimum utilisation of the 10 acre woodland with ample sheltered working and eating areas. Courses include spoon carving, stool and chair making using traditional methods and sharp tools, to advanced ladder-back rocking chair making, running alongside "babes in the woods" family days so that the whole community is inspired to gain a lifelong insight into the value of woodland conservation for generations to come. Well resourced with pole lathes, shave horses, steam box and even a wood fired oven! It's location is second to none, the enchanting North/South Devon and Cornish coast, Dartmoor, Bodmin Moor and the Tamar River all being close by. A really good range of local b+b's and inns are recommended if you aren't tempted by the option to camp on site."
Charcoal Making at Bulworthy Project
Rackenford, Tiverton, Devon. https://bulworthyproject.org.uk
Selected quotations from the nominations:
"My introduction to The Bulworthy Project came when I was given as a present, a course on Charcoal Making. The day dawned clear and bright, blue skies and sunshine. We arrived at the woods excited and a little nervous and received an extremely warm welcome from Anna and Pete, our hosts for the day. Cups of tea and homemade cake were handed around as we got to know our fellow course mates. There were seven of us in total, all excited and looking forward to the task ahead, full of questions about what it was like to own a working woodland, to build and live in an off-grid house, to how does a charcoal kiln actually work! All our questions were answered in depth by Anna and Pete.
"We got straight down to it with hands-on experience of unloading the kiln; this was a burn that had already been completed and was obviously cold, so we could see the charcoal we would be aiming to create. We all pitched in and helped with the grading and bagging of the finished product. The quality of the resulting charcoal was clearly a priority. Anna and Pete explained the importance of not including 'brown ends' and the grading table meant no dust is included in the finished product.
"If you have only ever used a mass-produced charcoal this is no comparison. Light and crisp, completely intact 'wood', free of dust and super-easy to light and importantly with no added chemicals, it is just natural and pure. It is no wonder their customer base continues to grow year on year because it is such a premium product.
"After a welcome tea break accompanied with more cakes, we set off on a walk around the woodland. Guided by Pete, he explained the benefits of coppicing and how this supports their full time business of charcoal making; how evidently the wildlife has increased since the woodland has undergone this management and their plans to continue to support and prioritise this… It was very clear to me that both Pete and Anna know this woodland so intimately and how beneficial, for all, their involvement with this piece of land has been.
"It struck me how wonderful it was to see the land being used in such a holistic and thoughtful way, not only did this small plot support Anna and Pete but they had enriched the environment to benefit a plethora of wildlife, both flora and fauna and they were continuing to do so…
"We returned to the homestead to be welcomed by a generous, homemade lunch, prepared and made by Anna. Discussions continued over our meal and our hosts were open and attentive to all.
"Now the task of loading the kiln commenced. As we loaded, all the parts of the kiln were explained to us and how the chimneys draw air through the burning chamber to create an extremely hot, controlled fire to drive off the excess moisture leaving only the carbonised wood. There is a precise way of loading the kiln and by doing this all sizes of wood can used right down to 25mm diameter sticks, an incredibly efficient use of wood. We covered which variety of wood was best for which area in the kiln for optimising your final product.
"Once loaded, Pete hauled the lid on and the lighting commenced. It caught right away and it was quite a sight as it belched out thick white 'smoke'. Pete explained this was actually mainly steam and once this was driven off we would need to close down the kiln, restricting the air to put the fire out, preserving the carbonised wood which is what we know as charcoal!
"Anna is licensed to serve alcohol so we had the choice to relax around the campfire for the evening with a cold beer or cider. Periodically wandering over to check on the kiln. We were all involved at every stage and questions were asked throughout, both Pete and Anna clearly know their craft inside out and back to front and patiently answered everything thrown at them! We all retired to sleep in our vans or under canvas, tired but happy and feeling very relaxed, the magic of this beautiful woodland and gentle pace of life effortlessly unwinding the usual tensions of modern life.
"We were lucky enough to be greeted with another gorgeous day of clear skies and sunshine. Anna woke us to say it was time to shut the kiln down! We stumbled out, greeted by hot drinks to close down the chimneys as the 'smoke' turned clear. Our charcoal making was complete, we heard later that it had been a very successful burn with a record number of bags achieved.
"I have attended quite a number of woodland based courses and for me, this one stands head and shoulders above the rest. I found Anna and Pete to be the most lovely hosts, they were informative and enthusiastic at every stage. They were also very attentive; my dietary requirements were catered for without any fuss, hot drink orders were remembered for each individual without any errors right through the course, without needing to be reminded – an example of the attention to detail they seem to excel at.
"We came to learn about making charcoal but left with so much more. They lead by example, that it IS possible to live sustainably in this modern world, having a viable, rural business while actually benefiting and enriching their natural environment with their ongoing responsibility to their woodland."
Woodland Skills Centre
Bodfari, Denbigh. http://woodlandskillscentre.uk
The Woodland Skills Centre run dozens of courses every year, covering a wide range of topics and activities, all of which receive consistently good feed-back. Here are a few examples:
"I did a tool sharpening course, one day, with Doug. I found it extremely helpful. Obviously you're not going to become an expert in a day, but you can bring your own tools and the course is designed to help you learn what sharpening skills are most useful to you. By the end of the day I felt much more competent and had a clearer idea of how to look after my wood carving tools. Doug was a patient and well-informed instructor and there were only four of us in the group, so you get plenty of one-on-one time."
"Just spent a great couple of hours at the Christmas Craft course with Helen and Sabine; came away with new skills and three lovely crafts."
"Booked the family Bushcraft Day for my hubby and two boys this weekend and they ABSOLUTELY LOVED IT! Matt and Alan were lovely – so knowledgeable and very patient with the kids and their questions!"
"I have just attended two Mindfulness courses [Mindfulness in a Woodland Setting] at the centre and absolutely loved them both. I was a little nervous at first but was made to feel extremely welcome. The courses were fantastic and I loved every minute of them. Being quite an anxious person, the course provided me with the skills, knowledge and the desire to practise mindfulness daily and it is now part of my life. I would go so far as to say that the course is life-changing and extremely beneficial to my wellbeing. The surroundings are beautiful and I am looking forward to attending again soon to further my skills and practice… If you are interested in the mindfulness course, I would advise you to take the leap of faith and book: you won't regret it!"
Coppice Products Course (for MIND): "Over the weeks we explored the coppice woodland and we learnt about its management and its trees and wildlife. We then harvested some materials to use from the woodland which we used to make a hazel hurdle… The group also made a mallet each from a single piece of harvested wood shaped by a billhook. We used our mallets to hammer fence poles we had made and weave branches around to make a fence. We gained experience using a shave horse and pole lathe and we all produced a kitchen spatula and gypsy flowers. The charcoal making as really interesting… We made an amount of artist's charcoal which I brought home and actually drew a picture with it!... Doctors prescribe us medication which may work initially, but this is combined with lack of talking therapies and we become socially isolated and loneliness exacerbates our symptoms. I was overwhelmed by my progress and what I achieved on the course. There was a definite reduction of my mental health symptoms – all down to nature! My Coppice Product Making certificate at the end of the course was my prescription to wellbeing."
COMMUNITY WOODS
Coed Craig Ruperra
Draethen / Rudry, between Caerphilly, Newport and Cardiff. http://www.ruperra.org.uk
The nomination:
When the 153 acres of Coed Craig Ruperra was purchased by Ruperra Conservation Trust in 2000 it was mainly a scene of widespread devastation caused by the removal of conifers that had been sent to the sawmill as a cash crop by the previous owners. Access to the site was difficult as trackways and paths had been damaged by heavy forestry machinery.
The Trust decided it wanted to help the site grow to its full potential as a wildlife oasis with access for people to enjoy and learn. There were limited funds in the bank account so there needed to be a reliance on fundraising, grant applications and voluntary work.
Coed Craig Ruperra has after 18 years of consistent effort become an important fixture in the local community and further afield and has received status as a SSSI. There has been extensive tree planting of native species and active encouragement of natural regeneration by removing remaining conifer and invasive plants such as laurel, rhododendron and bracken. Hedges have been renovated, planted and laid and new ponds dug. Non woodland habitats such as heathland and meadow are developing. The result is a thriving dormouse population as well as great crested newts, badgers, grass snakes and it is also an important hawking area for the nearby roost of greater horseshoe bats. There are also significant uncommon ancient woodland indicator plants as well as a very rare fungus.
There has also been an emphasis on people to come freely on to the site so that paths and tracks have been improved and maintained for walkers and horse riders. There are interpretation boards to help in the understanding of the nature and history. The latter is particularly emphasised by the presence of Iron Age, Norman, 18th and 19th-century remains that are maintained as part of the Trust's remit. The main entrances welcome visitors with an information board and leaflets that help to generally inform and help navigate the various pathways. This is ultimately backed up by an extensive dedicated website where current guided walks and nature excursions are publicised as well as the regular newsletters sent out to paid up supporters.
Education and experience are brought together with various specialists leading people in plant, fungi, bird and insect identification as well as practical skills in chainsawing, brushcutting, hedgelaying, coppicing, step and path construction. There are regular volunteer days open to anyone who wants to help in maintenance and new projects. The Trust has happily encouraged people who might find the site useful in their studies and hobbies such as bird ringers and spotters, geologists and botanists as well as a Geocaching site.
There has been an awareness of the need to bring in extra revenue and working with a formally linked Community Interest Company there are sales of coppice products, beanpoles, stakes etc. as well as firewood which would otherwise go to waste when thinning in favour of desired trees that will grow into the future.
Wilderness Wood
Hadlow Down, East Sussex.  www.wildernesswood.org
The nomination:
Wilderness Wood is not just a collection of trees. Neither is it just a haven for wildlife. Wilderness Wood is a place for people to engage with nature and to work together - as a community. Wilderness Wood-folk are hands-on:
Young children play and learn together, surrounded by nature.
Teens leave their Xboxes at home and engage in callus-forming woodland crafts.
Parents work side-by-side with their offspring, interacting with the natural world around them.
The macro-flora of the woodland – chestnut, oak, ash and even giant redwood – provide the inspiration for this magical mix of people and the woodland environment, but it is the human input that makes Wilderness Wood so special.
Like all good projects, it is driven by key individuals – in this case Emily and Dan, the owners. Somehow their openness and infectious commitment has drawn in a thriving community – of all ages.
As an architect and passionate worker of wood, Dan brings his professional expertise and vision to the project, but it is the community of woodland workers who deliver the inspirational buildings that appear to literally grow from the woodland floor.
Likewise, it is the organisation and infectious charm of Emily that makes it so easy to join in the community project that is Wilderness Wood. No inward-looking clique this.
Recent projects include "Working with Wood Week" – inviting members of the public to contribute to the construction of buildings, to take part in woodland-based entertainment/education or to contribute towards the essential services of cooking, cleaning and maintenance work. Children, from local schools and as far away as Germany, work collaboratively on construction, woodland maintenance and conservation, to ensure the long-term sustainability of the Wilderness Wood community project. Even the youngest members of society take their first tentative steps of woodland appreciation through Lucy's Little Forest School – building dens, gathering around campfires and cooking 'al-fresco' deep in the woods.
Passing members of the public are drawn unwittingly into Wilderness Wood, via the honey-trap that is the Wilderness Café, or to purchase from Andrew Coates Woodland Products. Once within, the seductive magic of Wilderness Wood does the rest.
Wilderness Wood demonstrates, more than anything else, that where a community of people with shared values and a common love of nature are brought together in inspirational surroundings, something special can happen.  Our modern world, its obsession with materialism and its epidemic of Nature Deficit Disorder craves the recuperative powers of special places like Wilderness Wood.
WOODFAIR TRADE STANDS
STIHL
This is a highly professional set-up, as one might expect of this high-profile and respected German manufacturer – Andreas Stihl made the first chainsaw in 1926. The woodfair stand includes demonstrations of new chainsaws and pole-pruners etc, plus chainsaw woodcarving, and the exhibition allows the public to handle and weigh-up the latest saws and strimmers etc. There are plenty of staff on hand giving expert advice, friendly and approachable – and the ARB Show included the STIHL Rugby Tackle Game with special-guest rugby professionals.
.
The Great Big Tree Climbing Company
With the aid of ropes, pulleys, knots, carabiners, harnesses and helmets, woodfair visitors – children and adults alike – can ascend into the canopy of tall trees. Strapped in and guided by a sympathetic team, the participants are always securely attached to a safety line, and under constant supervision. This is not only an unforgettable experience: it makes people feel brave – building self-esteem in meeting an unusual challenge.
.
Treesource
A specialist bookshop, with new and second-hand books about trees "supporting professional arborists and foresters". Coverage is select, extensive and thorough – fungi, insects, tree diseases and so on, but also it also includes popular reading. An excellent place to pass some time at a woodfair. The website makes absorbing reading too!
.
.
Woodland Bushcraft and Survival
www.woodlandbushcraftandsurvival.co.uk
A shop run by people who love woodlands and know what customers need, to make reliable recommendations. At the Bushcraft Show 2018 it also came with a "pole-lathe turners – greenwood workers" (aka bodgers) workshop and demonstration, very sympathetically run: take a lump of wood and end up with a chair leg!
.
.
.
Neil Taylor
Neil Taylor makes sublime Windsor-back chairs (or Welsh stick-back chairs), stools and multi-seat benches so beautifully moulded, individual and respectful of the wood that they might be seen as sculpture that you can sit on. His woodfair stand shows off his products, as he demonstrates his craft.
.
.
Giles Newman
He calls it "Fine art wood carving" and with good reason: Giles Newman makes very elaborate, delicate and complex spoons and jewellery (brooches, pendants) – turning wood into gems. One-off, high-end works. He also runs introductory courses in woodcarving next to the stand.
.
.
.
WOODLAND BOOKS OF THE YEAR
For the Woodlands Awards 2018, the Woodland Books of the Year covered books published between June 2017 and July 2018.
Go Wild in the Woods: An Adventure Handbook
by Goldie Hawk & Rachael Saunders. Published by Nosy Crow for the National Trust (June 2017).
This is a children's survival guide, delivered with enthusiasm and relish, and a keen sense of childish adventure and mischievousness, aided by witty illustrations by Rachael Saunders. "In this book, you will learn the essentials: what to pack, how to build a shelter, how to make your own tools, which wild animals to spot… and even how to get drinking water from your own wee!" Full of inspirational ideas, and good tips, it's not exhaustive by any means, but has enough to be enticingly inspirational – to encourage children (aged probably about 5–9) to put down the book and get out there and do stuff! Notebook-style format, with a band to hold it shut.
Trees in England: Management and Disease since 1600
by Tom Williamson, Gerry Barnes & Toby Pillatt. Published by University of Hertfordshire Press (November 2017).
This is essentially an academic study, full of statistics and bibliographic references to sources, yet it remains accessible and readable. It sets out to cover the history of woodland management and timber-growing (on farmland and in hedgerows) in England, putting the record straight about some common and misguided assumptions (e.g. about the prehistoric nature of woodland, or the depletion of woodland coverage of our landscape), and – in a relatively brief section at the end – placing the modern perceptions of tree diseases in perspective. It also tells the story of the vital importance of trees in our history, for fuel (including charcoal), timber, specialists crafts,  tanning, fodder, and much more. Well illustrated with pertinent photos and maps throughout, with good captions, this is a model of good, clear academic writing, thoroughly researched and full of fascinating detail that will reward any reader with a passion for woodland.
A Wood of One's Own
by Ruth Pavey. Published by Gerald Duckworth & Co (September 2017).
In 1999 Ruth Pavey, a London teacher and gardening correspondent, bought a plot of land on the Somerset Levels with the intention of growing a wood there. It's a fascinating story, charmingly told, full of local history, characters, incident and tribulations. The journey – ending up with as much an orchard and wild garden as woodland per se – is inspirational, showing what can be achieved starting from scratch, and the pleasures that this yields. "Now I love both London and Somerset. I never want to leave the one I am in, but am always delighted to arrive in the other." How many woodland owners feel the same?
.
The Wood: The Life and Times of Cockshutt Wood
by John Lewis-Stempel. Published by Doubleday (March 2018).
This is the story of the unfolding year – his last year – in a small wood in Herefordshire that the author managed for four years in all, told with an outstanding sense of intimacy, knowledge, poetry and wonder. It is packed with information, about the history of woodland and woodland species in the UK, working woods, introducing livestock and making "treehay" (fodder); it also includes nature poems, recipes for foraged woodland produce, folklore and symbolism, dialect words, birdsong – a paean to the sheer complexity of woodland life. The diary format gives it shape, rising through spring to summer and then falling away into autumn and winter – a narrative arc that reads satisfyingly like a novel. Superb.
Making Charcoal and Biochar
by Rebecca Oaks. Published by The Crowood Press (April 2018).
Rebecca Oaks is an expert on coppicing and charcoal making, and brings her knowledge to this "comprehensive guide" in a way that will be invaluable to all who are interested in charcoal, for pleasure, for practical use, as a hobby or as a business. Well-illustrated with photos and diagrams, the chapters cover how charcoal is made, the different kinds of kilns and retorts, practical advice about bagging, storage, cooking with it, and the use of biochar (small-particle charcoal) for soil improvement and carbon capture. It also has an A to Z of all the astonishing things that charcoal is used for. Along the way the reader learns about the essential role that charcoal has played in human history, notably in metal smelting, and the vast quantity of woodland that was needed to keep supplies coming.
Shinrin-Yoku: The Art and Science of Forest Bathing
by Dr Qing Li. Published by Penguin Life (April 2018).
"How trees can help you find health and happiness" is the second subtitle. It's a commonly recognised phenomenon that being in woodland has therapeutic benefits: back in the 1980s, the Japanese decided to put this to scientific testing, and "forest bathing" was born – opening the senses to nature by walking in woodland and forests. Dr Qing Li is at the forefront of ongoing research, and here is all you need to know to find out what it's all about: the background, the scientific evidence, the medical benefits, the practice, how-to. This beautifully produced, lucidly expressed book is not only informative: it leads the reader down the meditative pathway of "discovering what it is about trees that makes us feel so much better".
Around the World in 80 Trees
by Jonathan Drori. Published by Laurence King Publishing (May 2018).
In this thoroughly engaging book – beautifully illustrated with pen-and-ink illustrations by French artist Lucille Clerc – Jonathan Drori makes a selection of 80 of the world's 60,000 tree species, starting in the UK and moving roughly eastwards around the globe. He does not attempt to be comprehensive, but takes what appeals and surprises: how a species has adapted to its environment, the uses of its wood, myths and legends. Its slightly random approach is what gives the book sparkle and readability, with endless fascinating snippets – the bricks of Australian jarrah wood that were used to pave London streets; how gutta-percha "utterly changed the world" as an electrical insulator for telegraph cables, and much more.
Forest School Adventure: Outdoor Skills and Play for Children
by Naomi Walmsley & Dan Westall. Published by The Guild of Mastercraftsman (GMC) Publications (June 2018).
Here's a book to inspire all forest school organisers and participants alike, as well as families wanting to get the most out of their woods. Large-format, and beautifully produced (as you might expect from a company called The Guild of Mastercraftsman Publications), it contains masses of fun, practical and inventive things to do: building shelters, lighting fires, recipes for campfires and foraged foods, making oil lamps, making charcoal, filtering water, knife safety, using natural clay, knots, camouflage, stalking skills, improving your night vision – and plenty of games. The authors have wealth of experience to draw on, including "a five-month Stone Age immersion experience in the US, living in the wilderness without any modern equipment". They teach bushcraft and Stone Age skills in their woodland in Shropshire, especially to school children.
REGIONAL & NATIONAL WOODLAND ORGANISATIONS
The Award description reads as follows: Many of the UK's Regional and National Woodland Organisations do a wonderful job promoting and supporting the woodlands sector in various ways, be it supporting the interests of woodland owners, promoting awareness of woodlands, actively campaigning for the protection and preservation of woodland, and so on. Which of them has made a particular mark – deserving the title Regional and National Woodland Organisation of the Year?
Our panel of woodland professionals and experts selected the following four organisations from a shortlist of nominees:
Royal Scottish Forestry Society
In their own words (from the website):
The Royal Scottish Forestry Society exists to promote excellence of forestry in Scotland for the benefit of the present and future generations. What we do brings people together to improve knowledge an understanding of forestry with a strong emphasis on sharing practical experience. We have an active programme of field visits across Scotland. This provides an opportunity to visit a wide variety of woods and forest and discuss their management and development.
Cumbria Woodlands
In their own words (from the website):
Cumbria Woodlands is a not-for-profit organisation launched in 1991 in response to widespread concern over the neglected state of the County's woodlands.
Our Vision Statement
Our vision is for woodland in Cumbria to thrive ecologically and economically for the benefit of everyone.
Aim
Our aim is for woodlands to be managed and improved in order for them to thrive and to be economically and ecologically sustainable so we can get the most from them.
How do we do what we do?
The work of Cumbria Woodlands today focuses on promoting appropriate woodland management. We provide advice, support and training to woodland owners, organisations and people in the forestry industry on the following:
Managing Woodlands
Skills for the Forest Training
Tree Health
Ash Dieback
Wood Fuel
Deer Management
Plantations on Ancient Woodland Sites (PAWS)
The Forest School Association
www.forestschoolassociation.org
In their own words (from the website):
The Forest School Association is the professional body and UK wide voice for Forest School, promoting best practice, cohesion and 'quality Forest School for all'.
Our charitable purpose: The advancement of education for public benefit through promotion and support of quality Forest School in the United Kingdom using any means to enable all children, young people and adults to benefit from increased opportunities for high quality and varied educational experiences in the natural world.
To do this we:
Communicate a strong, clear vision of what Forest School is.
Develop and maintain the curriculum content for approved Forest School qualifications.
Work together to increase opportunities for people to experience quality Forest School in the UK.
Provide a central point for collecting, storing and sharing information about Forest School and good practice in Forest School (including notes on good practice, advice on choosing leaders, and advice on choosing trainers.
Stimulate, store and share practitioner and academic research and learn from it.
Work collaboratively with other organisations with similar goals and in related areas.
Nottinghamshire Wildlife Trust
www.nottinghamshirewildlife.org
In their own words (from the website):
Creating an urban and rural landscape rich in wildlife for everyone... Our Mission is to protect Nottinghamshire's wildlife, restore biodiversity and inspire people about the natural world.
Standing up for Wildlife:  Our focus on protecting wildlife was pivotal to the creation of the Wildlife Trust – we grew out of a campaign to save the area now known as Attenborough Nature Reserve. At around the same time volunteers were trying to save other wildlife areas such as what would become the Clarborough Tunnel Nature Reserve near Retford. To this day we support local people in efforts to save wildlife areas close to their hearts and their homes.
Taking action locally to safeguard wildlife and special green spaces is at the heart of what we do. We are also here to make it possible for people to see, experience and learn about the wildlife of our county. The Trust is a registered charity and relies on the support of local people and volunteers who are passionate about the county's wildlife…
Since 1963 we have been representing the views of people who care passionately about our county's wild places and with your support we can do even more.
As well as monitoring the planning system to look out for damaging proposals we provide councils and planners with expert advice to help shape plans for local areas. Thanks to the backing of our members, our input make a real difference. We also help shape plans for the extraction of minerals such as sand and gravel to protect threatened species and fragile habitats and to secure opportunities to create, restore and reconnect wildlife habitats.
With the backing our members and supporters Nottinghamshire Wildlife Trust acts as the first line of defence for wild species and habitats in our county. We campaign tirelessly for wildlife, protecting threatened habitats such as wildflower meadows and species such as badgers, otters and water voles. We influence government policy and local planning decisions that affect the future of wildlife and the quality of our environment. Our efforts also help to secure positive gains by restoring, recreating and reconnecting cherished habitats.