Woodlands Awards 2020: Winners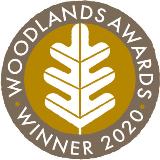 This was the fourth year of the Woodlands Awards – and of course it was a year like no other. The Coronavirus lockdowns began in March, just as the Awards were launched, with a deadline for entries and nominations of 31 July. Despite the distractions and restrictions of Covid-19, there were plenty of entries in most categories – yielding 40 winners.
The new category of Best Woodland Instagrams produced eight winners, the most in any category, showing what a useful, informative and visually stunning medium this is for woodlanders in all fields.
Note that there were a number of winners in most of the categories. They are listed below in no particular order: they are all equal winners!
WOODLAND BLOGS
The judges write: "A lovely, reflective and regularly updated blog about running a small woodland, with photos and videos about activities, woodland issues, the 'log cabin', projects (e.g. using a scythe mower to clear a glade), woodland travel pieces, beavers and pine martens, and Henry David Thoreau."
On his "About" page, Iain McNab writes: "Since I bought Century Wood [in 2008] I've always kept notes and taken photos to document what I've done. This blog lets me share some of that with you, and I intend to explore the full range of topics of what we might call woodscraft: living out in the woods, managing them, and making use of their produce. I also cover some wider forestry, rewilding, and renaturing issues, and record my visits to woodlands elsewhere in Britain and further afield… I've also written up my own notes and lists about woodland planning law and about books relevant to trees and forests."
Quoted from the website: "Little Green Explorers is a UK based all-in-one outdoor learning events directory and blog. We publish activities, reviews and videos as well as directing you to some of the best content made by other creators in the sector. Little Green Explorers was set up in July 2019 with an aim of establishing a comprehensive all-in-one outdoor learning site for the UK. Forest schools, wildlife charities, smallholdings, farms, beach schools, national parks, voluntary groups and anyone who aims to connect children with the natural world is listed here."
The judges noted: "Although not uniquely about woodlands, a good enterprise… The admirably clear blog includes posts such as '25 easy campfire recipes for kids', '10 children's picture books about woodland adventures' and 'Easy cheap autumn nature activities for kids'."
SMALL WOODLAND WEBSITES 
The judges write: "Excellent website, exactly of the kind for which this Award was created. It has a personal feel: the people and their woodland – all beautifully presented. And a blog with posts on nature and woodland management, full of information and excellent photographs and wildlife videos."
There's a topical aspect to this enterprise. To quote from the website: "Well, like many people, Covid has certainly changed things for us. After 14 years of running a taxi company in the glorious South Hams Tamara and I decided that we did not want to continue in that industry. In February this year the business went to zero overnight which was very scary…In 2018 an opportunity arose to purchase a few acres of local woodland [in South Devon], all was completed within a matter of weeks and the excited couple were proud custodians of their very own woodland where they could really give nature a helping hand!" The website is also a vehicle for sales of their products and guided visits to their woodlands that "would suit anyone with a keen interest in wildlife habitat management and creation".
WOODLAND PHOTOGRAPHY 
Andrew Clark
For his collection of six beautiful, crystal-sharp images of woodland, flowers, fungi.
♦
♦
♦
♦
Sam Auger-Forbes
Very high-quality photographs of birds (great spotted woodpecker, tawny owl, kestrel). He writes: "I'm the owner of Sotterley Woods, in Titsal Woods, Suffolk, which is where these were all taken." Sam is a versatile professional photographer, with a business called SAAF Photography: https://www.saafphotography.com
♦
♦
♦
♦
♦
♦
Peter Forster
Just one entry (the Award rules of entry do not stipulate the number of photographs required): "Dog Fox. Abbey Wood, Suffolk". The judges appreciated the sense of immediacy and authenticity: "You can almost smell the fox."
♦
♦
♦
♦
WOODLAND INSTAGRAMS
"Outdoor Practitioner, Parent, Perpetual Student," writes Chris Murnin on his Instagram. "Be patient… Nothing in nature blooms all year round. Time is precious, waste it wisely!" Chris is Deputy Centre Manager at the Leicester Outdoor Pursuits Centre, and this is his very active Instagram, updated almost daily (and sometimes several times a day), with good photos and videos and short captions about his outdoor pursuits – foraging, campfire cooking, nature observations, his kit, bushcraft workshops, canoeing trips and family life. 
"Full time woodsman, specialising in felling and low impact timber extraction using a team of Comtois heavy horses" (www.dorsethorselogging.co.uk). Excellent, charming videos and stills of horselogging, with short captions, regularly updated as jobs are undertaken. Persuasive evidence that (as one caption puts it): "Using the horses ensured minimal disturbance on the woodland floor." There are some wonderful images here – including both horse and handler laughing (11 September).
"I'd like to nominate the @ellekers_wood Instagram for the 2020 awards," wrote Liz in her entry submission. "It's for the wood [in Yorkshire] owned by Dan Watson and myself and we try to regularly keep it topped up with lovely pictures of flora, fauna and craft." And indeed they do – a real woodlander's log, recording nature and woodland work with fantastic photography. 
Wilderness skills teacher, author of The Wilderness Survival Guide, maker of traditional crafts, furniture and DIY outdoor gear and clothing, Joe O'Leary runs a business called Wilderness Survival Skills (https://wilderness-survival.co.uk) from his base in Wiltshire. His excellent Instagram is regularly updated with photos and videos, accompanied by informative, friendly and self-deprecating texts. Here's someone who really knows his survival skills, and loves woodland! 
Johnnie The Woodsman is on a mission: "Rewilding myself from office worker to living in the woods in an eco house. Learning on the job." His nomination came with this recommendation: "The best woodland Instagram site is, in my opinion, @johnniethewoodsman. A story in pictures of a change of pace and direction from living in a busy town to living, working and planning a life at one with nature."
It's a hands-on Instagram account of managing a wood, with projects and nature pictures, as well as records of other non-woodland adventures. It also includes some good, practical video entries, e.g.: "Using the lever to fell this chestnut." 
"Dry stone walling, hedge laying, chestnut gates and fences, biochar, biodynamic fruit and veg, ki-aikido, river/sea swimming" – quite a list heads this Instagram, and that's just the start. Jeremy Wiess runs a business called Proper Edges in Buckfastleigh, Devon, UK (www.properedges.com), and his Instagram is an evocative record of his active country living, including the sheer pleasures of woodland and rivers.
The judges sum it up succinctly: "Superb daily pictures mainly of Sherwood Forest". Sciryuda is the oldest known form of the name of the forest. Photography and videos by Steve Pike, regularly updated, with short captions. The Instagram account is also an adjunct of Steve's equally impressive website https://sciryuda.com.
A "visual diary of a woodland in North Wales": excellent photos of woodland and wildlife (and some people), regularly updated, so it shows the changing seasons. No text or explanations – so it uses Instagram in the way that it was originally designed, and there is something admirable in that.
WOODLAND TOOL RECOMMENDATIONS 
Husqvarna 535iXP Electric chainsaw
This is how Husqvarna's online catalogue describes it: "For professionally oriented users who want a lightweight, high performance, lithium-ion battery powered chainsaw. Perfect for carpenters, contractors, and treecare workers. Features excellent ergonomics and high chainspeed." But our reviewer reinforces that with personal experience: "Lightweight, easy-to-use battery chainsaw ideal for felling small trees and pruning or cutting small branches. Features an intuitive keypad for safe, convenient starting, while the inertia chain brake ensures trouble-free handling. Brushless motor with savE mode for reliable performance and longer running time, no direct emissions, while low noise levels allow you to work in residential areas without disturbing the neighbours. Excellent for use when easing branches into a chipper, really good for hedgelaying avoiding long tick-over periods."
Note that Husqvarna have sent us this clarification: "Just to make you aware, the 536LiXP has been renamed as the 535iXP…There have been no spec changes, only a name change." 
Stihl 2-in-1 Easy File
This chainsaw sharpener is described by Stihl simply as a "practical tool for quickly sharpening the teeth and depth gauge in a single action, significantly reducing chain maintenance time." One nomination provided a more persuasive personal recommendation: "This is the easiest and most reliable chainsaw sharpener I have ever used. Not being a professional woodsman, I never seem to have mastered the traditional technique of round file sharpening. This device, though slightly pricey, has revolutionised my sharpening, making it almost a joyful activity: no more chainsawing curved cuts!!! And the file material seems to be of much better quality than the traditional round file sharpeners so it should last longer."
WOODLAND HUTS
David East
In this evocative description, David East tells the story of his "Shepherd's Hut": "I realised early on that I needed some kind of shed to store my tools. My local planning department agreed that I could have a caravan, but were worried that someone after the tools might tow it away. To solve that, I built my own shepherd's hut (on wheels to comply with the definition of a caravan) on site, deep in the woods, and so surrounded by trees that there is no way to take it out. I carried all the timber to the site myself (up a steep hill, which gives me privacy on the plateau at the top) and built the hut single-handed. I reused a lot of timber from an old hut, together with some fresh, some second-hand insulation and recycled plywood to line out the inside. Tools are stored in a built-in locked box, which doubles as a bench. I fitted a shutter inside an old double-glazed window, which when folded down makes a desk to write at. Early on, I decided to include a porch, mainly to accommodate the rustic seat I had built, and where I now sit to enjoy the view over my pond."
♦
♦
Ray and Sally Newman
In their submission for this Award, Ray and Sally Newman paint the background with a brief account of buying their wood four years ago. "Once purchased," they write, "we decided we needed a hut to store our items. We built the hut ourselves on site, hard work but worth it. The first winter we realized we needed to deck outside the hut as it was so muddy. We put picnic tables with gazebos over them on the decking, for when people came with us.
"As we are both keen archers, we sometimes invite our friends from the archery club to our woods for the day. We do some target shooting and then we all have lunch together. Everyone says what a lovely time they have and look forward to us inviting them again.
"As for ourselves we go to the wood and chill out (well, work really); there is always something to do. We have just finished building a wooden gazebo, as the previous ones blew down; they were only cheap ones anyway. The one we have just finished is made from our own fallen tree trunks and wood that we purchased. So hopefully this one should last for many years to come."
Stephen Brandenburg and Judith Tolley
Stephen sent us this splendid description of their hut: "We built the central section with the pitched roof over two days with four people in spring 2016. All the wood used was sourced from the previous years' coppicing in our 5.95-acre Kentish PAWS. Finding suitable bits of wood from the coppiced material took longer than the construction time; it's mostly made from hazel, birch, alder and hornbeam.
"Over time we have added a camp kitchen lean-to and a wood store lean-to with a smaller extension at the rear for longer logs. It houses a large vintage workbench with two vices; the loft stores hammocks, chairs, tarps, butterfly nets, ladders etc. It has withstood storms, snow, branches falling on it – all we have had to do is minor patching to the tarps.
"Apart from functioning as a workspace it provides shelter from rain and the sun, and covered dining in all weathers. Wrens and various tits nest successfully every year in whatever they can find, from the two nesting boxes to rolled-up hammocks and the pioneer stove."
WOODLAND CONTRACTORS
PN Broad & Sons
Based in Gifford (Haddington), East Lothian. The nominator includes this telling detail: "In recognition of the high standard of work on a less-than-straightforward project requiring extensive solutions to improve existing drainage."
Adrian Goodall
Operating primarily in Northern England/Scotland: "Recognising exceptional work in challenging weather conditions, even though works were planned for the anticipated dry of summer!"
George Maxwell
Based in Forfar, Angus. The nominator writes: "George Maxwell has worked at all our northern Scotland sites and is our go-to bench-maker and all-round chainsaw operative. He is making inroads into carpentry as well as always being available for woodlands work." 
James Malarkey
Based in Kirriemuir, Angus. The nominator writes: "James Malarkey is a technical climber, making his living as a tree surgeon and more recently has become a firefighter with a specialist rope access unit in Aberdeen – but due to shift patterns will still be doing some woodlands work well into the future."
WOODLAND TREE-PLANTING PROJECTS 
Diggin' the Trees
The entry for the Award included this description of their activities and mission: "Diggin' the Trees is a community tree planting initiative in North Cumbria. We have been planting trees for the last ten years around Cumbria and Southern Scotland.
"The aim of the group is to strengthen community links and empower people to improve their local environment. We are committed to identifying potentially suitable sites for tree-planting and promoting the benefits of woodland amongst local landowners. Our work has far-reaching benefits, beginning with the sociable aspect of the planting days, the subsequent improvement in the environment and eventual value returned to the community.
"Anyone and everyone is welcome to join us on our planting days. It's a chance to get out and exercise, get your hands dirty, enjoy nature and meet new like-minded people who care about our natural world!
"During this time of acute Climate Emergency, planting trees is the most practical community activity that individuals can participate in. Trees sequester carbon, helping to remove carbon dioxide and other greenhouse gases from the air, which cools the earth."
Trees for Life
From the website (www.treesforlife.org.uk): "What we do: We are a conservation charity dedicated to rewilding the Scottish Highlands. We have established 44 tree planting sites and planted nearly two million trees." A recent report in Living Woods magazine (Summer 2020, p.4) gives an indication of their commitment and dedication, which came to the fore during the coronavirus crisis: "Volunteers isolate to save thousands of young trees. A team of six people from Trees for Life have been voluntarily isolating at the charity's flagship Dundreggan rewilding estate in Glenmoriston, near Loch Ness in the Highlands since 23 March – to save more than 100,000 native young trees from being lost due to the coronavirus crisis lockdown. 'We were all set for another busy season of preparing thousands of young native trees for planting on the hills by our volunteers, when the coronavirus crisis forced the postponement of this spring's tree planting – meaning tens of thousands of young trees have not left our nursery as planned,' said Doug Gilbert, Trees for Life's Dundreggan Manager. 'But nature isn't in lockdown. All these precious trees have been coming into leaf, and we need to take care of them – especially in the dry weather we've been having. Without regular watering, they would all die. We also needed to start sowing new seed now, to ensure a supply of trees for future planting seasons.' "
Sarah Axon and Susan Davis
Sarah Axon and Susan Davis were 2017 Woodlands Awards winners in the Best Woodland Blogs – and we can turn to that blog for a description of their extensive tree-planting activities:
"Our ongoing tree planting project at Old Copse is a vital component of the restoration of 30 acres of ASNW [Ancient Semi-Natural Woodland] (partially PAWS [Plantation on an Ancient Woodland Site]), situated in an AONB [Area of Outstanding Natural Beauty], part designated SSSI [Site of Special Scientific Interest].
"In the mid 1950's almost all of the original ancient woodland was clear felled and Scots Pine planted across the site. The big storm of 1987 blew down half of the plantation, and birch and other broadleaves are now regenerating in areas where once only pines grew. Our project is to fell the majority of the remaining Scots Pine plantation, and return it to mixed woodland. We are doing this gradually and carefully and replanting in the gaps to maintain 'continuous cover'.
"As part of our management plan we started by felling approximately a third of the Scots Pine plantation in December 2015, and in late 2016 started planting a mix of broadleaves: oak, beech, wild cherry, hornbeam, chestnut and hazel, in the open areas created by the felling. The species mix has been chosen to match those occurring naturally on the site, supplemented by a few English native trees not found within the existing vegetative community, such as small-leaved limes. We aim to achieve a healthy diversity to help the wood withstand the threats of climate change. We have now planted well over 1,000 trees. Every year we fell a little more and replant in the gaps.
"Replanting is augmented by a great deal of natural regeneration prompted by the felling, predominantly oak, beech, rowan, alder buckthorn and goat willow. All promising regeneration has to be protected from deer predation. We also transplant any regeneration growing in the 'wrong place' such as the middle of the rides, and grow them on in our deer proof tree enclosure before planting them out elsewhere in the wood…
"The future: To continue what we've been doing since late 2016, aiming to fell a further 20% or so of Scots Pine in the next few years, replant, and repeat until the majority of the Scots Pine have been replaced by broadleaves. It is very encouraging to see the difference in the woodland since the felling and replanting began just 3½ years ago. Lastly, because restoring a wood costs money, a further bonus of the felling operations is that the sale of timber for both chip and sawlogs has helped finance other projects in the wood, including the planting of over half a mile of boundary hedge."
On winning the Award, Sarah and Susan gave us a further update: "We are in the middle of quite a big project, funded by Sussex Lund, to restore a large area of derelict hazel coppice. It turned out to be more challenging than we anticipated and has taken longer than we thought because of various covid restrictions but we're on the homeward straight now. 'Just' the temporary deer fencing to put up then layering existing hazels where possible and planting many more – oh and planting an extensive hazel hedge along the road boundary. I'm just hoping we might lure a few dormice to take up residence and tell all their friends how desirable it is."
FOREST SCHOOLS 
Under the Canopy Forest School
Based in Gerrards Cross, Buckinghamshire.
These excerpts from one recommendation eloquently express what children get from forest school: "I would love to recommend the Under the Canopy Forest school, owned and run by the amazing Jenny Collier and managed by the inspirational Trish Sewell.
"My four-year-old son absolutely loves his sessions, and asks consistently when is he going next; as soon as he arrives he rushes up to Jenny asking her what they are going to learning about that day, which is so lovely to see.
"The Under the Canopy forest site has different levels which the kids love exploring. The lower levels are for preschoolers whilst the higher levels are aimed for the more adventurous children, so every child is challenged. Each session has a different theme, which often involves a book being read and then the themes are followed through with creative play, model making, nature walks and group activities. This is followed up by drinks, snacks and toasting marshmallows around a bonfire, which is a firm favourite too!
"My older son (6) does a twilight session at Under the Canopy, which is aimed at more independent kids. At this session, the kids do problem solving, working as a team. They build pulleys and play forest games – such as '123 where are you?' I have noticed a big difference in his confidence, patience and his desire to succeed. He spent a long time learning to light a fire with cotton wool and a flint and was delighted when he also did it at home. He now has an appreciation of technique, rather than just brute force!
"Both my kids have learnt so many new skills, I am just so glad Jenny has given them this opportunity through Under the Canopy."
Oaks Day Nursery Forest School
At Selly Oak, Birmingham.
https://daynurseries.bham.ac.uk/best-bits/forest-school
Excepts from the recommendations of nominators: "The freedom of being outside and learning about nature is helping our son recognise the importance of being close to nature nurturing it but also being able to use nature for play...
"The forest school is brilliant and they go in all weathers; this was one of the key reasons we originally chose The Oaks as they focus on the outdoors which allows the children to build their independence as well as take it back to basics which, following 'lockdown', has been so important for children to feel connected to the outdoors and see how much the outdoors has to offer as a place to play."
Another writes: "The forest school at The Oaks has helped to build my son's confidence and understanding of the world around him. It allows him get hands on with the earth and fill his pockets with 'treasure'.
"The woodland walk that skirts the perimeter of the grounds is often used alongside traditional storytelling to help the children celebrate the changing of the seasons etc… He loves to be out in the mud kitchen, either banging away at the pots and pans or preparing the 'ingredients' for the 'delicious cakes' that he makes. This curiosity to create mud food has crossed over into our home life – he regularly helps to find & prepare the ingredients for our dinner.
"He especially likes his time by the fire pit, learning how to make hot chocolate and toast marshmallows - he'll be our fire safety expert when we go camping!
"If he's not jumping in any and every puddle that he can find, he's looking for bugs in the long grass by the Bug Hut and telling me all about the things he has learnt from the posters.
"He's always filthy and tired after, so I know he's had a great time. The staff work so hard to make it work – I'm very grateful!"
And another: "The Oaks Day Nursery's Forest School provides my son and other children with an incredible opportunity to explore nature, to learn more about protecting our planet and to widen their imaginations.
"Forest School at the Oaks is a magical experience for children, largely due to the commitment, enthusiasm and creativity of the forest school leaders… All children, from babies to pre-schoolers, visit forest school regularly; when there, you would never know that you were in the middle of a busy city.
"Children are given opportunities to sit around a fire and enjoy stories together. In forest school, children's senses are alert to the wonders of nature; they search, collect, build, look, hear, smell, see, touch and feel. I am so impressed by the wonderful ways in which forest school leaders take so many elements of what the children experience in the nursery forest and weave this into the children's play in the nursery."
Owl Family – Forest Schooling
Based at St John's C of E Primary and Nursery School, Kingston upon Thames, Surrey.
Excerpts from the recommendations: "Forest Schooling UK has been nurtured from an acorn to a flourishing oak in the past five years. The forest school is rooted in the developing children's resilience, confidence and self esteem… The children love the freedom of the space and the chance to choose how to spend their time; some engage in the activities such as firelighting, others just have the freedom to enjoy the space allowed in nature…
"The emergence of the forest school has drawn in the local community and promoted the ethos of Forest Schools. Partnerships have been forged with local community groups – for example a tree house was designed and built, engaging the children in the design and leaving a lasting resource for all.
"Forest Schooling has collaborated with Kingston University, benefitting children and students; University woodland is used for groups of older children and the students, especially those studying Education, have the opportunity to engage actively with the Forest School. In conclusion Forest Schooling UK provides an immensely valuable and unique resource in Kingston for children, parents and the wider community."
Another: "Forest Schooling UK have transformed the woodland area at St John's Primary in Kingston-upon-Thames, creating an inclusive woodland where the kids can truly thrive, from climbing trees and digging, to letting their curiosity and creativity run wild, to taking risks and learning to cooperate and help each other. From a personal perspective, it has given our daughter freedom to be and do what she needs to, a therapeutic place to breathe, climb, run, hang, and learn at her own pace and in her own way, a place to belong and to feel safe. It has remained the most loved part of school for four years. During lockdown they created forest school bubbles for those children who needed more connection with school, and a brilliant online hub of activities, videos, learning and connection for the community… They have opened the forest school up to two schools and created the Outdoor Wilderness Learning (OWL) for everyone, integrating positive relevant learning experiences about woodland, self-sufficiency and energy production, with a focus on wellbeing and growth, while connecting community organisations and the university with the school. The ethos comes through in absolutely everything they do: child-centred, inclusive, compassionate and optimistic."
From a participant, aged 9: "I think Forest Schooling is the best because you can climb trees, run around, and it feels like you are free and not in a class, like cooped up in a cage like an eagle. It is pretty beautiful there. And it's cool – you can have fires, have hot chocolate, do what you want. You are free, you can climb a tree, you can plant a tree, you can plant a seed, you can make something from wood and stuff. You can make spider webs out of string and nails. I once made a treehouse and it had a zip line on it and… there was a bouncy green tightrope which I loved. My favourite part about forest school is that you can climb trees and there is this one that I really like. Every time I go to forest school I go climb that tree. And at the end of forest school we get marshmallows and sometimes we get s'mores if we're lucky."
Chichester Forest Schools
Based at Fishbourne, near Chichester, West Sussex.
https://chichesterforestschools.com
A "Recognised Forest School Provider", under the Recognised Provider Scheme of the Forest School Association (FSA). From one recommendation: "I'd like to nominate Chichester Forest Schools for the best Forest School Award. They run events local to me and have helped develop my son's love of the outdoors. Their staff are enthusiastic and passionate about what they do."
The website summarises their mission: "Chichester Forest Schools CIC provide forest school and outdoor learning for children, young people and families, engaging through nature and building relationships to provide holistic learning through play and exploration in woodland. Children learn to handle risks and use their own initiative to problem solve and cooperate with others. This hands-on learning builds self-esteem, confidence and motivation. The skills needed to be effective learners."
Kinda Forest School
Based in Holton, near Halesworth, Suffolk.
A CIC (co-operative community interest company) that has been awarded the Suffolk County Council Quality Assurance Award. Its website states: "Kinda Forest School is a forest school centred around the principles of kindness and permaculture within the forest school context to provide children with an holistic experience of education. Kinda Forest School is part of Kinda Education CIC (Reg No 11626237) which promotes and delivers democratic education, with equality, kindness and reconnection, working alongside nature to all layers of our learning communities.
"Working with and within nature, we use tools and space in nature to connect to and express the child's natural abilities, facilitating a sense of belonging. With child-led learning, the children will develop social, emotional and physical skills…
"Using traditional forest school child-led activities – typically building, whittling, crafting, story-telling, singing, climbing and cooking on the fire – we will nurture confidence and emotional resilience. This could include, for example, designing a method to capture water, building a beehive or planting a forest garden."
A recommendation painted the picture with these telling details: "Kinda Forest School was recently established in a local five-acre woodland in Holton, Halesworth, two years ago, and has blossomed. Particularly in this tentative post COVID time, it offers much needed outside space, joy and opportunity to play safely within the wood…
"Last year they devised a scaled Solar System - with each planet to relative size. Unfortunately the evening of the opening – the vernal Equinox in March – was the day of lockdown, so they have not yet had a chance to do their proper opening. But what an opportunity to see and feel the relative size of Earth to Mars to Jupiter."
COMMUNITY WOODS
Cart Wood
Near Tonbridge, Kent.
www.facebook.com/TonbridgeCartWood
https://tonbridge-scouts.org.uk/cartwood
Stuart Sharp, Cart Wood Manager, writes: "Tonbridge District Scouts purchased Cart Wood to provide a facility for approximately 1000 members, from 6 year-old Beavers, through to 18 year-old Explorers. This project has always had a strong community feel as we encourage our youth members to help with management tasks. As part of an ongoing project to create natural boundaries, over 800 whips have been planted. We run experience days where members participate in backwoods cooking, nature trails and woodland crafts.
"In the last two years we have opened up an old glade to encourage biodiversity, dug ditches and created a causeway. The facility is managed with little mechanical input, most tasks being achieved by hand. Coppicing Sweet Chestnut has restarted with a plan to have our youths manage this going forward. The product has been used to create fencing, firewood, as well as a tomahawk throwing range/activity area.
"All members can use the woods for Scout activities, learning a range of skills from shelter building, fire lighting, cooking, to team building, as well as playing a variety of wide games. The facility provides an invaluable resource, for those groups with little outdoor space.
"Future plans include planting more hedging, with a view to laying this when mature, and digging a pond to create a pond dipping experience. The woodland will continue to be managed, with an emphasis on nature, education and youth development, values synonymous with the Scout movement, all the time being sympathetic to the large variety of wildlife that inhabit the woodland."
After winning the Award, Stuart added: "Cart Wood is an ongoing project that, like most woodland ventures, will probably never be totally finished. We try to involve the young people as much as possible, for a multitude of reasons, but primarily to form some self ownership of the facility and an ongoing wish to care for the environment."
WOODLAND BOOKS OF THE YEAR
The Forager's Calendar: A Seasonal Guide to Nature's Wild Harvests
by John Wright (Profile Books)
A thorough, fascinating primer, by a dedicated, knowledgeable enthusiast. You feel in safe hands here, if you follow the careful admonitions. Beautifully produced, lavishly illustrated, and a rewarding to read – even if you never step outside with your forager's basket.
♦
♦
♦
♦
♦
♦
Diary of a Young Naturalist
by Dara McAnulty (Little Toller Books)
This exceptional book has already garnered other prizes, including the 2020 Wainwright Prize – and deservedly so. It is an inspirational account, impressively written, of the teenage author's passion for, and dependency on, nature to make sense of the world as he struggles with autism – and is an eye-opening insight on both.
♦
♦
♦
♦
♦
Tree Story: The History of the World Written in Rings
by Valerie Trouet (Johns Hopkins University Press)
An erudite, yet very readable account of the science of dendrochronology. If you thought counting tree rings simply tells you the age of a tree, you'll be in for a big surprise: tree rings also bear witness to changing climate patterns – and record the climate crises which have had a direct impact on historical events.
♦
♦
♦
♦
♦
Moss: From Forest to Garden: a guide to the hidden world of moss
by Ulrica Nordström (The Countryman Press/Michael Joseph)
This is a beautifully produced introduction to the world of mosses, with excellent photography by Henrik Bonnevier. It is not a comprehensive field guide (there are 800 species of moss in Britain alone), and makes no claim to be, but serves a handy and inspirational gateway.
♦
♦
♦
♦
Urban Forest School: Outdoor Adventures and Skills for City Kids
by Naomi Walmsley and Dan Westall (GMC Publications)
This is another in the series of beautifully produced and illustrated, large-format books that have already won Woodland Books of the Year Awards in the past (Forest Craft by Richard Irvine in 2019, and Forest School Adventure, also by Naomi Walmsley and Dan Westall in 2018). The authors, by the way, are participants in the recent and fascinating Channel 4 series "Surviving the Stone Age" – bushcraft put to the test!
♦
♦
♦
50 Fantastic Ideas for Forest School
by Jamie Victoria Barnes (Featherstone/Bloomsbury)
One of a series of books for Early Years practitioners (other titles include 50 Fantastic Ideas for Science Outdoors). Plenty of good, inspirational ideas, enthusiastically presented, with easy-to-follow instructions.
♦
♦
♦
♦
♦
Wild Child: Coming Home to Nature
by Patrick Barkham (Granta)
Patrick Barkham is a natural history writer for The Guardian, as well as writing a regular country walks feature for The Oldie. This is a personal plea that children should be given greater opportunities to engage with nature. The narrative reflects on the author's own childhood and follows the story of his own children's experiences at Dandelion, a nature-based nursery school in Norfolk, and forest school. A thoroughly engaging book with a strong message (but deliberately not over-insistent).
♦
♦
♦
♦
♦
REGIONAL AND NATIONAL WOODLAND ORGANISATIONS
Leeds Coppice Workers
Based in Leeds, West Yorkshire.
http://leedscoppiceworkers.co.uk
From the website: "Leeds Coppice Workers is a workers' co-operative committed to restoring and managing neglected and underused woodlands in the Leeds area.
"We aim to create jobs in Leeds woodlands for our members and to promote the use of locally sourced woodland products within the Leeds area. We also aim to reintegrate local people to their woodlands, show how woodland can be managed in sustainable and ecologically sound ways and to train and share skills in woodland related activities.
"We have monthly volunteer days through winter and spring… We offer a range of coppice products, firewood and charcoal."
In one recommendation we read: "We have been working with Leeds Coppicers [Leeds Coppice Workers] for about a year now. They are a co-operative of woodland workers who are committed to getting undermanaged coppice back in to rotation in the Yorkshire area."
Another sent in this warm recommendation: "They're marvellous. They do contract work for us in our woods and work really hard. They're all extremely nice – and have great ethics."