Woodlands Awards 2021: Winners
The Woodlands Awards have been up and running for five years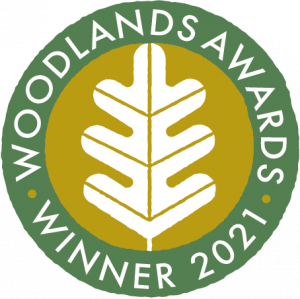 now, enthusiastically supported by owners of small woodlands, as well as members of the public keen to see deserving woodland activities and people acknowledged and rewarded.
In 2021 we introduced two new categories: "Makers in Wood" and "Woodland Toilets". Both attracted a host of good entries, especially the latter, where we have six winners.
This report is being published somewhat later that in previous years, but a time when not only the days are getting longer and the spring buds are already swelling, but Covid restrictions are at last being lifted. Covid has cast a shadow over the Woodlands Awards for the past two years. Let us hope we can put all that behind us as we head into 2022 and renew our woodland activities, and our search for talent, initiative and excellence.
Meanwhile here is a list of the 48 winners of the Woodlands Award 2021, with brief notes about why they have been selected as winners. Note that there are a number of winners in most of the categories. They are listed here no particular order: they are all equal winners!
♦
SMALL WOODLAND WEBSITES
An excellent blog-based website entitled "Blackbird Wood in Devon: Tales from a small woodland". It starts (18 February 2021): "A small private woodland in Devon: Don't laugh but we have just acquired a small woodland area. It is only three and a half acres in total, part of which is a field in the middle. The field, paddock or pasture say, is just over an acre in which we intend to have all sorts of outdoor adventures. Planted about twenty years ago it is mainly Oak, Hazel, Alder and Ash. Being around eight minutes from the house I can visit it most days with the dog and I have already found walking around under the trees very relaxing and therapeutic… 'Why have you got it Andy' I thought I heard you cry? Well, I have said before that we used to have an orchard in France and I have always really missed that. With this, we now have an opportunity to not only gradually try and manage the plantation by harvesting and planting different indigenous trees and creating an achievable woodland management plan but I also want to plant a small number of cider apple trees that are rare and native to Devon."
A series of diary-like blogs, with good photos and interesting text, regularly updated, tells the ongoing story, covering nature observation, projects and incidents – all admirably presented in a clear and approachable style.
WOODLAND PHOTOGRAPHY
Chris McSherry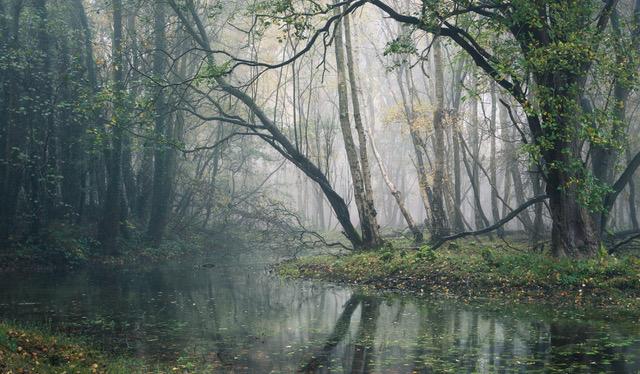 A collection of richly atmospheric photos of Skipwith Common (York), Foss Falls (Whitby) and Brayton Barff (Selby): gnarled branches, knobbly boles, carpets of moss, mist and reflections, and subtle pastels. All exude a sense of stillness and meditative observation – beautifully captured moments.
David Roberts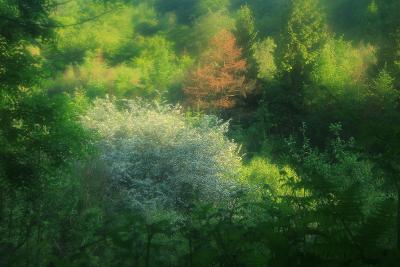 This collection of atmospheric photographs shows a subtle and distinctive eye for colour and the natural architecture within a landscape. All were taken in Wales: at Blaen Bran Community Woodland near Cwmbran (featured here), Coed Melyn Park in Newport and in woodland at Pontypool.
Peter Trimming
This winning entry was accompanied by a detailed and touching account from Peter, which provides the context:
"My wood is 'Snighow Wood', in Nether Wasdale [Cumbria], which I have owned since December 2015. Initially, I was not certain that I had squirrels visiting and, indeed, it was September 2016 before I had my first sighting of a red (probably 'Daniella'). I have kept the naming convention which I have used over at Forest How, Eskdale, where I stay whilst in Cumbria; 'D' was allocated to squirrels either known to be born in 2016, or making their first appearance in that year.
"'Daniella' became quite trusting during 2017, allowing me to follow her as she foraged in my wood and she gave several good photo sessions. Unfortunately, I did not see her from October 2017 until July 2020… Finally, we met again in the summer and autumn of 2020, with 'Daniella' being the more friendly of the two females visiting my wood. This year, for the first time in a couple of years, she has bred, confirming that a third red squirrel, seen in the wood, was a male!
"In late May 2021, I saw five squirrels in my wood. Unfortunately, two were grey; a mother and a daughter. 'Daniella' is very aggressive (note her torn right ear) and she was tracking the two greys. A little later, she chased the juvenile grey out of a tree, attacked it, and chased it off…
"The picture of 'Daniella' was taken on 3 November 2020. Having drawn a blank on the squirrel front, I was just leaving my wood when I saw 'Daniella' arriving from the west. Although I had left nuts in several locations, she made straight for the last location. I was really pleased, since this was a rhododendron stump which I had prepared, as a photographic location, four years previously; this is the first time that it had been used!"
Peter added an update in December 2021: "It's been mixed news on the squirrel front. 'Daniella' was at least five years old (quite old for a red squirrel) and had not bred for two years, due to a lack of a male in the wood. During last winter, a male arrived to join 'Daniella' and the other female. 'Daniella' bred successfully and probably moved on the other two reds. Sadly, her remains were found at the end of June; not a great surprise, since she had not been seen on camera for at least a week.
"The good news is that 'Daniella' had successfully reared three kittens; these were named 'Izzy', 'Ian' and 'Irene'. Of these, 'Izzy' has proved amazingly friendly and I hope that she stays around for a few years. In August, she was captured on film, by Dani Connor; the middle section of this film, featuring 'Izzy', was recorded in my wood: https://www.youtube.com/watch?v=NIHQ7na40ic." 
WOODLAND INSTAGRAMS
This is an excellent "woodland Instagram", created and regularly updated by the owner, now for over a decade, of an 11-acre mixed woodland on the Northumberland border. Featuring beautifully observed – and sometimes splendidly quirky – nature photographs, campfire food, woodland projects (including shelter and intricate "fairy houses"), woodland courses, book recommendations, all described in brief captions, this Instagram betrays an infectious and beguiling passion for wood and woodland.
The Dorset Bushcraft Club is a nonprofit organisation set up to "meet/camp once a month and swap skills and ideas set in a beautiful woodland… to build a strong network of like-minded people that can share ideas, views and information about Adventure Training, Bushcraft and General Survival Topics… inspire a new generation of Explorers, Adventurers, Bushcrafters and Survivalists... make outdoor pursuits affordable and accessible to everyone."
This is a very strong Instagram, focusing on excellent photography about the things they are doing, with brief captions – which gives a powerful visual impression of their work and their enthusiasm for it. This is reinforced by the recommendations, with comments such as "Dorset Bushcraft Club… are doing some amazing outreach things right now… on the Instagram you can see all the things they get up to. What was nice to hear was how inclusive they are, how shy folks or young people with special needs are always welcome."
"Art… weaver of leaves and vines… wild basket and jewellery maker" – words only begin to paint the picture of a stunning Instagram by a craftworker in natural fibres based in the Lake District. Beautiful photography, with muted, natural colours, plus short (30-second) how-to-do videos, create an alluring, carefully curated whole, described by one recommender as "a regular joy".
MAKERS IN WOOD
Steve and Tamara Davey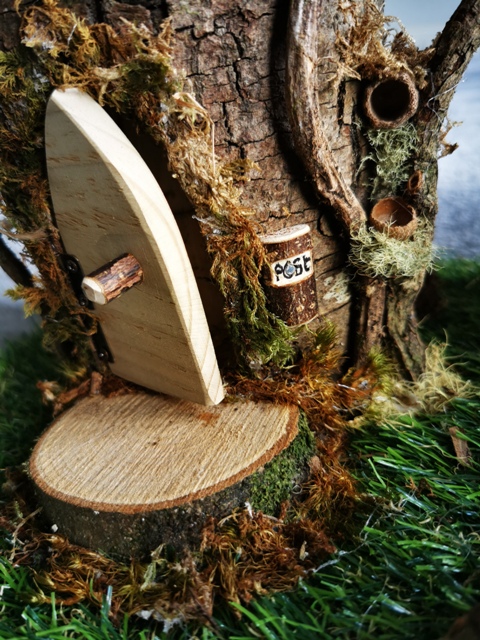 Steve and Tamara Davey use their own woodland in the West Country to source coppiced sweet chestnut to create fairy houses, which they sell at local markets in South Devon. "The windows glow in the dark," they write, "doors open and handles are made from hazel. We also supply a set of battery lights with them." The result is magical: full of imagination and charm – and will equally set the imagination alight of anyone who spends time with this work. Steve and Tamara also use their own hazel and sycamore wood to make pyrographed necklaces and pendants, paperweights, games and Christmas decorations. "We have been hampered by lockdowns but the signs are good and I think we will be able to make a go of it," says Steve.
Robin Elliott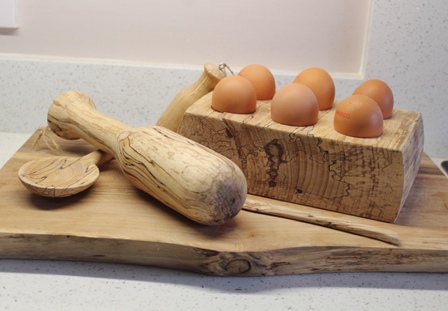 There is huge variety in this entry from small-woodland-owner Robin Elliott, who "makes items for special gifts, for family and friends, and for local charities and fund raising". "Badger pyrography on beech slab, oak key ring pyrography, tree stump side table, chopping board from milled spalted beech, dungeons and dragons player screen, Halloween tombstone, beech chopping board with ammonite, hand-turned and carved kitchen utensils…" It's a collection full of lively imagination, with a clear understanding of the materials, and their potential for creativity.
Peter Thomas
The recommendation was persuasive: "Peter, now an octogenarian, works from his workshop in the rural west Dorset countryside, where he produces stunning turned bowls and walking sticks. Peter is a long-standing member of Dorset Coppice Group and has provided not just inspiration but also advice and guidance to upcoming woodland craftspeople. He is widely respected within the county, by young and old alike, as a true artisan producer."
Peter shares a website with fellow Coppice Group member Trevor Ball and the text from the front page of their website sums up Pete (and Trevor's) work perfectly:
"Always seeking to find unusually grown, dead or diseased wood, they work with it, allowing the character of the wood to develop and express itself. This produces unique pieces that highlight the wondrous beauty bestowed by Nature and which is normally hidden within. An additional, but hugely relevant factor, is that by using this wood we are helping carbon sequestration, by using a material in a way that will continue to lock up carbon for years to come, to the benefit of the planet. The organic and reactive behaviour of wood gives rise to the use of the title 'Livingwood', as for both Peter and Trevor it is a unique undervalued material that never dies."
The quality of this work can also be witnessed on his Instagram: @peterlivingwood.
WOODLAND TOOL RECOMMENDATIONS
Dave Budd: Handmade Tools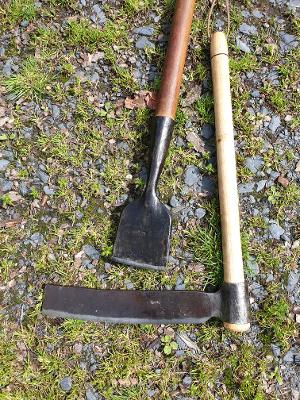 Here's one resounding recommendation: "I wanted to recommend two tools as I just couldn't choose to live without either. As a green woodworker and a new woodland owner, I am always in need of quality tools and for me local handmade tools are the only sustainable option. So when building the compost toilet roundwood timber frame and cleaving I use a froe and debarking spade. Both tools have been made by Dave Budd Handmade Tools and handled by myself. Dave works from a woodland in Devon and his forge is completely run on his own handmade charcoal!"
And here's another: "Dave is amazing. I have studied at his twice and own a couple of his amazing knives. A few years ago I took a friend with me to spend a day sharpening all manner of blades, including my pal's antique cut-throat razor collection. That was a grand day out, if you like beautiful sharp things (which I do). He [Dave] is a skilful maker, but also studied experimental archaeology at Exeter so has such a broad historical view on things, and deep technical knowledge as well as the hand skills."
You can see for yourself by checking out his Instagram @dave_budd_handmade_tools or his website: www.davebudd.com
Fiskars WoodXpert Sappie XA22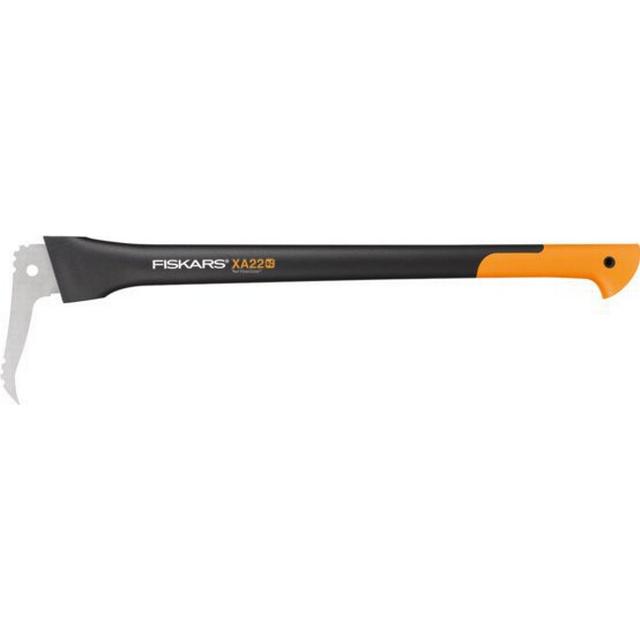 "Back hurting?" writes our winning recommender of the Fiskars WoodXpert Sappie XA22. "Tired of that repetitive bending over to pick up the logs you just cut and load them into your trailer? Well, maybe it's time you bought yourself a 'pickeroon'. No, it's not some strange device for exploring nasal cavities but a long-handled tool with a curved spike on the end to stick or 'pick' into firewood so you can lift it off the ground or use it to drag logs without bending. Known also as a 'sappie' or 'hookeroon', this is a great tool for moving firewood about. You simply stick the point in the end of the log, lift it then tap it off into the stack.
"I bought my Fiskars 28 inch XA22 model a couple of years ago. It gets used most days in the wood, especially for getting cut logs off the ground and into my pickup. It's brilliant for this. The Finnish-made Fiskars model is really well built, strong and, with its composite handle, incredibly light to use. The sharp boron steel point is protected when not in use by a plastic sheath and the long handle with its non-slip grip ensures a good reach and safe handling. They are available from most garden/forestry suppliers for around £55. For more information the Fiskars website should be your first port of call.
"It's a forestry tool I would not be without now – and my back just loves it too."
Ben & Lois Orford Knives
This industrious husband-and-wife team is based in Herefordshire. Essentially, he does the blades, and she does the leatherwork. Together they produce a huge range of high-quality, handcrafted knives, and much else, with fittings in elm, walnut, ash, olive, box, maple and yew, antler, bone and aluminium. As their website explains "Ben has been green woodworking and tool making for over seventeen years now and through his years of experience has gained the skills to provide the woodcraft and bushcraft enthusiast with some very well designed products… Ben has used this fusion of skills to produce a comprehensive range of tools for the outdoor enthusiast. He has travelled around Europe and the U.S. passing on the skills he has acquired.
"Lois has been working as a full time green woodworker and leather worker for over eight years now… With her skills and underlying love of craft she makes excellent leather products, all handmade with care and attention to detail. For every tool or knife that Ben makes, Lois custom makes the leather sheath.
"We do all our own heat treatment in specialist heat treatment kilns and test each blade after hardening to ensure full hardness is achieved, and then again after tempering to ensure each blade has the Rockwell hardness required."
If you need any further convincing, see Ben explain his craft and passions in this short film on WoodlandsTV.
WOODLAND HUTS
Kellie James / Shambhala Designs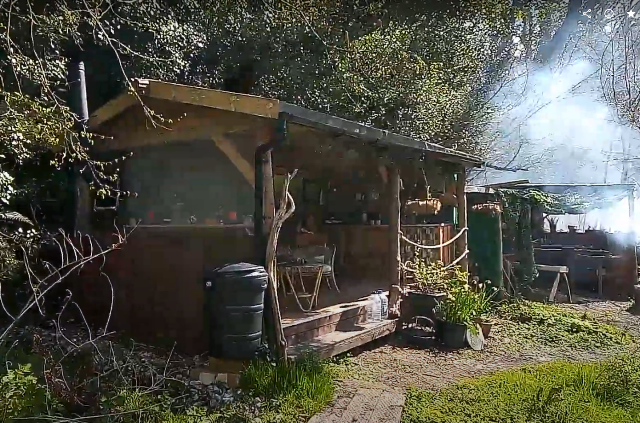 This woodland hut in East Devon drew the following comment from the judges: "A wonderfully atmospheric woodland hut. Practical, comfortable, welcoming – low impact and fits well into the landscape. Ticks all the boxes!"
Kellie James supplied the details and background story: "We built our 4.8m x 3m approx hut from mainly recycled materials, freebies that were gifted and wood from our woodland. We picked up a very cheap woodburner on Facebook and all the other bits have been collected over the years. We have space for cooking, sitting and even yoga! We put in a little gas boiler so now we have running hot water too! The front is open so we can sit, drink tea and watch nature.
"We've spent some incredible times there including a full-scale summer storm with thunder, lightning and torrential rain! We have candles and solar lights for the evenings and a creature-proof vintage metal cupboard to keep our supplies in... When we aren't there we simply pull across a couple of camo nets to keep out the rain and wind. We've got a water butt to collect off the roof and we were given an old boat bell so we can ring it to notify us that tea is brewed. We love our little space and hope you do too."
We do indeed!
For more details about Shambhala Designs ("handcrafted magical, ritual and New Age supplies", with very much a woodland theme), you can see their website, or look them up on Instagram.
WOODLAND TOILETS
Joanne Hedger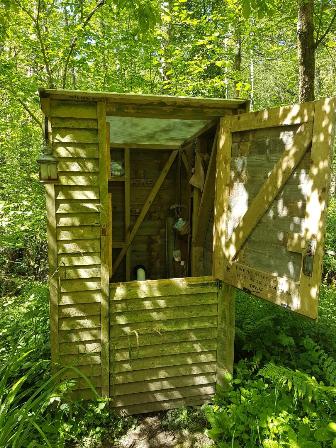 A classic, simple unobtrusive woodland dunny, with admirable emphasis on views outwards and upwards. The wooden structure contains a composting toilet that is designed to go inside a canal boat. Joanne Hedger writes that the toilet "was first built as a surprise for me by very kind friends of mine during a soggy February day whilst I was away overseas. It's the height of luxury for me, but apparently, a necessity for my awesome volunteers. It has a clear Perspex roof allowing lots of light inside and the stable door provides a cracking view, whilst maintaining a decent level of privacy… Every spring we carefully move the new primroses from the middle to the edges of the path leading up to the loo and it has now become quite a stunning walk to go do your business in the wood."
Neil Hopkins
Here's a woodland toilet with fairytale charm – and its ingenious solution to aeration. Neil Hopkins writes: "This compost loo has been built in a small patch of Celtic rainforest oak woodland that I was lucky enough to purchase at the start of lockdown and which became a lifeline for my family and very therapeutic for my foster children and myself and wife Jayne and now as an outdoor teaching venue for small groups and forest schools.
"[The toilet] has been built mainly from its surroundings: sessile oak poles and woven panels using goat willow, hazel, alder and birch. Its patented woodland-floor roof even utilised discarded plastic sheeting from the Wales leg of the GB rally!
"We built it as a family and learnt lots. It was a labour of love and built totally off-grid as the nearest road access is 1km away."
Alan, Jen and Joseph Kelly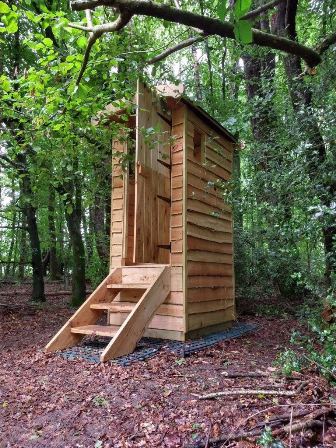 A very fine woodland "throne". The Award entry was submitted with detailed plans and photos of the construction stages. Alan Kelly writes: "For years our family has enjoyed 5 acres of woodland in the Chilterns Hills. Amenity and conservation activities are joyfully increasing, hence the compost toilet project.
"We obtained plans for a good design that looked manageable but demanded a plethora of non-standard tools and materials unavailable to the average citizen. With no access to a sawmill and woodwork shop we re-designed to suit local suppliers. This minimised the number and complexity of cuts, reduced waste and eliminated the need to bolt the structure together. The wood is Larch so needed no chemical treatment.
"The structure was processed in our small garage and back yard with the weather dictating when we could work outside. Transport to our wood was atop the car (copious lashings and 40 mph max!).
"The new system of luggage latches allowed components to snap together without screws. We were extremely proud to assemble the throne in a few hours on site. We forgot the head torch so raced sunset to get the roof on. It is now commissioned with a wheelie bin dry composting system, urine diverter and sawdust scoop for the cover material (kept from the cuts ). Finishing touches include loo roll holder, tin storage boxes, door furniture and a motion sensing LED light. It blends perfectly on the edge of our open glade ready for the camping season."
Lin Page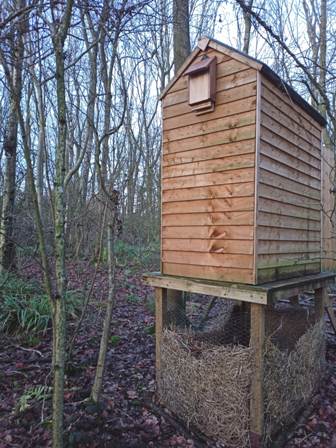 "There is nothing quite like answering the call of nature whilst listening to birdsong and the breeze in the trees around you," writes Lin Page, neatly summarising why well-built woodland toilets are much more than merely functional. Photos show not only the fine, completed "tree bog" (purpose-built to provide nutrients for neighbouring vegetation) but also the construction of the straw-box engine room.
"We bought our wood in March 2019 and soon decided that a toilet of some description would be an urgent requirement. After a lot of research we decided to build a 'tree bog' as it feeds the surrounding trees.
"We started with a 1 metre cubed platform with a hole in the top, with straw-filled chicken wire wrapped around to conceal 'the contents'. Then we added a set of slightly wonky steps (adds character). Having realised we didn't have skills enough for the building from scratch, we purchased a tiny shed which proved challenge enough to build 1 metre in the air. A box seat was topped off with the recycled toilet seat that had belonged to my Mum (she had died a few months previously). Fairy lights completed the inside and we added a nest box and bat box to the exterior. Two years on we are still very pleased with it and it has needed very little maintenance."
Small Family Wood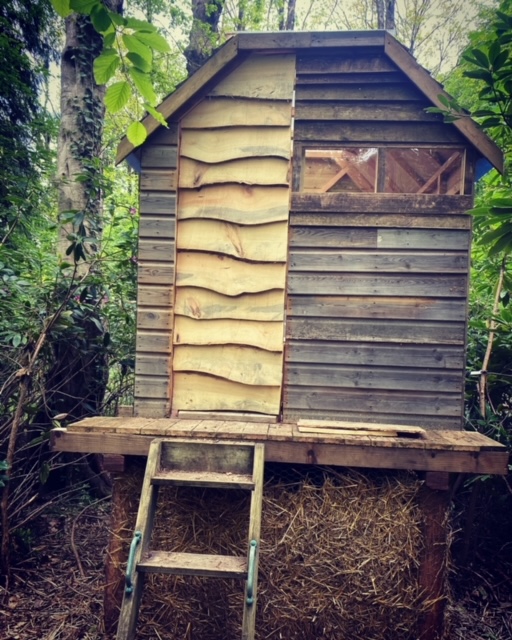 This attractive composting "tree bog" has an ingenious construction. "It's a repurposed play house," explains the entry from Small Family Wood. "I've altered the roof to reduce the height profile and allow more light in, altered the door from a child-sized one to a full height one utilising Douglas fir milled from our woods, with the whole lot on top of chestnut trunks from our wood (which were bark-stripped using a vintage draw knife) and the gap enclosed using recycled fencing from an old deer fence in our woods. All extra wood needed recycled from scraps. Total cost of around £100 plus a fair bit of labour!"
You can see more photos, plus plenty of details of other activities, on the Instagram @small_family_wood
Guy Thornton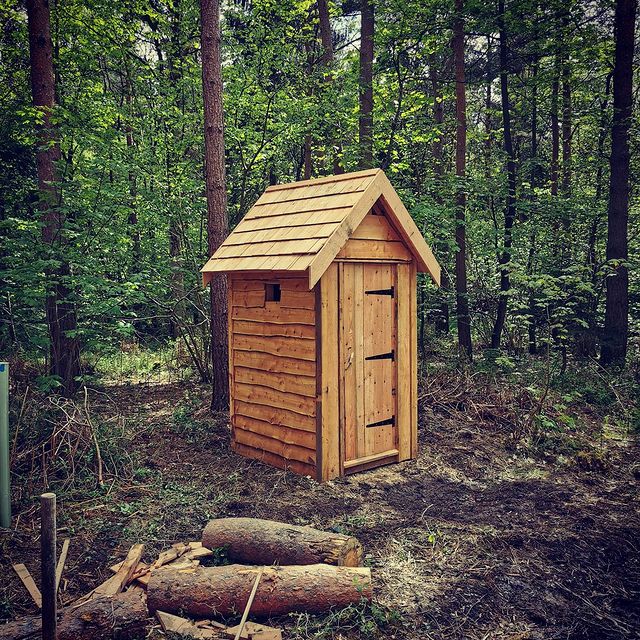 Guy Thornton's handsome compost toilet was warmly recommended by a third party, who pointed to the Thornton Heritage Crafts (THC) Instagram, @thorntonheritagecrafts, for further details. "Larch construction throughout except for the oak latch mechanism and cleft oak door handles."
You can see more about the toilet, and its construction, on his Instagram and his Facebook page, which includes a brief video of the toilet, and its very neat "off grid sink basin" (operated by a foot pedal) – as well as details of his Yorkshire-based business activities in "traditional greenwood carpentry, hedgelaying and forestry services".
WOODLAND CONTRACTORS
Sam Evans
Based in Llandeilo, Carmarthenshire, Sam Evans was nominated by a client who has been working with him for a number of years, "mainly creating and building tracks in our woods. He brings a lot to the table: he has a background in commercial forestry, commands great skill with the machines he uses, has an amazing ability to get to know all the neighbours in the vicinity whilst we're on site working, often sourcing stone/shale material through them, which sometimes results in employment for some of the local community. He has a great understanding of water management and often comes up with clever solutions."
Justin James
"I would like to recommend Justin James, a sole practitioner, as the best woodland contractor," says his glowing commendation. "Justin has worked tirelessly for Into the Woods Limited since 1 February 2021. The scope of the work was to diversify a commercial woodland with a glamping project on the side of May Hill, Gloucestershire. The skill set required for this work included:
Site foreman/organisation
Scheduling of a works programme
Sensitive removal of trees where required
Deep understanding of topography, plants, trees (flora and fauna)
Creation of tracks and bridge building
Site-specific layouts and construction
Construction of woodland toilets, kitchens and showers (7 sites in total)
"Having worked professionally as a commercial surveyor, I am aware of the breadth of skills required to manage a site such as Into the Woods. Add to that the knowledge of forestry and building sensitively and creatively and you will begin to understand why I am recommending Justin for this award. Simply put, we would not be in this position today without his continuous and ongoing efforts. He looked after the work team and educated them in work processes where required to further their skills and keep them safe at work."
Justin James is based in Huntley, Gloucestershire. You can find out more through the Facebook page of his business Grass Roots Garden Services.
Julian Miller
Julian Miller, of Miller Land Management, is based in Dover, Kent, but operates throughout England and Wales. "The best sub-contractor I have used this year… game changing," says the commendation. "He has put together excellent management plans and helped in gaining permissions etc etc."
Their website fills in the picture: "Our main area of expertise is in the production of woodland management plans. We have completed well over 200 woodland management plans, for woodlands ranging in size from under a hectare to over 800 hectares… We offer a broad range of experience and woodland management skills, including: Survey work including rapid habitat assessment, PAWS assessment, timber mensuration, boundary surveys, invasive species surveys… Management of contractors and implementation of a wide range of forest management operations, from planting to harvesting… A thorough knowledge of the regulatory framework, conservation legislation, and the requirements of UKFS and UKWAS." 
In other words, they would be a great asset to any new owner of a small woodland.
www.millerlandmanagement.co.uk
James Sutton
The recommendation for James Sutton and Sutton Tree Care – based in Mayfield, East Sussex – can be summarised neatly by its concluding words: "James has the equipment, the experience… and an admirable 'can do' attitude."
James Sutton's account of his career (on his website) recalls his early path and inspiration, and the importance of both formal training and hands-on experience: "I started my journey in Arboriculture in 2007 when I went on an arb and forestry taster day at Plumpton College. I loved the feeling of being high off the ground and close to nature getting a bird's eye view of the beautiful surrounding countryside.
"In 2009 I started the 2-year National Diploma in Forestry and Arboriculture at Plumpton College. This taught me the basic skills I needed to carry out work safely and competently, which was backed up by work experience with an established tree surgery firm. This gave me real world experience whilst being under the guidance of an experienced arborist, passing on his tips and tricks.
"In 2011 I decided to further my knowledge by taking up the offer to do a FdSc in Arboriculture at Plumpton. This gave me a greater scientific understanding of how trees live and grow, meaning I could adapt the previous techniques I had learnt to better help and care for the trees.
"In 2014 I decided I had enough knowledge and experience to start my own business. From then the business has grown and we continue to add and expand our knowledge by attending climbing competitions, seminars and courses."
Kajedo Wanderer
This is the recommendation that brought Kajedo Wanderer to our attention: "I would like to nominate Kajedo Wanderer who is the woodland manager of Findhorn Hinterland Trust. I have known Kajedo 35 years and over that time he has managed, conserved, planted, improved and protected the woodlands of the Findhorn community, Erraid community, Kinloss and Findhorn villages, and the nearby RAF base land overlapping with the village and community.
"Trained as an arborist in Germany as a young man, and now in his 60s, Kajedo has done more hands-on work for woodlands in Scotland than anyone I know, over 30 years. Now he is employed on a professional basis by the Hinterland Trust and advocates for all nature in the woodlands and grasslands of these three distinct human communities: military, village, and eco-community.
"He told me he has recently been studying lichens, as the woods he manages are a very important spot for Scotland's lichens and mosses. He is always learning and teaching, and regularly brings groups to study the woodlands with him."
Kajedo does not have a website or Instagram, but you can see him, his work, and the project at:
FHT Conservation Hub (findhornhinterland.org) and Findhorn Hinterland Trust - Home | Facebook.
FOREST SCHOOLS
Down the Woods
Founded by Caroline Langley in 2008, "with the initial aim of providing Forest School to the children in Hertfordshire", Down the Woods now has a solid track record that is winning the praise and admiration of the young participants and their parents, especially during these difficult years of the pandemic.
One parent writes: "My then six year-old son and subsequently my five year-old daughter were fortunate enough to attend DTW for the first time early last summer with a small group of friends, just as the initial pandemic lockdown was starting to ease. To describe it as a breath of fresh air would be an understatement. Caroline's knowledge and love of nature was immediately apparent and she wasted no time in letting the children get stuck into woodland activities and be themselves after months cut off from their friends.
"The sessions involved a mix of structured activities – setting up pulley systems to 'winch' teddies into trees, hunting for letters to spell out the names of woodland creatures, story-telling with a puppet, forest walks, bug hunting and the all-important toasting of marshmallows over a camp fire! But there was also lots of time for unstructured play, where the children could safely explore the woods themselves and make up their own games… It is no exaggeration to say that DTW has for us been the best thing to come out of the pandemic."
It is a sentiment echoed in another nomination: "It's no exaggeration to say that finding our way to Down the Woods helped our little group of families through the difficulties we all faced through the pandemic last year, and into 2021.
"When I found Down the Woods and approached Caroline in the hope she might be willing to take a small group of children on board, I had only heard of the benefits of forest schooling. What I saw exceeded all the recommendations I'd heard and all the articles I'd happened upon. Down the Woods took our locked-down, confused and switched-off little ones and opened them out into themselves again. The children were bounding out in rain or shine and bounding back to us full of pride in themselves at what they'd done and everything they had learned along the way. Their times with Caroline were the sunshine in a difficult year and not only has their shared experiences of team work and challenge bonded them as a little group (helped along by some fire-making, s'mores and loads of fun, no doubt!), they have in turn taught us, the adults, so much about the natural world around us too. I don't see a time when the forest school ethos isn't with us in some shape or form! The children have stretched themselves with lots of fantastic challenges (rope-work, making the fires, bug-hunting, they've done so much and loved it all) and they have grown in confidence in a really wonderful way. Down the Woods has definitely unleashed six little Forest School ambassadors on the world!"
www.downthewoods.org  ♦  www.facebook.com/downthewoods
Marston Vale Forest School
"We have been attending since my eldest daughter was 21 months – she is now four, and her 16 month-old sister attends with her," writes one of this forest school's recommenders. "I always knew this forest school was special – Shona [founder, in 2013] leads with natural skill and ease, whilst clearly putting in a lot of thought and effort into the sessions: her set up is consistent enough for children to thrive, whilst different enough to capture their imaginations – however, it has really come into its own during the pandemic, providing a lifeline to the children and adults attending. She really does provide an inspirational experience in an outdoor environment."
Another says, "My son and his father have been attending this forest school for about a year now. They have been to two others but have stuck with this one as there is so much to do and very well organised! My son loves the mud kitchen, running around the open space and the hot chocolate at the end of each session!"
https://www.marstonvaleforestschool.co.uk
Muddy Feet
Muddy Feet was founded by Alexandra (Alex) Williams in 2013. Based in Cherwell on the North Oxfordshire, Northamptonshire, Buckinghamshire borders, it operates in a number of different locations across the country, both urban and rural, and also offers online training.
It has engendered unequivocal enthusiasm from some of its supporters. "Muddy Feet is a truly fantastic forest school, filled with adventures, discovery and fearlessness." "Muddy Feet is the best forest school EVER!!"
"I go with my three year-old, and every single week they blow my mind with the creativity they put in – from snail races to fishing in the stream, clay from the riverbed to making nests. The leaders are truly inspirational, not just for the kids but for the parents too. I have learnt so much from Alex, Jo and the team about how to bring nature into everything we do at home, and my little girl is no longer scared of bugs but bold, inquisitive and adventurous. Parents just get involved, stomping through the streams, collecting leaves and feathers, and just properly looking at the world and opportunities for play that are everywhere. It's absolutely priceless."
From another recommendation: "My kids have joined Alex Williams and her team in every season in every type of weather for years and always come home buzzing (and muddy)!! They are allowed to be children and play in nature away from technology in mixed age groups where they learn about team work, leadership and resilience. The freedom to create and decide how and what to do each day is incredibly liberating. Being able to have your lunch at 10am if you want is apparently amazing. They have learnt so much about the nature and are given levels of responsibility that develops their confidence every time they go. They have learnt to use tools and manage the fire and earnt the badges in recognition."
Nature of Learning Forest School
Sarah Allington runs her Nature of Learning Forest School at Ashdon, Church End, near Saffron Walden, where "they have created a wonderful woodland community at and beyond their site," in the words of one recommender. "Not only does the space hold a special place in our hearts, but the people do too… Both my children have been encouraged to develop their own interests in the woods, and have grown in confidence and knowledge throughout our time there… Sarah and Heather have nurtured a love of nature and the outdoors in both the children and me. More recently, they have been sharing the ideas behind the Forest School ethos which gives us all a greater understanding of how and why they run things the way they do. In addition, they are enthusiastic supporters of trainees in Forest School leadership, actively encouraging others to develop their knowledge and skills."
Another writes: "My boys absolutely adored their sessions at Nature of Learning Forest School. Their confidence grew and also their love and admiration of nature grew too... Their learning was entirely child-led, and watching them be inquisitive and develop a sense of wonder was a real delight."
https://natureoflearning.co.uk  ♦  www.facebook.com/natureoflearning
Priory Park Infant School, St Neots
A beautiful three-minute video of the forest school activities at Priory Park Infant School, St Neots, sets the scene – accompanied by the voiced soundtrack of "Hidden Woods", a poem about the benefits of forest school by Hollie McNish.
The website explains how forest school activities are integrated into the curriculum. "Our children go to Forest School every other week, throughout the whole three years they are with us." Reception and Year One children are taken into the Wild Area within the school grounds; Year Two children go to the woodland at the edge of Priory Park, near the school.
Recommendations from parents included the following comments: "My son has been attending forest school at play group since half term, and hearing how much enjoyment it brings him is so uplifting… it's always the highlight of his week to take part and investigate new things at forest school. I can't compliment/recommend the forest school enough: it is a wonderful addition for our young people. Seeing them thrive within nature and using their imagination all whilst learning practical, social and academic skills is truly wonderful."
"My daughter loves attending and often comes home with stories of the Blackbird who comes to visit them most lessons. The amazing things they learn about the nature around them and also the skills they learn throughout their lesson..."
"I am the parent of a current reception year student and the forest school was one of the reasons I picked this school for my son. He gets to spend every other Monday morning there and it is the easiest way of getting him excited to go to school on a Monday. The staff are so engaging and often on our own walks out and about, my son will pick out particular birds. One of which is 'Johnny Blackbird' who he is convinced follows us from the school. Johnny is a blackbird that nests in the school site – he's a sensible bird that knows where he's going to get fed and both staff and children have gotten very attached to him. Regardless of the weather, they are out and about and one of my favourite things about forest school is that you find that the children often play with different groups and this really helps to break up the cliques that otherwise exist in the classrooms. This is actively encouraged and the school splits the classroom in half with one half out and one half in the classroom. It's great for class sizes and especially good for those children who learn by doing."
www.priorypark.org.uk/our-forest-school
Rain or Shine Forest Preschool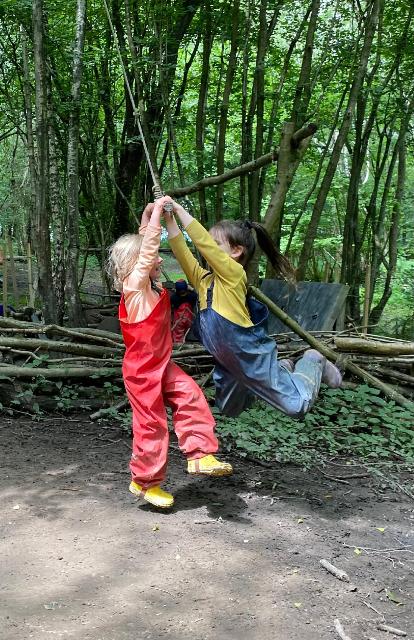 Rain or Shine Forest Preschool is a full-time outdoor preschool for children aged 3–7, providing daily schooling, Mondays to Thursdays during term-time, at two sites in Kent, at Bidborough and Leigh. They also run a holiday club in Easter and summer holidays for children aged 1–8.
It received a dozen or so recommendations from parents. Here is a sample of their comments:
"Our daughter has attended Rain or Shine Forest Preschool [at Bidborough] this academic year. The facility is a full-time 100% outdoor preschool where the children are cared for by the staff (the parents do not attend as in some forest school settings). We have nothing but praise for the excellent site and staff, along with the guidance and care that they have provided to both our daughter and her friends this year. We have had our eyes opened to the amazing way the children learn through play and we have been very impressed by way in which the school documents and communicates this progress so clearly to the parents. Not only this, but we also get daily photos of our daughter's activities at Rain or Shine so we can share in her joy at playing in the woods."
"I am about to enter my fourth year as a parent of this preschool and I cannot put into words the transformative effect it has had on both my children. The setting and the fabulous staff have helped my children to flourish into confident, independent and world-curious children. Besides its phenomenal educational environment I can honestly say that the last 15 months have only been manageable because of this forest school. The way that they have remained resilient and yet vigilant through the pandemic has helped me keep sane. My child has continued to learn through play without the world-anxiety."
"I would like to nominate Rain or Shine forest school in Leigh, Kent. It is a truly magical environment for the children to learn, thrive and grow, exploring every aspect of nature with the guidance of the amazing teachers. They encourage the children to be independent , creative and kind. Every possible opportunity is given for the children to try new skills, from the use of knives and tools to preparing vegetables for soup. It is a special place, with so much space for the children to safely explore. They can climb the pirate ship, spin on the monkey rope, make mud pies in the mud kitchen for the café. They learn about safe rules around the fire circle, sing songs, read stories, create imaginative ways to learn numbers and letters. It is a unique beautiful place , surrounded by bluebells in the spring, with fields alongside that deer run through. But what makes Rain or Shine special are the wonderful, passionate, kind, loving staff, who care about the children and give them the best experience, preparing them for life ahead."
"Both of my sons (7 and 4) have been to this preschool and we have been beyond impressed by everything about it… As parents, we've found it the most outstanding place for our kids. The communication with parents is incredible, the activities are so creative and thoughtful, the team are incredibly nurturing and they adore their jobs. The first time we walked in five years ago, it felt like we'd walked into a children's book. It represents everything that childhood should be and it's been a total haven for the kids during this incredibly rough 18 months."
"The team that run the preschool do an amazing job at teaching the children about their surroundings and safety, as well as showing them how to explore and develop independently… They certainly deserve recognition for their brilliant work. All of my children love spending time outdoors and in the forest so I thank Rain or Shine for being there to help them make friends and find a further love of the wilderness."
"Children are encouraged to notice the weather, to make measurements, to understand the seasons, to cook on a fire, to use tools, to take risks and, above all else, be free to play as they wish. My daughter has absolutely thrived in her time with the wonderful and passionate team at Rain or Shine – even smiling after a day out in -7 degrees in the snow."
"Rain or Shine (and the wonderful team behind it!) are dedicated to fostering a nurturing environment for the children and the surrounding woods/wildlife. Our son attended for two years and came out with unmatched confidence to take on anything. He also has an innate respect and love for being outside, and is forever looking after injured critters."
"Our daughter spoke and still speaks passionately about her days in the woods. Not only does she now absolutely love the outdoors in all weathers but shows such respect for nature and our planet for someone so young! Thank you Rain or Shine!"
"My son started at the Bidborough site in September 2020. He has really enjoyed every day there and grown into a caring child with amazing imagination. I love that children at Rain or Shine use their own imagination and they don't need toys to keep them happy. The staff is absolutely amazing, very caring , fun to be with and full of knowledge, ready to answer all the curious questions that preschoolers can have. [My son] always says he loves all his friends and he loves all his teachers. It made him so much stronger, and he often surprises me how tough he can be. He often says 'I don't care about cold… I don't care about wet.' "
www.rainorshineforestpreschool.co.uk
Wood Learn Forest School
Wood Learn Forest School was established on the Isle of Wight in 2010, and is the first independent organisation of its type to operate on the island. As its website puts it, it works "with schools, youth organisations and private individuals to deliver specially tailored forest or beach school programmes and 'bushcraft' activities for children, and adults, of all ages and abilities."
"It's an amazing learning journey for young and old alike," says one parent whose daughter has attended. "It's a delight to see her and the other participants so excited to be there. I believe you have to engage both children and adults in all learning and make them hungry for more; this certainly happens, and the amount of knowledge my daughter can now demonstrate through attending, both practically and academically, is incredible. Their motto is 'if they're laughing, they're learning' – and this is most definitely the case."
http://www.forestschooliow.co.uk
WOODLAND COURSES
Fergus the Forager
Fergus Drennan has been a professional forager for over 15 years, and now passes on his knowledge in regular full-day courses in Kent, Sussex and London.
Courses include: fungi identification, full day foraging and feasting, fungi foraging and feasting, wild foods of London Parks and Green Spaces.
"Fergus the Forager is running superb courses and also gives away so much info on insta," say one recommender. "I did Coastal Forager with him and it was life-changing! Now I regularly forage seaweed to eat."
https://fergustheforager.co.uk  ♦  Instagram: @fergustheforager
Theresa Emmerich Kamper
"I am an experimental archaeologist passionate about outdoor living skills!" writes Dr Theresa Emmerich Kamper. "With a PhD in experimental archaeology and over 26 years of experience in prehistoric skin tanning and clothing construction, Theresa is an internationally recognised traditional living skills specialist."
She runs courses in traditional tanning (deer-skin tanning, fur tanning), whole animal processing and a variety of prehistoric skills (threads from nature, basic leather sewing, rawhide sandals).
To quote from a recommendation: "She does amazing natural tanning courses that I have attended and they are so good, held in woodlands… I have attended four courses with her. She is so enthusiastic and knowledgeable. She manages to pass on lots of information while demonstrating, so that you learn both with the eyes and by listening. She is also really helpful with students as they try tanning or deer butchery first-hand after the demo. You always feel able to have a go in her classes."
www.theresaemmerich.com  ♦  Instagram: @traditional_leather
John Rhyder / Woodcraft School
Woodcraft School's website explains the background, and what they do: "Woodcraft School is a training company owned and created by John Rhyder who has subject specific teaching experience dating back to 1994. John and the small team at Woodcraft School have been responsible for creating and delivering innovative and respected courses highly sought after by beginners, enthusiasts, instructors and professional naturalists since 2000.
"We specialise in teaching pragmatic and realistic skills that have close links to the traditional skills of our region [they are based in West Sussex] especially bushcraft, wildlife & wildlife tracking, ethnobotany and bow making. Our specialisation in these key areas leads to an in-depth, intimate and unrivalled knowledge with the aim to enhance your experience with the natural world."
Courses include: bushcraft and natural history, wildlife identification and tracking, practical ethnobotany and plant identification, traditional bow making, and woodland management for conservation and recreation.
"Amazing courses!" exclaims a recommender. "John has a deep and infectious knowledge for landscapes and the plants and creatures in them, and his courses are testament to this. He runs short and long courses suitable for beginners and the more seasoned woodlander with a dry sense of humour, making sure everyone feels welcome. He makes woodcraft accessible to all, takes all the macho out of bushcraft – I would recommend him highly if you are looking to expand your knowledge and to experience a deep connection to woodlands in the UK."
Wilderness Survival Skills
The mission is clear from Wilderness Survival Skills' website: "Our 21st century life gives us warmth and light at the flick of a switch, shelter, most of us food whenever we want it, water with the turn of a tap and travel without getting sore feet yet so many people are drawn back to wild places despite these comforts. It seems that we can't get the wilderness out of our systems!... On our courses based in Wiltshire we strip everything right back to basics to re-kindle this knowledge. We mix up-to-date outdoor training with realistic and achievable skills from our past. You will spend time learning about outdoor safety, how to light a warming campfire in all weathers, build a warm, waterproof shelter from natural materials, make comfortable bedding, find food and water, even craft containers, utensils, tools and clothing using ancient skills."
Courses include: The Hunter Gatherer Challenge (4 days); Deer In A Day; 2-Day Kuksa Cup Carving Workshop; and Living Wild 4 Days, which is described as follows: "This is a no nonsense minimalist, fully immersive wilderness living training course. It most definitely ISN'T a tea break and biscuits, toe dip kind of survival & bushcraft course, lessons will be learned through doing."
Recommenders say they have "come out with amazing skills" and "the confidence to be in the woodlands".
http://wilderness-survival.co.uk
Woodland Makers
Woodland Makers has won its Award for "great courses run in a lovely location".
"Our woodland workshop is situated in the beautiful Herefordshire hills just outside Bromyard," reads the website. "The workshop is secluded in a woodland that overlooks the Malverns – a clearing in the middle of the woods, protected by a simple structure and a clear tarp is where we create, share meals and evenings around the fire… On site we have simple accommodations like cabins, benders, camping pitches and a yurt."
Courses include: traditional chair making, build a bowl lathe and learn to turn bowls, axe hafting and sheath making, and advanced spoon carving.
www.woodlandmakers.com  ♦  Instagram: @woodlandmakers
COMMUNITY WOODS
The White Wood, Huntly
The White Wood, at Huntly, in Aberdeenshire, is both a community wood and a notable art project, overseen by Deveron Projects.
The website provides the background: "The White Wood is a living monument to peace, which will develop over three hundred years. As a site of reflection, it was created by the community of Huntly and artist Caroline Wendling, with oaks from Germany, stones from France and Scottish soil. Along with forty nine oaks, grown from acorns from Joseph Beuys' 7000 Oaks in Kassel, the wood is made up of one thousand seven hundred native trees, shrubs and wild flowers, all of which displays an element of white, the colour of peace.
"While it was conceived in response to the centenary of the start of WW1 and symbolically represents peace between nations, the ideas surrounding the wood will continue to grow with the trees. As the oaks take three hundred years to grow, three hundred years to mature and three hundred years to die, the legacy of the wood greatly surpasses us individuals and any future we can imagine.
"To pass on this story we are engaging artists from all disciplines and the local community to develop the wood as a space for activities, inspiration and contemplation."
"This place is stunning," we read in one commendation, "grown for and with the local community, and full of walking and outdoor events with Huntly people. Deveron Projects are an amazing grassroots organisation."
The website has a video about the wood and its background, especially as an art project.
www.deveron-projects.com/white-wood
WOODLAND BOOKS OF THE YEAR 
A Brief History of Trees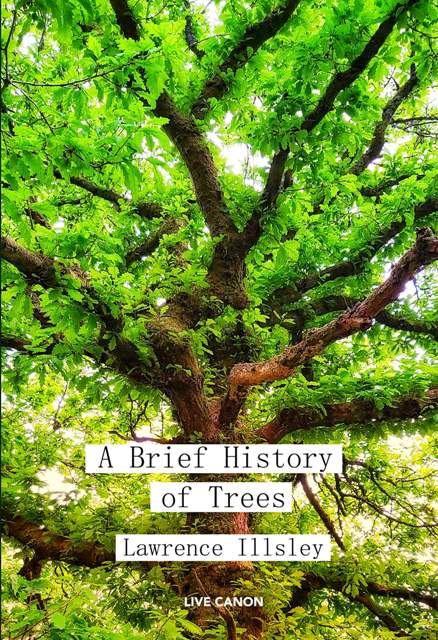 by Lawrence Illsley (Live Canon)
This is a collection of long(ish) poems in which Lawrence Illsley intertwines the loss of his mother with his admiration – and deep knowledge – of British trees and woodland. The poems are admirably and refreshingly clear and accessible, located in brutally real, recognisable places, and have a haunting, meditative beauty, and all lovers of woodland will recognise the resonances that the poet sets up between trees and real-life experiences. Each poem is pegged to a particular tree in Cornwall, Brighton, London and elsewhere, and explores the history, mythology, uses (in crafts, industry, medicines), anatomy and physiology of the species, and parallels this with personal experience. Lawrence Illsley is also a singer-songwriter: you can see more of him on YouTube and Instagram @abriefhistoryoftrees.
Ash
by Edward Parker (Reaktion Books)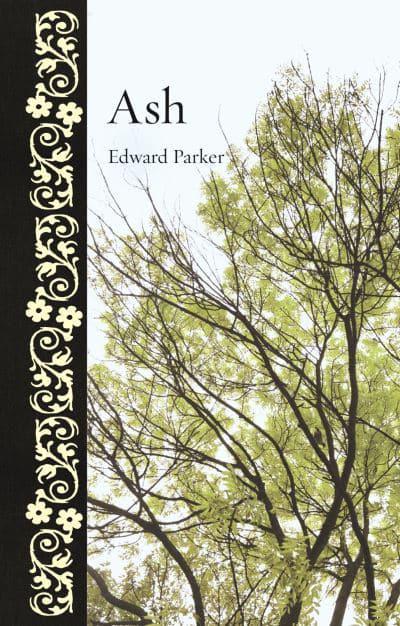 This is a new addition to Reaktion Books' "Botanical series", now numbering some 30 titles, "integrating horticultural and botanical writing with a broader account of the cultural and social impact of trees, plants and flowers". It is a handsome volume, copiously illustrated with photographs, drawings and historical prints, and with a thorough, well-researched but also admirably accessible and readable text. All aspects of the ash are covered here, including its sacred status in many cultures and its exceptional range of historical uses, as fuel and animal fodder, and to make medicines, weapons, wheels, tools, furniture, even aircraft, tennis rackets and baseball bats. And of course it lays out the doleful implications of ash die-back, "what could eventually be cited as one of the great tree extinctions of human times". Given what this book sets out to achieve, it is hard to imagine how the author could have done a better job.
Entangled Life: How fungi make our worlds, change our minds and shape our futures
by Merlin Sheldrake (The Bodley Head)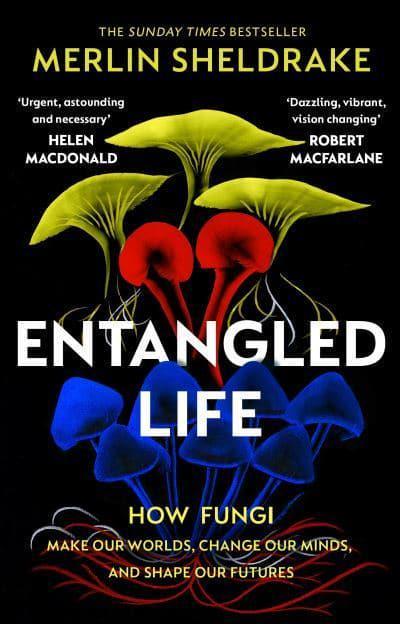 We have now all heard of the "Wood Wide Web", the fascinating and essential interdependency and intercommunication between trees and (mainly) subterranean fungi – so this book promises much for woodland enthusiasts. And it certainly delivers. But (as the subtitle suggests) it goes far beyond woodland. Scientist and researcher Merlin Sheldrake is a warm and companionable guide to these mysteries: evolution, animal symbiosis, the meaning of intelligence, drugs (in both senses of the word) – it's all here, with extensive endnotes that lead like fungal threads into numerous further associated ideas. Sheldrake brings an engaging modesty and inspiring sense of wonder to this still massively under-researched subject. Consider this: "The best estimate suggests that there are between 2.2 and 3.8 million species of fungi in the world – six to ten times the estimated number of plant species – meaning that a mere 6 per cent of all fungal species have been described." This is a book that will change your view of the world – and certainly make you look at woodland afresh.
Sharp
by Sean Hellman (Crafty Little Press)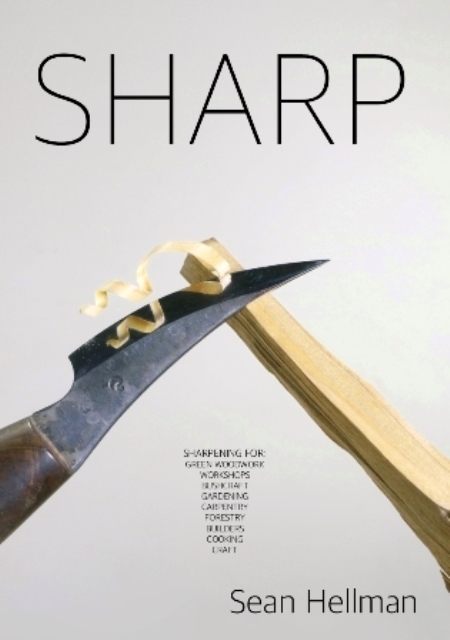 Sean Hellman is a mastercraftsman and green woodworker who in 2019 won a Woodlands Award for the Best Woodfair Trade Stands, when this book was already in development. It is no surprise that it has taken until 2021 to publish: it is an astonishing masterwork. The subtitle is "Sharpening for: green woodwork, workshops, bushcraft, gardening, carpentry, forestry, builders, cooking, craft" – in other words for just about any tool you might think of using. Hand saws, power saws, scythes, adzes, secateurs, drill bits, chef's knives, scissors, shaving razors – they are all here, and much, much more. Personal, hands-on experience, and an infectious enthusiasm for the task, make the text both clear and lively. "Investing in tools is to invest in ourselves, and beyond ourselves. Paying a day's wages for an axe that will last a lifetime, pays for itself within a very short time… disposability and obsolescence are follies that our ancestors would have been aghast at, and which affect our societies to our detriment, and our downfall." You should also invest in this book – because sharpening is definitely a major part of the solution. And, with its large format, 334 glossy pages and copious illustration, it's a real bargain at £25 (see his website https://seanhellman.com/product/sharp).
We Are Nature: How to reconnect with the wild
by Ray Mears (Ebury Press)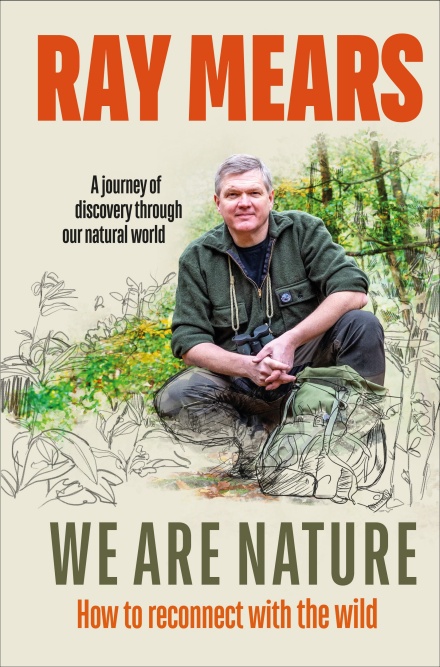 Ray Mears is of course famous as a naturalist, as an expert in bushcraft and survival and as an engaging TV personality. In this approachable, readable and witty book – full of interesting scientific facts, observations and practical tips, lightly delivered – he draws on his worldwide experience to show us "how to tune our senses, enhance our experience of nature and understand our place in it" (as the cover blurb puts it). The result is a revelatory field guide of the senses, and a persuasive appeal to us to reawaken, reappraise and re-evaluate our senses as a way to better engage with nature and ourselves. Ray Mears extrapolates from the benefits of rewilding (citing wolves in the USA) to suggest that "If we are to adapt to restored environments, we surely need to rewild ourselves too. Along the way, we will perhaps learn to know ourselves better and to come closer in understanding to the other creatures that we share our lifetimes with." Although his case studies involve primarily exotic species (tigers, elephants, saltwater crocodiles), he shows us how we can achieve this goal by tuning up our natural senses – something that all owners and frequenters of woodland surely have a head start on.
Wild Days: Outdoor play for young adventurers
by Richard Irvine (GMC Publications)
"Wild Days is for anyone who wants to get outside, explore and have and adventure," says the Introduction; "it's the perfect companion if you want a break from the world of phones, consoles and TV." And so it is: large-format, beautifully illustrated with photographs and drawings, it contains clear and inspirational descriptions and instructions for 50 outdoor activities. Environmentally sensitive, it also encourages adventure. "To be safe in the world, young people need to be allowed to take risks," it wisely posits. This is another excellent volume in the series produced by GMC Publications which has won the Best Woodland Books of the Year Awards in 2018, 2019 and 2020. Indeed, Richard Irvine's own previous volume Forest Craft won in 2019. GMC Publications are admirable leaders in this field, and this is a superb example of what they do so well.
Woodland Wild Flowers: through the seasons
by Alan Waterman (Merlin Unwin Books)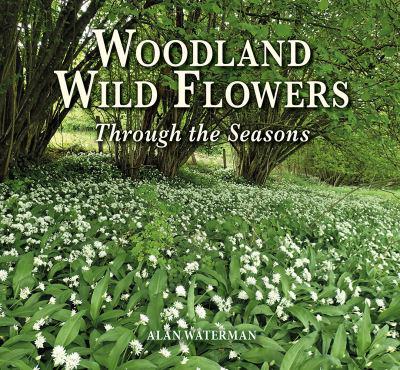 The Woodlands Awards knew of Alan Waterman's talents as a writer and photographer as a winner of the Best Woodland Blogs Awards in 2017 (for catbrookwood.wordpress.com), and – notable in this context – as a winner of the Best Woodland Websites Awards in 2019 (for woodlandwildflowers.com). He has developed the content of the latter into this handsome book. It showcases UK woodland wild flowers by giving each its own page or double-page spread, richly illustrated with admirably sharp photography and text that is both descriptive and winningly personal (and often humorous). The 170-plus flowers are arranged under the main season in which they appear, all fully indexed. So this is at once a spotter's guide, rich in background information, usages and lore, and a personal record of a passionate flower-hunter's own experiences and encounters – useful, informative and charming.
REGIONAL AND NATIONAL WOODLAND ORGANISATIONS
Confor 
The Confederation of Forest Industries, or Confor, has, as its primary aim "to support sustainable forestry and wood-using businesses through political engagement, market promotion and supporting our members' competitiveness."
Their website explains: "We are a not-for-profit organisation that works and lobbies on behalf of the private forestry and wood sector.
"Our strength is that we give a small sector a more powerful voice. We represent the whole forestry and wood 'supply chain' and focus on the strategic issues that are vital to the success and sustainable future of the sector. These include helping build the market for wood and forest products, creating a supportive policy environment, and helping members to become more competitive and successful."
For a brief insight into Confor's work, see the excellent 10-minute video about forestry and timber in the UK, "Our Forests, Our People", on their website home page.
Reforesting Scotland
Their website makes their case powerfully: "Scotland was once a well-forested country with a culture tied closely to trees and woodlands. Now much of the forest has been lost and environmental pressures, including climate change, threaten what remains. But Reforesting Scotland believes that it is not too late to reverse this situation.
"Our vision is for Scotland to have a well-forested and productive landscape as well as a culture which values the contribution that trees and woods bring to our lives. Since its beginnings in 1991, Reforesting Scotland has helped bring about a transformation in the way we, as a nation, view Scotland's forest resource and the level to which communities have become involved in managing their local woodlands.
"Reforesting Scotland aims to:
Promote a sustainable forest culture and economy in a well-forested land
Develop the use of locally-produced forest goods and services
Encourage social and ecological restoration in forests and in wider land use
Raise awareness of the benefits of low-energy living based on woodland resources
Place the Scottish forestry situation in an international context"
Projects include: their "A Thousand Huts" campaign, which supports the culture of recreational hut use to benefit people in Scotland; encouraging coppicing in Scotland with support and guidance; providing grants towards small tree-planting schemes in Scotland for members; promoting the sustainable harvesting and use of woodfuel under their "Wood Fuel Scotland" scheme.
https://reforestingscotland.org
UKFISA
UK Forest Industry Safety Accord, or UKFISA, plays a key role in promoting safety in the UK's forests and woodlands.
The website explains: "Representatives from the leading industry organisations have joined together to form the Forest Industry Safety Accord (FISA) which sets out the industry commitment agreed by each organisation to raise the standard of health, safety and welfare in the workplace."
One of the key, driving principles of the Accord is that "the UK Forest Industry believes that all fatalities and injuries are preventable", and it sets out the path to "a new safety culture where the health, safety and welfare of all those working in the forest industry is a fundamental priority" through "strong and committed leadership" and "involving everybody working in the industry to ensure individual and collective responsibility for health and safety, avoiding unacceptable risks and challenging unsafe practices."