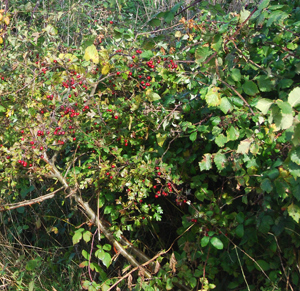 We British like our hedges – perhaps it's part of the British reserve, keeping people at arms' length, or maybe it's because they are very functional for keeping stock in fields and marking boundaries. For wildlife, hedgerows have long been important avenues of local migration and hedges represent their own distinct habitat.
The attitude of the authorities towards hedges has undergone a roller coaster ride over the last 50 years. In the 1970s, the government were paying grants for the removal of hedges with the objective of encouraging the creation of larger fields to make agriculture more efficient – these were bad times for conservation – Oliver Rackham describes these as "the locust years".  More recently grants have been available for planting hedges and their unauthorised removal in the countryside has become a criminal offence with the Hedgerow Regulations of 1997. Read more…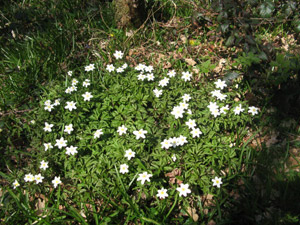 The second instalment to "my wood" has, like Spring,  this year – sprung rather too soon. I've been away for most of the last week starting work on a new area of woodland in Norfolk that I hope to be able to bring to market in the early summer. So after nearly a week of absence , I hurried across the field as the light rose on Saturday morning accompanied by Stig who seemed even happier than me, tail wagging frantically in the bitter frost.
Despite some savagely cold dawns, a couple of weeks of unseasonably warm weather has transformed the woodland.  It has been more of a boom than a Spring bloom this year. My hornbeam is in leaf, the hawthorn is in blossom, Read more…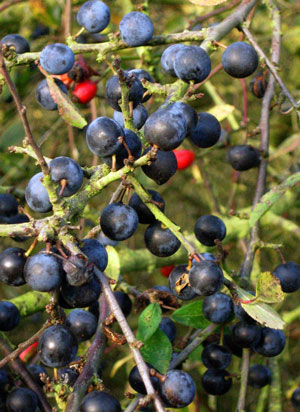 The importance of hedgerows in the maintenance of biodiversity cannot be over-emphasised.   Hedgerows provide vital food, in the form of a variety of berries – sloes, haws, blackberries etc,  for small mammals and birds (redwings, blackbirds) and hedgerow flowers support pollinating insects – a  variety of bees and butterflies.
However, the 'management' of hedgerows or trimming / flailing of a hedgerow can make a significant difference to its productivity – that is, the number of flowers and fruits produced. Read more…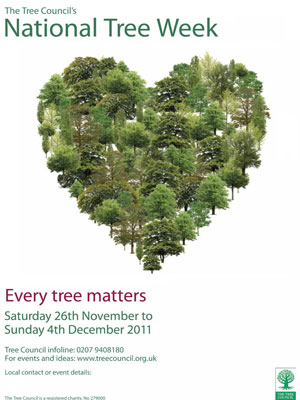 The Tree Council's annual tree weeks have been an undoubted success, emanating from the 1973  "Plant a tree in '73" campaign (some rather cynical individuals chanted "cut it down in '74") and must have resulted in not only in promoting the whole idea of trees but in planting many thousands across the country in parks, gardens, roadsides, corners of farmland and development sites to name but a few.  The Tree Coucil ( http://www.treecouncil.org.uk) is our foremost campaigner and umbrella body for UK organisations involved in tree planting, care and conservation.
Forestry and woodlands are a long-term business but those of us planting in '73 can see the fruits of our labours: we stand back and look up at the hornbeam, hazel, hawthorn and fieldmaple spreading wide and high;  the oak, ash, beech and birch are trees, a miraculous metamorphosis from those tiny whips planted during the cold winter months – it seems like yesterday.  We plant for the next generation but once established trees grow quickly so we can all enjoy watching them develop. Read more…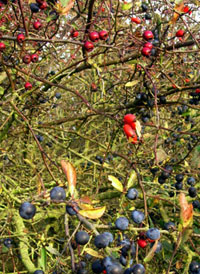 Why do hedgerows exist?  Many were originally planted to contain livestock (sheep, cattle, pigs, chickens), others existed to define boundaries – who owned which parcels of land.  Hedges often delineate fields; field is derived from the old English feld which means an area of felled trees.  However, hedge construction and management was particularly associated with the process of enclosure, which transformed the landscape of England.  This was often connected with the change of land use – from arable to pasture for sheep.  Read more…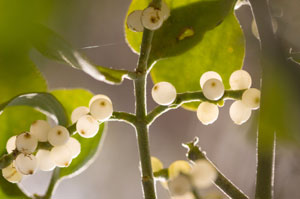 Mistletoe, one of the time-honoured symbols of Christmas is under threat!  For many years, the 'heartlands' for mistletoe collection have been the cider counties – such as Somerset, Gloucestershire, Herefordshire and Worcestershire.  However, many of the orchards in these areas have declined or have been lost over the last 50 / 60 years. It is possible that Mistletoe could become a rarity in our countryside. Read more…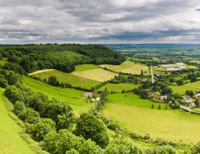 Hedges are an important part of our countryside, yet they are functional too.The use of hedges goes back hundreds of years (perhaps more) and is an effective way to keep in livestock and mark boundaries.They also have very important benefits for wildlife as they are home to many nesting birds, small mammals and many insects.Apart from being a habitat they also provide a corridor for the movement of animals across field systems and between woodland areas.Landowners need to maintain them but sometimes they get out of control (the hedges rather than the land owners) and once they reach over 4 metres in height they start to encroach upon fields and become "gappy" at the base.It is at this point that they need to be laid – ideally by an experienced hedge layer. Read more…
The papers regularly document the loss of species and habitats in tropical ecosystems, such as the rain forests. However, we are witnessing a similar phenomenon in our own back-yards.
The landscape and flora of the British Isles has been determined by the weather, geological movements and, more recently by humans and human activity. With the retreat of the glaciers associated with the last Ice Age, the underlying land was once again exposed, Read more…
Subscribe to our blog email updates