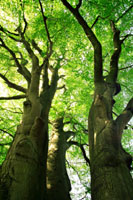 If you've ever wanted to see a demonstration of pole-lathe turning you can see a good one on www.woodlandstv.co.uk. 
The film shows parts of the whole process starting with splitting of ash using a froe and a beetle (a specialist blade and mallet) followed by preparation for turning.  The turners use a shave horse and draw knife to get the wood reasonably round before actually putting it onto the lathe.
Once on the lathe, you can see how the foot-operated treadle and the rope turn the wood allowing the operator to use a chisel to make a smooth spindle which he is making into a chair leg. A skew chisel is used to put a finish on the wood though there are many different specialist chisels shown.
Mick Sewel and Frank Wright describe how this process would have been used to produce hundreds of chair legs and other chair parts before chair making was industrialised.
see more demos and tips on woodlandstv.co.uk
Leave a comment
Subscribe to our blog email updates
Managing Your Woodland for Wildlife
A new book on encouraging biodiversity in your woodland. Available free here »