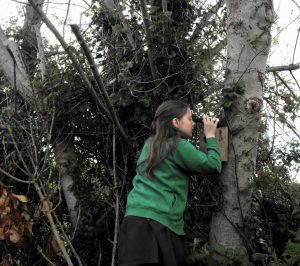 Hi, I'm Imogen and I am a big nature and woodland fan. In this blog, I will be showing you how I got a Blue Peter green badge, and also how you can get one.
In my point of view, us kids should be bonding with nature in the world around us. By having a go and applying for a Green Badge * encourages us to be outside.   Furthermore, it helps us learn that nature is not just something beautiful but also shows how birds live, flowers grow and much more about bugs, trees that we didn't even know about. By having a Green Badge, you can show everyone how much you care about nature and you could persuade others to try.  Just helping nature to grow stronger by providing more shelter for animals and bugs is giving us beauty in our woodlands and gardens. Read more…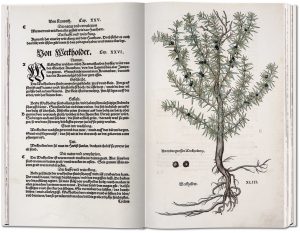 There is a long history of producing guides to help identify and explain the flora and fauna of woodlands. From the fine woodcuts in Leohart Fuch's New Herbal book of 1543 to the Woodland Trust's tree identification app. for smartphones in 2017, we have been naming and visually representing our plants and trees through the ages. Following this rich tradition Woodlands.co.uk have launched a range of educational posters designed to help primary school children recognise and understand what they can see in their woodlands. Read more…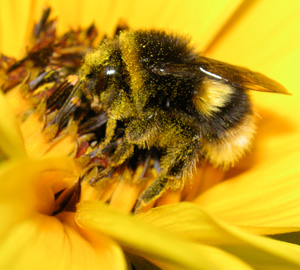 Bumblebees face a number of threats from habitat fragmentation, intensification of farming, loss of hay meadows and hedgerows, the use of insecticides and climate change.  Globally, many species of bumblebee are under threat.
Bumblebees are social insects, that is, they live in colonies.  A colony or nest is established by a queen, who lays eggs – which then give rise to several hundred 'daughter' workers.  Later in the summer, males and new queens hatch from eggs and they leave the nest and go in search of a mate.  When fertilised, these queens go on to hibernate – having fed on pollen and nectar in order to build up fat reserves for the winter months. Read more…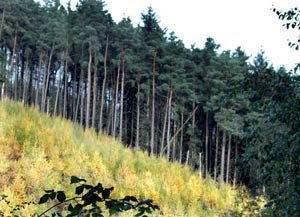 When you look at a small person (also known as a baby) you know that they will grow bigger in every dimension.  Trees don't grow like that. A tree's branch will stay at the same height however tall the tree grows: by contrast a child's arm rises to a higher level as he or she grows taller.
The reason for this is that trees only grow in areas called meristems where they form new cells. Cells are created by cell division (mitosis) within the meristems, and these cells then expand and specialise.  These growth areas are found at the tops of the trees, and the tips of branches; these are "apical meristems".  Growth also happens in the apical meristems at the ends / tips of the tree's roots. Read more…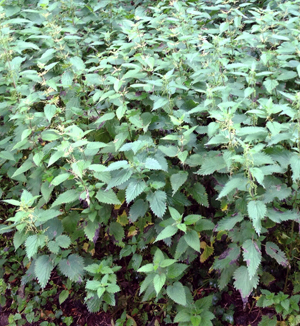 The woodlands blog has commented over the years about the loss of hedgerows, the homogenisation of the flora,  and the disappearance of roadside plants. The loss of roadside plants is due to
increasing eutrophication ('enrichment' of the environment with nitrates from fertilisers etc. which encourages 'botanical thugs' such as nettles )
the regular (and early) mowing of roadside verges.  If the verges are mowed early in the year, then early wildflowers are not able to set seed (and the seed bank in the soil is depleted).
Now there is an initiative by Plantlife to encourage local councils Read more…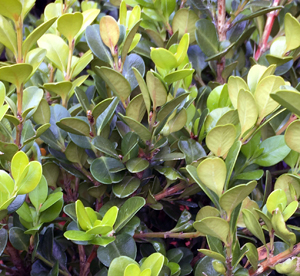 Topiary is often on display in our parks and gardens, and many of the stately homes managed by the National trust have exceptional displays.  One species that is a great favourite for topiary is Box (Buxus sempervirens).  Box has small green leaves and a dense growth habit; it is hardy and poisonous (contains an alkaloid – buxine, which causes respiratory paralysis).. It was once planted close to houses (according to folklore) to deter witches entering.  It was used extensively in formal gardens since Tudor times.   However, Box is now under threat from pathogens that result in Box Blight, and also the caterpillar of the Box tree Moth from Asia. Read more…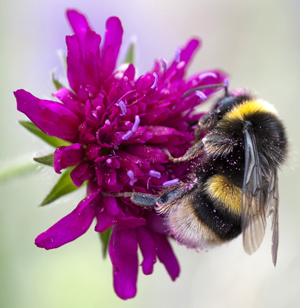 The warmth of recent days has seen bumblebee queens foraging among the Spring flowers.    They have emerged from hibernation.  They now need to feed and then find a place to create a nest.  The queen will then lay eggs, which will become 'daughter workers'.  Later in the season, males and new queens hatch – they will leave the nest / colony.  The new queens that are fertilised will hibernate after they have fed (heavily hopefully) on nectar and pollen from available flowers.
Researchers at the Centre for Ecology and Hydrology, the University of East Anglia, the Zoological Society of London and University College London, have been studying different generations Read more…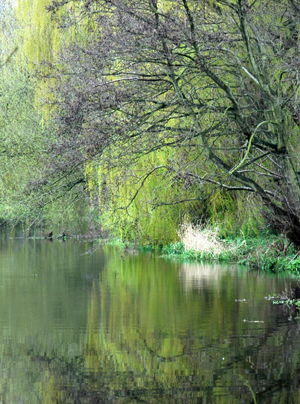 "People will only protect what they care about, and they will only care about what they have experienced" according to David Attenborough.  On this basis, Fiona Reynolds argues that we need to help the public to have easy access to the British countryside and to do conservation in a hands-on way rather than leave it all to professionals.  We must help people touch and feel trees and woodlands if we want them to be valued.
"The Fight for Beauty" is a 320 page book containing a magnificent account of the efforts to preserve British landscape, species and habitats in the 60 years after the war but as Reynolds admits it is still true that, "nature protection remains weak" and habitat loss has been severe as we continue to witness the sixth mass extinction event.  Read more…
Subscribe to our blog email updates