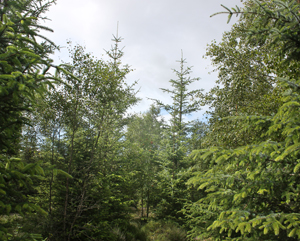 Since 1960 commercial trees in the UK have become about 25% more productive.  This has been achieved through selective breeding, mostly of Sitka Spruce and Scots pine where plants have been chosen for their rapid growth.  It has also led to better quality timber which produces more sawlogs.  Unfortunately according to the Forestry Commission's Steve Lee, no similar effort has been made with broadleaved trees so they have suffered a relative disadvantage compared to the progress with conifers.  He says, "We dropped tree selection for broadleaved trees in the 1960s because it was thought to be not worthwhile."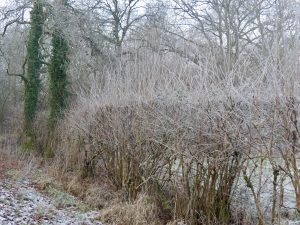 Much has been written about the loss of hedges / hedgerows over the last fifty to seventy years; one important work was   "Hedges' (1974) in the New Naturalist Series by Pollard, Hooper and Moore.  They suggested that hedgerows were lost perhaps at a rate of some 3,000 miles per year in the immediate post-war period (1946 – 63).   In the 1950's, the Forestry Commission suggested that there was one million kilometres of hedgerow (in the U.K).   In 2007, The Countryside Commission Survey estimated that there was some 477,00 kilometres of hedgerow –  suggesting that there had been a halving of hedgerows in the countryside.  Read more…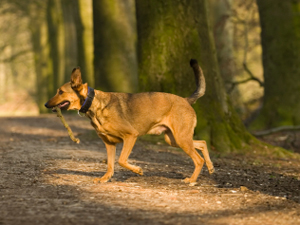 Dog mess has been a long-term problem in woodlands. As dog owners have been forced to clean up after their dogs in parks and streets over the last 15 years or so they have not always been so good at "picking up" in public woodlands or on footpaths in private woodlands. This could be because dog owners don't feel a need to clear up in "the great outdoors" or it could be that some people feel they are not being watched and can "get away with" leaving the dog's doings. A more charitable view is that in woodlands people leave their dogs to roam more widely and dog mess * left without the owner seeing what has been done or indeed exactly where it was done. Read more…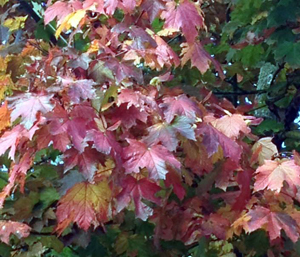 At this time of year, the pigments (xanthopylls, anthocyanins and carotenoids) in the leaves of deciduous plants break down giving the colours of the Fall.  These colours are particularly obvious in trees (like the Maples) in New England, on the East Coast of America – and they attract many vistors .
However, our trees and woods also offer impressive displays of colour and you can find your nearest wood (for autumnal colour) by visiting the Forestry Commission website.  Read more…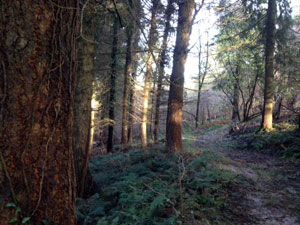 Every year Tilhill produce a report on the state of the forestry market and this was just launched. What their Forest Market Report 2012 shows is that UK forestry is dominated by Scotland where about 3/4 of transactions by value take place and the market is currently very buoyant – so much so that the average selling price in 2012 was almost double the average guide price. Even for these larger conifer woodlands the price reached about £6,500 per hectare. According to the Tilhill figures the average size of woods that come to the forestry market in Scotland is 157 acres (387 acres) whereas in Wales it is much smaller at only 66 hectares (163 acres). The report calculates that over the last 10 years average forestry values have gone up steeply and have increased by almost 17% per year. Read more…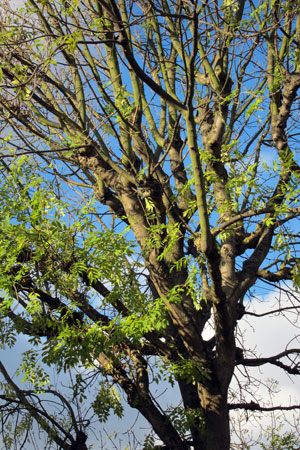 The last ice age endured for about 100,000 yrs.  Some 18,000 yrs ago, mammoths, sabre-toothed tiger and woolly rhino (preyed on by prehistoric man) roamed our land.  Thick ice sheets lay to the North, whilst to the South was tundra – much like that now seen in Northern Siberia. Then 10,000 years later, the ice sheets started to melt and the tundra receded; sea levels rose and low lying areas were flooded.   The North Sea and English Channel formed, cutting us off from mainland Europe. This was a gradual process (in our terms) and as Europe warmed,  trees migrated northwards – some reaching the UK before we were cut off from the rest of Europe.  Most plant colonisation was by seed and spores, animals followed bringing with them other taxa. Read more…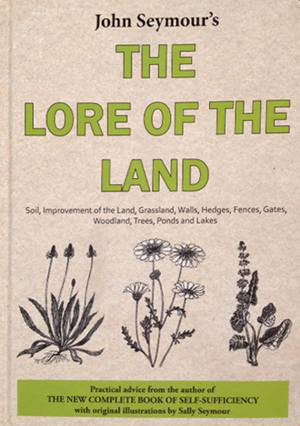 Have you ever wanted to know how to stop fence posts rotting, how to choose which trees to plant, or how to build a pond so that it holds water?  This guidebook, originally written in the early 1980s, is packed with tips and explanations based on John Seymour's own experience of improving his wooded smallholding in Pembrokeshire.  Lazy readers like me can follow the explanations through the drawings that Seymour's wife, Sally, has scattered through the book.  But it's not just a guide on how to manage woodlands and improve a smallholding – it's also a whole philosophy of life…….
"The reason", says Seymour, "why our land is so desperately badly husbanded now is that it is held in too large units."  Read more…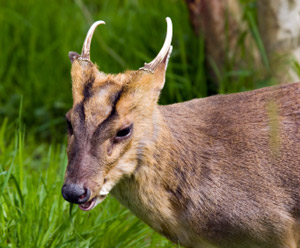 Muntjac deer ("Muntiacus reeves") are small but they reproduce quickly.  They are fast becoming a major threat to wildlife.  Because they tend not to eat agricultural crops, they are not controlled by farmers so they are in danger of 'eating out' the floors of English deciduous woodlands – which are so important to biodiversity.  These deer were originally introduced into this country by mistake after they escaped from Woburn Safari park in about 1925, and since then they have spread through most of England but are concentrated south of the M62 motorway (Hull to Manchester). Read more…
Subscribe to our blog email updates