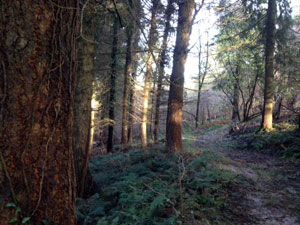 Every year Tilhill produce a report on the state of the forestry market and this was just launched. What their Forest Market Report 2012 shows is that UK forestry is dominated by Scotland where about 3/4 of transactions by value take place and the market is currently very buoyant – so much so that the average selling price in 2012 was almost double the average guide price. Even for these larger conifer woodlands the price reached about £6,500 per hectare. According to the Tilhill figures the average size of woods that come to the forestry market in Scotland is 157 acres (387 acres) whereas in Wales it is much smaller at only 66 hectares (163 acres). The report calculates that over the last 10 years average forestry values have gone up steeply and have increased by almost 17% per year. Read more…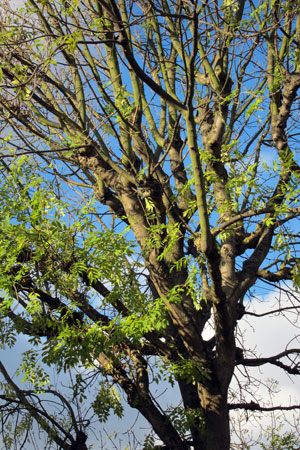 The last ice age endured for about 100,000 yrs.  Some 18,000 yrs ago, mammoths, sabre-toothed tiger and woolly rhino (preyed on by prehistoric man) roamed our land.  Thick ice sheets lay to the North, whilst to the South was tundra – much like that now seen in Northern Siberia. Then 10,000 years later, the ice sheets started to melt and the tundra receded; sea levels rose and low lying areas were flooded.   The North Sea and English Channel formed, cutting us off from mainland Europe. This was a gradual process (in our terms) and as Europe warmed,  trees migrated northwards – some reaching the UK before we were cut off from the rest of Europe.  Most plant colonisation was by seed and spores, animals followed bringing with them other taxa. Read more…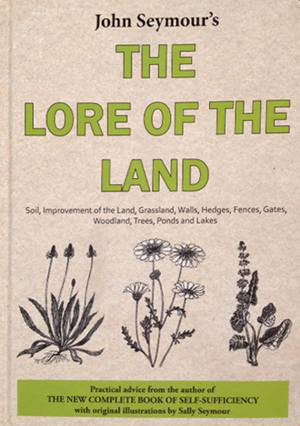 Have you ever wanted to know how to stop fence posts rotting, how to choose which trees to plant, or how to build a pond so that it holds water?  This guidebook, originally written in the early 1980s, is packed with tips and explanations based on John Seymour's own experience of improving his wooded smallholding in Pembrokeshire.  Lazy readers like me can follow the explanations through the drawings that Seymour's wife, Sally, has scattered through the book.  But it's not just a guide on how to manage woodlands and improve a smallholding – it's also a whole philosophy of life…….
"The reason", says Seymour, "why our land is so desperately badly husbanded now is that it is held in too large units."  Read more…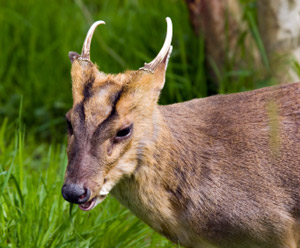 Muntjac deer ("Muntiacus reeves") are small but they reproduce quickly.  They are fast becoming a major threat to wildlife.  Because they tend not to eat agricultural crops, they are not controlled by farmers so they are in danger of 'eating out' the floors of English deciduous woodlands – which are so important to biodiversity.  These deer were originally introduced into this country by mistake after they escaped from Woburn Safari park in about 1925, and since then they have spread through most of England but are concentrated south of the M62 motorway (Hull to Manchester). Read more…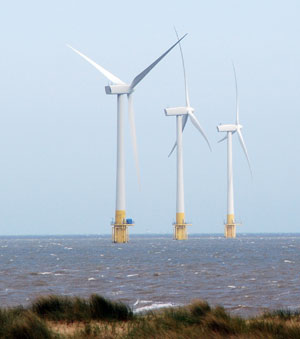 People respond emotionally to wind turbines but seem happy to see their neighbours installing solar panels. This acceptance of solar made me keen to install solar panels at home, which we have just done.
The process has taught me a lot, not least because it showed me how ignorant I was about the economics of domestic energy use – whilst we all know the cost of petrol few of us are aware of the price of a unit of domestic electricity – maybe physical volumes are easier to understand than something that goes down wires and is measured in confusing units.
Our 19 solar panels produce about 3.5 kilowatts, so if our annual production is about 1,000 hours we should produce 3,500 kwH of energy which turns out to be a high proportion of our domestic useage. Many British homes consume about this amount each year, so if I am able keep our consumption down we might even become net exporters. Read more…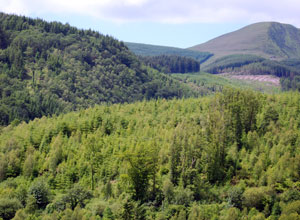 The Forestry Commission (FC) owns and manges over a million hectares of land and so must know a thing or two about UK forestry, and much is revealed in the Forestry Commission's formal accounts. This is a long document, at over 150 pages, but rather than pay £23.50 for it you can get the accounts online for free. Even though it's free many people would consider a set of Forestry Commission accounts to be a tedious read so we've been through them and dug out some interesting material. For example the key figure that the FC expect to pay for woodland management each year is about £72 per hectare or about £29 per acre per year, after taking account of income generated. Our surveys of owners of small woodlands show that they typically spend more than this on a per acre basis, so it is surprising that the report, rather dismissively, refers to strong demand for "hobby woodlands" and environmental ownership" Read more…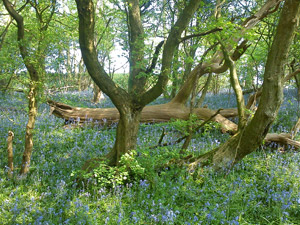 My wife and I decided on the purchase of a small wood a few years ago.  We were able to research financial, legal and physical practicalities on-line and www.woodlands.co.uk was the most useful site in our search for a suitable wood. We visited nine or ten woods  across the South of England, from Devon in the West to Kent in the East.  We were looking for a wood between 3 and 6 acres up to a  spend of about £40K. Some people spend as much on a car, whilst for us non-drivers – a wood is a much better, permanent investment, especially when financial products are looking risky.
But we weren't just looking for somewhere to bank money but a place of natural beauty and quietude to enjoy and preserve.   Our wood had to be accessible from London by public transport but still a rural gem away from built habitation.  We were ideally looking for a bluebell wood with a good mix of tree cover — not a conifer plantation. Read more…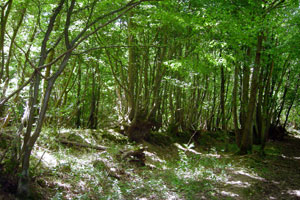 The Forestry Comission has just announced the first results of the National Forest Inventory (NFI); the NFI replaces the National Inventory of Woodlands and Trees (NIWT).  The 'woods and trees' inventory has been compiled (using various methods) since the 1920's when there was considerable concern about the 'stock' of woodland and timber that could used in an 'emergency'; e.g. when it was not possible to import timber from Europe or 'The Empire' as was the case during WW1. Read more…
Subscribe to our blog email updates