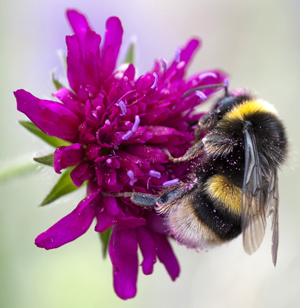 The warmth of recent days has seen bumblebee queens foraging among the Spring flowers.    They have emerged from hibernation.  They now need to feed and then find a place to create a nest.  The queen will then lay eggs, which will become 'daughter workers'.  Later in the season, males and new queens hatch – they will leave the nest / colony.  The new queens that are fertilised will hibernate after they have fed (heavily hopefully) on nectar and pollen from available flowers.
Researchers at the Centre for Ecology and Hydrology, the University of East Anglia, the Zoological Society of London and University College London, have been studying different generations Read more…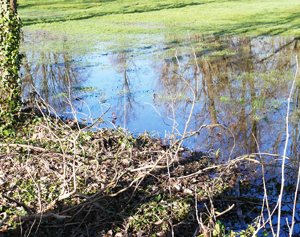 With the changing nature of our climate, so extreme events have become more frequent.  The last fifteen or so years has seen significant episodes of flooding.  Flooding used to be a relatively unusual event in the U.K.   In consequence,  efforts are now being directed at finding ways of mitigating the effects of extreme rainfall.
The risk of flooding is associated with changes in our climate (notably rainfall patterns) and the techniques of land management have changed with the mechanisation of agriculture,  the creation of simplified (larger) field systems, land drainage, increased stock densities etc.  The U.K. landscape / countryside has altered significantly over the last fifty years.   Read more…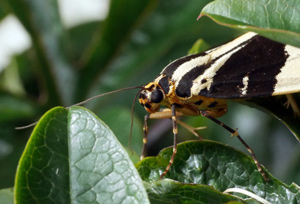 Many of the 'headlines' in newspapers etc.  speak about the loss of particular species (e.g. elephants, rhinos) and whilst these are important animals and the reduction in number of any species is a cause for concern, they are not necessarily good indicators of the threats to the millions of species that seemingly pass unnoticed.   In terms of sheer abundance and, indeed,  diversity of form – the arthropods, and particularly the insects are unsurpassed.
In order to know what is happening to our wildlife in general, it is a good idea to take a close look at what is happening to insect populations / species.   Fortunately, this is possible as since Victorian times Read more…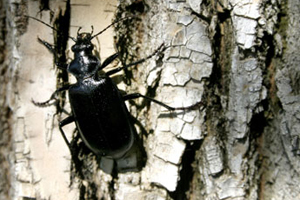 There have been various articles that comment on the decline in numbers / variety of bees and butterflies, now a recent study reported in the Journal of Applied Ecology comments on a worrying decline in the numbers of ground beetles or carabids.   Scientists at Rothamsted Research, working with the NERC Centre for Ecology & Hydrology have found that some 70+ % of ground beetle species have shown a fall in numbers.  The scientists monitored beetle populations at many locations throughout the U.K. over a time scale of some fifteen years. They found the decline in the abundance of ground beetles was comparable to those reported for butterflies and moths. Read more…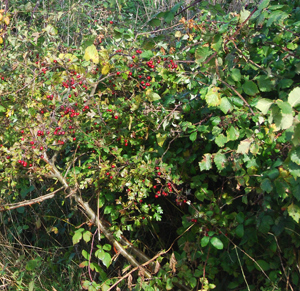 We British like our hedges – perhaps it's part of the British reserve, keeping people at arms' length, or maybe it's because they are very functional for keeping stock in fields and marking boundaries. For wildlife, hedgerows have long been important avenues of local migration and hedges represent their own distinct habitat.
The attitude of the authorities towards hedges has undergone a roller coaster ride over the last 50 years. In the 1970s, the government were paying grants for the removal of hedges with the objective of encouraging the creation of larger fields to make agriculture more efficient – these were bad times for conservation – Oliver Rackham describes these as "the locust years".  More recently grants have been available for planting hedges and their unauthorised removal in the countryside has become a criminal offence with the Hedgerow Regulations of 1997. Read more…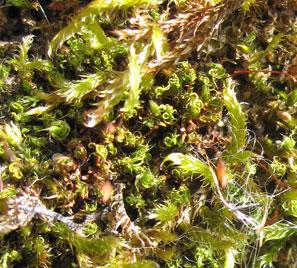 Nitrogen pollution, in the form of nitrates, ammonia and various oxides of nitrogen, is a threat to ecosystems, ecosystem services and biodiversity.   Monitoring and measuring such pollutants in rain and air borne particles is expensive and, ideally, needs frequent samples.
It has been estimated that some 400,000 tonnes of airborne pollution are deposited over Britain each year.  Research by Dr H Harmens et al at the Centre for Ecology and Hydrology (Bangor) has indicated that there may be a simpler and cheaper way of gauging nitrogen pollution  – through the assessment of the state of local moss populations. Read more…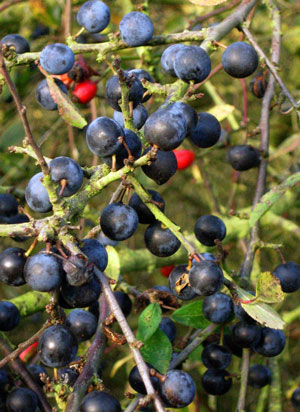 The importance of hedgerows in the maintenance of biodiversity cannot be over-emphasised.   Hedgerows provide vital food, in the form of a variety of berries – sloes, haws, blackberries etc,  for small mammals and birds (redwings, blackbirds) and hedgerow flowers support pollinating insects – a  variety of bees and butterflies.
However, the 'management' of hedgerows or trimming / flailing of a hedgerow can make a significant difference to its productivity – that is, the number of flowers and fruits produced. Read more…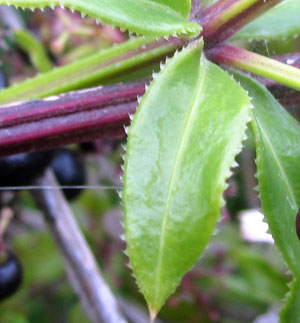 The bedstraws (see previous blog) belong to the Rubiaceae – a family that embraces a number of climbing / scrambling plants.  Another plant from this family is the wild madder (Rubia peregrina). This is a vigorous and evergreen perennial that may be found in hedgerows, and also at coastal locations as it is resistant to wind and salt spray.
Its stems have marked ridges / corners (these can be seen in featured photo) consequently these stems are rectangular in cross-section.  They often bear numerous prickles; these prickles help them clamber up and over plants / branches in a hedgerow, not dis-similar to the bedstraws. Read more…
Subscribe to our blog email updates