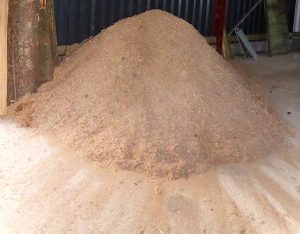 It is a truism to say that trees provide wood or timber.  Timber (or lumber in the States) is wood that has been processed into planks or beams, part of the process of wood production. Timber may be supplied either rough-sawn, or surfaced on one or more of its faces. It is available from many species, usually hardwoods; but it is also available in softwoods, such as white pine and red pine, because of their low cost. Finished timber is supplied in various standard sizes, mostly for the construction industry—primarily softwood, from coniferous species, including pine, fir and spruce, cedar, and hemlock, whereas hardwoods are for high-grade flooring and furniture. Read more…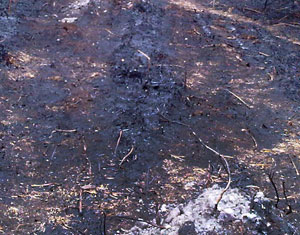 According the United Nations FAO, some two million hectares of forest were burnt in the Mediterranean region, between 2006 and 2010.  Most of these fires were 'human induced'; they (the fires) are the most frequent cause of degradation / loss of forest / woodland in this region.  In 2012, a fire swept through some 20,000 hectares of forest near Andilla (Valencia).   After the fire, it was found that though oaks, holm oaks, pines and junipers had been completely burnt, the vast majority (98% +) of the Mediterranean Cypresses were still standing, tall and green.   There followed a three year study of the fire resilience of the Mediterranean Cypress (Cupressus sempervirens var horizontalis) to see if stands of these trees might function as buffer zones to hinder or prevent the spread of forest fires. Read more…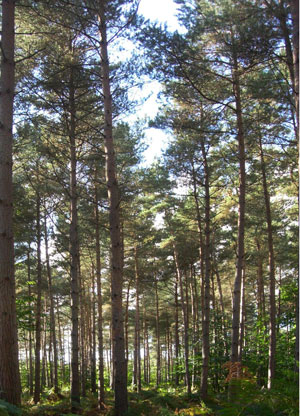 Boreal forest is found in Canada, Sweden, Finland, Norway and Russia.   Essentially, it is coniferous forest with tree species such as pines, spruces, larches and aspens.  In the U. K., this unique ecosystem is represented by the Caledonian Forest (a remnant of the vast sylvan wilderness that once existed here).  One of the larger tracts of this native pine forest is the  Black Wood of Rannoch.
One feature of the boreal forest or taiga is that it has areas of even-aged stands of trees.  This uniformity arises through cycles of natural disturbance – from forest fires to outbreaks of insect pests such as pine beetle or spruce budworm, which periodically kill off large sections of forest – but these areas, in turn, regenerate. Read more…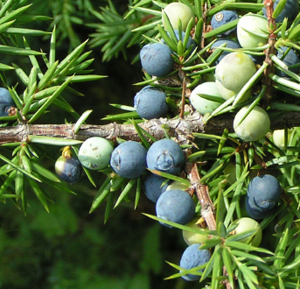 Juniper 'berries' are fragrant and provide the oils / chemicals that give gin a distinctive flavour.  The 'berries' used in gin production are rarely from the U.K. Many come from Italy or Macedonia, where the hot summers allow the full development of these oils (contained within the seeds).  A 'berry' takes some two years to come to maturity and ripen fully.  The 'berries' are often harvested by beating the Juniper shrub with a stick so that the ripe 'berries' fall to the ground for collection.
The 'berries' are not, in fact, berries but cones.  Juniper is a conifer (the other two native coniferous trees are Scots Pine and Yew).  Whereas the cone of Scots Pine hardens and become a woody structure as it ages, the cone of Juniper has fleshy, 'soft' scales that merge together to give a berry like structure, which encloses the seeds.  The 'berries' or cones are green when young but turn a purple black colour as they mature. Read more…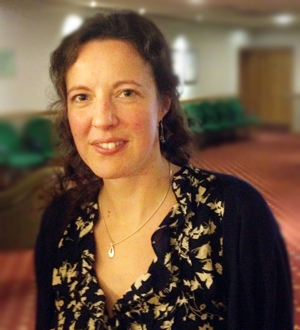 About a year ago the RSPB, along with Friends of the Earth and Greenpeace, put the cat among the proverbial pigeons by arguing that use of some woodfuel is "Dirtier than Coal".  This caused controversy amongst woodfuel zealots but the study showed that not all woodfuel is created equally.   The report was particularly concerned about subsidies which encourage the burning of whole trees where they are grown especially for woodfuel, and where these displace other land uses often to be transported long distances for power stations.  The "Dirtier than Coal' report said that full carbon accounting was necessary and we should take account of the short term effect of clear felling rather than using thinings: clear felling can lose the benefit of carbon fixing which is achieved by letting trees grow on.  The RSPB position is that we need to do full carbon accounting, create new woodlands and set up coherent sustainability standards. Read more…
The North Wales Wildlife Trust has reserves where it is trying to involve the public but also wants to encourage long-eared owls to breed. Surprisingly, perhaps, long-eared owls do not build their own nests and there are only about 2,000 pairs, usually adopting unused nests of other species.
These owls are threatened by the growing population of buzzards and corvids, so Jonny Hulson and his colleagues from NWWT are working to encourage the owls to nest, by getting the public to build nests with wire, twigs and moss, as shown in the picture below.  Jonny hopes that the nests will also be used by hobbys and merlins. Read more…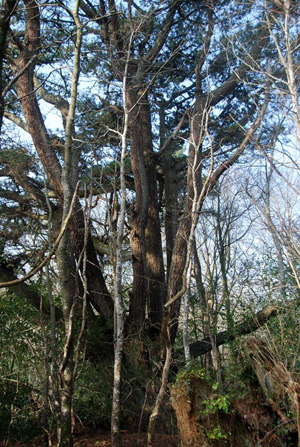 Monterey Pine or Radiata Pine (Pinus radiata) is found naturally in the coastal area around Monterey in California.  There, it is under threat from Pine Pitch Canker (a fungal disease), which makes them liable to attack by bark beetles.  Monterey pine is to be found growing in milder parts of the UK (where it grows faster than in its native habitat), and in coastal areas as it is resistant to salt spray.
The pine is extensively and intensively used in forestry, especially in countries like New Zealand (like the Kaingaroa Forest on the North Island).  The monterey pine can be used for erosion control on steep slopes – as it has a widespread and fast growing root system
The growth form of the tree is conic at first, but as the tree ages it becomes dome shaped with heavily, twisted branches. Read more…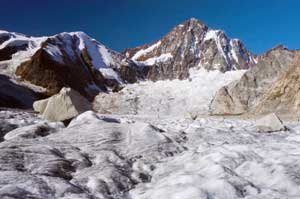 There have been many ice ages in the history of the Earth; but the last, which covered vast tracks of the Northern Hemisphere, came to an end some nine to ten thousand years ago – when the temperature (and sea level) rose.  It has always been assumed that no trees survived in the regions covered by the thick ice sheet, and that trees (like other plants) have returned to areas like Scandinavia by the gradual northern migration of species that had taken 'sanctuary' in warmer latitudes.
However, recently work has been undertaken by Read more…
Subscribe to our blog email updates