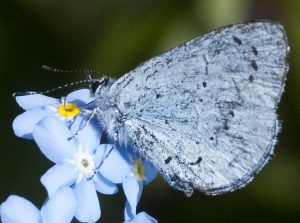 There are many types of woodland, which may be broadly categorised by the dominant type of tree(s) – thus there is, birch woodland, oak woodland, beech woodland etc.  The flora and fauna of these different types of woodland varies though there can be similarities.  Some species, such as brambles and ivy can live in a variety of conditions whilst other plants / animals have very specific requirements.
This is certainly true for various animal species – for example, butterflies and moths. For example, the Brimstone (a pale yellow butterfly) has larvae (caterpillars) that need to feed Read more…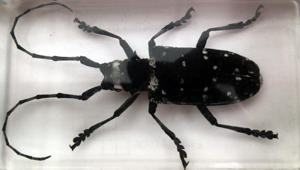 Making woods resilient has become the latest fashion in forestry as illustrated by the RFS conference being organised with the Woodland Trust in Birmingham at the start of October.ˇ Resilience in this context means resilient both to diseases and to climate change effects.  Much of the thinking is based on the 2015 British Woodlands Resilience Survey which has been organised by the Sylva Foundation and sponsored by Oxford University, the RFS and the Woodland Trust.ˇ There have also been useful presentations on the subject such as the one given at the CONFOR Show (Confederation of Forest industries) show at Longleat, Wiltshire in early September 2015. Read more…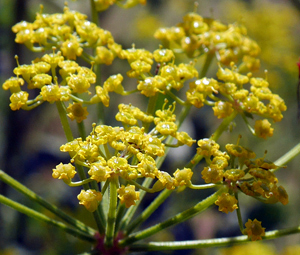 Wild parsnip is the progenitor of the cultivated parsnip; it is a plant of rough, dry grassland and 'waste' ground by roads and railways (favouring chalky / limestone areas); it can occur in public parks. The root is edible but the shoots and leaves should be handled with caution as their sap contains photo-sensitive chemicals (FURANOCOUMARINS) such as Xanthotoxin. These chemicals help protect the plant from its enemy the parsnip webworm. However, these chemicals can cause a skin reaction – phytophotodermatitis (more likely on bright, sunny days). This reaction is not dissimilar to a chemical burn – reddening, blisters and burning – visit the poisongarden website to see images showing the reaction to the sap; affected areas may remain visible for some time. Read more…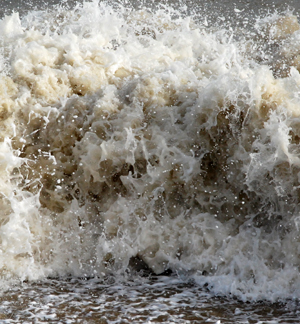 In 2010, the blog reported on the exceptional winter weather.  Back then, we had just 'emerged' from one of the coldest winters on record. Currently, we are experiencing one of the wettest winters ever.
In December, the East Coast faced storms and a tidal surge (affecting communities from Scotland down to Essex), and then Christmas Eve saw high winds and the cancellation of flights from Gatwick.   January brought some 175 mm of rain in the South East.  The closest comparable January was that of 1948.  A summary of the winter so far can be found at the Met Office web site – here Read more…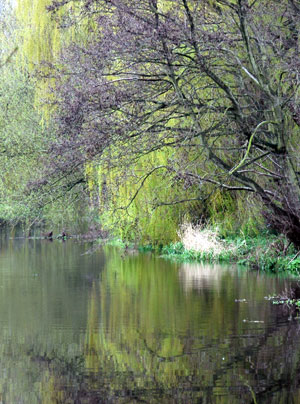 We are all dependent on ecosystem services even if we are not quite sure what they are.   At the most basic of levels, early humans benefitted from the products of nature (fruits and seeds to eat, animals to hunt) – that is, food or provisioning .   Shelter from the harsher aspects of climate and weather was also needed and provided; be it by the canopy of woodlands and forests, or the branches and other materials in woodlands used to make a simple shelter.
Ecosystem services permeate every aspect of our lives. Take soil, for example 'Where would we be without fertile soil ?'  Obviously fertile soils provide us with the best conditions for our agricultural crops and for maximising growth in our greenhouses and orchards, but beyond that soil has many important functions. The organic material of the soil, humus, can absorb and retain water.   It plays a vital role is the regulation of water run-off.  Read more…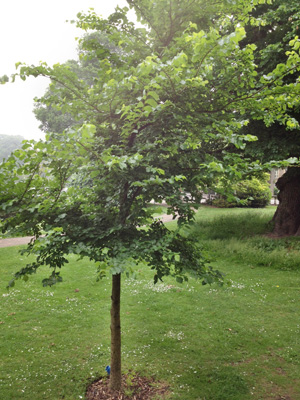 Brighton in Sussex is home to Britain's largest population of Elm trees. These 19,000 elm trees are known as The National Collection. Elm trees are increasingly rare due to the blight brought by Dutch Elm disease principally in the 1970s.  Initially this came into the UK as long ago as 1926.  Dutch Elm disease is a fungus carried by beetles and affects only elm trees. In response to this attack, an elm tree will automatically produce tyloses, an effective natural defence against the 1926 strain of Dutch Elm disease. Tyloses occur in the xylem – water conducting vessels of the plant / tree, sealing them off and restricting the movement of the pathogen.
However in the early 1970's,  a new strain of Dutch Elm disease was imported from channel ports, linked directly to the Canadian Rock Elm. This strain travels faster through the elm trees and kills them before they can produce tyloses. Since the introduction of this strain of Dutch Elm disease to Britain, the number of elm trees has gone down from about 3 million to fewer than 200,000 and many of these are very young ones which will certainly succumb to the disease. Elm trees reproduce by root stalks more often than by seed and so this transmission mechanism quickly spreads the disease between elm trees and along elm hedgerows. Read more…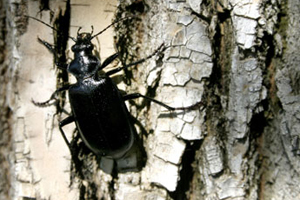 There have been various articles that comment on the decline in numbers / variety of bees and butterflies, now a recent study reported in the Journal of Applied Ecology comments on a worrying decline in the numbers of ground beetles or carabids.   Scientists at Rothamsted Research, working with the NERC Centre for Ecology & Hydrology have found that some 70+ % of ground beetle species have shown a fall in numbers.  The scientists monitored beetle populations at many locations throughout the U.K. over a time scale of some fifteen years. They found the decline in the abundance of ground beetles was comparable to those reported for butterflies and moths. Read more…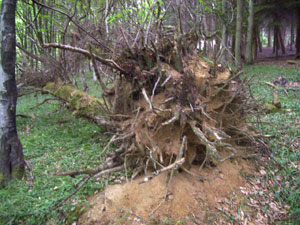 Some twenty five years, the U.K. was battered by a storm – said to have been the worst that this country has experienced in three hundred years.  Hurricane force winds raged across southern England and the Midlands before the storm finally exited via the Wash.  It is often referred to as "The Great Storm" **.
Millions of trees were uprooted, woodlands flattened, parks and gardens destroyed, the National Grid damaged, cars hit by falling branches and 18 people died.  Places like Wakehurst Place, the Sussex outpost of the Royal Botanic Gardens (Kew) had lost some 60% of their tree collection as a result of the storm. Read more…
Subscribe to our blog email updates