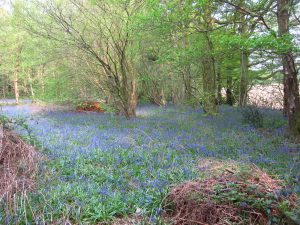 Spring brings a variety of blue flowered plants such as bluebells, hyacinths and squills in our woodlands, parks and gardens.  Bluebells are 'easily' recognisable. However, there are different types of bluebells. The bluebell that is native to the UK has the Latin or Linnaean name of Hyacinthoides non scripta.  The Spanish bluebell (H. hispanica) is also to be found, and this hybridises with the native form,  giving rise to intermediate types.
The native bluebell has deep blue and scented flowers that hang from an elegantly arching stem. It is found in abundance in many deciduous woodlands and hedgerows across the UK, though it is unusual or rarer in parts of East Anglia and Scotland.  The capacity of the Spanish Bluebell to hybridise with the native form has been seen as a threat to the native Bluebell – but now another concern has been 'identified'. Read more…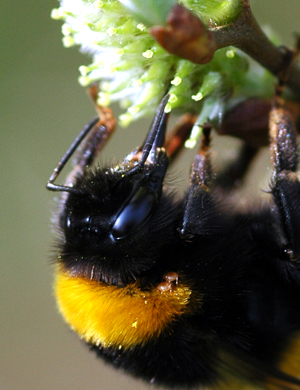 You may well have heard that bees are in trouble. Domestic honeybee hives seem to die more often than they used to, and some of our wild bees have disappeared altogether; for example, three of the UK's twenty seven bumblebee species have gone extinct. The big, long-term driver of declines has been farming intensification; where once we had plentiful hay-meadows and chalk downland, rich with flowers, we now have flower-free monocultures of wheat or silage grass.
Pesticide use is also contributing to the problem, particularly new generations of systemic, persistent insecticides called neonicotinoids that get into nectar and pollen of both flowering crops and wildflowers. Read more…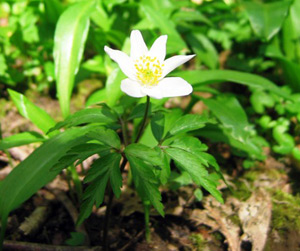 The official Latin name of the wood anemone is Anemone nemorosa but it is also known under many different and much more romantic sounding names – windflower, thimbleweed, wind crowfoot, smell fox or the helmet flower. These common names convey the affection in which this little woodland flower is thought of. This little perennial is referenced in many myths and legends including the anenome flower springing up where Aphrodite's tears fell as she wept over the death of her lover, Adonis.
The flowers are predominantly white but the petals can be tinged with pink or purple tones with a red stem. A similar plant is the buttercup anemone which has yellow colouring. The underground creeping habit ensures colonisation of the woodland floor forming large clumps in shaded and damp areas. Read more…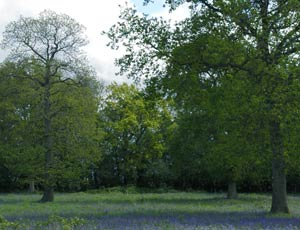 Back in 2006 (and 2007), the blog posted information about the Natural History Museum Bluebell Survey.
This is an ongoing project, apart from studying the distribution of native and spanish bluebells (and the hybrids, which now may be more common than their Spanish 'parent') – the project is also looking at the flowering time of the bluebell (in relation to climate change / variability).  Full details of the project  (and lots of information about bluebells) can be found at the NHM website. Read more…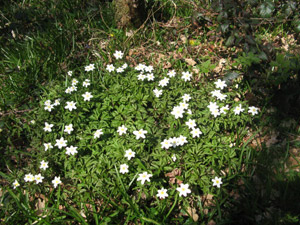 The second instalment to "my wood" has, like Spring,  this year – sprung rather too soon. I've been away for most of the last week starting work on a new area of woodland in Norfolk that I hope to be able to bring to market in the early summer. So after nearly a week of absence , I hurried across the field as the light rose on Saturday morning accompanied by Stig who seemed even happier than me, tail wagging frantically in the bitter frost.
Despite some savagely cold dawns, a couple of weeks of unseasonably warm weather has transformed the woodland.  It has been more of a boom than a Spring bloom this year. My hornbeam is in leaf, the hawthorn is in blossom, Read more…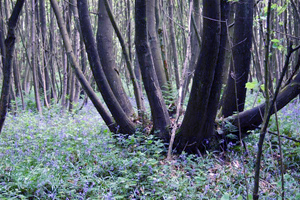 Wild boar became extinct in the U.K. in the thirteenth century –so we have been 'boar free' for circa 700 years.  However, towards the end of the last century commercial pig farming developed; seemingly some escaped and have established free living and breeding populations.
Attitudes to these pigs / boars fall into two broad categories :
those who welcome the return / reintroduction of a missing species and its ecological impact
those who have a more negative perception of the boar – in that, they do damage, have the potential to harbour disease and can cause direct damage to people. Read more…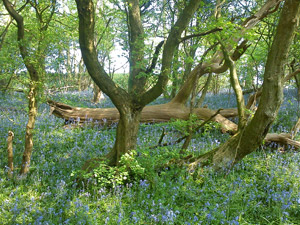 My wife and I decided on the purchase of a small wood a few years ago.  We were able to research financial, legal and physical practicalities on-line and www.woodlands.co.uk was the most useful site in our search for a suitable wood. We visited nine or ten woods  across the South of England, from Devon in the West to Kent in the East.  We were looking for a wood between 3 and 6 acres up to a  spend of about £40K. Some people spend as much on a car, whilst for us non-drivers – a wood is a much better, permanent investment, especially when financial products are looking risky.
But we weren't just looking for somewhere to bank money but a place of natural beauty and quietude to enjoy and preserve.   Our wood had to be accessible from London by public transport but still a rural gem away from built habitation.  We were ideally looking for a bluebell wood with a good mix of tree cover — not a conifer plantation. Read more…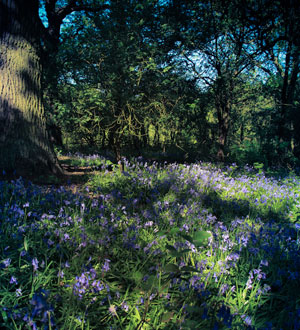 In our recent report [pdf file here] into woodland ownership we found that financial gain had a much lower level of importance than factors like conservation, wildlife and wanting to 'get away from it all'.  Less than half (40%) of the owners we surveyed said that the purchase of the wood as an investment was quite or very important and only one in ten said that its purchase for tax purposes was important.
Half (51%) said that having the wood as a retirement project was very or quite important, and we are often approached by individuals in this stage of their lives. They often have access to a lump sum via their pension pay-out and with today's low interest rates they view a wood as a living investment which they can share with friends, children and grandchildren. Read more…
Subscribe to our blog email updates