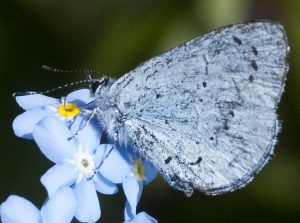 There are many types of woodland, which may be broadly categorised by the dominant type of tree(s) – thus there is, birch woodland, oak woodland, beech woodland etc.  The flora and fauna of these different types of woodland varies though there can be similarities.  Some species, such as brambles and ivy can live in a variety of conditions whilst other plants / animals have very specific requirements.
This is certainly true for various animal species – for example, butterflies and moths. For example, the Brimstone (a pale yellow butterfly) has larvae (caterpillars) that need to feed Read more…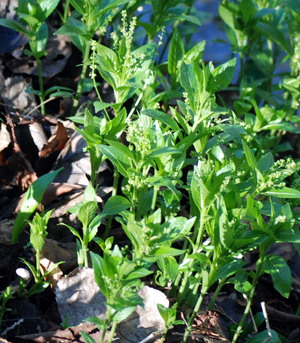 Biotic homogenization has been defined as follows "the process by which species invasions and extinctions increase the genetic, taxonomic or functional similarity of two or more locations over a specified time interval. Biotic homogenization is now considered a distinct facet of the broader biodiversity crisis having significant ecological, evolutionary and social consequences."   Basically, it refers to an increasing similarity in the make-up of the plant communities found in different places – a bit like High Streets, each of which used to have a special character or 'signature', now it is difficult to distinguish one from another.
In many cases,  biotic homogenization involves the replacement of local floras and faunas with 'introduced species', sometimes referred to as aliens.   Examples of plants that have been introduced and spread are himalayan balsam and japanese knotweed.   Read more…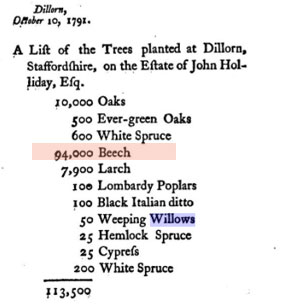 Beech woodland is native to Southern England and Wales (roughly, south of a line drawn from The Wash to the The Severn).  However, in some parts of the country, beech has been planted systematically, for example, John Holliday of Staffordshire planted some 94000 beech in 1791.  Beech is found throughout Central and Western Europe. It is generally found on freely draining (drier) soils (chalks, limestones and light loams) such as found in the Cotswolds, Chilterns and the Downs. Read more…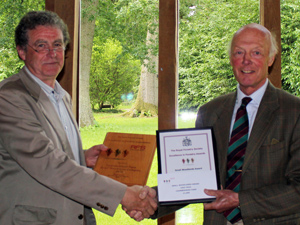 Four woodlands in the South West have won recognition at this year's RFS Awards in the Small Woodlands category, sponsored by Woodlands.co.uk.
The first prize went to William Sowerby, owner of Coombeshead, Launceston, Cornwall. Mr Sowerby planted a three and a half acre wood on a hill crest, restoring mature trees, saving old trees from neglect, coppicing, and even planting 300 yards of mixed hedge – which now provides berries and nests to birds, while sheets of corrugated iron on the ground encourage worms and other species. Read more…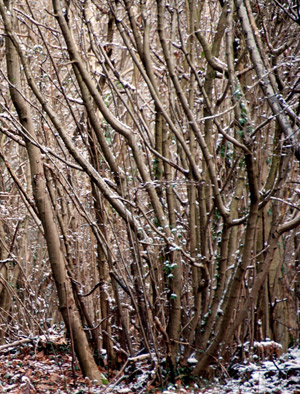 I am currently studying for a Foundation Degree in Forestry and Woodland Management at Plumpton College in East Sussex and am preparing a dissertation on dead wood in coppice woodlands.
Coppicing is a well-known silvicultural practice, carried out in the UK for the purpose of habitat and wildlife conservation, and for sustainable timber production / products. It is widely accepted that, whilst coppicing has many benefits for conservation, 'woodland historically managed as coppice is generally lacking in dead wood'  (FC 2002). Earlier literature such as Buckley (1992) and Kimmins (1997), supports the view that there is a general lack of dead wood presence within actively managed coppice woodlands. Read more…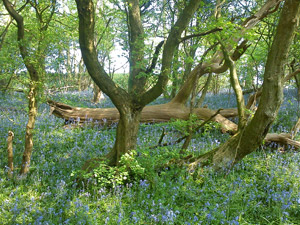 My wife and I decided on the purchase of a small wood a few years ago.  We were able to research financial, legal and physical practicalities on-line and www.woodlands.co.uk was the most useful site in our search for a suitable wood. We visited nine or ten woods  across the South of England, from Devon in the West to Kent in the East.  We were looking for a wood between 3 and 6 acres up to a  spend of about £40K. Some people spend as much on a car, whilst for us non-drivers – a wood is a much better, permanent investment, especially when financial products are looking risky.
But we weren't just looking for somewhere to bank money but a place of natural beauty and quietude to enjoy and preserve.   Our wood had to be accessible from London by public transport but still a rural gem away from built habitation.  We were ideally looking for a bluebell wood with a good mix of tree cover — not a conifer plantation. Read more…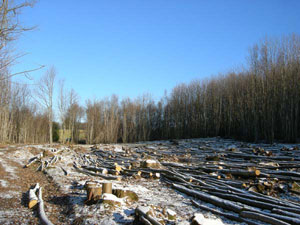 Coppicing of sweet chestnut in Kent and Sussex is a traditional activity which goes back hundreds of years.  This involves not only the regular cutting of chestnut poles but the processing of these into useable materials. Such processing will usually include debarking and splitting – all of which is done in the woods where the chestnut is cut.  Chestnut coppice products are mainly used for fencing and are still very much in demand and because chestnut coppice is a hardwood they tend to last for a several decades.  Chestnut paling and post and rail fencing is in high demand and is even exported to mainland Europe. Read more…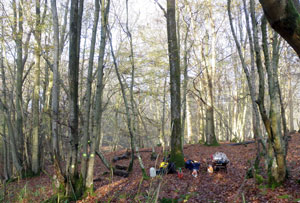 Gatwick Greenspace Partnership (part of the Sussex Wildlife Trust) took on the management of Lower Orlton's Copse, near Rusper, in March of this year *. Since then we have, in consultation with the Forestry Commission, decided as part of the management, to extend a small number of glades to open up the high canopy and improve the amount of ground flora in these areas. Read more…
Subscribe to our blog email updates