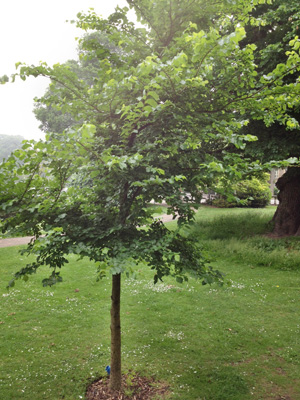 Brighton in Sussex is home to Britain's largest population of Elm trees. These 19,000 elm trees are known as The National Collection. Elm trees are increasingly rare due to the blight brought by Dutch Elm disease principally in the 1970s.  Initially this came into the UK as long ago as 1926.  Dutch Elm disease is a fungus carried by beetles and affects only elm trees. In response to this attack, an elm tree will automatically produce tyloses, an effective natural defence against the 1926 strain of Dutch Elm disease. Tyloses occur in the xylem – water conducting vessels of the plant / tree, sealing them off and restricting the movement of the pathogen.
However in the early 1970's,  a new strain of Dutch Elm disease was imported from channel ports, linked directly to the Canadian Rock Elm. This strain travels faster through the elm trees and kills them before they can produce tyloses. Since the introduction of this strain of Dutch Elm disease to Britain, the number of elm trees has gone down from about 3 million to fewer than 200,000 and many of these are very young ones which will certainly succumb to the disease. Elm trees reproduce by root stalks more often than by seed and so this transmission mechanism quickly spreads the disease between elm trees and along elm hedgerows. Read more…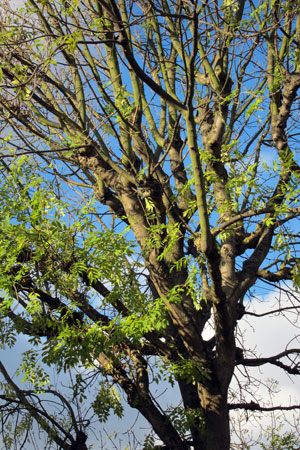 The last ice age endured for about 100,000 yrs.  Some 18,000 yrs ago, mammoths, sabre-toothed tiger and woolly rhino (preyed on by prehistoric man) roamed our land.  Thick ice sheets lay to the North, whilst to the South was tundra – much like that now seen in Northern Siberia. Then 10,000 years later, the ice sheets started to melt and the tundra receded; sea levels rose and low lying areas were flooded.   The North Sea and English Channel formed, cutting us off from mainland Europe. This was a gradual process (in our terms) and as Europe warmed,  trees migrated northwards – some reaching the UK before we were cut off from the rest of Europe.  Most plant colonisation was by seed and spores, animals followed bringing with them other taxa. Read more…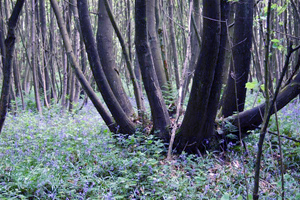 Wild boar became extinct in the U.K. in the thirteenth century –so we have been 'boar free' for circa 700 years.  However, towards the end of the last century commercial pig farming developed; seemingly some escaped and have established free living and breeding populations.
Attitudes to these pigs / boars fall into two broad categories :
those who welcome the return / reintroduction of a missing species and its ecological impact
those who have a more negative perception of the boar – in that, they do damage, have the potential to harbour disease and can cause direct damage to people. Read more…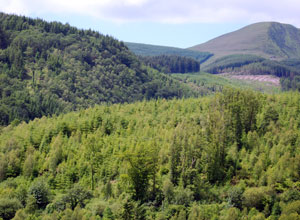 The Forestry Commission (FC) owns and manges over a million hectares of land and so must know a thing or two about UK forestry, and much is revealed in the Forestry Commission's formal accounts. This is a long document, at over 150 pages, but rather than pay £23.50 for it you can get the accounts online for free. Even though it's free many people would consider a set of Forestry Commission accounts to be a tedious read so we've been through them and dug out some interesting material. For example the key figure that the FC expect to pay for woodland management each year is about £72 per hectare or about £29 per acre per year, after taking account of income generated. Our surveys of owners of small woodlands show that they typically spend more than this on a per acre basis, so it is surprising that the report, rather dismissively, refers to strong demand for "hobby woodlands" and environmental ownership" Read more…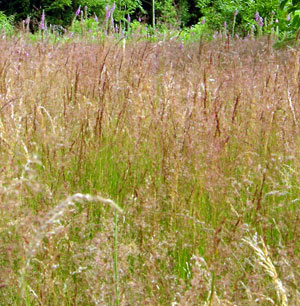 Plants take up essential nutrients (nitrates, phosphates, potassium, magnesium etc) through their roots, but some also take up other, more unusual substances – such as silicon, nickel, cadmium, copper, cobalt.
Grasses, in particular, are known to take up silicon and then deposit it in their leaves.  The silicon that they absorb is converted into tiny granules called phytoliths, which are often located under the waxy cuticle.   Read more…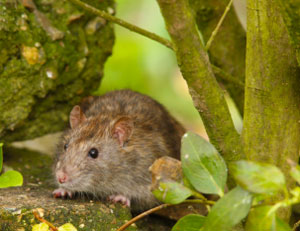 Rats (brown and black) have been 'camp followers' of humans ever since we adopted a 'settled' existence.  In modern cities, it is often said that one is never more than 20 yards from a rat.  Whether this is true or not, rats have been a pest throughout the millennia, most notably associated with the spread of disease such a bubonic plague but also Weils Disease (Leptospirosis). Read more…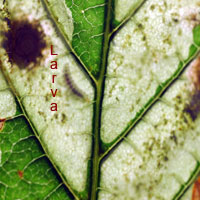 The 'progress' of the horse chestnut leaf miner (Cameraria ohridella) has been reported in the blog from summer 2006 to more recently, when a national survey was under way.  This small, but highly efficient parasitic moth was first 'discovered' in trees bordering Lake Ohrid in Macedonia in the mid-Eighties.  It was later described as species new to Europe, and since that time has managed to spread through almost all of Europe.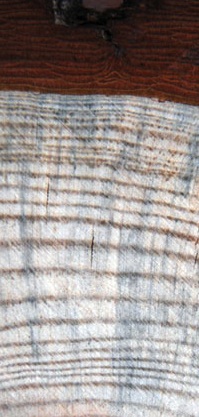 Dendrochronology seeks to gather information on tree rings, dated to their year of formation, and to use this information to established the age of artefacts (like the timbers of a boat or remains of house) or determine the nature of the climate in times past.
Annual rings form in temperate trees because the xylem vessels or early wood formed in late spring and early summer (when lots of growth occurs) are wider and lighter than those formed in late summer & early autumn, which are narrower and darker (sometimes called the late wood).  A light and dark ring together constitute one year's growth.   In winter, there is no growth.
The various branches of dendrochronology (dendroarchaeology, dendroclimatology) are based on the uniformitarian principle.  This says that the various factors that currently influence tree growth and hence tree ring development will have operated in the past.  Through knowledge of these factors (physical and biological) that have influenced current and recent tree ring growth, it is possible when looking at tree ring samples from old wood artefacts / timbers to 'reconstruct' the climate of the past.
Subscribe to our blog email updates