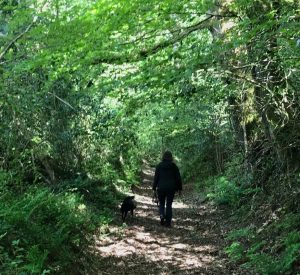 I grew up in the woods in New England. My parents were South Africans who replanted themselves several times, first in Zimbabwe, then London (where I was born), and finally, and quite accidentally, Connecticut. We didn't really fit in there, and people often treated us as strange and exotic. 
However, amongst the trees that surrounded our house, there was no judgment or expectation. There was no need to explain myself. The woods offered the joy of exploration, the comfort of sheltering branches, and a sense of having entered into another, quite separate, self-sufficient world. I'd dam tiny streams, spy on wildlife, discover endangered flowers, find out which trees were prone to caterpillar infestation and which had bark that tasted like spearmint that was good to chew. And I always felt that I was amongst friends. I was very lucky.
I was also a voracious reader, devouring books at a monumental rate. Reading gave me a similar feeling to being in the woods: escape from an uncomfortable reality, discovery of complex and beautiful worlds that were open and accessible to me whenever I needed them. Many years later, after several other careers, I began to write fiction. And I knew that one day I would write a book for children set in a wood. 
That moment arrived in 2019.   After publishing poetry and two medieval novels set in the Welsh Marches, I had an idea for an adventure set in a scrap of  woodland near Much Wenlock in Shropshire. The wood is on a limestone ridge and therefore thick with fossils. It has a peculiar, other-worldly atmosphere. The trees are rather neglected, but the signs are all there. It's a little pocket of ancient woodland, preserved because of the steep slope on which it grows. I've spent many hours walking it with my dogs, and I adore it. 
I began researching the folklore and mythology of Northern European forests, and the world within the wood began to take shape in my mind. Having trained originally as an archaeologist, I'm really only interested in the past, so this story was set in 1940, during the Birmingham Blitz. The story emerged quickly – a chapter a day – and, each evening, I'd read the chapter to my thirteen year old son. The book became known as Greencoats, referring to some of the more sinister inhabitants of the woods. 
Greencoats developed into an historical fantasy, bringing nature, myth, and history together in a cathartic adventure. When the first bombs fall on Birmingham, ten-year-old Gwen is sent to stay with her eccentric aunt in a woodland cottage. As Gwen explores the depths of the ancient forest, she inadvertently conjures up the mischievous spirit of a Holly tree, along with other, more malevolent, creatures. When her aunt's dog is stolen by elves, Gwen needs all her courage and cunning to get him back.
The publication of Greencoats this year happened to coincide with the purchase of the wood-of-our-dreams through Woodlands.co.uk.  (My husband, Michael, loves trees as much as I do). It is a slope of restored ancient woodland in Pembrokeshire, named 'Coed y Haearn', or 'Iron Wood', as it is close to Castell Henllys – a reconstructed Iron Age fort. Nearby is the Nature Reserve of Pengelli Forest, part of the largest block of ancient oak forest in West Wales. Clear felling of the trees in this area took place from 1914, to supply the WWI trenches with timber. On the other side of the A487 is Pentre Ifan – a Neolithic burial chamber. Very recently it was discovered that the original circle of Stonehenge bluestones stood a few kilometers away.
When we received the keys to the gate, we were able to enjoy clusters of violets in April and glades of bluebells in May. We began surveying the trees and discovered many important folkloric species – Oak, Holly, Hawthorn, Ash. We were also excited to identify a Wych Elm near the camp clearing and Early Purple Orchids on the verges of the track. During our latest visit, bats treated us to aerial displays above our camping table. We hope to find out what species they are and encourage more wildlife with bat, owl and bird boxes. Our sons are keen on the promise of the power tools to come, and the dogs are enjoying the endless supply of sticks to chase.
We are absolutely delighted with our wood and look forward to making more discoveries, learning the skills we need to look after this rare and special place, and getting to know its character and inhabitants (hopefully all benevolent!).
I expect there might be a sequel to Greencoats – and I know that I'll find lots of inspiration in Coed y Haearn – for prose and poetry for many years to come. 
Kate Innes
---
Greencoats is available in paperback from https://www.kateinneswriter.com/shop/.
Available in paperback and ebook format from Amazon https://amzn.to/3yZ6Awe
"In Greencoats the magic feels real and the reality magical. Tense, compassionate and lyrical, I devoured it in a weekend. Highly recommended."  Caroline Lawrence - author of 'The Roman Mysteries'
---
---
---
Leave a comment