When my wife, Jill, and I bought seven and a half acres of Welsh hillside woodland in the middle of winter 2011 we would have struggled to explain why. In fact, Jill had hardly seen the woods before we committed to them. It was all about vague dream and possibilities. My first visits were in the depth of a very wet Welsh winter, there were streams formal and informal everywhere; what trees there were were bare and unrecognisable; the ground uneven and treacherous with moss and gullies. What were we doing?
Now, not six months later our woods have become our church, our playground, our school, the best nature documentary ever, and fascinating in different ways each time we visit. I have become both more 'possessive' - wanting to protect it from the harm of uncaring visitors - and at the same time realising that it owns me far more than I can ever own it - I even find myself apologising to an ash tree before I fell it for use in green woodworking; I can only justify it by using all the wood it provides in useful and meaningful ways.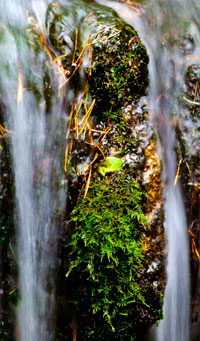 My ignorance grows on each visit as I see more things I can nether name or understand as spring moves on to summer and more aspects reveal themselves. Trees, wildflowers, ferns, lichens, mosses, insects, butterflies, moths, mammals, birds - my ignorance is boundless. Who knew that birdsong reduces enormously once mating and hatching is over - I didn't. And that woodland wildflowers have to flower and pollinate before the leaf canopy cut off the light - I didn't. I'm beginning to realise that the woodland is a battlefield - but on a timescale that we hasty humans miss. The struggle for light with trees bending this way and that; the colonisation of the invading fungi armies; the all covering creep of the mosses; the cycle of life and decay; its a wonder I find it a source of relaxation at all!
But; to sit on a stone wall above the boggy bit watching the colours fade into dusk, the smell of woodsmoke from our cooking fire on the air; tired from a day's physical work and anticipating a night in a hammock in the woods; the cuckoo rests its voice as the otherworldly sound of a pair of nightjars kickstarts its engine; is truly magical and deeply restorative; It makes sense in a profound way I cannot put into words.
I have so many plans and schemes, each visit adds to the list and every job takes time. A few steps added to a footpath have taken me and my brother a day and will take another day at least to finish; carving a tentpeg takes half a hour and I need at least twenty. I have worked all my life 'selling' my time, I was ruled by timesheets and 'chargeable hours' and now, finally, its all irrelevant. The purpose of carving a tentpeg is to be part of the process, the spray of wet sap from the newly exposed wood, the feel of the drawknife going through the wood adjusting for grain and the flow, the slow reveal of the tentpeg - not perfect but 'fit for purpose' - its all reducing my ignorance and adding to my experience, my world is focused on the task in hand with a vague awareness of the woods around and anything beyond might as well be be a different world. Its satisfying beyond measure.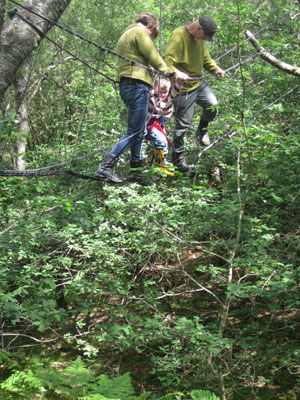 And then there's the pleasure of sharing, the slow reveal to first-time visitors, the anticipation of their joy; telling the kids to 'wear old clothes' because you're with granddad and you will get dirty, possibly fall over, eat sausages cooked over an open fire, drink water from a stream, climb trees, cross rope bridges and generally indulge in the sort of 'play' that you can't get from an x-box or a 'risk-averse' society. Poking at poo with a stick to reveal the beetle cases enclosed; a miniature 'lost world' complete with woodlouse dinosaurs on top of a boulder; catching a frog and getting the kids to study it before releasing - its wonderful to lay down these memories in my grandchildren's minds.
So, yes I can justify the woods. It's changing me and those around me in ways I couldn't have anticipated six months ago. Imagine the effect after a year, five years, ten years .....    and to think that the woods will still be telling their story to those who listen long after I've gone (possibly buried in the woods and becoming an integral part of their story)
---
---
Leave a comment