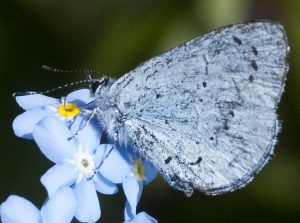 There are many types of woodland, which may be broadly categorised by the dominant type of tree(s) – thus there is, birch woodland, oak woodland, beech woodland etc.  The flora and fauna of these different types of woodland varies though there can be similarities.  Some species, such as brambles and ivy can live in a variety of conditions whilst other plants / animals have very specific requirements.
This is certainly true for various animal species – for example, butterflies and moths. For example, the Brimstone (a pale yellow butterfly) has larvae (caterpillars) that need to feed Read more…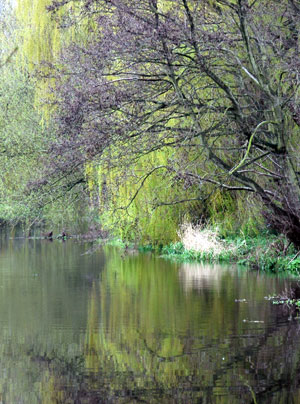 We are all dependent on ecosystem services even if we are not quite sure what they are.   At the most basic of levels, early humans benefitted from the products of nature (fruits and seeds to eat, animals to hunt) – that is, food or provisioning .   Shelter from the harsher aspects of climate and weather was also needed and provided; be it by the canopy of woodlands and forests, or the branches and other materials in woodlands used to make a simple shelter.
Ecosystem services permeate every aspect of our lives. Take soil, for example 'Where would we be without fertile soil ?'  Obviously fertile soils provide us with the best conditions for our agricultural crops and for maximising growth in our greenhouses and orchards, but beyond that soil has many important functions. The organic material of the soil, humus, can absorb and retain water.   It plays a vital role is the regulation of water run-off.  Read more…
The world store of terrestrial carbon is estimated at 2860Pg (petagram = 1015 g), of this, some 1240 Pg is 'locked up' in woodlands – that is over 40%.  Much of  woodland carbon is 'locked' in dead leaves and decaying wood – in the form of complex organic molecules (carbohydrates, proteins, lignin, cellulose, pectates etc) that make up a plant.
However, with time these molecules can be degraded, broken down by the activities of micro-organisms (bacteria and fungi) – though the first stage of the process may be a physical disruption by beetles (saproxylic) and other burrowing small animals.  The activity of fungi is more obvious / visible at this time of year (autumn) as their fruiting bodies Read more…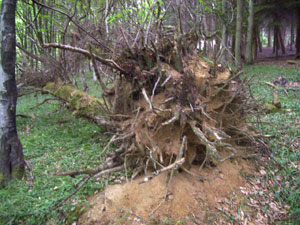 Some twenty five years, the U.K. was battered by a storm – said to have been the worst that this country has experienced in three hundred years.  Hurricane force winds raged across southern England and the Midlands before the storm finally exited via the Wash.  It is often referred to as "The Great Storm" **.
Millions of trees were uprooted, woodlands flattened, parks and gardens destroyed, the National Grid damaged, cars hit by falling branches and 18 people died.  Places like Wakehurst Place, the Sussex outpost of the Royal Botanic Gardens (Kew) had lost some 60% of their tree collection as a result of the storm. Read more…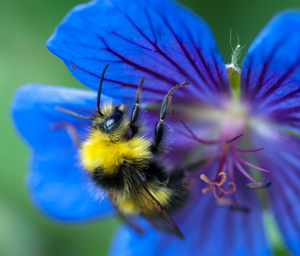 One of the gold medal winners at this year's Chelsea Flower show was the garden entitled "Gardening for Champions".  This garden shows how simple changes to urban gardens can help the environment through
Encouraging pollinating insects
Saving water
Cutting carbon dioxide emissions
The garden, which was designed by Martin Walker, is based on research carried out by academics ** from the University of Leeds; it shows how simple changes to urban gardens can make a positive contribution to ecosystem services.  The garden offers a number of practical suggestions, Read more…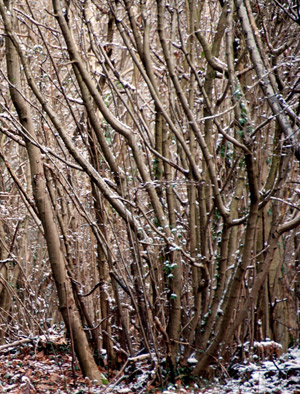 I am currently studying for a Foundation Degree in Forestry and Woodland Management at Plumpton College in East Sussex and am preparing a dissertation on dead wood in coppice woodlands.
Coppicing is a well-known silvicultural practice, carried out in the UK for the purpose of habitat and wildlife conservation, and for sustainable timber production / products. It is widely accepted that, whilst coppicing has many benefits for conservation, 'woodland historically managed as coppice is generally lacking in dead wood'  (FC 2002). Earlier literature such as Buckley (1992) and Kimmins (1997), supports the view that there is a general lack of dead wood presence within actively managed coppice woodlands. Read more…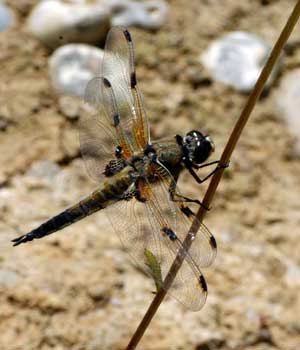 Many insect species are under threat – butterflies , dragonflies, beetles; according to the Red List.  In most cases, this can be associated with habitat loss. Read more…
World wide some million different types of insect have been identified and named, even in the U.K. some 24,000 species can be found.  Insects, like bees and bumblebees are economically important in the pollination of many crops (apples etc) and flowers; others like the saproxylic beetles have a role in the recycling of the materials and nutrients from dead and decaying wood. Read more…
Subscribe to our blog email updates