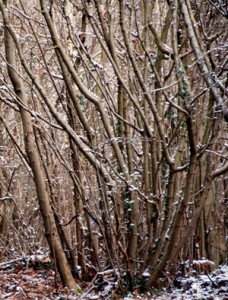 I am currently studying for a Foundation Degree in Forestry and Woodland Management at Plumpton College in East Sussex and am preparing a dissertation on dead wood in coppice woodlands.
Coppicing is a well-known silvicultural practice, carried out in the UK for the purpose of habitat and wildlife conservation, and for sustainable timber production / products. It is widely accepted that, whilst coppicing has many benefits for conservation, 'woodland historically managed as coppice is generally lacking in dead wood'  (FC 2002). Earlier literature such as Buckley (1992) and Kimmins (1997), supports the view that there is a general lack of dead wood presence within actively managed coppice woodlands.
There is a lack of recent literature to be found on dead wood levels in coppice woodlands, yet with the recent move to Sustainable Forestry in the UK and the emerging general consensus that dead wood has greater ecological benefits for our woodland ecosystems* than previously understood, it is my intention to assess whether the accepted view still holds true today.
I have created a short survey, aimed at both coppice woodland owners and managers, in order to provide an insight into current dead wood retention in these woodlands. No names of individuals or organisations shall be made public, nor will the data collected be published, other than a copy made available at the College library.
If you feel that you fall within the category of coppice woodland owner or manager, I would invite you to complete this short 5 minute online survey by clicking on the direct link below.  Thank you in advance for your time and help.
* providing a range of micro-habitats for many different species, for example, saproxylic beetles, fungi etc.
Thomas Kenny, Plumpton College, Sussex.
Leave a comment
Subscribe to our blog email updates
Managing Your Woodland for Wildlife
A new book on encouraging biodiversity in your woodland. Available free here »