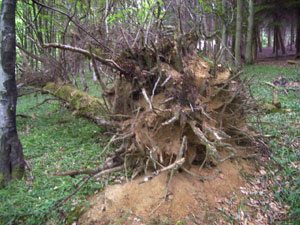 Some twenty five years, the U.K. was battered by a storm – said to have been the worst that this country has experienced in three hundred years.  Hurricane force winds raged across southern England and the Midlands before the storm finally exited via the Wash.  It is often referred to as "The Great Storm" **.
Millions of trees were uprooted, woodlands flattened, parks and gardens destroyed, the National Grid damaged, cars hit by falling branches and 18 people died.  Places like Wakehurst Place, the Sussex outpost of the Royal Botanic Gardens (Kew) had lost some 60% of their tree collection as a result of the storm.
After the storm it was necessary to clear roads, remove trees that could be a danger and generally 'make good'.   However, in the aftermath, there was also time for reflection –"What should be done?"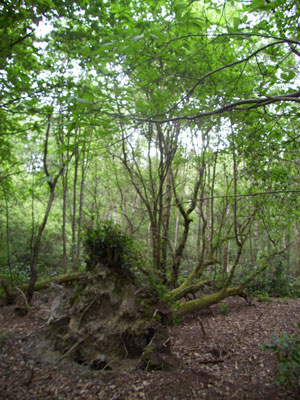 In any given area, was it right to go for wholesale replanting ?  There were lessons to be learned – for example, mixed stands of trees had fared better than those of similar age, as did trees with spreading root systems.  Places like Wakehurst decided to leave approximately one third of its devastated site to regenerate naturally.  Some areas have been replanted with 2000+ specimen trees from around the world, whilst other areas have been planted up with 11,000 trees to acts as 'buffer zones' should another storm of similar magnitude occur.  Wakehurst was not alone in this policy of allowing nature to take its course.
The dead wood from the storm is now rotting and decomposing, open glades and clearings created by the storm are filling with foxgloves, brambles and woodland flowers; with time young trees will replace them.  The Great Storm did great damage but it has also allowed regeneration and renewal in many woodlands – the opening of the canopy in many older woods has resulted in an increase in biodiversity -  from saproxylic beetles to flowers of the herb layer.
** There is also The Great Storm of 1703 - this occurred on 26th & 27th November [on the old calendar] of that year.  It affected mainly the southern half of the country and the English Channel.  It has been estimated that thousands died (many at sea) - see http://en.wikipedia.org/wiki/Great_Storm_of_1703 : also an interesting analysis of the storm here - http://www.rms.com/publications/1703_windstorm.pdf
Comments are closed for this post.
Leave a comment
Subscribe to our blog email updates
Managing Your Woodland for Wildlife
A new book on encouraging biodiversity in your woodland. Available free here »