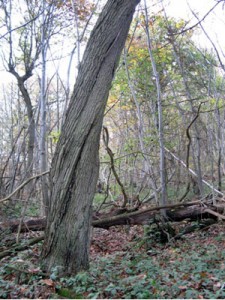 On 16th October 1987, the Great Storm took away many mature trees from the landscape of southeast England, a great swathe of destruction was wreaked on our woodland and parkland trees.  Many trees and overlarge coppice still lie where they fell, the coppice more often than not growing up again but from a much larger base.  The mature trees have been gradually rotting. All the resources locked up in the wood being released and taken up by bacteria, fungi, invertebrates and so to higher organisms.  It was a major ecological disturbance,  that in some ways has been of considerable benefit to wildlife.
Such was the ferocity of the storm that tops were blown off of trees, huge limbs from oaks dropping to the ground.   For species like poplars, there were places where whole plantations were decapitated.
Much data of root plates from trees windblown in 1987 was collected by the Royal Botanical Gardens at Kew (http://www.forestry.gov.uk/pdf/FCIN078.pdf/$FILE/FCIN078.pdf ) and its analysis has proved invaluable in our understanding of how root systems develop.
But what of trees that withstood the gale, how were these affected?  Those trees were the roots held firm would have been subjected to huge uni-directional stresses - the trees bending as they were hit by gust after gust.  Where the canopy was uneven as on the edges of woodlands or where stem distribution was uneven, there would have been rotational forces twisting the stem where failure would result not in horizontal cracking but in longitudinal cracks running up the trunk.  Oak is very strong and makes good beams but is weak along the grain, longitudinally and is easily cleaved.  At the time of the storm there would have been little evidence of this damage, now (some 24 yrs later), it is sometimes visible on the surface  - where regrowth either side of the fissure is seen (see featured image).   This photo shows an extreme case, where the internal cracking has subsequently deformed the tree's growth.
While oak can withstand the ravages of bacteria and fungi the Turkey Oak is less resistant and more susceptible to attack.  We've had several cases where rot has set in at about 20 feet above ground level – as a direct result of water entering where cracking has been most severe - and the whole canopy has fallen out!  We've not observed this phenomenon in other species but they must have been similarly affected at the time.
Comments are closed for this post.
Leave a comment
Subscribe to our blog email updates
Managing Your Woodland for Wildlife
A new book on encouraging biodiversity in your woodland. Available free here »