One of the gold medal winners at this year's Chelsea Flower show was the garden entitled "Gardening for Champions".  This garden shows how simple changes to urban gardens can help the environment through
Encouraging pollinating insects
Saving water
Cutting carbon dioxide emissions
The garden, which was designed by Martin Walker, is based on research carried out by academics ** from the University of Leeds; it shows how simple changes to urban gardens can make a positive contribution to ecosystem services.  The garden offers a number of practical suggestions, which anyone can apply in their garden.
Firstly, look at your garden through the eyes of a pollinator – say, a bee or bumble bee.  Many of the 'bedding plants' sold by garden centres have been bred for features like double petals etc., at the expense of pollen and nectar.  Areas of long grass, with plants like clover or other species with rich sources of pollen and / or nectar are much more bee friendly.  Bees / bumble bees will help pollinate fruit trees, peas, beans and many other plants.  Solitary bees need nesting sites.  An area with sandy soil, or some rotting wood/logs †,  or an old brick wall will help encourage them to nest.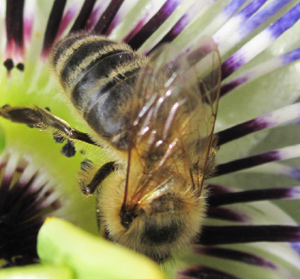 Equally, do not 'discourage' bees (or other insects – like hoverflies)  by the indiscriminate use of pesticides.  There is growing evidence that even small concentrations of certain insecticides disorient bees so that they cannot find their way to and from the hive / nest - or perhaps make them more susceptible to parasites.
One particularly important ecosystem service that woodlands and, indeed urban gardens, can offer is the interception of rainfall.  In recent years, many front gardens have been covered with concrete, hard standing for cars.  This means that rain runs off into local drains and sewers, which may not deal with the torrent – flash floods may result.  Not only this,  but rainfall that runs off fast does not percolate into the soil / ground, helping to top up the water table – from which plants can withdraw water during dry periods.
Gardens and gardeners can help regulate water flow by creating permeable paths (shingle or bark walkways – rather than concrete).  Run off from sheds and garages can either be stored in water butts for later use, or the surfaces can support green roofs (Sedum or grass) – which intercept and store water themselves.  Green roofs can also help support pollinators and may contribute to summer cooling and winter insulation of structures.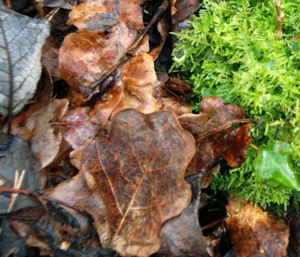 Reducing the need for commercial / artificial fertilisers used in the garden is another aspect to the Chelsea garden.  The composting of leaves, food waste and vegetable peelings is one way to help turn your garden into a "carbon sink".  Composting adds carbon to the soil; the humus formed improves the water holding capacity of the soil - and adds nutrients.  Using your garden to produce fruit and vegetables reduces the carbon needed to supply you with food - think air miles, transport of food and packaging, the carbon footprint of so many foods.
---
†  rotting logs / dead wood also encourages saproxylic beetles
** Dr Rebecca Slack working with Professor Les Firbank, Professor Bill Kunin and Dr Gordon Mitchell, with support also given by the Natural Environment Research Council (NERC) which has funded much of the research into ecosystem services.
Full details of the urban ecosystem services team can be found here 
Leave a comment
Subscribe to our blog email updates
Managing Your Woodland for Wildlife
A new book on encouraging biodiversity in your woodland. Available free here »