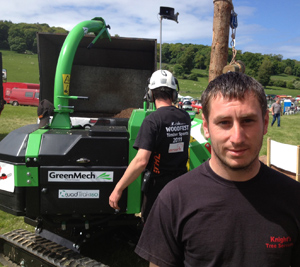 "Work has really picked up recently," says John Rathbone, co-owner of knightstreeservices.co.uk "We've had new contracts doing roadside work for Flintshire Council and clearing for the local powerline company and for private individuals. So much so that we've bought a new tracked chipper to go with the 12 inch chipper attached to our unimog. Mind you, every time you get new kit you need specialist training. For us, most of our training is at Llysfasi College and we all have regularly to update our first aid and chainsaw certificates."
John points out that things are changing in the tree services sector: equipment is getting better with their chainsaws now having self-tuning so that a manual choke isn't needed.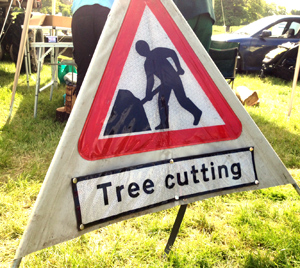 Also their chainsaws have anti-vibration devices to avoid operators getting "white finger". But the public have changed some attitudes too - they are increasingly aware that roadside trees are dangerous and now much keener to take any cut logs for firewood.
Knight Tree Services has five people working on the ground and was set up two years ago by John and his brother Kevin with help from their father. Their yard is in Llanasa near their home in Rhyl. Both brothers are committed to growing the business and hope that they can expand on the back of increased demand, the best equipment and hard work.
---
---
Leave a comment