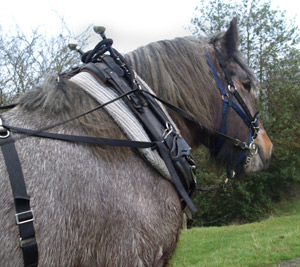 I have recently set up a new business as a horse logger – using horses to help owners manage their woodlands in a sustainable way. Like many of us, I am concerned about the damage that machinery can do to woodlands but at the same time I feel that the UK's woods will be more valued and better managed if owners can benefit from the woodland produce – and that means getting the timber out. I work with my horse Elza, to haul timber out of large and small woodlands with the aim of causing the minimum of damage. So, why did I become a horse logger?  It doesn't seem like a job that would immediately spring to mind if you were planning a change in career.    Looking back at it now, I can see so many influences from my life which led to this point.  From a lifelong love of woods and trees, to being Director of the South Yorkshire Community Forest and even being ruthlessly introduced to the joy of horses by my wife!
I've known of horse logging for a long time; even considering it as part of the way to manage the Community Forest as far back as 1991!  But it was on a visit to the Lake District that, for me, all the pieces came together.  I was walking round Tarn Hows lake with my wife, Beck and, in the distance, on the far side of the lake we could see horses working on the edge of the wood.  Well, that was it, we had to go and investigate (apparently).  What a sight.  A pair of lovely Ardennes (so the wife informed me) hauling logs in a beautiful wood in the glory of the Lake District. And that was it.  The realization that, in one leap of faith, I could combine my love of woods and horses, my knowledge and skills in woodland and countryside management and my interest in doing this in a sustainable and eco-friendly way. All we needed now was a plan … … and some training!
The training turned out to be the most straightforward bit.  I thought I'd get some proper dedicated training and then sign up with someone as the world's oldest work experience trainee.  Surprisingly, and unlike life in general, this is exactly what happened.  I signed up with Doug Joiner of the British Horse Loggers (BHL) for a course and then had one of those moments in life when the universe seems to be all in your favour.  Through my job at the time (Head of Green Spaces at Waltham Forest Council) I met Matt and Claudia Waller who run Hawthorn Heavy Horses.
I can't thank them enough.  They took me on as a volunteer, gave me loads of experience, training and encouragement, made me a horse logger in my own right and, best of all, became really good friends. They have trusted me with Holly, one of their three Suffolk Punches (the young 'uns, Fergie and Roy aren't working yet) and we've now worked together at Hylands Park, hauling timber, coppicing, thinning and getting firewood ready for sale at the visitor's centre.  If you fancy it, you can also get carriage rides on certain days at Hylands!  We have also worked together on contracts further afield such as Stansted Airport and Hanningfield Reservoir. So, what happened to the plan?  Well, Beck's parents are based in Mid Wales and have some land and buildings.  So, after extensive negotiation, conversion of the barn attached to their house and, frankly, a tiny bit of emotional blackmail, we and the logging business got ourselves a base in Powys (Mid Wales!).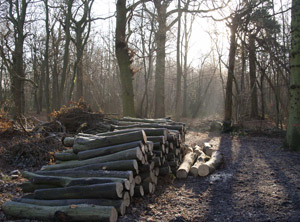 Of course there was still one rather important element of the horse-logging business missing …… the horse!
And I now knew, with Matt and Claudia's help, that this would be just the start; with a long list of equipment to follow.  So the search began.  The word went out via Beck's mum and the Rainbow Trails lot (www.dyfnanthorses.org.uk) to see if any of them had or knew of a working horse for sale.  Beck's niece, Freya, was keeping an eye out through her stunt horse contacts (www.stampedestuntcompany.co.uk).  Beck spent hours on the internet.  We searched and waited.  A few leads, a few suggestions, but nothing coming of any of them.
Then we spotted Elza on dragondriving.co.uk!  Perfect.  Experienced, the right size, good natured and all the kit and equipment you could dream of.  We saw her, we drove her, we loved her: we agreed the sale, booked the transport and were all set.   All going too well?  Oh, yes.  The night before we were due to pick her up, the tearful owner rang to say she couldn't go through with it.  We understood all too well, but it felt rotten and what a set back for the plan.  Back to waiting, back to searching the internet.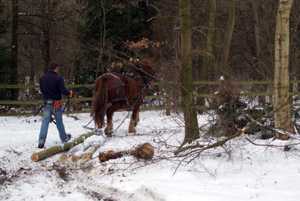 Then, an urgent call from Beck.  Elza's back on dragondriving.co.uk, with a note on it saying could the buyers from before please get in touch!  They'd lost our contact details and wanted to know if we were still interested. Well, that was it, Powys Forest Horses had its first horse.  Elza van Ramsburg.  And we love her.  Oh, and the equipment came with her so now we were ready for business.
Contact details :
Matt & Claudia Waller, Hawthorn Heavy Horses, Tel: 07814 003 787
Web: hawthornheavyhorses.co.uk  email: [email protected]        
Comments are closed for this post.
Leave a comment
Subscribe to our blog email updates
Managing Your Woodland for Wildlife
A new book on encouraging biodiversity in your woodland. Available free here »