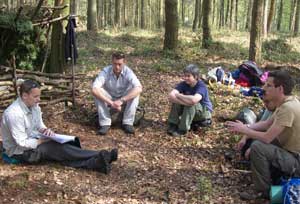 Why in the world would we pay to go and camp in a woodland with absolutely no facilities?  Because it is a Wilderness Weekend course, run by Landrock Survival Training and it is a brilliant course!
Mike (my husband) and I spent two days and one night learning how to survive in difficult circumstances.  John Hayward and Antony Quinn are lovely instructors, both with military training and a passion for woodlands.   They are great teachers.    We started the weekend with a safety briefing and a quick check of our equipment. Hiking to the site with loads of things in our rucksacks was the first challenge!
John then introduced the course, and then gave us our knives and survival packs that we could take home with us.   He talked us through the key acronym - PLAN:
Protection (i.e. shelter and fire to keep dry and warm)
Location (how to make sure a rescuer can find you)
Acquisition (of water and food, in that order)
Navigation (with and without a compass)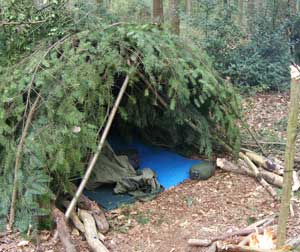 So, the first job was to build a shelter. Mike and I decided on the A frame , whereas Joel and Chris used the tarp. There are pros and cons to both of these. We were warmer, they were drier and had more space!  We created a 'wall' with logs to reflect the warmth of the fire into our home - such a great idea and so warm all night. It kept away mosquitoes and midges as well. This activity took a long time as we learned many new skills along the way and safe use of the tools we'd been given.
We also learned how to build a signal fire to call for help. Naturally John was going to surprise us about when to light it, and he usefully waited until I had our fire nice and low for making toast before yelling 'spotter plane!'   Because it was wet during the night we had some trouble lighting the signal fire within the designated minute - which meant we were not rescued and had to go back to making toast. Oh well!  Most woodland owners already know how to make fire - but John and Antony showed us so many more ways to do it, very exciting - and now Mike has found a use for lip salve (Vaseline); he is more appreciative that I always have some in my pocket. I am less appreciative at how quickly it is disappearing and how many bits of leaves and sticks are now in it!  (Vaseline spread on cotton wool catches sparks very easily.)
We also learned about snares, to use only in very difficult food conditions, filtering water and even gutting a squirrel. (that part is voluntary!).   Antony and John taught us ways of finding North without a compass and methods of counting steps to estimate distance. We then had to practise some orienteering. First time I have ever really understood how to use a compass!
It was an absolutely brilliant weekend and we highly recommend it. It doesn't matter if you are male or female, experienced or not – you will love it!   Many thanks to Woodlands.co.uk who provide the use of the woodland through their community woodlands project.
You can see more photos of the weekend on our website.   Contact John to book your place through this link : http://www.landrock-training.com/.    Landrock is also on Facebook : http://www.facebook.com/home.php#!/group.php?gid=105588086151445&ref=ts
Leave a comment
Subscribe to our blog email updates
Managing Your Woodland for Wildlife
A new book on encouraging biodiversity in your woodland. Available free here »