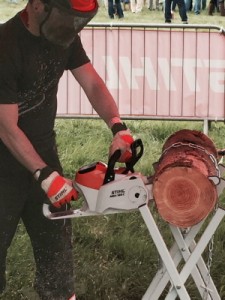 Compared to conventional petrol-driven chainsaws the electric versions have great advantages - they are lighter, don't give off fumes and are much quieter.  This top-of-the-range electric chainsaw is made by Stihl with the catchy name MSA160 and has a 12 inch blade. Stihl also makes it with a 14 inch blade (the MSA200).  The batteries are 36 volt, Lithium-Ion and give up to 45 minutes of cutting time so they are useful but not yet capable of doing heavy professional forestry work.
Andrew Peskell, product executive at Stihl UK, explains: "These are ideal for small clearing jobs, cutting logs or even hedge-laying. Cordless electric saws have been very popular with wood carvers as they value the low-profile chain which allows a good progressive cut.  These cordless saws are also very well balanced."
In terms of cost there are three elements - the basic saw or "shell", the battery and the charger.  Including VAT, the shell costs £285 while the battery is £180.  The fast charger, which charges the saw in about half an hour, will set you back an additional £115.  Some dealers may give you a discount if you are a good customer but usually only about 5-10% so all in one of these will cost you a little over £500.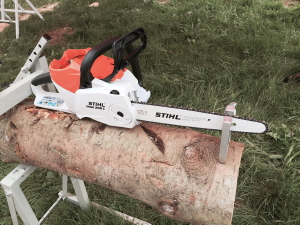 Safety and training is the same for these cordless saws is the same as for a standard petrol chain saw - you'll need the same PPE (Personal Protection Equipment) of chainsaw trousers, boots, and a visor, and of course you should also have proper safety training. Andrew points out that these saws have lower maintenance needs than other chainsaws: "without so many moving parts there's much less to do - you mainly have to look after your bar, the chain, the sprocket and keep it all clean."  Although these cordless saws have been available in the UK since 2011, the technology keeps improving and they are getting lighter and the batteries that are becoming steadily more efficient.
So whilst these electric chainsaws aren't yet as powerful as conventional two-stroke chainsaws, they have a growing place for small forestry operations, wood carving and woodfuel processing.
---
---
Leave a comment