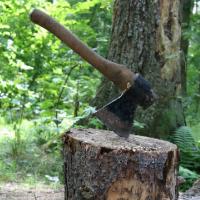 Over the years, our experience working in woodlands round the UK has given us a great deal of practical expertise when it comes to undertaking simple forestry tasks. Here are some tips and ideas on how to make the best use of hand tools to make many forestry tasks in your woodland easier and more satisfying.
1. Always make sure the blades are sharp. You can sharpen them with a small disk on an electric drill or with a sharpening stone.
2. Paint all the handles a bright colour - orange works well. Good tools cost good money and a bright colour makes them easier to find – especially as woodland jobs often seem to end as the light is fading! You will want to paint the "handles" but not the bit you actually hold as this can make forestry tools slippery when wet.
3. Try to use the right tool for the job! It is amazing how specialised some tools can be and how much time the right tool can save. To take one example for digging holes a long handled spade (rabbiting spade) and a pair of double spades (shuv-holer) for gate posts etc – the right tools here are very important as gate posts need to be in deep.
http://handbooks.btcv.org.uk/handbooks/index
4. Make sure you always have your bill hook or a long-handled chopper with you. These are sharp blades on wooden handles (you can see good illustrations if you type bill hook into google images). It is amazing how effective these tools can be in clearing just a few branches from a path or track. It is tempting with the longer handled ones to get a metal handle as the handles do break sometimes, but you should resist this temptation – these are too heavy and too cold to be ideal.
5. Get the best long handled saw that you can afford. We use the "silky fox" brand of long handled saw which cost about £150 each but they are well worth it. These long handled saws have extending handles, are very light and have razor sharp teeth.
6. Don't bang in posts with a sledge hammer – use a specialised post thumper, called a "driveall". These are heavy tubes with the top welded on and handles on each side. The post thumpers are safer than sledge hammers and they direct your energy more efficiently into getting posts or gateposts into the ground. Also sledge hammers tend to split posts.
7 Always have a battery operated electric drill with you. These can be useful for drilling, screwing screws or for sharpening blades. You will need to remember the spare battery and charge up the batteries before you leave home.
8. Take a good bow saw and a spare blade for it. The blades are cheap and easy to fit. Bow saws can be quite as effective as chain saws for short jobs and without the need for so much safety equipment: the job can often be done more quickly using a bow saw. If there are several of you it is better to have at least two bow saws: they are easy to use and compared to most forestry tools they are fairly safe.
9. Include in your forestry tool kit some good marking equipment. This can include tape to tie around branches to mark a line for a track and forestry spray paint for marking trees to be thinned. Masonry paint can also be useful for marking tracks.
10. Before you leave home check your list of forestry tools, which you are taking. It may well look like this:
– bill hook, spade, bow saw, long handled spade, slasher, post banger, electric drill and spare batteries, hammer and nails, Stanley knife, supply of screws, gloves, safety helmet, tape for marking paths, first aid kit, matches and paper for fires, an axe.
Apart from buying online from forestry tool suppliers and from traditional hardware suppliers you can also get good second hand forestry tools at woodfairs and forestry events. Possible online tool suppliers include: www.toolshop.co.uk, chainsaw.co.uk and billhook.co.uk, though our favourite is:
Leave a comment
Subscribe to our blog email updates
Managing Your Woodland for Wildlife
A new book on encouraging biodiversity in your woodland. Available free here »