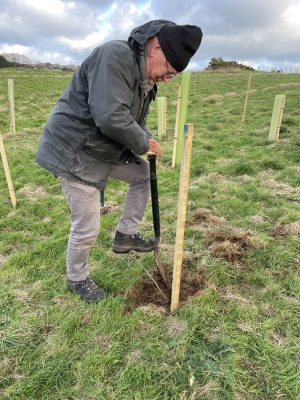 So, you've decided to plant some trees and are wondering what tools you'll need for the job.  Whether you're planting a select group of ornamental species, a bountiful orchard of fruit and nut trees or a new broadleaved woodland, there is one key aide which will take you a long way – the humble tree planting spade.  This is a short guide to what you might find on the market and the differences between various spades.
Spade or Spear?
Most tree planting tools will fall into one of two categories:
Spades - those shaped like a traditional spade with a curved head and a flat cutting edge at the bottom.  They will look similar to a normal garden spade but much smaller.  
Spears – those with a flat face and a point at the end, designed to create a slot in the ground when pressure is applied to the tread by foot.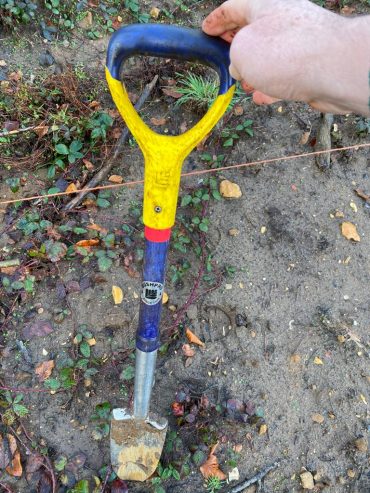 Spades can be used to dig holes for planting and move soil around, making them more versatile tools, whilst spears are excellent for planting cell-grown* or bare root* stock, but are somewhat limited to this sole function.  If planting larger trees with established root systems (root-ball* trees), then a spade is definitely the tool for you, as the slot created by a spear would not be sufficient to house the root system without causing crushing. In contrast, for those looking for an efficient method to plant lots of small trees quickly, for example when establishing new woodland for carbon offsetting purposes, then a spear should definitely be considered. 
Comfort is key
Like many things, it often comes down to personal preference and what you feel most comfortable with.  There is no right or wrong tool to use, as long as the tree is planted in a way that does not damage it (for example by burying the root collar) then you're on the right track.  Planting trees is a wonderful thing to do and as much as possible, you should work with tools that make the process a pleasure, which hopefully means you'll spend more time doing it!
Other factors to consider
An often-overlooked detail is the length of the shaft and handle, which for those who are slightly taller or have the odd back pain, can make a big difference!  A nice long handle will take the strain off those sensitive back muscles, as well as offering a bit more leverage which can be of assistance when planting in heavier soil types. 
The materials and quality of construction is also important; try wherever budget allows to buy once and buy well!  Some cheaper tools made from inferior parts may not stand the test of time, or worse still let you down when you're out in the field with a bag full of whips.  A solid wooden handle (or better still stainless steel) with a galvanised steel head is a good option, ideally with a double-riveted socket which will provide greater strength.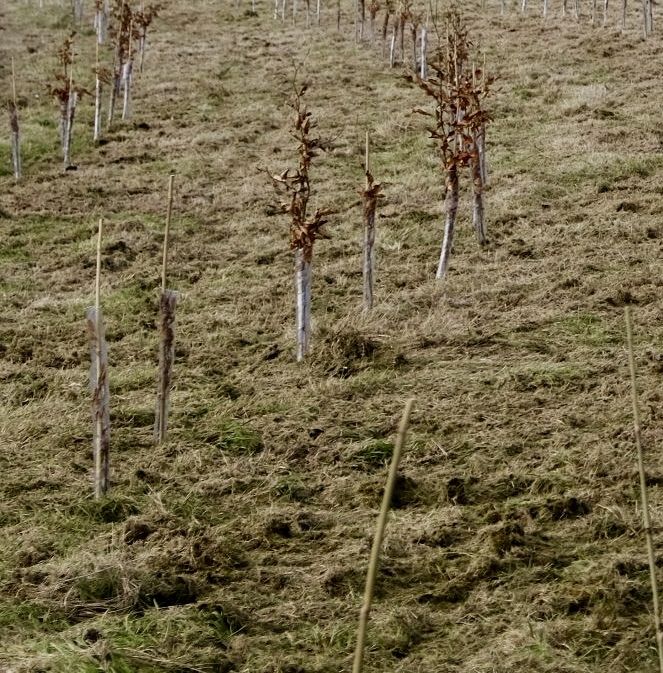 Where to buy and how much?
Tree planting spades are available to buy at most garden centres and agricultural supply stores, such as Mole Valley.  They are also widely available to buy online from specialist tool suppliers.  Whilst you could pick one up from as little as £20, and pay up to £100 for the very best, you will be able to buy an excellent spade for around £30-£35. Bulldog Tools are a reliable supplier and would be a good option to consider.
Do what works for you!
Planting trees is good fun and of benefit to the planter, the wider community and the environment.  A communal activity and a great form of exercise, the more trees we can all plant, the better!  This means that you should use a planting spade (or spear) which is comfortable to use and gets the job done.  If possible, try out a couple of different designs and manufacturers (borrow from a friend or neighbour where possible) before making the decision, but always remember they are in essence doing the same thing – making a home for a tree where it will live for many years to come.
---
*Tree types
Bare root trees – Produced by sowing seeds into outdoor beds.  During development, seedlings are undercut to encourage a healthy root system.  When ready, the trees are lifted and shaken by a machine to remove the soil, revealing the 'bare' roots of the tree.  They can only be lifted and planted during the winter months when they are in a state of dormancy. A cost-effective option.
Cell grown stock – These trees are developed in a compost 'cell' or 'plug' and can be seen as an intermediate option between bare root and pot grown.  When removed from the cell, the fibrous root system is contained with the compost which remains on the roots.  More expensive than bare root but generally has a higher success rate and can be planted all year round.
Root ball or pot grown – These trees are the most developed and largest of the three options and are delivered with a significant ball of soil surrounding an advanced root system.  The root ball will be encased in a biodegradable material.  Great for those who want more established trees from the offset, although there is a price to be paid for this benefit.
---
---
Leave a comment