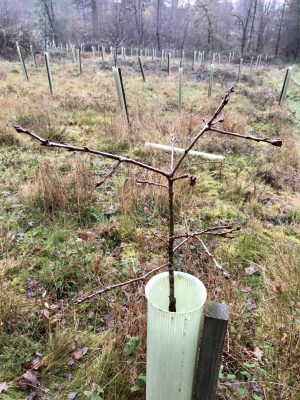 So, you've decided to plant trees, or maybe you want to buy land for tree planting, but you're not entirely sure exactly how to plant trees correctly. There are several things that need to be considered when going about planting trees, including choosing the right tree, deciding where to plant it, and making sure it takes root and grows successfully. Once you've planted it, you need to keep an eye on how it establishes itself in its new location.
When is tree planting season?
It's best to plant trees with before the spring and summer. The rainy spring and hot summer conditions can spark the tree to grow, so it's important for you to establish the tree in its new location before this change in conditions. As a result, the best time to plant trees is from November to March, with planting in November giving the tree a bit more time to get settled (for its roots to establish) before the warmer seasons.
Though you can technically plant a tree in the summer, this could increase the chance of it not establishing. It's best to plant trees when the weather is cool. 
Where is the best place to plant trees?
You have several options for where to plant a tree, whether that's in your garden, on someone else's land or on tree planting land that you have recently bought. When deciding to plant you must consider what the space has to offer; for example, if you have less space, like a small garden, it might be best to choose a smaller tree that's easy to prune and that won't interfere with the infrastructure of your house or its surrounding area. If you have a larger garden or a plot of land you'll have more options, and could consider things including the topography, soil type and aspect, when selecting species. Though many trees can survive in any conditions, some prefer specific conditions.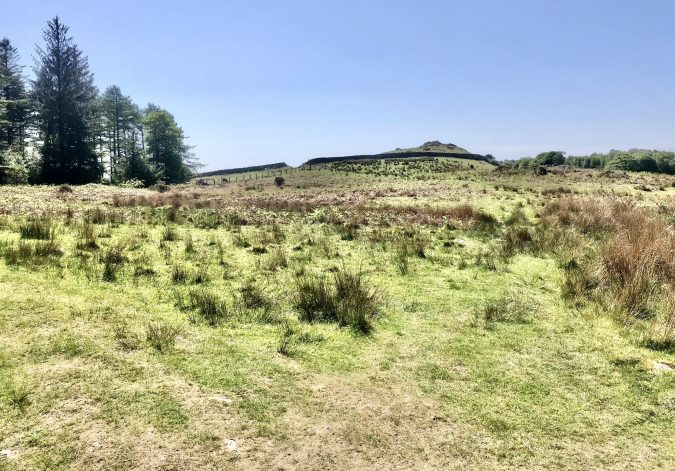 If you don't own the land you're planning to plant on, you will need to get permission from the landowner before doing so. If you do own the land, you won't need planning permissions unless your project is over 2 hectares in size, at which point some environmental assessments may be necessary.  There are also some places where you can't plant trees, such as on archaeological sites, or sites with rare or protected species. Grasslands that have never been ploughed, wetlands and heathlands are not suitable for planting trees. Planting next to some rivers could also be regulated, but you'll need to talk to the Environment Agency to make sure. If you're unsure about whether you can plant on your land, you can check with the Forestry Commission. 
What species to plant?

When it comes to selecting species, there is no right or wrong answer, and different species can flourish equally in the same location.  People often prioritise planting native broadleaved species, which is widely encouraged, but not essential.  Planting a range of species can improve resilience and resistance to disease, while also having excellent carbon storing capabilities! A diverse mix of deciduous trees will also be beneficial to wildlife.  In the UK there are lots of options for native trees. Examining what's already growing in the surrounding areas will give you an idea of what will grow successfully. You might have a specific goal in mind when planting trees, such as attracting more wildlife to an area - a tree with nuts and berries (such as rowan, elder, blackthorn, or hawthorn) will be best for this - or maybe you're looking to reduce flooding, in which case alders and willows are good options; particularly next to watercourses.
The size of the space you have available is important to consider, as larger trees may eventually  encroach upon your home once they reach maturity, so may not be suitable in a back garden. For smaller gardens, consider trees such as crab apple, alder, bird cherry, dogwood, elder, or goat willows, which are naturally small, or trees that can easily be pruned back to the desired size like holly or hazel. 
What do I need to plant a tree?
Not a lot of equipment it required to plant a tree: you'll need a spade, a tree (which could be bare root, cell grown on root ball), a tree guard for protection and a cane/stake for support. 
If there are browsers or grazers in the local area (such as deer) then stock proof fencing around the perimeter of the young woodland could be useful to keep them out.  A mulch (or equivalent material) is also important, to keep down the grasses and weeds which can provide unwanted competition for young trees.  Mother nature will almost always take care of the watering required, but some irrigation (from a spring, river or mains connection) can be handy in particularly dry spells. Rain water collection systems could also be utilised.  
Steps to plant a tree
Preparing the land & choosing a spot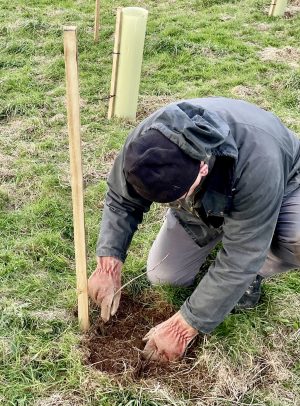 Before you dig a hole to plant your tree in, prepare the soil for planting. This involves cutting any grass short and weeding the area, which prevents the tree from competing with other plants for water and gives it the best chances possible!
After working out the density at which you would like to plant, it's sensible to mark where each tree will go with a stake.  This should be a safe distance away from any buildings, other trees or infrastructure (don't forget about power lines and pipes!). Planting density can vary on species, as well as desired outcomes, but it's worth bearing in mind that the denser you plant, the sooner you will get a closed canopy, which is a nice milestone in the development of a woodland.  Either 2m or 3m gaps are fairly standard.  For hedge planting smaller gaps are advised, with 30cm or so between each tree; for thicker hedges make a double row of trees in a zig zag pattern with 50cm between the rows.
Digging a hole
Once you've done your preparation, it's time to dig the hole! There are several tree planting methods, including pit planting, spiral planting, and t-notch planting. Pit planting works on all soil types; spiral planting works on bare soil and grass and is good for stony soil; and t-notch planting is a quick method for grass-covered ground. 
Pit Planting
Dig a hole deep enough to take the length of the roots of the tree. Pick up the tree by the roots and place it in the hole, pushing it to one side to see how deep it is in the hole and to ensure all the roots are covered. Using the heel of your boot or your hands, firm the soil around the roots, making sure there are no air gaps. 
(Another way to prevent air gaps is to spray water on the soil after backfilling halfway, and again once you have completed filling the hole.)
Place the tree guard around the tree and hook it around the stake, and push it around 1cm into the ground.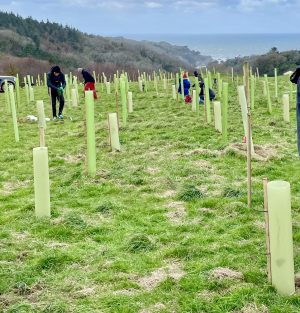 Spiral Planting
Press the depth of your spade into the ground, pushing forward to create a slit that's deep enough for the roots of your tree. Using the spade to keep the slit open, place the tree inside the hole with the top of the roots 2cm below the ground. Remove your spade and push the soil back around the roots of the tree, again checking that there are no air gaps.
T-Notch Planting
Create the first 'notch' by pushing the depth of your spade into the ground. Then, to create the second 'notch' do the same thing at a right angle to the first notch, creating a 'T' shape. Return the spade to the first notch and lever it upwards, parting the section of soil. Hold your spade there, placing your tree in the space created before removing the spade to allow the soil to fall into place. Ensure that all roots are in the hole and adjust the tree so that it's at ground level, before firming the soil around it.
How To Plant A Root Ball Tree
If you're planting a ball root tree, or a tree from a pot, dig a hole 2-3 times the width of the roots, but no deeper than the length of the roots. Break up the clumps of the roots so that the roots don't grow circularly. You might choose to leave 25% of the root ball higher than the surrounding soil level, and taper the soil so that it covers the roots before adding a layer of mulch.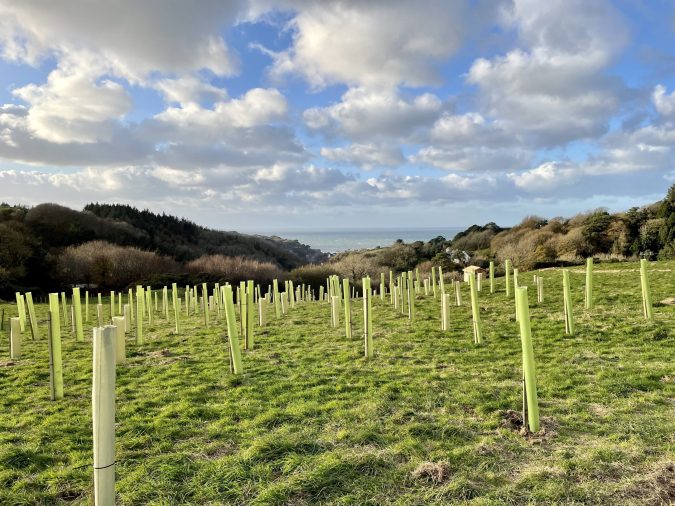 After Planting
Mulch
Mulch is a good way to retain the moisture of the soil surrounding your tree.  It can keep the roots cool, and protect the roots of your tree from extreme weather conditions. Mulch will also keep competitive weeds and grasses at bay, which can be problematic for a young tree.  Alternative options to mulch include bits of old carpet, sheep's wool or anything that will keep the light off the soil and prevent growth around the base of the tree.  If you choose to use mulch, leave around 1-2 inches of space around the base of the tree, and place mulch about 1 sq/m around the tree.
Watering
Watering your tree correctly is extremely important for it to grow successfully. You will need to ensure that you water your tree correctly until its roots are properly established in its new location. This can take anywhere from a few weeks to a few months, up to a year. Here in the UK, in autumn and winter, our rainy climate is usually sufficient to enable the trees to establish and flourish on their own.  Some additional irrigation from a stream or water run off can be helpful if it is particularly dry.
Pruning
Before you plant your tree, you might choose to prune branches, but you shouldn't do so immediately after planting. Wait until after a full season of growth to do 'corrective' pruning.
Plant Around Your Tree
The area surrounding your tree provides the perfect environment to plant other shrubs and plants. Planting wildflowers can help attract diverse wildlife and creates a variety of food and shelter for different species. If you're planting several trees, the space between your trees will encourage different habitats to form and improve the biodiversity of the area. It could be nice to form a footpath between your trees so that you can easily access them and enjoy the advantages that come with being surrounded by nature.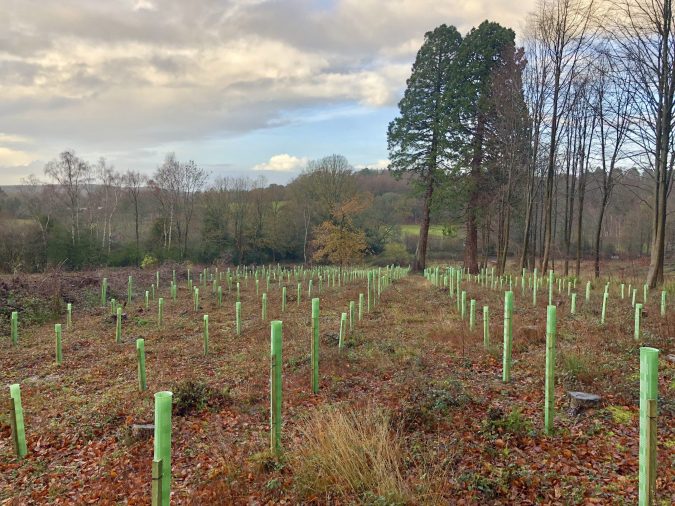 Go, go, go!
Now that you know how to properly plant trees, get planting! Don't be discouraged if the tree you've planted doesn't grow successfully- there are endless variables that can affect why this might happen, but if you follow the above tree planting tips you should be on the right track. There will always be a certain percentage of trees which fail to establish.  There are so many benefits to tree planting on your physical and mental health, and is one way to do our bit to help the protect the environment from the effects of climate change, so there are plenty of reasons to keep trying!
---
---
Leave a comment