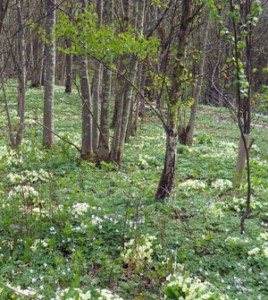 This favourite of all small-talk topics merits attention after the hot April and subsequent very wet months of May, June and July. But I am not going to mention climate change as threatening, indeed potentially catastrophic, as this phenomenon is to all of us and our futures. The weather, particularly very wet weather, affects work in woods and their care and management for the small owner as much as for the large forest estate.
The first issue is health and safety. While one can wear warm waterproof clothing and tough, thick-soled boots to ward off the effects of exposure, the dangers of accidents when working in the wet are multiplied many times. This is particularly so for the small owner relying on hand tools or motor manual operations such as chainsaws, clearing saws and hedge trimmers. The risk of slipping, of poor grip, of obscured vision, or the sudden unpleasant dowsing adds to the hazards wet weather brings. So, when there is a choice, work in the dry. It's perhaps obvious, but nonetheless worth remembering.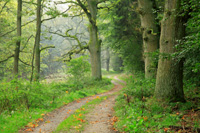 A second reason to avoid working when it's wet is the damage done to a site. As well as soil erosion itself by water, wet soils have far lower strength characteristics and are far more easily compacted than when dry. Many years ago in my own wood, the final thinning of pines from a 3 row:3 row mixture with beech was done during a wet April. I can recall now trying to clear up the mess - and our wood is not on a sticky, heavy clay soil. Today, 15 years later, the signs of compaction are still visible and while the ruts have mostly filled in, the wonderful display of primroses that once lit up the ride in Spring has never recovered its former glory.
The third reason is more obvious still but also arises from soils becoming weak when wet. Vehicles get stuck! Any reader who has been to Glastonbury for the festival will not need reminding, but vehicle movements over soft ground are best avoided to save the ground and the groaning. Use of hogging or hard core to create a hard-standing on a woodland track can be useful where one wants to park or provide a turning point or where potholes are seen to develop. Potholes are common where a wood fronts on to a lane and the entrance forecourt becomes the lay-by that allows vehicles to pass. Wheels inevitably encroach on soft soil at the edge. A dip forms, rain fills a puddle, soil is further softened, and repeated wheel movements deepen the hole to create the familiar verge side pothole and the obstacle we then all gingerly try to avoid when navigating country lanes. Filling such holes takes remarkable amounts of stone but in time can make a difference. As my wife has dug over the garden since we moved a couple of years ago – Margaret is the gardener among us – she has picked out numerous flints and other debris. Some 30 or 40 bags of these flints have filled the wheel-excavated holes at the extremities of our wood's bell mouth entrance and effectively widened it by 2-3 metres. Vehicles can pass and re-pass on the narrow lane using our entrance without now slipping off firm ground. Of course, I only have one entrance - and one wife!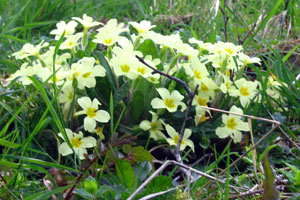 A final weather effect concerns wildlife and the benefit of keeping notes of visits to one's woodland, a woodland diary. Not only have the seasons been earlier this year, and weeds and trees lush in growth from all the rain, but animals appear to have responded too. Grey squirrels have, regrettably, been more numerous, but it is butterflies that have most surprised. Orange tips, so often a herald of Spring, made a poor showing, but were more than compensated by fritillaries in high summer, especially the large silver-washed fritillary fluttering to and fro like great flecks of coppery gold. Brimstones and red admirals have been few, but whites and browns of various sizes, not susceptible of identification by this amateur, have been in good numbers. Wonderful.
Professor Julian Evans was the Forestry Commission's Chief Research Officer and also has his own small woodland in Hampshire. He has written 3 books on small woodland ownership including Badgers, Beeches and Blisters.
---
Comments are closed for this post.
---
Leave a comment