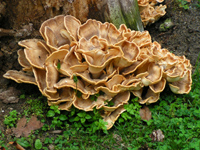 Getting to know the trees and flowers and mosses and fungi in a wood is a bit like getting to know a roomful of people all at once. To begin with you don't know many of their names, but gradually you work out what most of them are called, and to help yourself you probably write down the difficult ones. After a few weeks you feel quite confident.
But there is more to getting to know people than finding out their names. Also with plants. For your nature diary, you can select one plant from perhaps a dozen different species that you have, and on each visit record what changes you see. Perhaps you think that one has grown taller, another's flowers have vanished, a third now has a companion beside it. But are you sure you remember correctly what it looked like last time? For a nature diary, it is vital that you write down, however messily, exactly what you see, with drawings, or even a photograph. And it's very helpful to have a few little inconspicuous white sticks to put in the ground beside your chosen plants, so you will know them again. In some seasons your plant may disappear altogether. Next year, does it come up in exactly the same place? Why – or why not?
For flowers, it is easier to recognise them when they bloom in March, April or May, for fungi in September, for trees all the summer, but for mosses any season will do.
What can you learn about your plants? The first and most obvious thing is where they like to grow. The trees may have been planted, but the other things are not cultivated, so why are they there, and not somewhere else, or nowhere at all? What do you think it is about the soil, the light, the other plants around, that makes this a good home for them? Perhaps your books of identification will give you some clues.
If it is your own wood, or one where you work, you may be able to influence the environment of your plant. Even if you do nothing, the environment will gradually change (if no one does anything it will get more overgrown!) and that will have an effect.
It's also fun to watch a young tree grow, particularly if you have planted and cared for it yourself. Measurements of height and girth every year will give a convincing picture of how much your work has contributed to the wood.
Leave a comment
Subscribe to our blog email updates
Managing Your Woodland for Wildlife
A new book on encouraging biodiversity in your woodland. Available free here »