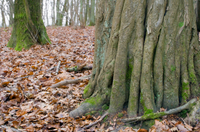 You may remember a great blog a couple of months ago by Jackie of Play Action about her forest school plans.  Their latest project is to build some "facilities" at their wood in Ashford, Kent – pretty essential if you have lots of kids visiting!  Would you like to take part and get some excellent and practical tuition into the bargain?!  It's quite soon – Thurs 12th to Sat 14th June '08 – so if you're interested read on for more information from Jade who's organising the project:
  I've just recently taken on the role of Project Coordinator for a new and exciting project called Nature's Playground.  Nature's Playground is based in Ashford, Kent and consists of 100 acres of beautiful woodland with lots of wildlife, a lake, zip wires, an adventure playground, a wooden castle with a fort, a log cabin and potential for much, much more.
We are setting up Nature's Playground as a social enterprise, and our want to develop it into a natural and eco-friendly resource for children, young people and the wider community to use.  Our only problem is the amount of work that has to be carried out to get the project up and running. Our strategy for getting the space ready has been to hold volunteer camping weekends to build, burn, clear and carry out structural and general maintenance work. These weekends have been very successful with the total number of volunteers nearly reaching the 100 mark! All the hard work the volunteers have put in so far has been unbelievable and heart warming especially the work of three young men - the wild man of the woods Martin, Volks and Atilla - whom I've named "The A Team". I don't know how to thank them all, words just aren't enough.    
My role as project coordinator is very demanding and at times my stress levels are sky high, especially when organising, planning and facilitating the volunteer weekends. I tend to spend the weekends making sure everyone is happy, helping to cook, providing constant supplies of tea and coffee, driving to and from the gate, taking calls, helping wash up and attempting to get through my "to do" list. 
Since taking up the role I've never had the chance to experience and enjoy the true magic of being in the forest. It all changed this week.  For the first time I got the chance to do just that, to relax and just "be". I had two meetings set up on site and, instead of driving to and from London twice, I decided to stay for two days along with two-thirds of The A Team. While there I totally forgot about the pressures of work.  It was lovely being away from technology - especially the computer – I felt I could breathe, I was at peace with myself, like a child without a care in the world, discovering new things and exploring.  Atilla found a stream that led him to a well and then we got lost trying to find it again. On one occasion right in front of me was a deer - I was standing about 15 feet from Bambi!   It was the most amazing, inspirational, exciting, peaceful, positive and productive three days I've had this year.   
When I got home later I switched on the TV to hear on the news of the 14th young person to be killed this year and it brought tears to my eyes.  I'm supporting children and young people to live long enough lives to fulfil their potential. How? By giving them the opportunity to experience exactly what I experienced during my three days in the forest. By exposing them to as much play as possible, especially play which would lead to positive and productive ways of using knives.  Forest schools and bushcraft workshops can support them to appreciate and respect a knife as a creative tool, not a tool of destruction, even more so if they are exposed to it from an early age. Finally, it gives them a break from their usual environment and allows them to experience the beautiful sanctuary of the forest.   This was the first time I really appreciated the beauty and potential of Nature's Playground.  Nature's Playground is going to work, because our children, young people and community need it.  
Here is how you can start to get involved in supporting Nature's Playground:  We are running a 3 day "Treebog Theory and Construction Course" at Nature's Playground. Your trainer will be the creator of these eco-friendly, and, I must say, quite beautiful toilets, Jay Abrahams. The course starts on Thurs 12th June and finishes on Sat 14th June and you will be using natural wood from Natures Playground and Beetle Wood where Jay works to construct the treebogs. There is a small cost involved but the end results and the rewards for taking part will be priceless. If you are interested in taking part in this wonderful opportunity then please contact me (Jade) as soon as possible as spaces are limited. Also feel free to contact me if you wish to volunteer or are interested in what we are doing. You can get hold of me at [email protected]  for more details. 
Leave a comment
Subscribe to our blog email updates
Managing Your Woodland for Wildlife
A new book on encouraging biodiversity in your woodland. Available free here »