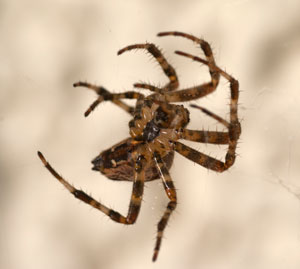 For those wanting to follow up on the different forms of wildlife in their woodland, the following organisations / societies might be of interest / use.  
For each there is a link and a snippet from the organisation's website.
Website of the British Arachnological Society (wiki.britishspiders.org.uk). "Here you can find information on those fascinating animals, arachnids. Our emphasis is on British spiders but we don't exclude other arachnids such as Harvestmen (opilionids), Pseudoscorpions and Scorpions".
Amateur Entomologists Society (AES)
www.amentsoc.org "The Amateur Entomologists' Society (AES) is one of the UK's leading organisations for people interested in insects. Entomology involves learning about insects and the environment.   The society produces four publications for members. We also publish and regularly update a highly regarded series of books. It also runs an annual exhibition, a Members' Day, and organises field trips for both adult and junior members."
Back Garden Moths    www.back-garden-moths.co.uk  " The society encourages the awareness of UK moths". It has a wonderful gallery of moth images if you are trying to identify a particular moth, see for example _ -  http://www.back-garden-moths.co.uk/community/monthid2.php?flightID=April
Birdweb
"The BTO / RSPB's portal to bird surveys work. A site where you can find out about how the UK's birds are faring, and where you can get involved with survey work, whether you watch birds in your garden for fun, are an amateur naturalist or a skilled birdwatcher. www.bto.org/birdweb/index.htm"
Botanical Society of the British Isles (BSBI)
www.bsbi.org.uk .  "The Botanical Society of the British Isles is for everyone who is interested in the flora of Britain and Ireland. The society traces its origins back to 1836, when it was founded as the Botanical Society of London. From its earliest days it has welcomed both professional and amateur members, and it remains the biggest and most active organisation devoted to the study of botany in the British Isles."
http://www.thebls.org.uk .  "The Society was formed in 1958 to stimulate and advance interest in all branches of lichenology. The first society in the world entirely devoted to the study of lichens, it has many overseas as well as British members.  It has a picture index of many species" : http://www.britishlichens.co.uk/pictureindex.html
British Mycological Society
for the study of fungi -  
www.britmycolsoc.org.uk .  "Each year,  the British Mycological Society organises a programme of public exhibitions and displays to help people understand the nature of fungi, and what varied roles fungi undertake in both the natural world and the world of mankind."
British Naturalists Association
"promotes the study of all branches of natural history) www.bna-naturalists.org The British Naturalists' Association, the national body for naturalists, is one of the country's oldest Natural History organisations, (founded in 1905). It promotes the study of all branches of natural history. Nationally, the Association organises study days, field weeks and weekends, lectures and exhibitions.. At branch level there are talks and wildlife rambles where newcomers can learn and where experienced naturalists share their expertise.   The Association also organises information services, publishes literature on natural history and has a lending scheme for magazines and other publications from all over the world. Its members contribute to an annual phenological report."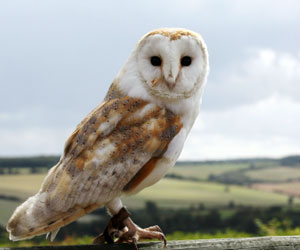 British Trust for Ornithology  (BTO)
www.bto.org/index.htm "Share your interest in birds with others by being part of the BTO. Volunteer surveyors, members and staff work in partnership to provide unbiased information about birds and their habitats. Join or volunteer today and make birds count!"
Buglife - The Invertebrate Conservation Trust
www.buglife.org.uk "Buglife is devoted to the conservation of all invertebrates, and is passionately committed to saving Britain's rarest little animals, everything from bees to beetles, and spiders to snails. Today, bugs are under threat as never before, so it is important to secure a diverse and wildlife-rich planet for future generations."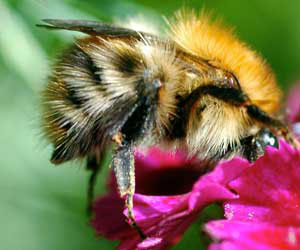 Bumblebee Conservation Trust (BBCT)
www.bumblebeeconservation.org.uk "Bumblebees are beautiful, hard working and incredibly important pollinators. In the last 70 years two species have become nationally extinct, and others are seriously threatened. Join today and help us to conserve bumblebees for future generations to enjoy."
Butterfly Conservation (for the study of butterflies and moths).
This has local branches. 
www.butterfly-conservation.org "Butterfly Conservation was formed by a small group of dedicated naturalists in 1968 following the alarming decline of many beautiful butterflies.  Most British butterfly species remain in decline. We aim to halt and reverse these declines. Our vision is of a world rich in butterflies for future generations to enjoy.  We are also committed to the conservation of moths, which are close relatives of butterflies and are in rapid decline.  Butterflies are beautiful and intrinsically valuable. Together with moths, their sensitivity to environmental change makes them valuable indicators of the health of the countryside.  We have almost 15,000 members in the UK and 31 volunteer Branches throughout the British Isles."
www.mammal.org.uk "We are the only organisation involved in the study and conservation of all British mammals. From dormice to dolphins, bats to badgers, mammals are an essential part of Britain's biodiversity, and we work to identify those under threat, and halt their decline before it's too late. We promote the study of mammals with the aim of offering the best scientific advice for their conservation. We want to inform, educate and involve people of all ages in mammal conservation across the British Isles, to protect them for the future."
Moths Count :
www.mothscount.org "Moths Count aims to encourage interest in moths throughout the UK and to establish an ongoing National Moth Recording Scheme to improve knowledge and conservation of the 900+ species of larger moths."
National Insect Week:
is sponsored by the Royal Entomological Society.    LNHS is a partner
.  www.nationalinsectweek.co.uk "National Insect Week is designed to show your more about the insect world in all its fascinating diversity. Use this website to wow your friends and family with more amazing insect facts, find out about events near you and enter our popular photography competition. Also, don't miss the NIW Blogsite!"
OPAL (Open Air Laboratories Network):
www.opalexplorenature.org "OPAL is developing a wide range of local and national programmes to encourage people from all backgrounds to get back in touch with nature. The project will also generate valuable scientific data concerning the state of our environment.  By bringing scientists, amateur-experts, local interest groups and the public closer together, lasting relationships will be formed and environmental issues of local and global relevance explored."
www.plantlife.org.uk "Plantlife is the organisation that is speaking up for the nation's wild plants. We work hard to protect wild plants on the ground and to build understanding of the vital role they play in everyone's lives. Wild plants are essential to life – they clean our air and water, provide food and shelter for our insects, birds and animals and are critical in the fight against climate change.   Plantlife carries out practical conservation work, manages nature reserves, influences policy and legislation, runs events and activities that connect people with their local wild plants and works with others to promote the conservation of wild plants for the benefit of all."
Rockwatch (Young Geologists' Club)
www.rockwatch.org.uk   The nationwide club for young geologists.  It is the junior club of the Geologists' Association. "Rockwatch is the club for all those interested in things geological - rocks, fossils, minerals and landscape.  New members receive a loose leaf, A5 size 'Rox' file containing a basic set of geological fact cards; magnifier; Rockwatch badge; a grain size card; full colour geological map of the British Isles and a "Thumbs-Up" guide showing you how to make the best of your collections and a list of UK museums with geological collections.  We publish a full colour magazine three times a year.Each issue is full of fascinating geological articles; activities and puzzles and two fact cards to add to those already in the Rox file."
The South London Botanical Institute, visit http://www.slbi.org.uk/joinus.htm
'hidden little gem of Tulse Hill'.  "Membership of the South London Botanical Institute is open to all who have an interest in the plant kingdom.   It was the firm belief of the founder Allan Octavian Hume that all people, irrespective of their social class and level of education, should enjoy the opportunity to learn about plants."
The Wild Flower Society (WFS)
www.thewildflowersociety.com The Wild Flower Society is the only national society created specifically for amateur botanists and wild flower lovers in the UK.  We are a friendly group who like to meet up throughout the summer months to see and photograph British wild plants in their natural habitats. The Society has been running for over a century and proudly boasts a number of very eminent botanists and academics amongst our ranks with at least fourteen members having plants named after them!  But there are also many enthusiastic flower-lovers who just come along to learn more about field botany and generally enjoy being outdoors with like-minded individuals.
"This is an umbrella organisation for the many local Wildlife Trusts spread across the UK, the Isle of Man and Alderney. . It has more than 800,000 members, and it is the largest UK voluntary organisation dedicated to conserving the full range of the UK's habitats and species, whether they be in the countryside, in cities or at sea.  Its 'junior' branch is Wildlife Watch.   They manage some 2000 plus nature reserves covering more than 90,000 hectares."

Leave a comment
Subscribe to our blog email updates
Managing Your Woodland for Wildlife
A new book on encouraging biodiversity in your woodland. Available free here »