Moths are attracted to the light and are largely nocturnal.  So a woodland owner can trap and identify moths - if they have the right moth-catching equipment.  Woodland owners, Heather and Rodney have developed a brilliant home-made moth trap, which uses a mercury vapour bulb and is powered by a generator.  This has saved them the cost of buying a commercial moth trap, (at a cost of about £200); it has also given them a trap which is much more suited to their needs.
Using this device, Heather has identified over 350 different moth species over the last couple of years, such as the large grey Clifden Nonpareil (see image below).  It turns out that moths are really important in woodlands as they pollinate many plants and provide food for small mammals, spiders and bats.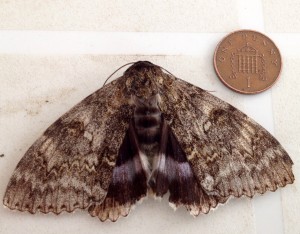 What Heather wanted was a moth trap at waist height in order to catch and analyse the moths without having to bend down, so her husband, Rodney, designed a structure on legs which includes a soft platform for setting out and identifying the caught moths.  Most of the components are recycled such as the old washing machine window which protects the light bulb and an old plywood bed which Rodney has used to make the wooden frame.  The two sides of the moth trap angle out to give a good line of sight but they also work well to shield the light from Heather when she is taking moths out of the trap (see images below post).  Inside the body of the trap,  egg boxes are laid out for the moths rest on or under - apparently waiting for Heather to come and identify them.
Moths have been in serious decline in the South East of England, with 40% of larger moths disappearing over the last 40 years according to a recent survey by the Butterfly Conservation Society.  Groups, such as the Sussex Moth group bring together moth-lovers (or moth enthusiasts, or maybe "mothies") and the group has 120 members who meet up 4 times a year at the Headquarters of the Sussex Wildlife Trust in Henfield, West Sussex.
"We usually set up our moth trap about one night each month" say Heather.  "We are trying to find out which moths live in our wood in case we need to adjust our management to accommodate them."  Rodney adds, "We have opened up the canopy to allow more shrubby plants which some moths like.  Also, our poplar trees are attractive to the Puss moth, one of the larger moths."
---
---
Leave a comment