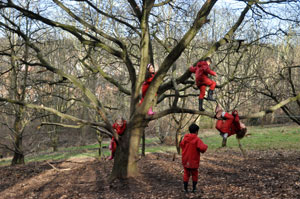 You may have seen them. Groups of children togged up in waterproofs and wellington boots heading off somewhere exciting, or returning; covered in mud and smiles, clutching a favourite stick. These are children who have been to a Forest School.
Despite the increasing concern that the younger generation is becoming more disconnected from nature and talk of nature deficit disorder 1 children and young people across the UK do have opportunities to spend time in natural environments. One of the ways in which this happens is at a Forest School.
Children and young people, leave their school or nursery for regular weekly visits to woodlands with a trained Forest School practitioner.  The impacts on the children can be remarkable.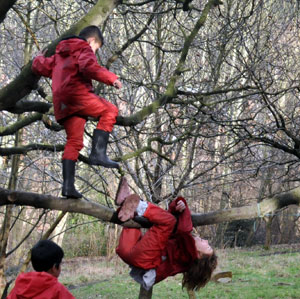 The children flourish with the freedom to explore and develop their own interests and ideas as well as learning new skills like working with tools and cooking on fires. Dominic was 4 when he started going to the woods with his nursery school. Shy and a little withdrawn, he was an elective mute who was never heard to talk around the staff. In the woods, he learned how to climb trees and build rope bridges, he loved to bounce and swing on them. One day he couldn't contain himself anymore. "Look at me!" he shouted as he swung from a tree. This was the first time any adult at the nursery had heard him talk, this was a turning point for Dominic as his confidence kept growing along with his willingness to talk to adults.
The Forest School ethos came about when, in the early 1990's, a group of Nursery nurses from Somerset went over to Scandinavia to look at the impact that outdoor  woodland nurseries were having on children's levels of well-being, resilience, health and motivation for learning. 2 Excited by what they saw they developed programmes for their own childcare settings and gradually the Forest School movement emerged. Now in the UK there are thousands of Forest School practitioners who have trained to work with children in woodlands, drawing on the resources and inspiration that woodlands can provide to create positive outcomes for children's learning and development.
Those practitioners, like the children themselves come from a variety of backgrounds; some are already working in schools, some come from the countryside services like rangers or conservationists. Others are freelance, running Forest School businesses which work with schools and childcare settings to create quality learning opportunities. Practitioners draw on their own experience and develop their skills through the Forest School training.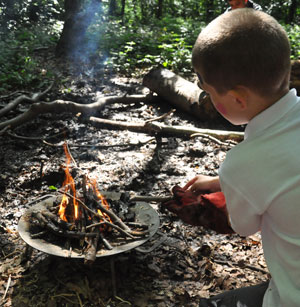 The children are helped to discover new skills like fire lighting and working with full size tools, as well as exploring the woods, finding out about the plants, animals and trees that live there and having time to play in the fresh air, finding ways of challenging themselves. The funding for Forest School projects comes from a variety of sources, charities, school budgets, the parents themselves.
Chelsea, age 10 attended a school with a specialist unit. She struggled to express her thoughts either in talking or writing.  She went to the woods every week with the teachers from the unit and a Forest School practitioner. She really enjoyed laying trails through the woods and using sticks and logs to tap out rhythms and make musical instruments with her friends. She developed a real passion for writing about her experiences in the woods, to the point where she chose to write about the woods at home and bring her writing to school with her. For her,  she had something real and tangible to build on. This helped her make connections with those areas that she struggled with in school.
The Forest School movement in the UK has taken on its own unique flavour; in July 2012 the Forest School Association 3 was launched as the governing body for the increasing number of professionals involved.  The Forest School movement is going from strength to strength and now involves children and young people of all ages. There are also an increasing number of preschools, nurseries and small schools who spend more time outside than just a weekly visit.
Forest School doesn't just create opportunities for children's growth. It is important that children have an opportunity to make connections with the natural environment. People only care for and protect the things they love, and people only love the things they know. It is crucial for the future of our woodlands that the next generation has this positive relationship to draw on.
Lily Horseman :  Forest School trainer and practitioner.
www.kindlingplayandtraining.co.uk
Comments are closed for this post.
Leave a comment
Subscribe to our blog email updates
Managing Your Woodland for Wildlife
A new book on encouraging biodiversity in your woodland. Available free here »