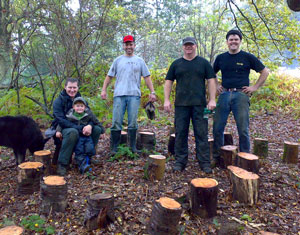 St Mark's CE Primary School (Sussex) were surprised and delighted to be given the use of a piece of woodland and meadow, only 400 metres from the school.
First the whole school visited the Ashdown Forest (under the aegis of the Sussex Wildlife Trust ), Then all the staff took part in an INSET day – also led by the Sussex Wildlife Trust. This gave the staff the opportunity to develop and refine some ideas on how to use the wood and meadow land to enhance children's learning.
With all of this fresh in our minds, Mr Warren organised several Saturday morning work days; the first was on the 24th October 2009. Although it was pouring with rain, dads turned up to transform the area into an outside classroom, or to use the current jargon "a Forest School". After several hours of wet and hot work, a large fire, some kind words from Jill, and a well done from our neighbours, we had a circle of 25 wooden log stools and a beautiful clearing in which to teach.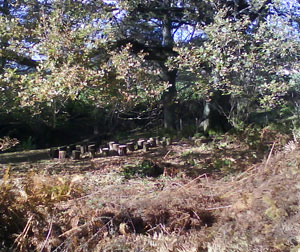 More photographs will no doubt follow, but I would like to take this opportunity to thank Rob, Mike and Tony for all their hard work. Since that time, we have established a working party of parents and friends and they go along to the meadow, helping maintain and improve the area. This has brought a number of parents with particular skills into the school, and it has been a pleasure to welcome them and see them involved with the forest school projects. Our pupils have enjoyed the outdoor areas in a number of ways:-
spending a day with a willow sculpture expert, and then making their own willow animals to place around the meadow.
whilst working on a nativity, which looked at life from the shepherd's perspective, the children carried out scientific experiments on sound, for example, seeing how far away they could go and yet be heard by the 'sheep'.
they have enjoyed problem solving and team building activities on Smile Meadow, run by Premier Sports. This helped them learn to work collaboratively.
Smile meadow was an ideal location for the Easter Egg hunt.
last year, a major project called a Stone Age Adventure took place. In this, the children undertook survival activities and worked with an archaeologist from Sussex University in the meadow. A stunning film was made in the meadow with the children about the life of a tribe in the Stone Age.
Comments are closed for this post.
Leave a comment
Subscribe to our blog email updates
Managing Your Woodland for Wildlife
A new book on encouraging biodiversity in your woodland. Available free here »