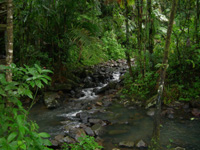 We often make a new nature trail for our visitors. It encourages them to go off on their own into the woods, and makes sure they know the way back to base! It possibly gives them some new information, and certainly they have a lot of fun. They set off with a quiz sheet, and a plastic bag, and a map.
The trail is marked by numbers tied to trees or posts, and for each marker there is a puzzle. This comes in four parts:
Finding what they are looking for near the marker
Being told an interesting fact about it
Observing closely some aspect of it
Getting something to take back to base.
For instance:
"Near the marker is a tree with silver coloured bark. This is a birch tree. The bark was used by Indians to make their canoes, and to write on. Nearby is a fallen branch. Peel a bit of the bark, write a message on it, and bring it back."
"There is a tall shrub nearby with oval leaves arranged in pairs along a single stem. This is elder, and the leaves look a bit like ash. However, ash seeds hang in keys. Where are the elder seeds? Bring a few back."
Taking back can consist only, or mainly, of verbal answers. For example, they can be asked to count, to draw, to do a rubbing, to describe a colour or a surface. We always avoid asking questions they need prior knowledge to answer, as we don't want anyone to feel even stupider than we are ourselves!
Children need a prize for completing the quiz, and everyone enjoys one. A suitable prize would be a hot cross bun for toasting themselves over the campfire.
Leave a comment
Subscribe to our blog email updates
Managing Your Woodland for Wildlife
A new book on encouraging biodiversity in your woodland. Available free here »