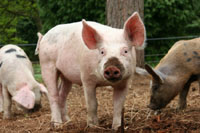 Many people have asked us how practical it would be to keep a few pigs in their woodland so we've asked around …
Pigs are native to Eurasia and North Africa and are in their element in their natural habitat of the forest.  Pigs were some of the earliest animals to be domesticated by humans, and first tamed around 6000 BC.  They're now more likely to be farmed intensively in barns or fields than left to root around for their food in a forest.  However, woodlands provide an ideal environment for pigs, offering a steady supply of food and space to roam.  Pigs do their bit for the ecosystem, clearing the undergrowth to allow plants to regenerate whilst foraging for their own food. 
Pigs are omnivores, with many living on a varied diet of seeds, roots, acorns, nuts, vegetation, fruit, fungi, insects and small animals such as snakes.  These are abundant in wooded areas, and some pig-keepers maintain that a healthy, natural diet of acorns and beechnuts actually enhances the taste of pigs' meat.  Although pigs will forage for their own food on the woodland floor, it's important to provide water and extra food such as bread, fruit or vegetables.  If left to rely on the forest for food, they're likely to strip tree stems, dig up roots and destroy vegetation. 
The damage that pigs can cause to the delicate environment means that they shouldn't be kept in ancient woodland.  Fiona Tooth, whose forest was once home to a family of Gloucester Old Spots, warned me of their potentially destructive habits.  She told me that pigs often plough bulbs and bluebells, disturbing the balance of the woodland floor and clearing significant expanses of land.  To limit the damage, she recommended rotating the land where pigs are left to roam. 
Fiona compared her pigs to children, saying that the young ones were hyperactive and naughty.  She told me that you could often tell a pig's emotions, and that these intelligent, sociable mammals are not happy if kept on their own and should be kept with a litter mate or group. 
The bulky, hoofed animals can trample over ground-nesting birds and should be kept away from vulnerable nesting sites during the winter and spring months.  In summer and autumn, when young birds have fledged, pigs can be left to rove freely within the forest.   It's important to keep roaming land secure to prevent pigs from escaping.  Fences must be strong and well maintained, as pigs are skillful diggers.  They are particularly suited to broadleaf woodlands, which feature trees like ash and beech and provide a plentiful supply of food.
 Have you used woodland for keeping pigs or other livestock?  Share your experiences here.
Leave a comment
Subscribe to our blog email updates
Managing Your Woodland for Wildlife
A new book on encouraging biodiversity in your woodland. Available free here »