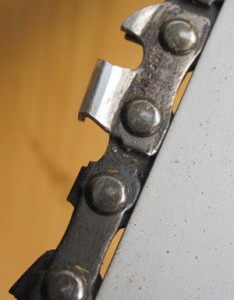 Woodlands.co.uk pays for its buyers of woodlands to go on courses to help owners to better enjoy and manage their woodland.  The contribution is up to £300 and those who go on courses report back to us what they thought of their course.  As the company has now paid for almost 100 people to do these courses we have reviewed their feedback to see what sort of courses they chose and what useful snippets we can pick up.
Chainsaw courses most popular amongst woodland owners.   The majority of the courses had very positive reports and few people were disappointed with their choice .  Chainsaw courses of all types and locations were most popular, particularly the NPTC courses (National Proficiency Tests Council, www.nptc.org.uk/).
Their courses are run all over the UK and as well as training they also offer assessments on maintenance, cross cutting, felling etc.  One review by a woodland owner who had attended lots of other courses described the NPTC CS30 course as being, "The best course I have ever been on".  Several of the tutors running courses stand out and some actual names were given: for example David Rossney was described as being "excellent" in three of our reviews and a tutor called Dennis was said to be "a man you want to cut down trees with".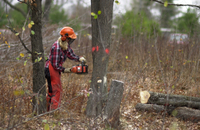 NPTC, LANTRA and OCN courses.  It wasn't only the NPTC courses that got positive reviews - of the 20 chainsaw courses reviewed seventeen were said to have good pre-course information, sixteen were described as being value for money and almost all were recommended to others.  The chainsaw courses for woodland owners were picked out as being good for novices and "a must for anyone using a chainsaw".  Another pattern revealed was that people got plenty of one-to-one coaching and lots of practice using what they had learnt. On a negative note, the longer LANTRA courses (www.lantra.co.uk) such as the ITA course were viewed as being expensive and in two cases so was the NPTC CS30 course.  It was clear from our survey that there are many great courses out there and you simply should not use a chainsaw without going on a course.  Chainsaws are dangerous not just because of the injuries they do directly but because of the danger from falling trees and branches: there is a good health and safety executive report on chainsaw safety here: www.hse.gov.uk/pubns/indg278.pdf
Many buyers chose to go on "Woodland Management" courses of which two stood out.   Firstly the OCN's  (Open College Network, www.nocn.org.uk) introduction to small woodland management and the sustainable woodland management course (also OCN). Instructor Jim Waterson came in for special praise: he teaches at the Greenwood Centre in Shropshire, www.greenwoodcentre.org.uk). All these reviewers recommended these courses to others and thought they were good value for money.   However, some people felt these courses were "not really for novices" and "a little basic".  Some reviewers pointed out that all the details were on the relevant website which helped with pre-course preparation.  Ben Law was praised by the people who went on courses which he taught for being very knowledgeable.  Also popular were courses offering an "Introduction to woodland management" such as the one day course at Flimwell in East Sussex.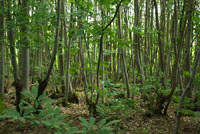 Coppicing courses to produce coppice products.  Five of our course reviews were of coppicing courses, which were each taken in different locations. One notable course was called "Practical Woodland Management: Coppicing and Products" which was said to be good value for money, had efficient pre-course information and tutor Bob Shaw was, "Very good". It is strongly was recommended,  "Especially if you have just bought a woodland".  Another course recommended for novices was the coppicing course held in the Ravenshill Woodland Reserve, its instructor described as being, "Amenable and Knowledgeable".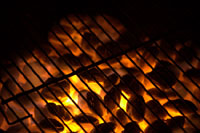 Greewoodwork courses and learning how to do timber framing.  There were courses on greenwoodworking and amongst these the children's green woodworking course was noteworthy, held at Higher Holditch farm in West Dorset. The children who did this course said they had a lot of fun and created useful objects such as a potato masher!   For the more experienced there were courses on charcoal making and timber framing.  One particularly positive review was of the Roundwood timber framing course held in West Sussex. This course teaches you how to construct a Roundwood building and was described as, "An intensive, hands on course suitable for those with practical skills".
Comments are closed for this post.
Leave a comment
Subscribe to our blog email updates
Managing Your Woodland for Wildlife
A new book on encouraging biodiversity in your woodland. Available free here »