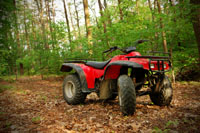 The development of the quad bike or All Terrain Vehicle (ATV) has revolutionised farm and forest transport in the more remote areas of the UK. They are often seen in the distance travelling across fields and up hillsides complete with sheepdog on the back to tend distant flocks.  They must be good if the Royal Mail use them!
Their go-anywhere, do-anything capabilities are also very useful for owners of small woodlands.
What can they be used for and what advantages do quad bikes have in woodlands? 
1. Travel with your equipment from roadside to your woodland along earthen tracks. They are light compared to tractors and road vehicles, thereby saving the need for stoned tracks and reducing wear and tear on woodland tracks and rides.  
2. Within a woodland there are a multitude of uses including: use as forwarding, reasonable sized logs can be extracted with the right equipment; transporting materials and equipment for planting, fencing, thinning and brashing; removing firewood to the roadside; mowing tracks and even pulling a mobile saw to recently felled butts ready for milling.  (More blogs to come on timber ancillary equipment.) 
3. You can have comfortable car drive from home to the entrance to your wood then use your quad for access into the woodland. Most modern cars have low ground clearance and so are totally unsuited to anything but tarmac. 
4. Quad bikes are light, so soil compaction, a major problem with larger vehicles, is minimal. Woodland floor and tracks especially in ancient woodlands are ecologically fragile and the low ground pressure of quad bikes keeps damage to a minimum.    
Where can you get a quad bike? 
Good manufacturers include Honda, Kawasaki and Yamaha and there are plenty good second hand ones available, most farm machinery stockists sell them. 
Security and safety with quad bikes
 They are "collectable" so need to be stored onsite in a secure metal container with shrouded locks.   Do count this in to the cost of purchase. 
Of course racing quad bikes is anathema to any woodland owner and is specifically excluded by the covenant on woodlands sold by Woodlands.co.uk.  
In the wrong hands quad bikes can be dangerous and good training is advisable. There are Lantra certified courses available, see:
http://www.environmentskills.co.uk/content/quad.php 
---
---
Leave a comment
Wild Flower Guide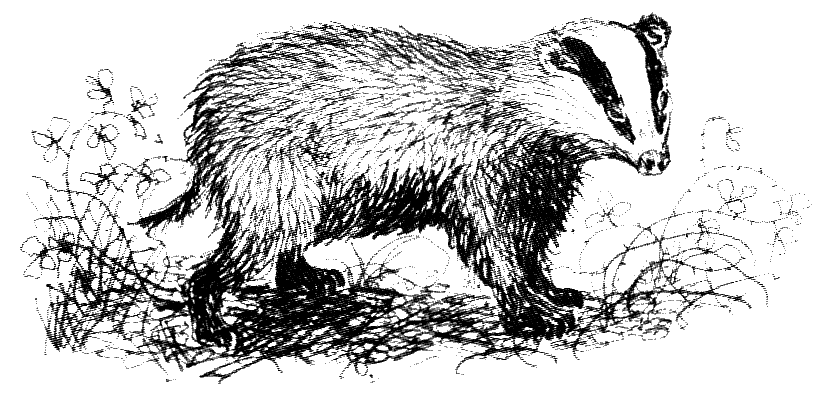 Topics
Tags
Managing Your Woodland for Wildlife
A new book on encouraging biodiversity in your woodland. Available free here »